Genre

Drama, History




Budget

2.9 million USD




Language

English






Director

Howard Hawks


Initial DVD release

June 26, 2007




Duration




Country

United States







Writer

Harold Jack Bloom, William Faulkner, Harry Kurnitz


Release date

June 24, 1955 (1955-06-24) (US)May 3, 1956 (1956-05-03) (UK)




Cast

Jack Hawkins (Pharaoh Khufu), Joan Collins (Princess Nellifer), Dewey Martin (Senta), Alexis Minotis (Hamar), James Robertson Justice (Vashtar)


Similar movies

The Prince of Egypt

, The Ten Commandments,

Raiders of the Lost Ark

,

Exodus: Gods and Kings

,

The Mummy

,

The Spy Who Loved Me




Tagline

HER BLOOD STAINED EVERY STONE OF THE PYRAMID
Land of the pharaohs 1955 burial indiana jones style
Land of the Pharaohs is a 1955 American epic film in Cinemascope and WarnerColor from Warner Bros., produced and directed by Howard Hawks, that stars Jack Hawkins as Pharaoh Khufu (also known as Cheops) and Joan Collins as his second wife Nellifer. The film is a fictional account of the building of the Great Pyramid. Novelist William Faulkner was one of the film's three screenwriters.
Contents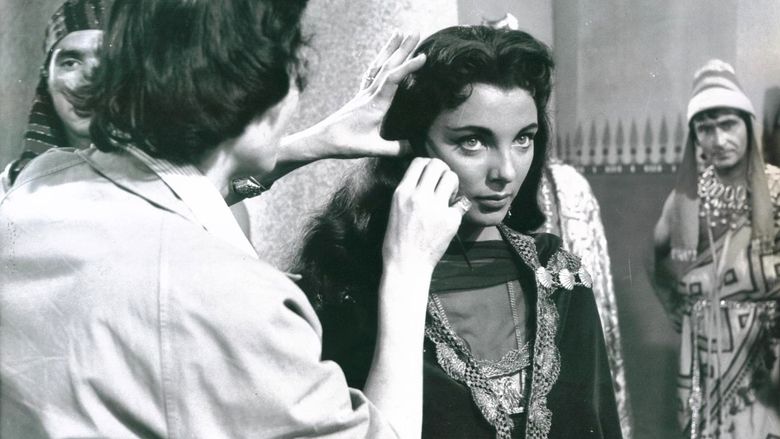 Land of the Pharaohs literally had a cast of thousands (Warner Bros. press office claimed there were 9,787 extras in one scene) and was one of Hollywood's largest-scale, ancient world epics, made in the same spirit as The Robe, The Ten Commandments, and Ben Hur. The film was shot on location in Egypt and in Rome's Titanus studios.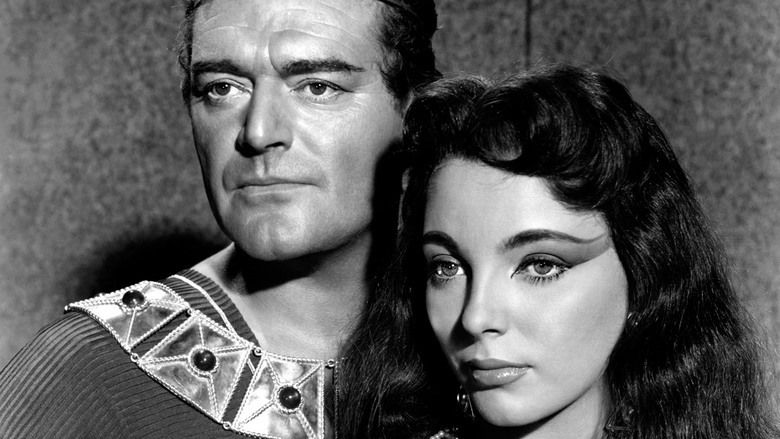 Land of the pharaohs 1955 obligatory decadent banquet scene
Plot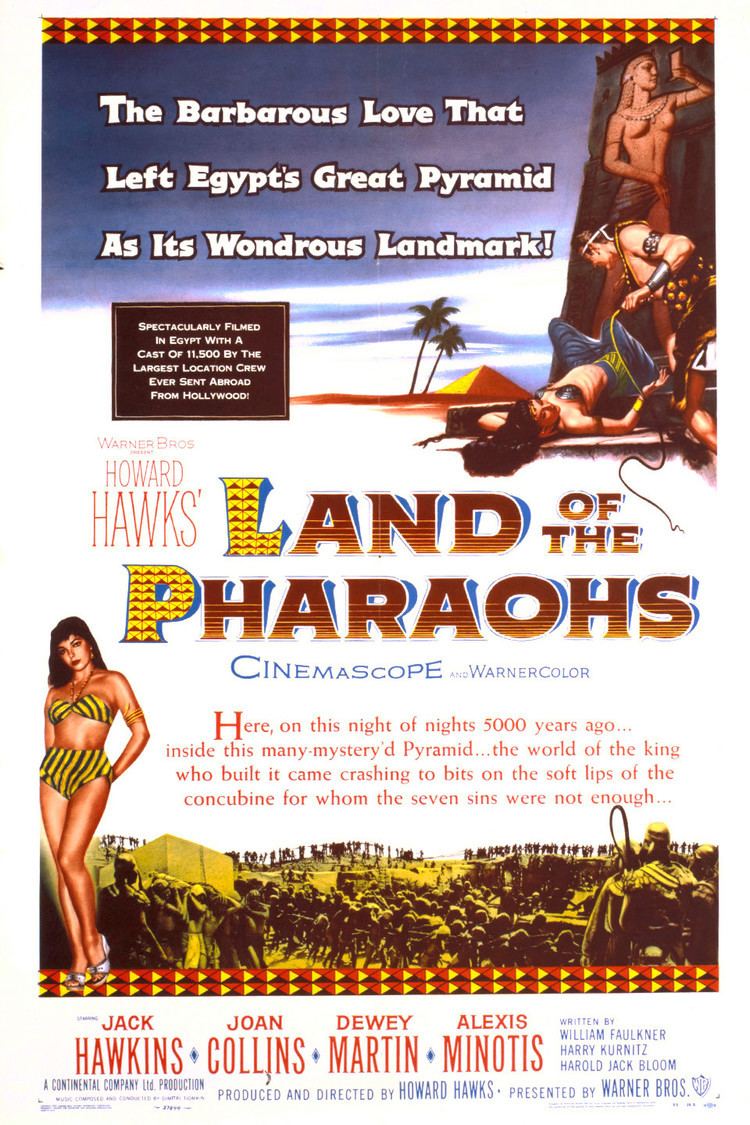 In ancient Egypt, Pharaoh Khufu (Jack Hawkins) is obsessed with preparing his tomb for the "second life". Dissatisfied with his own architects' offerings, he enlists Vashtar (James Robertson Justice), an ingenious man whose devices nearly saved his own people from being conquered and enslaved by Khufu. Khufu offers to free Vashtar's people if he will build Khufu a robber-proof tomb - although Vashtar will have to die when the pyramid-tomb is completed, to guard its secrets. During the years that the pyramid is being built, Pharaoh demands tribute and labor from all his territories, amassing a great wealth of gold and treasures that will be interred with him.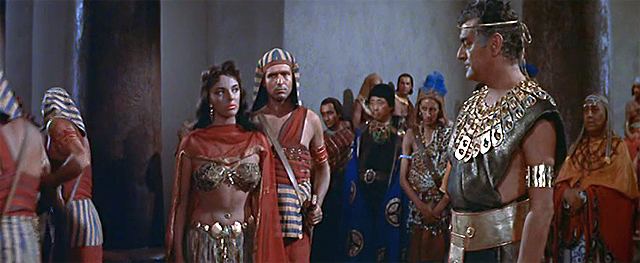 Princess Nellifer (Joan Collins) comes as the ambassador of the tributary province of Cyprus. Claiming her province is poor and cannot afford to pay the assigned tribute, she offers herself to Pharaoh instead. She becomes Khufu's second wife.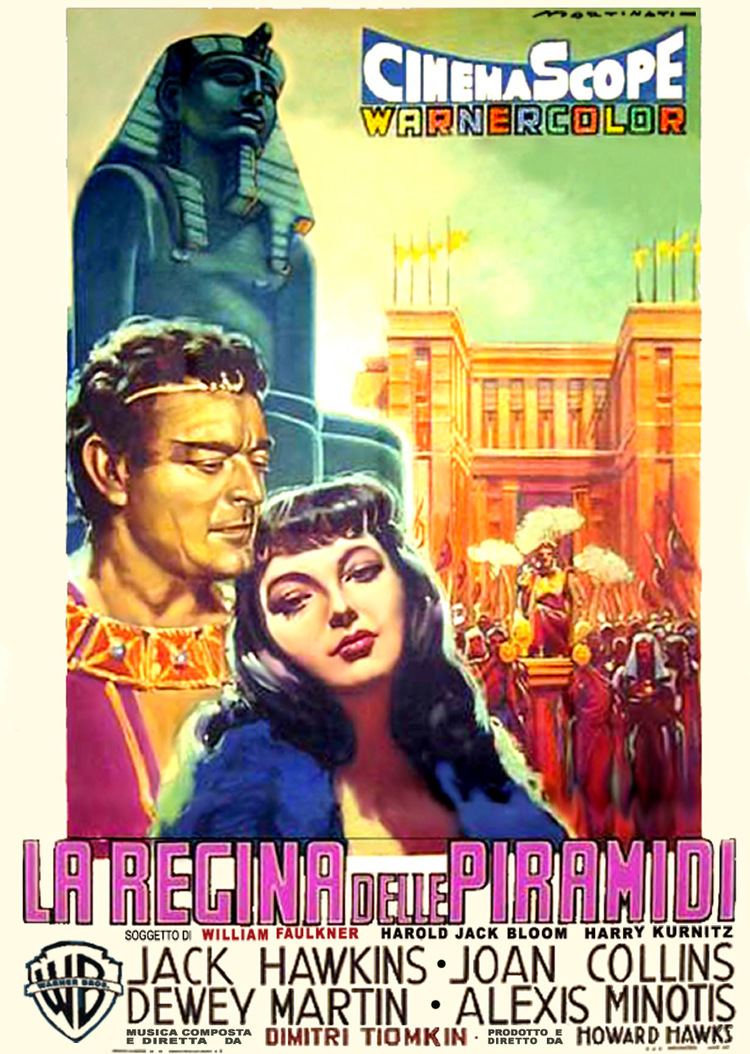 Nellifer questions whether Khufu really had as much gold as he says, so she is shown an enormous hoard of fine gold artifacts and jewels, and more in an inner vault that Khufu is saving for his "second life." She puts on an ornate, jewel encrusted necklace which Khufu angrily demands she remove. When she doesn't, he orders Treneh (Sydney Chaplin), the captain of the guard, to take it off her and leaves. Later, Nellifer starts an affair with Treneh. who has become besotted with her.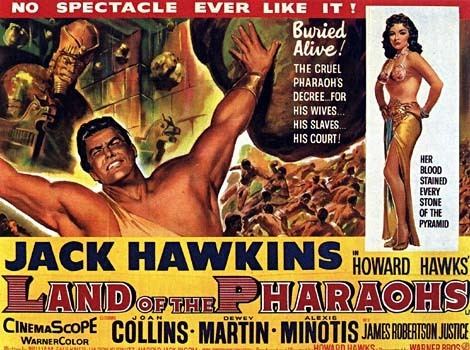 One day on the construction site Vashtar's son, Senta (Dewey Martin), saves Khufu from being crushed to death by a runaway stone block. In order to get the injured Khufu out of the pyramid to help, Senta reveals that he too knows the tomb's secrets, knowing that he must now share his father's fate. A grateful Pharaoh offers him anything else within his power; Senta chooses Nellifer's slave Kyra to save her from being whipped for her fierce independence.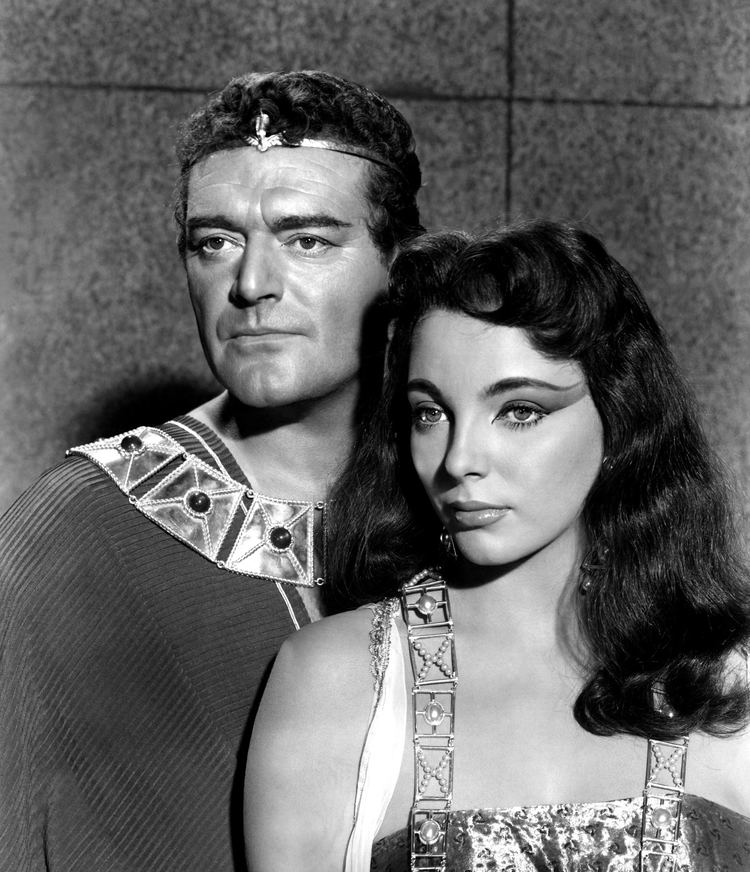 Using a cobra obtained from a snake charmer with the help of Treneh, Nellifer plots to assassinate first Queen Nailla and her son Zanin, then Khufu, leaving her to rule Egypt. First, Treneh persuades Khufu that there is a rich hoard of treasure in a tomb far to the north, in order to draw him away from the palace. Then Nellifer gives Zanin a flute to practice and teaches him a tune the snake will be attracted to. Queen Nailla sees the snake approaching Zanin and throws herself on it to save her son.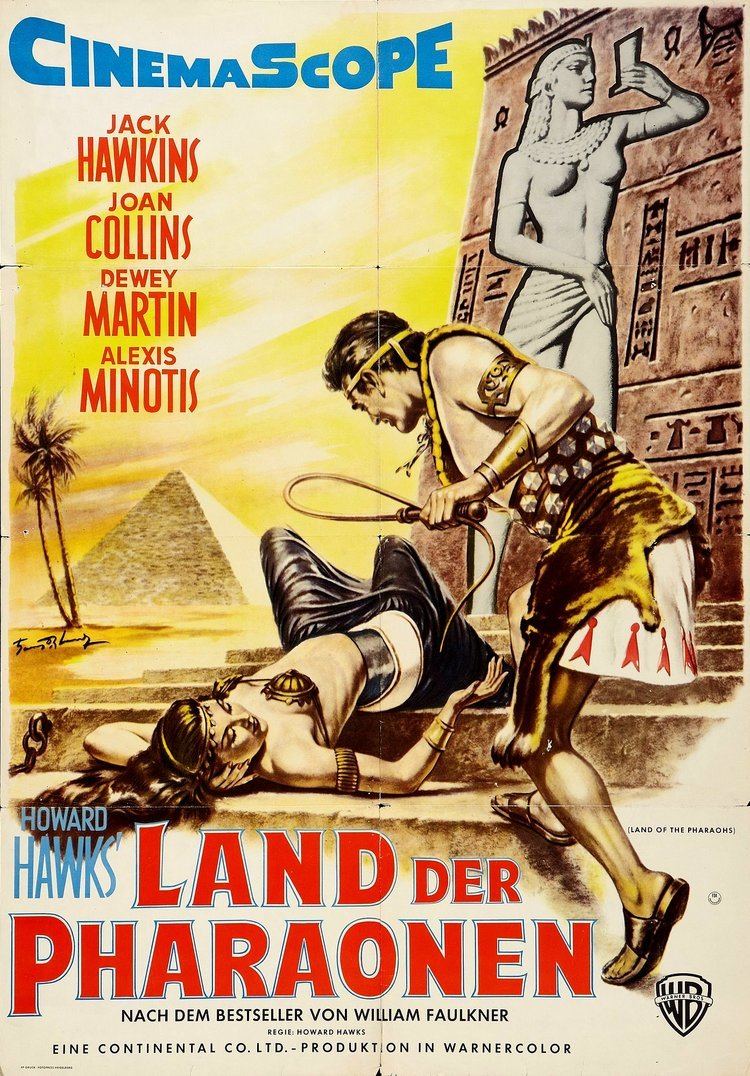 Hearing of the queen's death, Khufu sends out investigators to look for snake charmers. Panicking, Nellifer dispatches her servant Mabuna to kill Khufu at the oasis, but Mabuna only manages to wound Khufu before being killed. Suspecting Nellifer, Khufu rushes back to the city. In her chambers he overhears her and Treneh plotting; he kills Treneh in a sword fight, but is himself fatally wounded. The Pharaoh, before dying, sees Nellifer wearing the necklace that he deliberately took from her earlier, and then dies while calling out for his High Priest and lifelong friend Hamar (Alexis Minotis, billed as Alex Minotis).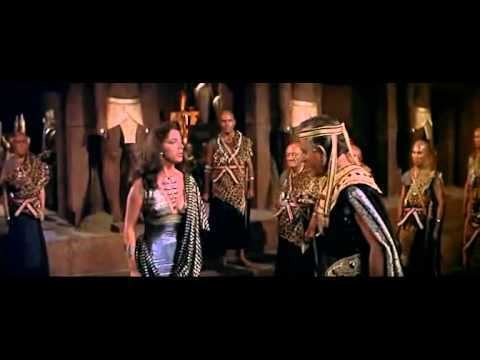 After Khufu's death, Hamar, suspecting what Nellifer did and deeming the tomb truly robber-proof, even for Vashtar and Senta, releases them from their death sentences, allowing them to leave Egypt and return to their homeland with their people as part of a plan to deal with Nellifer.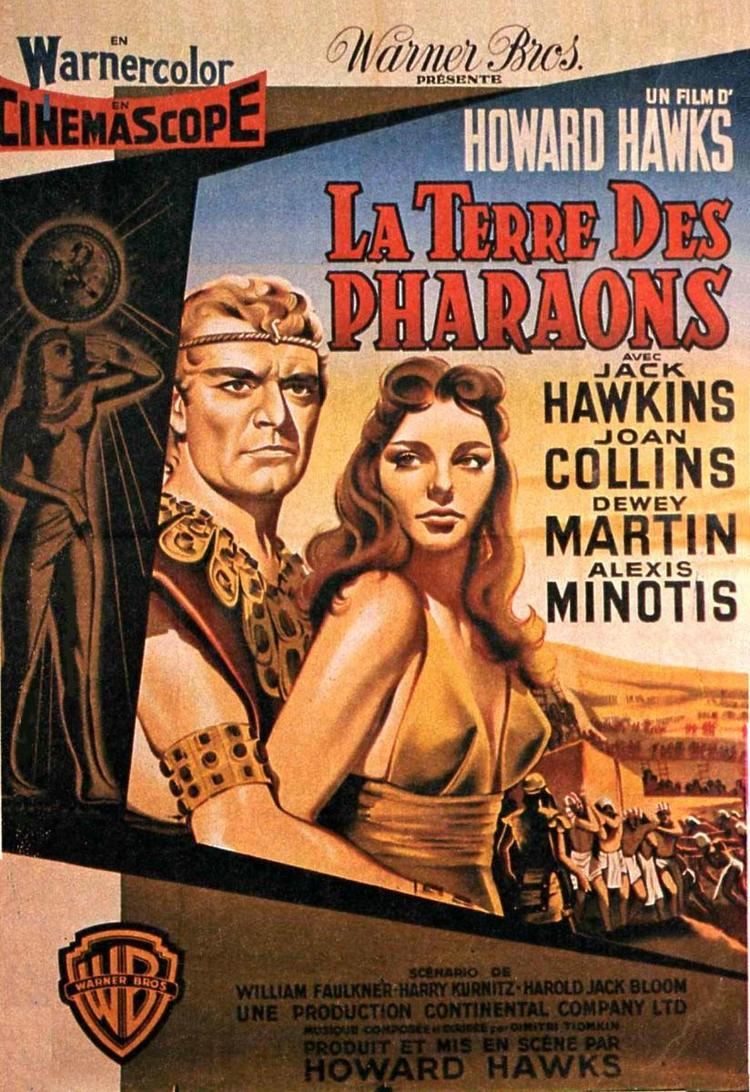 During Pharaoh's funeral, Hamar has Nellifer accompany him into the burial chamber because she "must give the order" to seal the sarcophagus. When her order is obeyed, it releases a large stone in a lower chamber, triggering Vashtar's mechanism to seal the tomb. Nellifer goes into hysterics when told the tomb is being sealed, realizing she is trapped. "There's no way out," Hamar tells her, adding: "This is what you lied and schemed and murdered to achieve. This is your kingdom."
Cast
Jack Hawkins as Pharaoh Khufu
Joan Collins as Princess Nellifer
Dewey Martin as Senta
Alex Minotis as Hamar
James Robertson Justice as Vashtar
Luisella Boni as Kyra (as Luisa Boni)
Sydney Chaplin as Treneh
James Hayter as Mikka
Kerima as Nailla
Piero Giagnoni as Xenon
Reception
Lacking a big name cast, Land of the Pharaohs was unsuccessful at the box office, earning $450,000 short of its $3,150,000 production budget. The film drew more interest over the years and has been defended by Martin Scorsese, French critics supporting the auteur theory, and for numerous elements of its physical production. Danny Peary in his book Cult Movies (1981), selected it as a cult classic. The film's reputation continues to improve with the test of time. As of 2013, Land of the Pharaohs holds 71% "fresh" rating at the film review aggregator website Rotten Tomatoes.
References
Land of the Pharaohs Wikipedia
(Text) CC BY-SA
Land of the Pharaohs IMDb
Land of the Pharaohs Rotten Tomatoes
Land of the Pharaohs themoviedb.org