Las Hurdes: Tierra Sin Pan (1933), (English language: Land Without Bread or Unpromised Land) is a 27-minute-long documentary film (ethnofiction) directed by Luis Bunuel and co-produced by Bunuel and Ramon Acin. The narration was written by Bunuel, Rafael Sanchez Ventura, and Pierre Unik, with cinematography by Eli Lotar.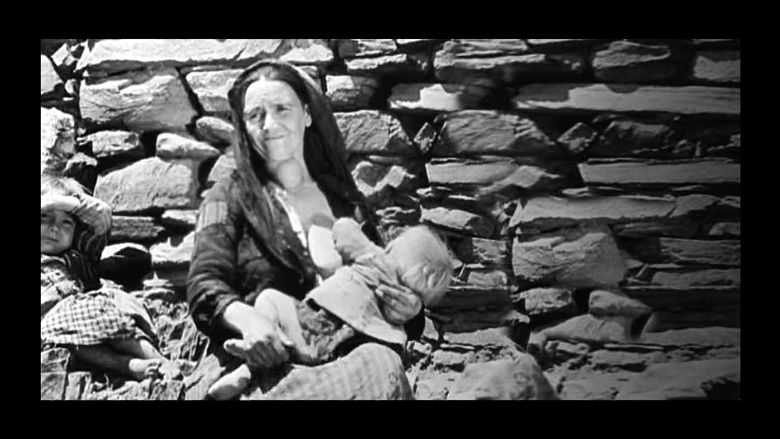 Las Hurdes – Tierra Sin Pan / Land Without Bread / Unpromised Land is a surrealist documentary filmed in Spain in 1932. It is the result of a two month trip through the Las Hurdes region. The film shows the contrasts between the village and the towns in the north of Extremadura, Salamanca and along the border of Portugal.
The film focuses on the Las Hurdes region of Spain, the mountainous area around the town of La Alberca, and the intense poverty of its occupants, who were so backwards and isolated that bread was unknown. A main source of income for them was taking in orphan children, for whom they received a government subsidy. Bunuel, who made the film after reading the ethnographic study Las Jurdes: etude de geographie humaine (1927) by Maurice Legendre, took a Surrealist approach to the notion of the anthropological expedition. The result was a travelogue in which the narrator's extreme (indeed, exaggerated) descriptions of human misery of Las Hurdes contrasts with his flat and uninterested manner.
Bunuel claimed: "I was able to film Las Hurdes thanks to Ramon Acin, an anarchist from Huesca,...who one day at a cafe in Zaragoza told me, Luis, if I ever won the lottery, I would put up the money for you to make a film. He won a hundred thousand pesetas...and gave me twenty thousand to make the film. With four thousand I bought a Fiat; Pierre Unik came, under contract from Vogue to write an article; and Eli Lotar arrived with a camera loaned by Marc Allegret."
The movie is a documentary, parodying the exaggerated documentaries of travelers across the Sahara being filmed at the same time. One of Bunuels points is that there are plenty of terrible, subjects for a documentary right in Spain.
The film was originally silent, though Bunuel himself narrated when it was first shown. A French narration by actor Abel Jacquin was added in Paris in 1935. Bunuel used extracts of Johannes Brahms Symphony No. 4 for the music.
Bunuel slaughtered at least two animals to make Las Hurdes. One Hurdano claimed that he arranged for an ailing donkey to be covered with honey so he could film it being stung to death by bees. Similarly, his crew shot a mountain goat that subsequently fell from a cliff for another sequence.
The film provoked such an uproar in Spain - Ruoff calls it a "revolutionary film" - that it was banned from 1933 to 1936.
There is a Spanish-language dubbed version spoken by Francisco Rabal. According to Ruoff, there are two different English-narrated versions. The film is currently available from Amazon.
Abel Jacquin (voice)
Alexandre ONeill (voice)
One of the chief concerns of the ca. 8,000 present day inhabitants of Las Hurdes is to fight against the stigma issues affecting Las Hurdes. The resulting stereotype has affected their region at least since playwright Lope de Vegas 1663 comedy, Las Batuecas del Duque de Alba. Casting the region as an area of darkness, disease and ignorance was continued by other writers for centuries before Bunuels film.