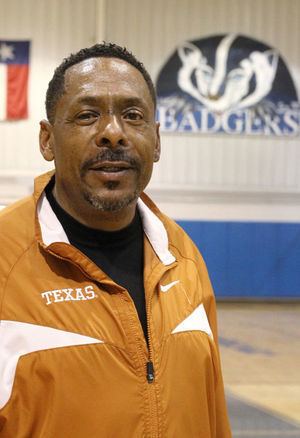 Jones replaced an injured Houston McTear on the U.S. team and finished sixth in the 100 meters. He also ran the second leg for the U.S. 4x100 team, which won the gold medal.
Perhaps even more than his Olympic gold, however, Jones is considered legendary in Texas high school sports history for his performance in the mile relay at the 1976 U.I.L. State Track and Field Meet. Running anchor for Class 3A Lampasas High School, Jones took the baton in last place, reportedly 40 to 60 yards behind the leaders, and passed the entire field for victory. The run has taken on near-mythical status among those who saw it — or claim to have seen it.
Jones ran track at University of Texas. He also joined the football team, where Coach Fred Akers nicknamed him "Lam" because he was from Lampasas to differentiate him from teammate Johnny "Ham" Jones, who was from Hamlin, Texas. Lam Jones started his college career at running back, then was moved to receiver. He had a modest career on the football team, averaging 28 receptions per season, but his average of 18.9 yards per catch with 14 touchdowns interested the NFL's New York Jets. Jones ranks 10th on the UT all-time all-purpose yardage list (3,042). He also is one of only three players in Longhorn history that have rushed for 100 yards in a game and registered a 100-yard receiving game.
Jones was drafted by the New York Jets from the University of Texas with the second overall pick in the 1980 NFL Draft, which the Jets received by trading two first round draft picks. He played wide receiver for the Jets from 1980-1985. Since Jones was a world-class sprinter, he could beat any coverage, but had trouble catching the football. He was viewed more as an athlete than a receiver. The $2.1 million contract he received was the first NFL contract worth over a million dollars. He amassed 138 receptions and 13 touchdowns in 5 years.
He is considered one of the Jets' top ten draft busts due to the draft picks traded for him and the large contract.
After his football career, Jones battled drug and alcohol addiction, which started in high school. A hazing incident as an NFL rookie was an omen of things to come. When veterans took him out drinking, the group started downing shots. Unbeknownst to Jones, the vets were drinking soft drinks while pouring him liquor. His troubles with drugs continued after his NFL career until a sexual molestation incident caused him to go to rehab. He recovered and went on to speak about addiction to high school athletes to help them avoid the same problems.
In 2005, Jones was diagnosed with myeloma cancer that affects bone marrow in the legs. He is reportedly in remission.
Jones was inducted into the Texas High School Football Hall of Fame in 2008. He was Inducted into the Texas Track and Field Coaches Hall of Fame, Class of 2013.