Lagny-sur-Marne ([laɲi syʁ maʁn]; English: Lagny on the Marne) is a commune in the eastern suburbs of Paris, France. It is located in the Seine-et-Marne department in the Île-de-France 26.1 km (16.2 mi) from the center of Paris.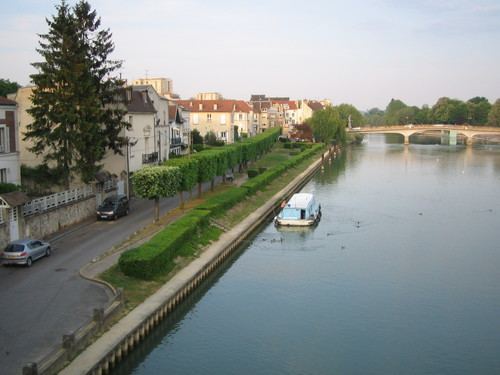 The commune of Lagny-sur-Marne is part of the Val de Bussy sector, one of the four sectors in the "new town" of Marne-la-Vallée.
During the Middle Ages Lagny-sur-Marne was a popular place for tourneys in Northern France. In November 1179 a notable tournament was held by Louis VII of France in honour of the coronation of his son. Later in 1846, Lagny-sur-Marne annexed the commune of Saint-Denis-du-Port.
Inhabitants are called Latignaciens or Laniaques.
When Titus Interactive was active, its head office was in Lagny-sur-Marne.
Lagny-sur-Marne is served by Lagny – Thorigny station on the Transilien Paris – Est suburban rail line. This station, although administratively located on the territory of the neighboring commune of Thorigny-sur-Marne, lies immediately across the Marne River from the town center of Lagny-sur-marne.
The commune has ten preschools and nine elementary schools. There are two junior high schools, Collège Les 4 Arpents and Collège Marcel Rivière, as well as one senior high school/sixth-form college, Lycée Van Dongen.
Lagny-sur-Marne is twinned with Sainte-Agathe-des-Monts, Quebec in Canada since 1969, and also Alnwick, Northumberland in England.
Christopher Jullien, footballer
Paul Pogba - footballer
Benjamin Boukpeti - Togolese canoeist who won a bronze medal in the 2008 Summer Olympics, which was Togo's first ever Olympic medal.
It is possible that the Irish family de Lany came from Lagny-sur-Marne.