Chandler, a twice Oscar-nominated screenwriter who did not author the screenplay for this or any other screen adaptations of his own novels, disdained Montgomery's ambition to create a cinematic version of the first-person narrative style of his Philip Marlowe novels. With the exception of a couple of times when Montgomery (in character) addresses the audience directly, the entire film is shot from the viewpoint of the central character, Marlowe. The audience sees only what he does. MGM promoted the film with the claim that it was the first of its kind and the most revolutionary style of film since the introduction of the talkies. The movie was also unusual for having virtually no instrumental soundtrack, the music in the film being instead provided by a wordless vocal chorus.
The film's script, written by Steve Fisher, changes the novel's midsummer setting to Christmastime, frequently using holiday themes as an ironic counterpoint to the grim aspects of the story. The opening credits are shown on a series of Christmas cards, which turn out to be concealing a gun.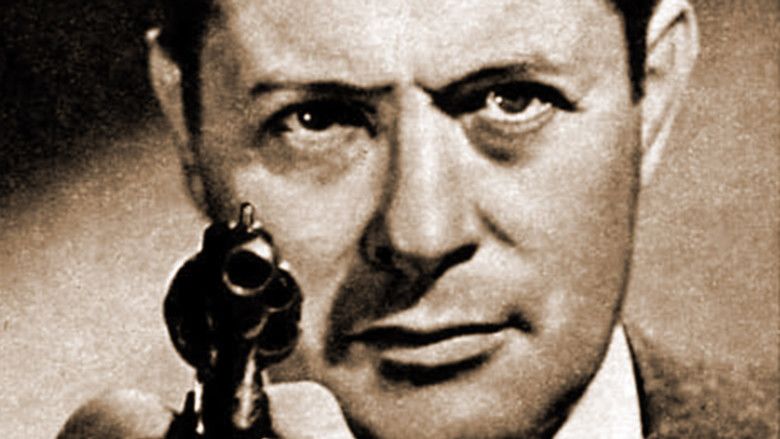 Tired of the low pay of his profession, hard-boiled Los Angeles private detective Phillip Marlowe (Robert Montgomery) submits a murder story to Kingsby Publications. He is invited to the publishers' offices to discuss his work but soon realizes it is merely a ploy. A few days before Christmas, publishing executive Adrienne Fromsett (Audrey Totter) hires him to locate the wife of her boss, Derace Kingsby (Leon Ames).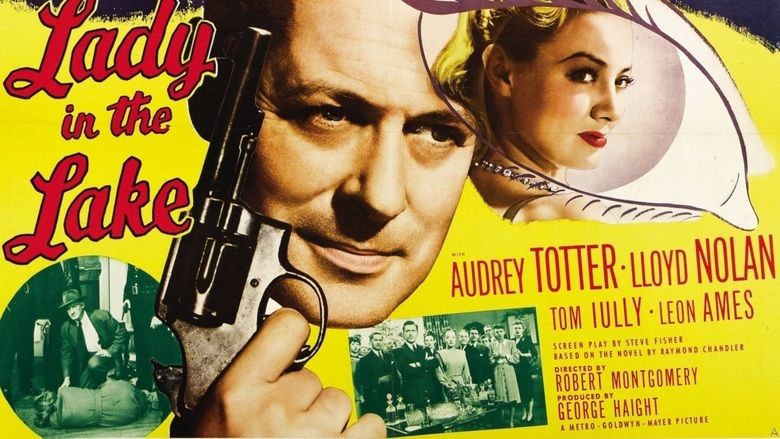 One month earlier, Kingsby's wife, Chrystal, had sent her husband a telegram saying she was heading to Mexico to divorce him and marry a man named Chris Lavery. But, according to Fromsett, Lavery says he hasn't seen Chrystal for two months; she's missing, and the telegram appears to be a fake. It becomes obvious to Marlowe that Fromsett wants her boss for herself (for his money, as she later admits).
Marlowe goes to see Lavery (Dick Simmons), who claims to be unaware of any trip to Mexico. A slip of the tongue by Lavery occurs, saying that Mrs. Kingsby WAS a beautiful woman before revising it to an "is." Lavery sucker-punches the detective. Marlowe wakes up in jail, where he is questioned by Captain Kane (Tom Tully) and a belligerent Lieutenant DeGarmot (Lloyd Nolan). Marlowe refuses to divulge anything about his case, so Kane warns him not to cause trouble and releases him.
Marlowe learns that a woman's body has been recovered from a lake owned by Kingsby and that Kingsby's caretaker was charged with the murder of his wife Muriel. Fromsett suspects that Chrystal is the real killer, as she and Muriel hated each other. Little Fawn Lake was also where Chrystal was last seen. Marlowe learns that Muriel was an alias for a woman named Mildred Havelend and that she was hiding from a tough cop, whose description fits DeGarmot.
Marlowe goes to call on Lavery again. Inside the unlocked house, he instead encounters Lavery's landlady, Mrs. Falbrook, holding a gun she claims to have just found. Upstairs, he finds Lavery dead in the shower, shot several times. He also finds a handkerchief with the monogram "A F".
Before calling the police, Marlowe goes to the publishing house to confront Fromsett, interrupting a Christmas party there. In private, she denies killing Lavery. Kingsby, learning that Fromsett had hired Marlowe to find Chrystal, tells her theirs will be strictly a business relationship from now on. A furious Fromsett fires the private eye. Marlowe immediately gets another job; Kingsby hires him to find his wife.
Marlowe proceeds to inform the police of Lavery's death. At the scene, he suggests that Muriel was hiding from DeGarmot. The two men scuffle. Kane separates them and takes Marlowe into custody, releasing him only after a surge of Christmas spirit.
Marlowe obtains more information on Muriel from a newspaper contact. It turns out that Muriel had been a suspect in the suspicious death of her previous employer's wife. The investigating detective, DeGarmot, ruled that death a suicide; the victim's parents strongly disagreed.
Marlowe finds the parents have been intimidated into keeping silent. His car is then run off the road by DeGarmot. Regaining consciousness after the crash, Marlowe manages to get to a telephone and call Fromsett for help. She takes him back to her apartment, where she claims that she has fallen in love with him. They spend Christmas Day together while he recovers from his injuries.
Kingsby receives a telegram from his wife, asking for money. Marlowe agrees to drop it off, as Kingsby is being followed by police detectives. Placing his life in Fromsett's hands, Marlowe instructs her to have the police follow him after ten minutes, following a trail of rice he will leave behind.
The woman Marlowe meets (Jayne Meadows), the one who asked for money from Kingsby, turns out to be Mildred Havelend, alias Mrs. Falbrook, alias Muriel. She is the one who killed Chrystal (the "lady in the lake"), as well her former employer's wife and Lavery.
DeGarmot was in love with Havelend and helped her cover up the first murder. Then she fled from him and married Kingsby's caretaker, Mr. Chess.
Haveland pulls a gun on Marlowe in her apartment. DeGarmot tracks them down, having overheard Fromsett speaking to Captain Kane and following Marlowe's trail of rice. DeGarmot plans to kill them both with Havelend's gun and stage it to look like she and Marlowe shot each other. DeGarmot then shoots a pleading Mildred several times. Captain Kane gets there just in time to gun down his own crooked cop. Marlowe and Fromsett decide to leave for New York City to start a life together.
Robert Montgomery as Phillip Marlowe
Audrey Totter as Adrienne Fromsett
Lloyd Nolan as Lt. DeGarmot
Tom Tully as Police Captain Fergus K. Kane
Leon Ames as Derace "Derry" Kingsby
Jayne Meadows as Mildred Havelend
Richard Simmons as Chris Lavery
Morris Ankrum as Eugene Grayson
Lila Leeds as Receptionist
Robert Williams as Artist
Kathleen Lockhart as Mrs. Grayson
"Ellay Mort" as Chrystal Kingsby. This is an inside joke, as the character is never seen in the film; the name is a homonym of the French "elle est morte", which means "she is dead".
MGM bought the rights to Chandler's novel for a reported $35,000.
According to MGM records the film earned $1,812,000 in the US and Canada and $845,000 elsewhere resulting in a profit of $598,000.
The New York Times film critic wrote, "In making the camera an active participant, rather than an off-side reporter, Mr. Montgomery has, however, failed to exploit the full possibilities suggested by this unusual technique. For after a few minutes of seeing a hand reaching toward a door knob, or lighting a cigarette or lifting a glass, or a door moving toward you as though it might come right out of the screen the novelty begins to wear thin."
Lux Radio Theater broadcast a 60 minute radio adaptation of the movie on February 9, 1948 with Montgomery and Totter reprising their roles.