Birth name

Alberta Peal




Siblings

Lynn Hamilton


Role

Actress




Name

LaWanda Page




Nationality

American






Born

October 19, 1920 Cleveland, Ohio, United States (

1920-10-19

)


Medium

stand-up, television, film


Genres

Word play, observational comedy, Black comedy, blue comedy


Subject(s)

human sexuality, race relations, African-American culture,


Notable works and roles

Aunt Esther in Sanford and Son, Sanford Arms and Sanford


Albums

Watch It, Sucker!, Pipe Layin' Dan, Mutha Is Half a Word, Preach On Sister, Preach On!, Sane Advice


Children

Clara Estella Roberta Johnson




Movies and TV shows

Sanford, Friday, Shakes the Clown, CB4, Sanford Arms


Similar People

Redd Foxx, Demond Wilson, Whitman Mayo, Lynn Hamilton, Nathaniel Taylor


Died

September 14, 2002 (aged 81), Hollywood, California, U.S.
LaWanda Page (October 19, 1920 – September 14, 2002), born Alberta Peal, was an American actress and comedian best known for her role as Aunt Esther in the popular 1970s television sitcom Sanford and Son. She later reprised this role in the television shows Sanford Arms and Sanford.
Contents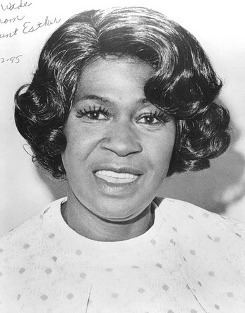 Early life and career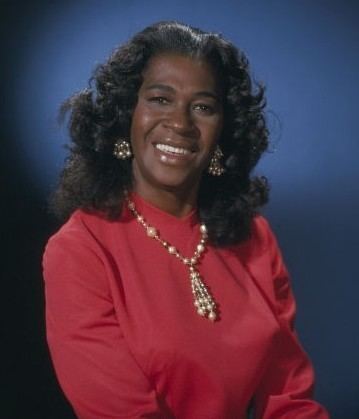 LaWanda Page was born on October 19, 1920 in Cleveland, Ohio, but was raised in St. Louis, Missouri. She began her show business career working small nightclubs billed as "The Bronze Goddess of Fire," an act which included Page eating fire and lighting cigarettes with her fingertips. She performed the cigarette feat on an episode of Sanford and Son titled "The Greatest Show in Watts" in Season 5 of the series, in which Fred Sanford held a circus in his front yard. On "Sanford and Son," she played Esther Anderson—better known to audiences as Aunt Esther—the older sister of Elisabeth Sanford, the mother of her nephew Lamont Sanford and the late wife of Lamont's father Fred G. Sanford.
After paying dues on the club circuit, where she shared stages with noted comedians such as Foxx and Richard Pryor, Page moved to Los Angeles in the 1960s where she became a member of the comedy group Skillet, Leroy & Co. (Skillet was Ernest "Skillet" Mayhand, born March 1, 1916 in Ohio, died May 12, 2007; Leroy was Leroy Daniels, born Wilbert LeRoy Daniel, November 28, 1928 in Oklahoma, died December 11, 1993.) In Los Angeles, Page started honing the feisty approach to comedy that would make her famous.
LaWanda Page and Redd Foxx, who portrayed Fred Sanford, were very close friends from the time they were pre-teens, having attended school and growing up together in St. Louis. Eventually, both entered the field of comedy separately and performed their own stage acts. During her tenure as a stand-up comic, a career she continued into the 1990s, she was often billed as "The Queen of Comedy" or "The Black Queen of Comedy".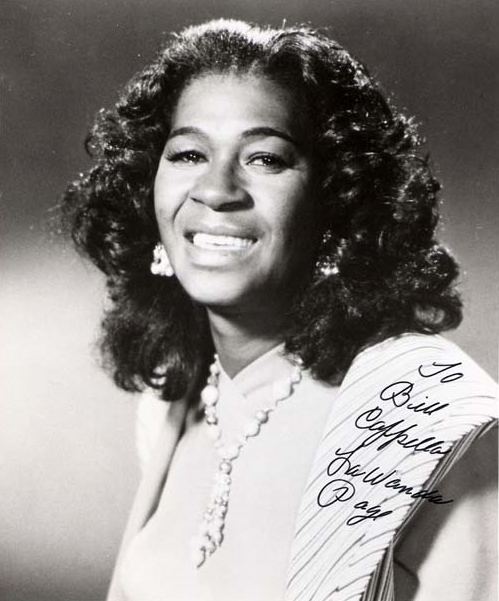 Page recorded several live comedy albums for the Laff Records label in the late 1960s and early 1970s under her LaWanda Page stage name. Other than the relatively clean Sane Advice album, released two years after the run of Sanford and Son, Page's albums and stand-up material was raunchy blue comedy in nature. She was one of the few women who performed extended spoken word pieces in the black signifying or toasting tradition.
One release, a gold-selling album called Watch It, Sucker!, was titled after one of her Aunt Esther character's catchphrases in order to capitalize on her newfound television fame.
Sanford and Son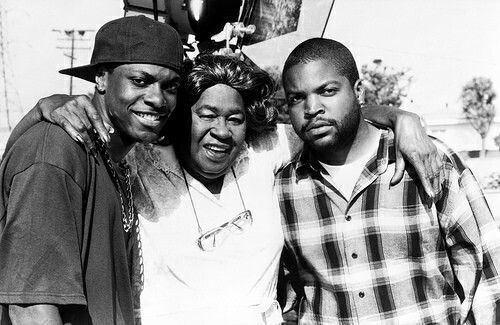 On Sanford and Son, Aunt Esther was the sister of Fred Sanford's late wife Elizabeth. Page had been performing her comedy routine in nightclubs in St. Louis and then Los Angeles for several years, but had planned to leave show business to move back to St. Louis to take care of her ailing mother. When Redd Foxx was offered a sitcom in Los Angeles, he brought his childhood friend Page to the attention to one of the show's producers, who was already familiar with Page and her act. Foxx subsequently asked Page to read for the role of Aunt Esther; she auditioned and was offered the role. However, prior to taping, producers became concerned when Page, whose experience was limited primarily to nightclub stages, seemed to have difficulty working in a sitcom format. Eventually, one of Sanford and Son's producers told Foxx that Page would need to be fired and that another actor would need to be cast before the show could begin taping. Foxx responded by insisting that Page keep the part, even threatening to walk away from the show if Page were fired. The producers relented, and Page's Aunt Esther went on to become one of the most popular TV sitcom characters of the 1970s.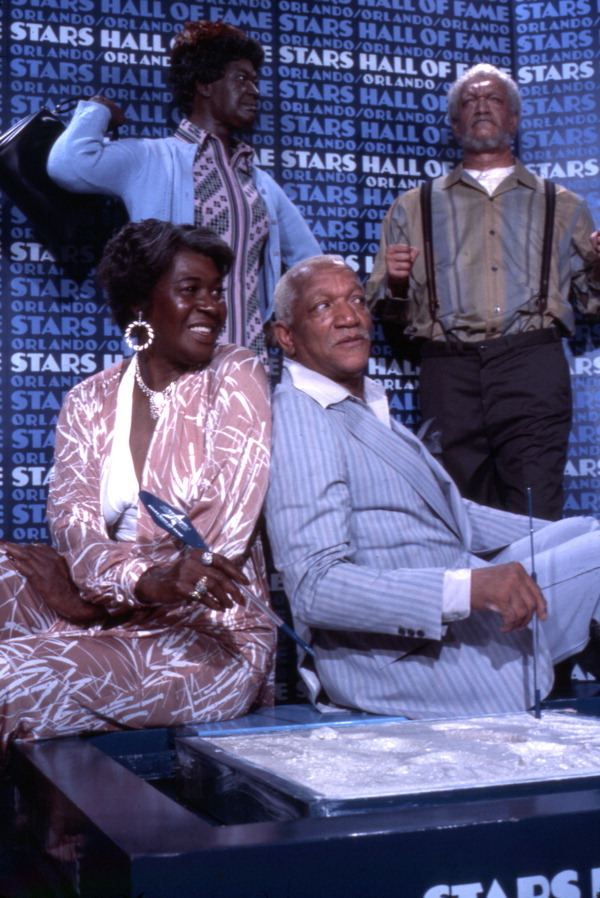 Page's Aunt Esther was a combination of devout churchgoer and tough-as-nails realist, unafraid to state whatever was on her mind. While her relationship with Foxx's character Fred Sanford was usually confrontational, she betrayed a tender side through her love of her nephew Lamont. Common issues between brother- and sister-in-law were his lack of business success and his lukewarm religious faith. Sometimes, primarily because of their shared love for Lamont and the late Elizabeth, the two adversaries managed to find common ground. Although "Sanford and Son" was clearly Foxx's vehicle, Page's Aunt Esther could hold her own against the show's star. (Ironically, the church-going Esther was a great contrast to the raunchy, expletive-filled material of Page's live act and records.)
Other film and television appearances
In 1977 Page appeared in an episode of The Love Boat entitled "Oh Dale", alongside Sherman Hemsley. Page also appeared on several episodes of The Dean Martin Celebrity Roasts, and over the next two decades occasionally guest-starred in episodes of other popular television shows, including Amen, Martin, 227, Family Matters, and Diff'rent Strokes. She appeared on Circus Of The Stars as a fire eater.
In the early 1990s she appeared on several tracks of the debut album by RuPaul entitled Supermodel of the World, most notably the hit song "Supermodel (You Better Work)." She also appeared in several music videos from the album. Shortly before her death she appeared in a series of comical Church's Chicken television commercials featuring the catchphrase "Gotta love it!"
Among her movie credits are appearances in Zapped! (1982), Good-bye, Cruel World (1983), Mausoleum (1983), the Steve Martin film My Blue Heaven (1990), as an extremely foul-mouthed clown in Bobcat Goldthwait's 1991 comedy Shakes the Clown, CB4 (1993), a cameo appearance in the 1995 movie Friday, stealing the opening scene with a one-liner, Don't Be a Menace to South Central While Drinking Your Juice in the Hood (1996), and a recurring role on the 1990s TV sitcom Martin.
Death
Page died of complications from diabetes on September 14, 2002. She is interred in an outdoor crypt at Inglewood Park Cemetery in Inglewood, California.
Her daughter, the evangelist Clara Estella Roberta Johnson, died on June 4, 2006, in Los Angeles, California, at the age of 69.
Discography
Mutha Is Half a Word (1971)
Watch It, Sucker! (1972)
Back Door Daddy (1972; featuring Skillet & Leroy)
Preach On Sister, Preach On! (1973)
Pipe Layin' Dan (1973)
Sane Advice (1979)
Filmography
Actress
2004
West from North Goes South
as
Mrs. Potter / Gertrude Potter
1995
Dream On (TV Series)
as
Eddie's Grandmother
- Finale - Part One (1996) - Eddie's Grandmother
- Little Orphan Eddie (1995) - Eddie's Grandmother
1996
Don't Be a Menace to South Central While Drinking Your Juice in the Hood
as
Old School's Mom (as La Wanda Page)
1995
Friday
as
Old Lady (as Lawanda Page)
1995
The Parent 'Hood (TV Series)
as
Lawanda
- Byte Me (1995) - Lawanda
1994
The Sinbad Show (TV Series)
as
Aunt Lula Mae
- Family Reunion (1994) - Aunt Lula Mae (as Lawanda Page)
1993
The Meteor Man
as
Old Nurse
1993
RuPaul: Supermodel, You Better Work (Music Video)
as
Narrator (voice)
1993
In Living Color (TV Series)
- In Living Color Voice-Mail Feedback Line (1993)
1992
Martin (TV Series)
as
Evelyn Porter
- Baby You Can Drive My Car (1993) - Evelyn Porter
- Variety Show (1993) - Evelyn Porter
- The Great Payne Robbery (1992) - Evelyn Porter
- Boyz 'R Us (1992) - Evelyn Porter
1993
CB4
as
Grandma (as La Wanda Page)
1992
CBS Schoolbreak Special (TV Series)
as
Mrs. Wicker
- Words Up! (1992) - Mrs. Wicker
1992
Family Matters (TV Series)
as
Elmerita Puckerwood
- Brown Bombshell (1992) - Elmerita Puckerwood
1991
Shakes the Clown
as
Female Clown Barfly (as La Wanda Page)
1991
Talkin' Dirty After Dark
as
Angel / Devil (as La Wanda Page)
1991
Amen (TV Series)
as
Darla
- Deliverance: Part 1 (1991) - Darla
- Date with an Angel (1991) - Darla (as La Wanda Page)
- Ernie and the Sublimes (1991) - Darla
1990
My Blue Heaven
as
Hotel Maid
1986
Joe Bash (TV Series)
- Cash (1986)
1986
227 (TV Series)
as
Ethel
- Pick Six (1986) - Ethel
1985
1st & Ten (TV Series)
as
Earlene's Mother
- Uneasy Lies the Head (1985) - Earlene's Mother
1985
Amazing Stories (TV Series)
as
Aunt Esther Anderson
- Remote Control Man (1985) - Aunt Esther Anderson
1983
Mausoleum
as
Elsie, the maid (as La Wanda Page)
1983
Hill Street Blues (TV Series)
as
Appartment Fire Victim
- Moon Over Uranus: The Sequel (1983) - Appartment Fire Victim (uncredited)
1982
Good-bye Cruel World
as
Wilma
1981
Sanford (TV Series)
as
Aunt Esther Anderson
- Private Lives (1981) - Aunt Esther Anderson (credit only)
- Gaslight (1981) - Aunt Esther Anderson
- Love Is Blind (1981) - Aunt Esther Anderson (credit only)
- Cal the Coward (1981) - Aunt Esther Anderson (credit only)
- Fred Has the Big One (1981) - Aunt Esther Anderson (credit only)
- Here Comes the Bride: Part 2 (1981) - Aunt Esther Anderson
- Here Comes the Bride: Part 1 (1981) - Aunt Esther Anderson
1980
B.A.D. Cats (TV Series)
as
Ma
- Pilot (1980) - Ma
1979
Detective School (TV Series)
as
Charlene Jenkins
- The Bank Job (1979) - Charlene Jenkins
- Farewell, My Miss Glendale (1979) - Charlene Jenkins
- The Killer-Diller Lingerie Caper (1979) - Charlene Jenkins
- Masseuse in the Cold, Cold Ground (1979) - Charlene Jenkins
- One Word Is Worth a Thousand Pictures (1979) - Charlene Jenkins
- The Jewel Heist (1979) - Charlene Jenkins
- The Runaway (1979) - Charlene Jenkins
- Ice (1979) - Charlene Jenkins
- Hooray for Bulgaria (1979) - Charlene Jenkins
- Lucy in the Sky with Pizza (1979) - Charlene Jenkins
- Oh, How We Danced (1979) - Charlene Jenkins
- A Bier on the House (1979) - Charlene Jenkins
1977
Starsky and Hutch (TV Series)
as
Mrs. Swayder / Minnie / Lady Bessie
- Targets Without a Badge: Part 3 (1979) - Mrs. Swayder (as La Wanda Page)
- Targets Without a Badge: Part 2 (1979) - Mrs. Swayder (as La Wanda Page)
- Starsky and Hutch on Voodoo Island (1977) - Minnie (uncredited)
- Huggy Bear and the Turkey (1977) - Lady Bessie (as La Wanda Page)
1979
Diff'rent Strokes (TV Series)
as
Myrtle Waters
- The Relative (1979) - Myrtle Waters (as La Wanda Page)
1979
Brothers and Sisters (TV Series)
as
Hattie
- Pilot (1979) - Hattie
1977
Sanford Arms (TV Series)
as
Aunt Esther Anderson
- Young Love (1977) - Aunt Esther Anderson
- The Wedding Reception (1977) - Aunt Esther Anderson
- The TV Show (1977) - Aunt Esther Anderson
- The Ernie Williams Memorial Golf Course (1977) - Aunt Esther Anderson
- Phil's Past (1977) - Aunt Esther Anderson
- The Grandparents (1977) - Aunt Esther Anderson
- Phil's Assertion School (1977) - Aunt Esther Anderson
- Bye, Fred, Hi, Phil (1977) - Aunt Esther Anderson
1977
The Love Boat (TV Series)
as
Stella Marshall
- A Tasteful Affair/Oh, Dale!/The Main Event (1977) - Stella Marshall
1973
Sanford and Son (TV Series)
as
Aunt Esther Anderson
- School Daze (1977) - Aunt Esther Anderson
- Fred Sings the Blues (1977) - Aunt Esther Anderson
- Funny, You Don't Look It (1977) - Aunt Esther Anderson (as La Wanda Page)
- The Lucky Streak (1977) - Aunt Esther Anderson
- Fred the Activist (1977) - Aunt Esther Anderson
- The Will (1977) - Aunt Esther Anderson
- The Reverend Sanford (1977) - Aunt Esther Anderson
- When John Comes Marching Home (1977) - Aunt Esther Anderson
- The Defiant One (1977) - Aunt Esther Anderson
- Here Today, Gone Today (1977) - Aunt Esther Anderson
- Aunt Esther Meets Her Son (1976) - Aunt Esther Anderson
- Aunt Esther Has a Baby (1976) - Aunt Esther Anderson
- The Winning Ticket (1976) - Aunt Esther Anderson
- I Dream of Choo Choo Rabinowitz (1976) - Aunt Esther Anderson
- The Hawaiian Connection: Part 2 (1976) - Aunt Esther Anderson (as La Wanda Page)
- The Hawaiian Connection: Part 1 (1976) - Aunt Esther Anderson (as La Wanda Page)
- Sergeant Gork (1976) - Aunt Esther Anderson
- A Pain in the Neck (1976) - Aunt Esther Anderson
- The Engagement Man Always Rings Twice (1976) - Aunt Esther Anderson
- Lamont in Love (1976) - Aunt Esther Anderson
- Greatest Show in Watts (1976) - Aunt Esther Anderson
- The Oddfather (1976) - Aunt Esther Anderson
- Ebenezer Sanford (1975) - Aunt Esther Anderson
- My Fair Esther (1975) - Aunt Esther Anderson
- Donna Pops the Question (1975) - Aunt Esther Anderson
- Steinberg and Son (1975) - Aunt Esther Anderson
- The Sanford Arms (1975) - Aunt Esther Anderson
- Divorce, Sanford Style (1975) - Aunt Esther Anderson
- Earthquake II (1975) - Aunt Esther Anderson
- The Over-the-Hill Gag (1975) - Aunt Esther Anderson
- The Masquerade Party (1975) - Aunt Esther Anderson
- Strange Bedfellows (1975) - Aunt Esther Anderson
- The Stand-In (1975) - Aunt Esther Anderson
- Once a Thief (1974) - Aunt Esther Anderson
- A Little Extra Security (1974) - Aunt Esther Anderson
- Tower Power (1974) - Aunt Esther Anderson
- Fred's Treasure Garden (1974) - Aunt Esther Anderson
- Sanford and Niece (1974) - Aunt Esther Anderson
- There'll Be Some Changes Made (1974) - Aunt Esther Anderson
- The Surprise Party (1974) - Aunt Esther Anderson
- Aunt Esther and Uncle Woodrow Pfftt- (1974) - Aunt Esther Anderson
- Tyranny, Thy Name Is Grady (1974) - Aunt Esther Anderson
- Mama's Baby, Papa's Maybe (1974) - Aunt Esther Anderson (as La Wanda Page)
- Wine, Women and Aunt Esther (1973) - Aunt Esther Anderson (as La Wanda Page)
- The Engagement (1973) - Aunt Esther Anderson
- Libra Rising All Over Lamont (1973) - Aunt Esther Anderson
- Rated X (1973) - Aunt Esther Anderson (as La Wanda Page)
- The Big Party (1973) - Aunt Esther Anderson
1977
Stonestreet: Who Killed the Centerfold Model? (TV Movie)
as
Erna
1975
Grady (TV Mini Series)
as
Aunt Esther
- Merry Birthday, Happy Xmas (1975) - Aunt Esther
Soundtrack
1977
Sanford and Son (TV Series) (performer - 1 episode)
- Fred Sings the Blues (1977) - (performer: "St. Louis Blues" - uncredited)
Self
2003
9th Annual Screen Actors Guild Awards (TV Special)
as
Self - In Memoriam
2000
Biography (TV Series documentary)
as
Self
- Redd Foxx: Say It Like It Is (2000) - Self
1999
E! True Hollywood Story (TV Series documentary)
as
Self
- Redd Foxx (1999) - Self
1994
The Legend of Dolemite (Documentary)
as
Self
1981
Good Evening, Captain (TV Special)
as
Self
1980
The Toni Tennille Show (TV Series)
as
Self
- Episode #1.3 (1980) - Self
1979
The Alan Hamel Show (TV Series)
as
Self
- Episode dated 11 April 1979 (1979) - Self
1978
Dean Martin Celebrity Roast: Suzanne Somers (TV Special)
as
Self
1978
Dean Martin Celebrity Roast: Betty White (TV Special)
as
Self - Comedian
1978
The Dean Martin Celebrity Roast: George Burns (TV Special)
as
Self
1978
Dean Martin Celebrity Roast: Jimmy Stewart (TV Special)
as
Self
1978
The Dean Martin Celebrity Roast: Jack Klugman (TV Special)
as
Self
1978
The Dean Martin Celebrity Roast: Frank Sinatra (TV Special)
as
Self
1978
The Merv Griffin Show (TV Series)
as
Self
- Episode dated 3 January 1978 (1978) - Self
1977
Dean Martin Celebrity Roast: Dan Haggerty (TV Special)
as
Self
1977
Redd Foxx (TV Series)
as
Self
1977
The Richard Pryor Special? (TV Special)
as
Sister Mabel Williams
1977
Dean Martin Celebrity Roast: Ted Knight (TV Special)
as
Self
1977
Dean Martin Celebrity Roast: Angie Dickinson (TV Special)
as
Self
1976
Dean Martin Celebrity Roast: Redd Foxx (TV Special)
as
Self
1975
Dinah! (TV Series)
as
Self
- Episode #3.3 (1976) - Self
- Episode #1.151 (1975) - Self
1975
The Mike Douglas Show (TV Series)
as
Self - Actress
- Episode #14.165 (1975) - Self - Actress
Archive Footage
2021
History of the Sitcom (TV Series documentary)
as
Aunt Esther Anderson
- Facing Race (2021) - Aunt Esther Anderson
2009
TV's 50 Funniest Catch Phrases (TV Movie)
as
Self
2003
E! True Hollywood Story (TV Series documentary)
as
Self
- Richard Pryor (2003) - Self
References
LaWanda Page Wikipedia
(Text) CC BY-SA