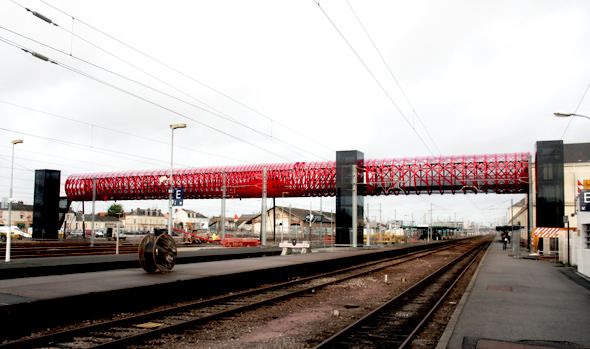 The town expanded significantly after Napoleon I chose the site as the new préfecture of the Vendée on 25 May 1804, replacing Fontenay-le-Comte (then under its revolutionary name of Fontenay-le-Peuple). At the time, most of La Roche had been eradicated in the Vendée Revolt (1793–96); the renamed Napoléonville was laid out and a fresh population of soldiers and civil servants was brought in. Napoléonville was designed to accommodate 15,000 people.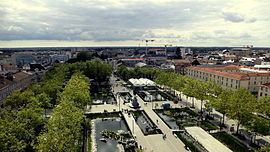 The town was called successively:

La Roche-sur-Yon (during the Ancien Régime and the French First Republic)
Napoléon-sur-Yon (during the First French Empire)
Bourbon-Vendée (during the French Restoration)
Napoléon-Vendée (during the French Second Empire)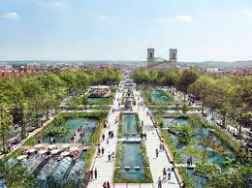 The river Yon flows southward through the commune and crosses the town.
The Communauté d'agglomération "La Roche-sur-Yon Agglomération" contains 15 communes:
Aubigny
Chaillé-sous-les-Ormeaux
La Chaize-le-Vicomte
Les Clouzeaux
Dompierre-sur-Yon
La Ferrière
Fougeré
Landeronde
Mouilleron-le-Captif
Nesmy
La Roche-sur-Yon
Saint-Florent-des-Bois
Le Tablier
Thorigny
Venansault
La Roche-sur-Yon is the chief town of the Arrondissement of La Roche-sur-Yon, which covers 11 cantons, 92 communes, and has a population of 230,386 (1999 census).
La-Roche-sur-Yon is chief town of two cantons, Canton of La Roche-sur-Yon-1 and Canton of La Roche-sur-Yon-2.
The Gare de La Roche-sur-Yon railway station offers connections to Nantes, Paris, Les Sables-d'Olonne, Bordeaux and several regional destinations. The A87 motorway connects La Roche-sur-Yon with Les Sables-d'Olonne and Angers, the A83 with Nantes and Niort.
The commune has designated attendance zones for its primary schools.
Schools include:
2 public preschools (écoles maternelles)
2 public elementary schools
13 public school groups of combined preschools and elementary schools
6 private elementary schools
Public junior high schools: Collège Auguste et Jean-Renoir, Collège mixte Les Gondoliers, Collège mixte Edouard Herriot, Collège Haxo
Private junior high schools: Collège mixte du Sacré-Coeur, Collège mixte Richelieu, Collège mixte Saint-Louis
Public senior high schools: Lycée Nature (general education and agricultural technology), Lycée d'état mixte Alfred-Kastler, Lycée polyvalent Jean de Lattre-de-Tassigny, Lycée polyvalent Pierre-Mendès-France, and Lycée professionnel Edoaurd Branly
Private senior high schools: Lycée Saint-François d'Assise, Lycée d'enseignement général et technologique Notre-Dame-du-Roc, Lycée les Etablières
One grande école : Institut catholique d'arts et métiers
In 2014 La Roche-sur-yon hosted the 2014 French championship of table tennis
La Roche-sur-Yon's Vendéspace hosted one of the first round ties of the 2014 Davis Cup tennis tournament over the weekend of 31 January - 2 February 2014. France hosted Australia as both teams competed for a place in the World Group quarterfinals.
In 2015 La Roche-sur-Yon, will host the 2015 FIRS Men's Roller Hockey World Cup, the first time that a World Cup of roller hockey is held in France.
In June 2015 La Roche-sur-Yon's Vendéspace will host the qualification tournament for the World Championships in Savate Combat
La Roche-sur-Yon is twinned with:
Gummersbach, Germany
Coleraine, Northern Ireland, United Kingdom
Drummondville, Canada
Cáceres, Spain, since 1982
Tizi Ouzou, Algeria, since 1989
Makhachkala, Dagestan, Russia
Burg bei Magdeburg, Germany, since 2005