Kshana Kshanam (English: Moment to Moment) is a 1991 Telugu neo-noir road movie written and directed by Ram Gopal Varma. The film Starred Venkatesh, Sridevi and Paresh Rawal in the lead roles. The sound track and background score composed by M. M. Keeravani received rave reviews. The Comedy thriller film is one of the highest rated Telugu films on the Internet Movie Database. The narrative by Ram Gopal Varma, and the cinematography by S. Gopala Reddy, received positive reviews.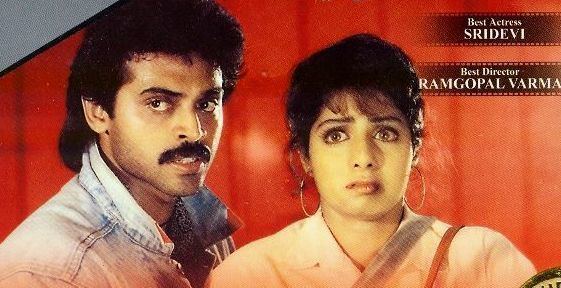 Produced by Durga Arts, the film went on to become a sleeper hit with its second theatrical release in Andhra Pradesh, Telangana, and Tamil Nadu, along with a dubbed Hindi version titled Hairaan which gathered positive reports from bollywood critics, and was screened at the International Film Festival of India, Ann Arbor Film Festival, and the Fribourg International Film Festival. The path breaking film received critical acclaim which led to four state Nandi Awards, including the Nandi Award for Best Direction, the Nandi Award for Best Screenplay Writer, and a Filmfare Award South. Varma later remade the film in Hindi as Daud, and also donned films such as Thiruda Thiruda, Anaganaga Oka Roju and Road on the lines of Kshana Kshanam.
The film is the story of a middle class girl (Sridevi) and a thief (Daggubati Venkatesh) brought together under strange circumstances. The film revolves around the pair chased by an eccentric bank robber, (Paresh Rawal) and the police (Rami Reddy).
Bijon Das Gupta was the production designer for the film. Filming was done in Hyderabad, Nallamala forests, and Mudumalai National Park. Sridevi's acclaimed performance of an innocent girl stuck in a tight spot, won her awards. She also sang the soundtrack "Kingu La Kanipisthunnadu" which was shot in The Leela Mumbai.
Music composed by M. M. Keeravani. All songs are blockbusters.
Nandi Awards
Best Director - Ram Gopal Varma
Best Actress - Sridevi
Best Screenplay Writer - Ram Gopal Varma
Best Cinematographer - S. Gopala Reddy
Filmfare Awards South
Best Actress – Telugu - Sridevi
Best Music Director - Telugu - M. M. Keeravani