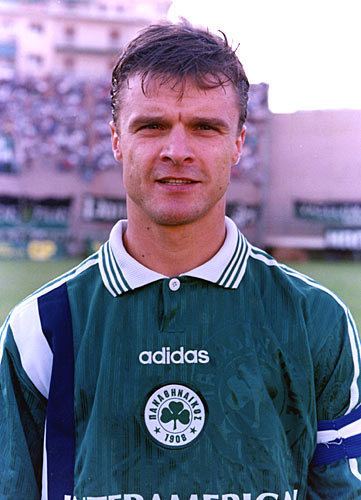 Krzysztof Warzycha played for the Polish team KS Ruch Chorzów, won the Polish Championship in 1989 and was the top scorer in the Polish premier league the same year.
Krzysztof Warzycha joined Panathinaikos in December 1989, and won 5 Greek championships (1990, 1991, 1995, 1996, 2004), 5 Greek cups (1991, 1993, 1994, 1995, 2004), 2 Greek super cups 1993, 1994, while he was the highest scorer of the Greek championship 3 times (1994, 1995, 1998).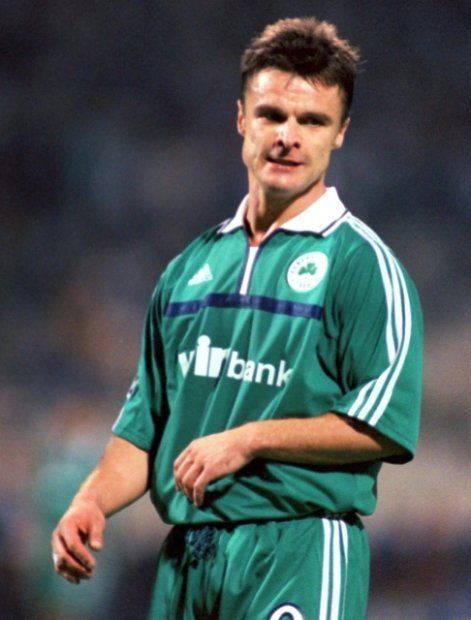 He is Panathinaikos' all-time leading goalscorer and an idol for the club. Warzycha is considered by many to be one of the best foreign players who have played in Greece. He was one of two Poles in the title-winning side of 1995, with fellow countryman Józef Wandzik keeping over a dozen clean sheets (shutouts) during the season.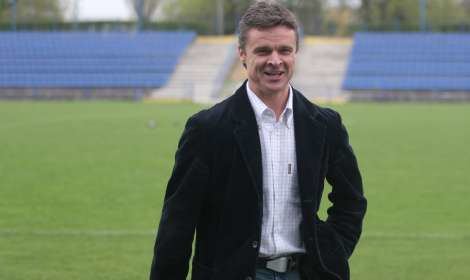 On April 3, 1996, Warzycha scored probably the most important goal of his career (according to a late interview), against Ajax Amsterdam in Amsterdam Olympic Stadium [1] and gave Ajax their first home defeat in four years, in their last home match before the demolition of the stadium.
At the end of the 2000/01 season, Warzycha had scored an incredible 235 goals in 352 matches and had been the Greek Alpha Ethniki premier league's top scorer in three different years in the 90s (1994, 1995 and 1998 seasons). His appearances in the UEFA Champions League have been no less impressive – he scored six goals in Panathinaikos' nine games on the way to the semi-finals of the 1995/96 competition. With eight goals scored in all UEFA Champions League games, Warzycha remained the best scorer of Polish nationality in this competition until the 2012-13 season, when Robert Lewandowski scored 10 times for Dortmund in Dortmund´s surprise run to the Champions League final.
On the 29th of April, 2001 during the match with Ionikos FC, Krzysztof Warzycha scored the 233rd goal of his career in Greece, climbing to second place on the list of all-time goal scorers, tied with Mimis Papaioannou. Warzycha later scored his 234th goal and become sole occupant of this spot.
He was granted Greek citizenship in 1998. He retired in 2004.
After Panathinaikos head coach Henk Ten Cate was let go on December 8, 2009, Warzycha was appointed as assistant coach alongside Nikos Nioplias.
On 1 March 2012, Krzysztof was appointed as the head coach of Delta Ethniki side Egaleo, with this being his first venture into management.
In 2012, Krzysztof Warzycha was the head coach of Fokikos F.C.
In April 2017 he replaced Waldemar Fornalik on Ruch Chorzów manager position.
He played 50 times for Poland, scoring 9 goals. He played the last game for the Polish national team in April 1997 against Italy in Napoli (3–0 loss).
He ran in the Greek local elections, 2014 with a New Democracy backed combination for the municipality of Athens. Former player was also an ANEL candidate to parliament in January 2015 legislative elections, but without success.
Warzycha's goalscoring ability made him famous throughout Europe during his career. In 2001 the International Federation of Football History and Statistics (IFFHS) awarded him the Third Prize for the most active goalscorer.