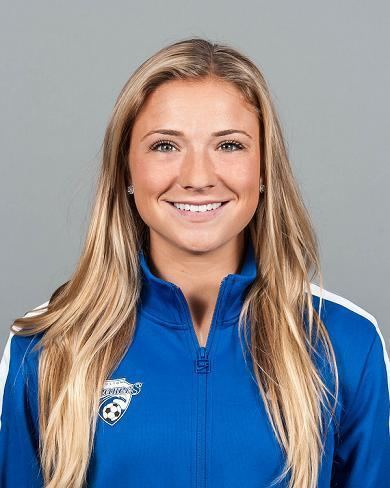 Mewis grew up in Hanson, Massachusetts where she attended Whitman-Hanson Regional High School and played on the soccer team. She finished her high school career with 74 goals and 34 assists. She was a three-time NSCAA All-American, three-time All-New England and All-Massachusetts team honoree and a three-time Eastern Massachusetts Girls Soccer Association Div. 1 First-Team All-Star. In 2008, Mewis was named the NSCAA Youth Player of the Year and the US Soccer Young Female Athlete of the Year. In 2009, she was named to the Parade All-America team.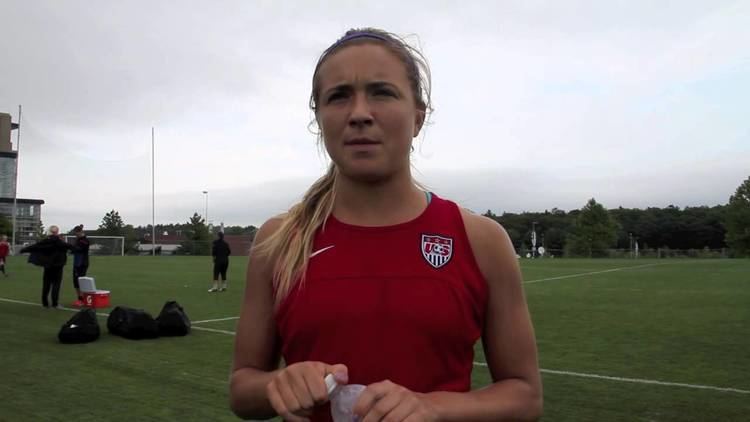 Mewis played for the Region 1 Olympic Development Program (ODP) team from 2003–2007. She played with her younger sister Sam at the 2008 FIFA U-17 Women's World Cup and the 2010 FIFA U-20 Women's World Cup.
As a freshman at Boston College, Mewis recorded five goals and six assists, and was second on the team in shots taken with 72, bettered only by fellow Eagle and United States U-17 teammate, Vicki DiMartino. Mewis played and started in 23 games and tied for fourth on the team in scoring with five goals and six assists for 16 points. Mewis played midfield and filled in on defense due to injuries. She was named to the All-ACC Freshmen Team, the Top Drawer Soccer All-Rookie team, and Soccer America All-Rookie team and earned NSCAA All-Southeast Region first team honors.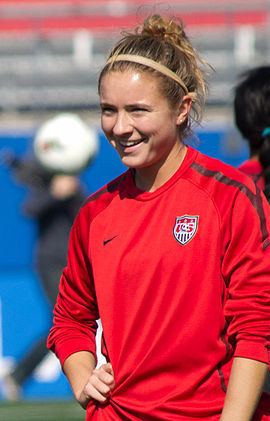 During her sophomore year in 2010, Mewis started all 25 games on the season and led the Atlantic Coast Conference (ACC) in shots with 101. She scored ten goals, ranking seventh in the ACC and second for Boston. She was first on the team in assists with 14; tied for the ACC lead. She tied for fifth in the ACC in points with 34. Mewis set a school record by recording a goal or assist in 11 consecutive games from August 29 to October tallying seven goals and eight assists during the run. She was awarded ACC Player of the Week and CollegeSoccer360 Team of the Week honors on October 4. Mewis was named New England Soccer News Player of the Year and was an All-ACC first team selection. She was a Hermann Trophy semifinalist and a member of Soccer America MVP's first team. Mewis received NSCAA All-American first team accolades and was named to Top Drawer Soccer's second team. She was also the NSCAA Player of the Week on September 29.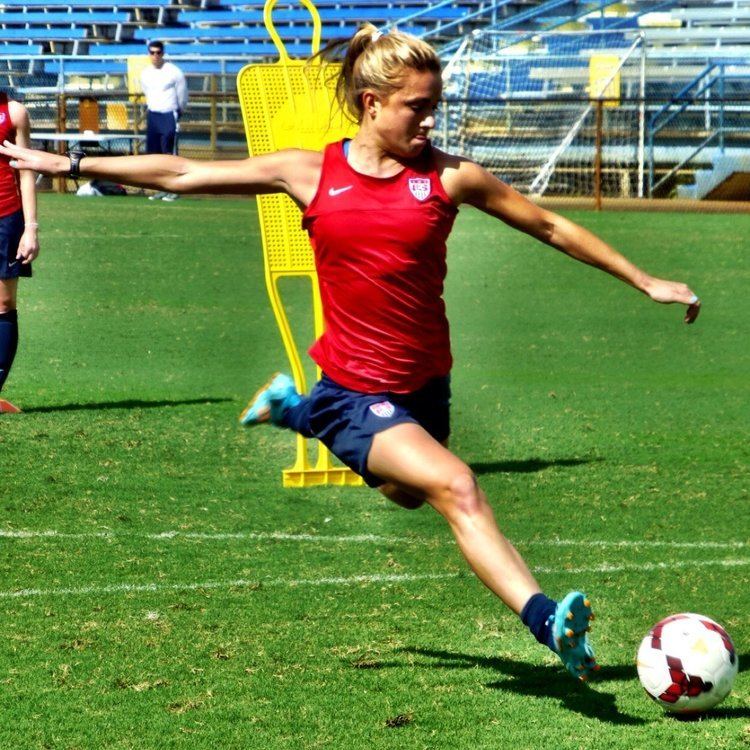 In 2011, Mewis led the team in scoring eight goals and six assists for 22 points and was named the Offensive Team MVP. Starting and playing in 20 games during the season, Mewis logged 1,545 minutes of play while leading the team in shots with 81. She averaged 4.05 shots per game, ranking second in the ACC and was 11th in the ACC in points, with 22. Mewis was a NSCAA Division 1 All-America third team selection and earned NSCAA Southeast Regional first team honors. She was an all-ACC first team selection, was named to the Soccer America MVP second team, and was named to the Soccer America Preseason All-America list. Mewis was named to the Preseason Hermann Trophy Watch List and was a semifinalist for the award.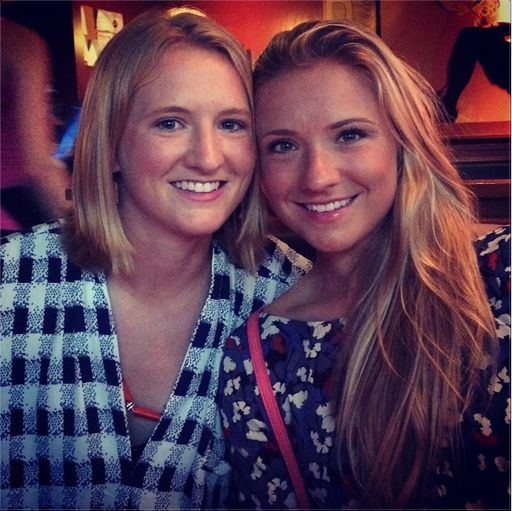 During her senior year, Mewis finished the 2012 season with a career-high 16 goals, 12 assists for a career-high 44 points. She recorded nine multi-point games (three or more points) and had a goal or assist in 15 of 21 games this season. Mewis is the all-time leading scorer in the Boston College program with 116 total points. After opening the season with a nine-game scoring streak, second to her personal and program record of 11 games which she accomplished in 2010, she was named a Division 1 ECAC All-Star and Hermann Trophy Semifinalist. Mewis received NSCAA First Team All-America and All-Southeast Region honors and was named to the TopDrawerSoccer.com Team of the Season – Upperclassmen – first team. She was named to the All-ACC first team and College Sports Madness All-American first team. Mewis tallied her first career hat trick in a match against Harvard. The three goals made her the all-time leader in points at Boston College. She finished her career with 39 goals, 38 assists, nine game-winning goals and 21 multiple-point games. She was the second player in program history to register a goal in five straight games.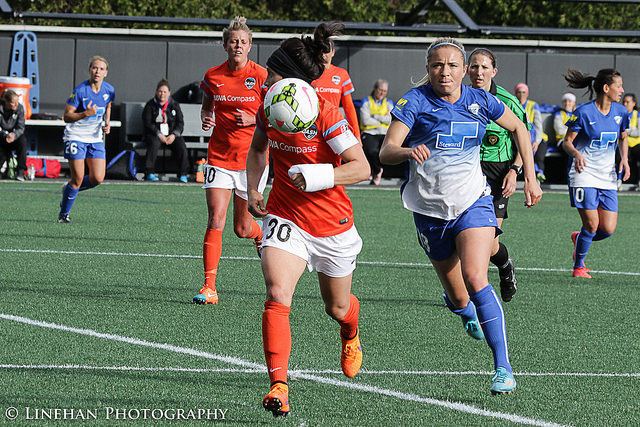 Mewis signed with the Australian W-League team Canberra United FC to finish the final two weeks of the 2012–13 season. She made her first appearance for the club during a 5–0 win against the Western Sydney Wanderers FC on January 8 and scored the team's fifth goal in the 89th minute of the match. Her second and final appearance occurred on January 12 when the team was defeated 5–1 by eventual regular season champions, Brisbane Roar FC. Mewis scored Canberra's only goal of the match in the 45th minute. Canberra United finished fifth during the regular season with a 5–3–4 record.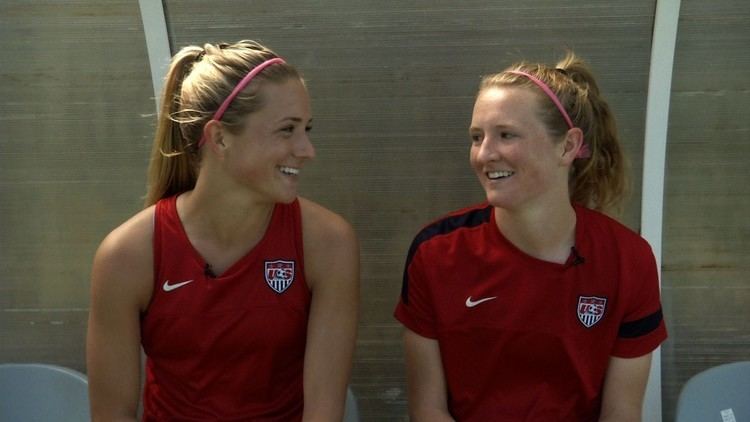 In January 2013, Mewis was drafted in the first round (third pick overall) of the 2013 NWSL College Draft to FC Kansas City for the inaugural season of the National Women's Soccer League. She was elevated to U.S. Soccer-subsidized status during the year. She scored her first goal of the season in the 74th minute of the Blues' 3–2 win over Portland Thorns FC on May 8. Mewis made 20 appearances for FC Kansas City during the regular season helping the team finish second in the standings with an 11–5–6 record. The team advanced to the playoffs but were defeated 3–2 in the semifinals by Portland.
In November 2013, FC Kansas City traded Mewis to Seattle Reign FC for Amy Rodriguez. Of the trade, Reign FC coach, Laura Harvey said, "Kristie is a young, bright and talented player who we feel can benefit our long-term plan. She has proven that she can be a high-level player in this environment and we feel we have the structure to help push Kristie to the next level." On November 18, 2013, she was traded alongside Michelle Betos and two 2015 NWSL College Draft picks to the Boston Breakers for Sydney Leroux.
October 2014 Mewis signed a three-month contract with Iga FC Kunoichi of the Japanese Nadeshiko League first division. Wearing number 31 and playing as a forward, Mewis scored five goals in seven games, which included two braces. During matches in which she played, Iga FC compiled a record of 6–1.
In August 2015, Mewis signed a one-year contract with Bayern Munich.
In November 2016, Mewis was traded along with Kassey Kallman from the Boston Breakers to the Washington Spirit for Megan Oyster.
On August 21, 2017, Mewis was traded to the Chicago Red Stars for their first round draft pick in the 2018 NWSL College Draft. In her first game for the Red Stars against her previous team, she scored a goal in the first half.
On August 30, 2017, about a week after being traded to the Chicago Red Stars, Mewis was traded to the Houston Dash for USWNT player Morgan Brian with additional, undisclosed future considerations going to Houston.
Mewis captained the inaugural United States U17 that was runner-up at the 2008 FIFA U-17 Women's World Cup in New Zealand, alongside North Carolina's Amber Brooks and Portland's Cloee Colohan. Her younger sister Samantha was also a member of that squad. Over the course of the tournament, Mewis scored two goals and was the recipient of the Bronze Ball as the tournament's third-best player.
On January 22, 2013, Mewis was called to the national training camp by head coach Tom Sermanni in preparation for a friendly match against Scotland ahead of the Algarve Cup. She made her debut for the senior team on February 9, 2013 against Scotland and was placed on the roster for 2013 Algarve Cup. Mewis scored the game-opening goal in the third minute of a friendly match against South Korea on June 15, 2013 near her hometown in Massachusetts. The U.S. defeated South Korea 4–1.
Mewis was the United States Soccer Federation's 2008 Young Female Athlete of the Year.
She holds the 300 meters (42.2 s) and 600 meters (1:37) indoor track records at Whitman-Hanson Regional High School.
Mewis is the older sister of UCLA and United States U-23 women's national soccer team player Sam Mewis.