Russia




55.47 km²




183,402 (2010)



Korolyov or Korolev (Russian: ; ) is an industrial city in Moscow Oblast, Russia, well known as the cradle of Soviet and Russian space exploration. As of the 2010 Census, its population was 183,402.
It was known as Kaliningrad () since 1938 and served as the leading Soviet center for production of anti-tank and air-defense guns. In 1946, in the aftermath of World War II, the artillery plant was reconstructed for production of rockets, launch vehicles, and spacecraft, under the guidance of Russian scientist and academician Sergei Korolev, who envisioned, consolidated and guided the activities of many people in the Soviet space-exploration program. The plant which later became known as the RKK Energia, when the Vostok space vehicle was being developed this research center designated as NII-88 or POB 989. and Mission Control Center are also located in Korolyov.
In July 1996, the city was renamed in commemoration of Sergei Korolev, the father of the Soviet/Russian space program, who died in 1966. Since 1997, Korolyov has hosted the International Space Olympics, an annual competition for young people, to promote space related research.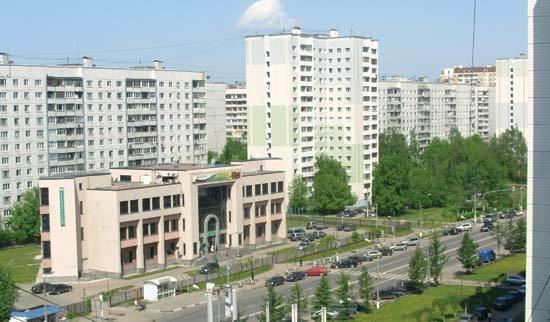 In the 12th century, a Slavic settlement was located on the site of modern Korolyov. The settlement stood on a junction of trade routes between the Moscow and Vladimir-Suzdal principalities. After the Mongol conquests in the 13th century, the region was in decline. In the 18th century, one of the first textile factories in Russia was established here.
In 1924, the first OGPU working commune in the Soviet Union was established here. In 1938, the locality in place of the Kalininsky settlement near an artillery plant, which had previously been evacuated from Leningrad, was granted town status and named Kaliningrad.
The main enterprise of the city is the RKK Energia, but there are several kinds of industry in the city. This naukograd (science city) is the place in which was built the first Youth Residential Complex in the Soviet Union. Another notable company located in the city is OAO Kompozit, which is engaged in the field of materials science.
Korolyov, Moscow Oblast Wikipedia
(,)http://media-2.web.britannica.com/eb-media/81/151581-004-C42EAFB5.jpg(,)http://upload.wikimedia.org/wikipedia/commons/b/b3/RIAN_archive_337493_Monument_to_Sergei_Korolyov_in_Cosmonauts_Alley_in_Moscow.jpg(,)http://upload.wikimedia.org/wikipedia/commons/thumb/8/82/Russia_Moscow_oblast_locator_map.svg/700px-Russia_Moscow_oblast_locator_map.svg.png(,)http://img1.wikia.nocookie.net/__cb20120814232131/althistory/images/4/41/Korolev_for_web-1-.jpg(,)http://russiatrek.org/images/photo/moscow-region-landscape.jpg(,)http://skmost.ru/images/post/history/history7.jpg(,)http://upload.wikimedia.org/wikipedia/commons/f/f0/Korolev_v%27ezd_v_gorod.jpg
(,)http://media-cdn.tripadvisor.com/media/photo-s/07/cd/d7/10/caption.jpg(,)http://media-cdn.tripadvisor.com/media/photo-s/06/d9/96/7a/restaurant-malinki.jpg(,)http://media-cdn.tripadvisor.com/media/photo-s/06/db/58/7a/caption.jpg(,)http://media-cdn.tripadvisor.com/media/photo-s/07/75/b6/73/caption.jpg(,)http://media-cdn.tripadvisor.com/media/photo-s/07/9b/89/62/caption.jpg(,)http://media-cdn.tripadvisor.com/media/photo-s/07/5b/1e/7d/caption.jpg(,)http://media-cdn.tripadvisor.com/media/photo-s/05/e2/3a/46/caption.jpg(,)http://media-cdn.tripadvisor.com/media/photo-s/07/5b/17/a7/caption.jpg(,)http://media-cdn.tripadvisor.com/media/photo-s/07/5b/1a/72/caption.jpg(,)http://media-cdn.tripadvisor.com/media/photo-s/07/5b/1a/75/caption.jpg