Years active

1987–present

Children

Gayathri Thulasi






Full Name

K.K. Thulasidharan Nair

Born

29 May 1949

Kollam

, Travancore Cochin, India

Parents

Bharathi Amma, Kollam Kanjaveli Kuttilazhikathu P S Nair

Movies

Mohitham, Nadiya Kollappetta Rathri, Lelam, Dhrona 2010, Collector




Similar People

K Madhu, Shaji Kailas, Jagadish, Balachandra Menon, Sathyan Anthikad
Onnum onnum moonu i ep 64 with p c george kollam thulasi i mazhavil manorama
Kollam Kanjaveli Kuttilazhikathu Thulasidharan Nair is an actor in Malayalam cinema who is better known as Kollam Thulasi relating the name of his birthplace Kollam to his first name as customary in some parts of Kerala. His first appearance was in Ezhuthappurangal (1987). He is well known for his unique acting style. He appeared in many television serials. He is also a poet.
Contents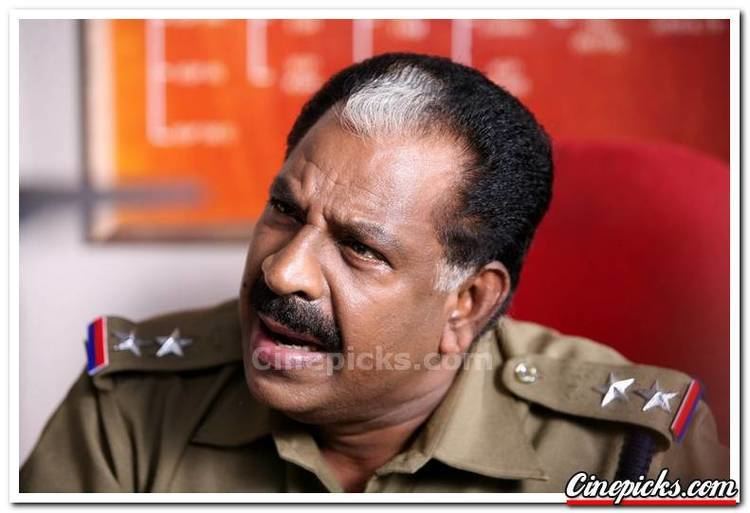 Request by malayalam actor kollam thulasi for shri o rajagopal vote for bjp
Personal life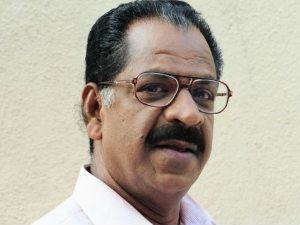 He was born in 1945 to Kollam Kanjaveli Kuttilazhikathu P S Nair and Bharathi Amma. After completing a master's degree in History, he pursued Diploma in journalism. In 1970 he entered Kerala Govt. Service at Kozhikode corporation. he retired from Municipal Service from Thiruvananthapuram corporation. He currently resides in Valiyashala. Wife: Vijaya Nair who is an officer at Railway divisional office, Daughter: Gayathri.
Television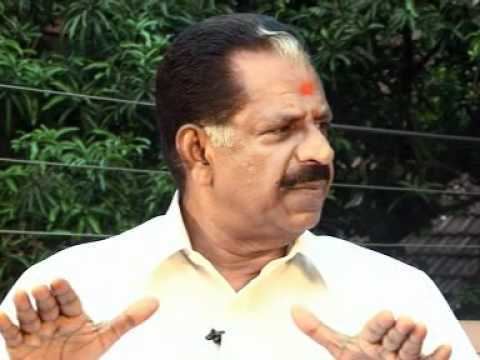 Aparichitha (Amrita TV)
Dhathuputhri (Mazhavil Manorama) as Minister
Balaganapathy (Asianet) as Kunjappu
Kanalpoovu (Jeevan TV)
Hallo kuttichathan 2 (Asianet)
Ente Manasaputhri (Asianet) as Balabadran
Sreeraman Sreedevi (Asianet)
Sthree 2 (Asianet)
Pavitra Jaililaanu (Asianet)
Kadamattathu Kathanar (Asianet) as Kollan/Neeli's Father
Filmography
Actor
2022
Varaal
as
Thidambhil Ramakrishnan
2022
Kadal Kuthira
as
Chandrapan
2017
1971: Beyond Borders
as
Villager
2015
Dhathuputhri (TV Series)
2014
Mathai Kuzhappakkaranalla
as
Menon
2012
Padmasree Bharat Dr. Saroj Kumar
as
Union Leader
2011
Vellaripravinte Changathi
2011
Manushya Mrugam
as
Rasheed
2010
Again Kasargod Khader Bhai
2010
The Thriller
as
Chief Minister
2010
Kanmazha Peyyum Munpe
as
Usman
2009
Oru Black & White Kudumbam
as
Police Officer
2009
Shudharil Shudhan
as
Fernandes
2009
Angel John
as
An inspector
2009
Black Dhaliya
as
Kariyachan
2009
Thirunakkara Perumal
as
Vasu
2008
Dae! Ingottu nokkiye...
2008
Crazy Gopalan
as
Circle Inspector
2007
Nadiya Kollappetta Rathri
as
Madhavan
2005
The Tiger
as
Cheriyan Thundiyil IPS
2004
Sathyam
as
Police Officer
2001
Nagaravadhu
as
Mathew Tharakan
2000
Narasimham
as
Public Prosecutor Gopinathan
1999
Thachiledathu Chundan
as
Advocate
1997
Asuravamsam
as
Medical College Professor
1997
Gangothri
as
Adv. Krishnan Kartha
1997
Lelam
as
Kattithara Pappi
1997
Etha Oru Snehagatha
as
Raman Nair; a Hindu leader
1996
Kaathil Oru Kinnaram
as
Puthiyedathu Padmanabhan Thampi
1995
Prayikkara Pappan
as
A Politician
1995
Thacholi Varghese Chekavar
1995
Thovalapookkal
as
Kottar Sadashivam
1995
The King
as
John Varghese
1994
Commissioner
as
Home Minister
1994
Pidakkozhi Koovunna Noottandu
1994
Poochakkaru Mani Kettum
as
Gopika's Father
1994
Vendor Daniel State Licency
as
C. I. Chandran
1993
Aalavattam
as
Thankappan Pillai
1993
Bandhukkal Sathrukkal
as
Sugunan
1993
Bhagyavan
as
Police Officer
1992
Aardram
as
A brother of Sainaba
1992
Congratulations Miss Anitha Menon
as
Keshavan Nair
1992
Pandu Pandoru Rajakumari
as
Arumugham Vadivelan
1992
Soorya Gayathri
as
College Principal
1991
Oru Prathyeka Ariyippu
as
Das
1991
Kuttapathram
as
Adv. Narendran
1991
Inspector Balram
as
Home Minister
1990
Cheriya Lokavum Valiya Manushyarum
as
Dr. Narendran
1990
Randam Varavu
as
Police Officer
1990
Thalayanamanthram
as
Raman Kartha
1990
Ee Thanutha Veluppan Kalathu
as
Balu
1990
Kottayam Kunjachan
as
Anthrayos
1990
Purappad
as
District Collector
1989
Annakutty Kodambakkam Vilikkunnu
as
Dr. Azhakeshan
1989
Kandathum Kettathum
as
Narayanan
1989
Naaduvazhikal
as
Gopala Pillai
1989
Jagratha
as
Medical Officer
1989
Adikkurippu
as
District Collector
1989
Mudra
as
Vinayan's Father
1988
Moonnam Mura
as
Home Secretary
1988
Oohakachavadam
as
A police officer
1988
Oru CBI Diary Kurippu
as
Regional Medical Officer
1987
Boomiyile Rajakkanmar
as
Gopala Pillai
1986
Yuvajanotsavam
as
A police officer
References
Kollam Thulasi Wikipedia
(Text) CC BY-SA