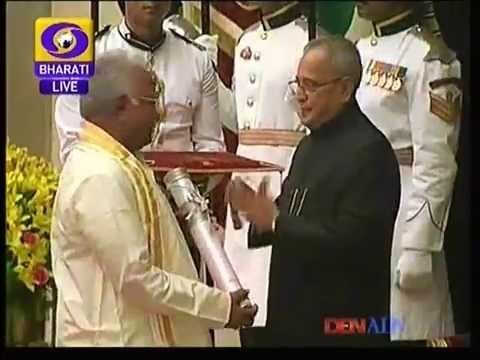 Kolakaluri Enoch was born in a madiga family with meagre financial resources, on 1 July 1939, to Ramaiah and Veeramma, in the small village of Vejandla, in Guntur district, in the present day Andhra Pradesh state of India. His higher education was at the Andhra University from where he secured BA (Hons) in 1959. During his college days, he received the first prize for short story, poem, and play in the annual competitions for three years consecutively, from 1957 to 1959. Subsequently, he joined Sri Venkateswara University, in the temple town of Tirupati, and obtained a PhD.
Kolakaluri Enoch started his career by joining Andhra University as a faculty member. He had a notable career which took him to the post of the Vice Chancellor of the Sri Venkateswara University, Tirupati, the institution from where he secured his doctoral degree.
Kolakaluri Enoch has a fairly large body of work, which comprises 180 poems, 180 stories, 9 novels and 30 plays apart from other efforts on literary criticisms and Children's literature. Many of his works have been translated into other languages such as English, Hindi, Tamil, Kannada, and Malayalam. His works have been subjected to critical studies for educational purposes and nine PhDs and 5 MPhils have been reported to be based on them. One of his stoies, Talalenodu (A Person without head), was a prescribed text book for intermediate course at Andhra University during the period from 1987 to 1995.
Enoch, belonging to a backward community, was also reported to be a social activist and, championed the cause of Dalits through his works. He was a member of the jury for T. V. Nandi awards of the Government of Andhra Pradesh in the year 1992.
Kolakaluri Enoch was awarded the Padma Shri, in 2014, by the Government of India He has also received many other awards such as:
Awarded with the 29th Moortidevi Award by Bharatiya Jnanpith for his novel Ananta Jeevanam
Telugu Bharati Puraskaram - C. P. Brown Academy, Alfa foundation, Hyderabad – 2010
Andhra Pradesh Sahitya Akademi Award (for Adunika Sahitya Vimarsha Sutram) - 1998
Andhra Pradesh Sahitya Akademi Award (for Munivahanudu) - 1988
Andhra Pradesh Sahitya Akademi Award (for Urabavi (Short Story Arthology)) - 1986
Mallemala Sahitya Puraskaram - Mallemala Trust, Kadapa – 2010
Telugu Sakha Swarnotshava Puraskaram - S. V. University, Tirupati - 2009
Duvvuri Ramanamma Puraskaram - DRW College, Gudur - 2009
Viswavidyalaya Pratibha Puraskaram - Acharya Nagarjuna University, Guntur - 2007
Life achievement Award - Siddhartha Kalapeetham, Vijayawada - 2006
Telugu Bhashotsava Puraskaram - Government of Andhra Pradesh - 2004
N. T. R. Lalitha Kala Puraskaram N. T. R. Foundation Trust, Hyderabad - 2008
Sahiti Puraskaram - Potti Sreeramulu Telugu University - 1999
He is also reported to have received the Ambedkar National Literary Award (1997), Juluri Nagarajarao Literary Award (1977), Paidi Lakshmaiah Literary Award (1998), and Madras Telugu Akademi Literary Award (2001) Some of the educational awards received by him are:
Best Teacher Award - Government of Andhra Pradesh - 1993
Best Educationalist Award - All India Ambedkar Association, Andhra Pradesh - 1994
National Integration Award - Government of Andhra Pradesh - 1994
Best Educational Award - Delhi Telugu Association, New Delhi - 1998
Some of the titles conferred on him by local cultural bodies are the Andhra Shri by the Sri Saraswati Journal in 1961, Kalasaraswati by Kalavedika, Hyderabad in 1985, Sahiti Samrat by Kalarayam, Hyderabad in 1991 and Kathaka Chakravarti by Joshua Samithi, Vinukonda in 1999.
Enoch is credited with over 180 poems, 180 stories, 9 novels and 30 plays. Some of his notable works are:
Poems
Dramas
One Act Plays
Novels
Short Story Anthologies
Research Papers
Literary Criticism
Translations
Children's literature
Amma - Dance & Music Playlets
Enoch's writings have been transalted into English, Kannada, Tamil, Malayalam, and Hindi. His works have been subjected to critical studies, both for literary and educational purposes.