Name

Klaus Biesenbach





Role

Curator







Organizations founded

Kunst-Werke Institute for Contemporary Art




Books

Destroy, she said, Douglas Gordon: Timeline




Similar People

Marina Abramovic, Hans‑Ulrich Obrist, Ulay, Paolo Canevari, Alanna Heiss
14 rooms interview with the curators hans ulrich obrist and klaus biesenbach
Klaus Biesenbach (born 1967) is the director of MoMA PS1 and Chief Curator at Large at The Museum of Modern Art in New York City. He is also the founding director of Kunst-Werke (KW) Institute for Contemporary Art in Berlin and Berlin Biennale.
Contents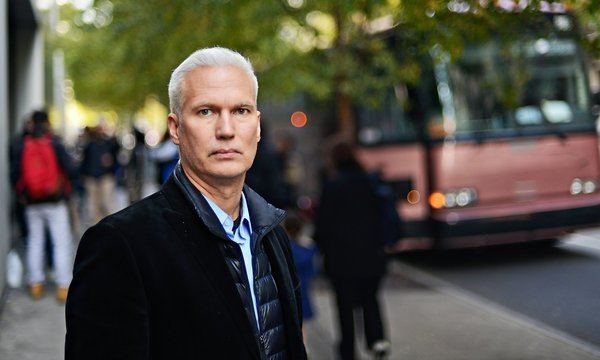 Curator klaus biesenbach discusses pipilotti rist pour your body out 7354 cubic meters at moma
Life and career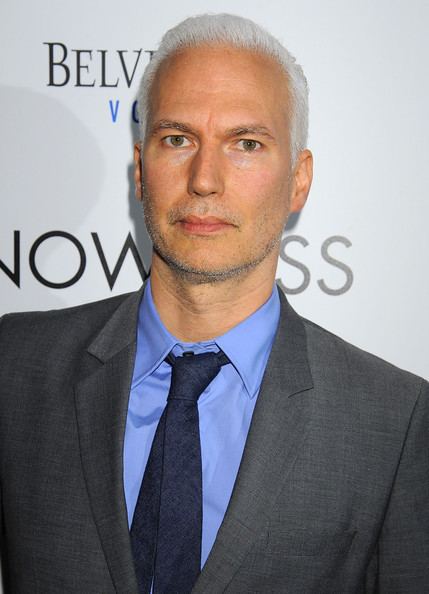 Biesenbach was born in 1966 in Bergisch Gladbach, West Germany.
Kunst-Werke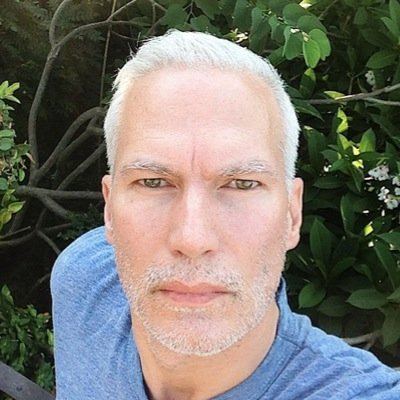 Biesenbach founded Kunst-Werke (KW) Institute for Contemporary Art in Berlin in 1991, as well as the Berlin Biennale in 1996, and remains Founding Director of both entities. Under his artistic and executive directorship, KW and the Berlin Biennale were started as self-inventive initiatives and are now federally and state funded institutions.
MoMA career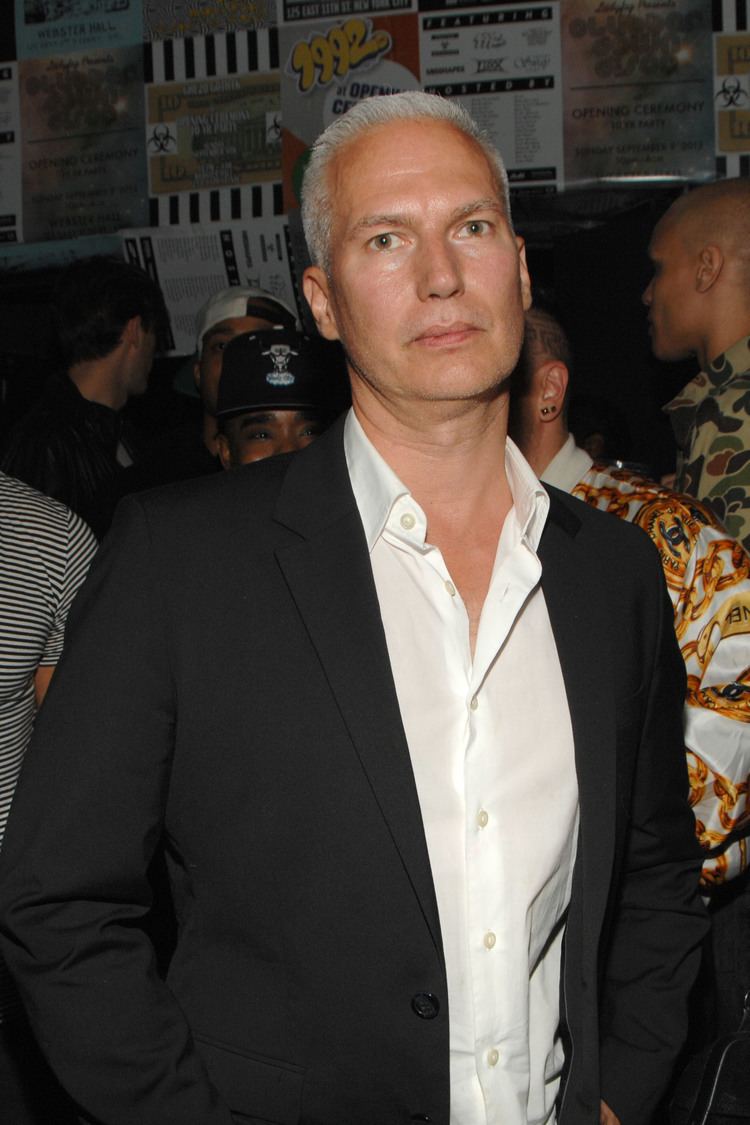 Biesenbach joined MoMA PS1 as a curator in 1996; the museum's director Alanna Heiss had hired him part-time while allowing him to maintain his directorship in Berlin. In 2004, Biesenbach was appointed as a curator in the MoMA's "Department of Film and Media". He was named Chief Curator of MoMA's newly formed Department of Media, in 2006, which was subsequently broadened to the Department of Media and Performance Art, in 2009, to reflect the Museum's increased focus on collecting, preserving, and exhibiting performance art. As Chief Curator of the department, Biesenbach led a range of pioneering initiatives, including the launch of a new performance art exhibition series; an ongoing series of workshops for artists and curators; acquisitions of media and performance art; and the Museum's presentation in 2010 of a major retrospective of the work of Marina Abramović—with whom he was formerly romantically involved.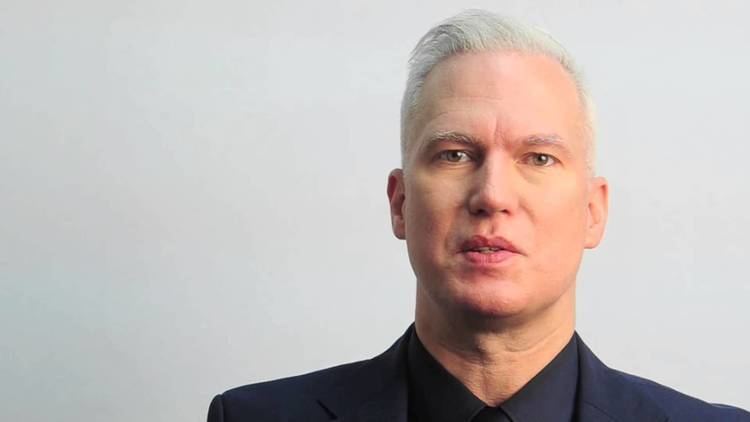 In 2012, Biesenbach turned MoMA P.S. 1 into a temporary day shelter for displaced residents after Hurricane Sandy. He drafted an open letter to the then New York City Mayor, Michael R. Bloomberg and fellow New Yorkers that called for help in the Rockaways, signed by celebrities including Lady Gaga, Madonna, James Franco, Gwyneth Paltrow and Patti Smith.
Recognition
In 2016, Biesenbach was awarded the Bundesverdienstkreuz by the Federal Republic of Germany.
Additionally, Mr. Biesenbach received International Association of Art Critics (AICA) awards for the exhibitions Marina Abramović: The Artist Is Present, Pipilotti Rist: Pour Your Body Out (7354 Cubic Meters), and Fassbinder: Berlin Alexanderplatz. He also received AICA awards for co-curating the exhibitions Kenneth Anger, 100 Years (version #2, ps1, nov 2009), and Roth Time: A Dieter Roth Retrospective.
Exhibitions
Exhibitions organized and co-organized by Biesenbach at MoMA
Xaviera Simmons: The Gold Miner's Mission to Dwell on the Tide Line (Dec 2015 – May 2017), The Modern's Window
Teiji Furuhashi: Lovers (2016)
Nan Goldin: The Ballad of Sexual Dependency (2016)
Yoko Ono: One Woman Show, 1960–1971 (2015)
Björk (2015)
Antony and the Johnsons: Swanlights with Symphony Orchestra, commissioned by MoMA and performed at Radio City Music Hall (2012)
Kraftwerk – Retrospective 1 2 3 4 5 6 7 8 (2012)
Francis Alÿs: A Story of Deception (2011)
Andy Warhol: Motion Pictures (2010)
Marina Abramović: The Artist is Present (2010)
William Kentridge: Five Themes, co-organized (2010)
Tehching Hsieh: Performance 1 (2009)
Roman Ondák: Performance 4 (2009)
Pipilotti Rist: Pour Your Body Out (7354 Cubic Meters) (2008)
Olafur Eliasson: Take your time. Co-organized with Roxana Marcoci, Curator, Department of Photography (2008)
Sigalit Landau: Projects 87 (2008)
Abbas Kiarostami: Image Maker (2007)
Doug Aitken: Sleepwalkers, co-commissioned with Creative Time (2007)
Douglas Gordon: Timeline (2006)
Take Two. Worlds and Views: Contemporary Art from the Collection, co-curated with Roxana Marcoci (2005)
New Works/ New Acquisitions, co-curated with Ann Temkin (2004)
Exhibitions organized and co-organized by Biesenbach at MoMA PS1
Vito Acconci: Where We Are Now (Who Are We Anyway?) (2016)
Cao Fei (2016)
Wael Shawky: Cabaret Crusades (2015)
Björk's Stonemilker by Andrew Thomas Huang (2015)
Halil Altindere: Wonderland (2015)
Korakrit Arunanondchai (2014)
Christoph Schlingensief (2014)
Francesco Vezzoli: Teatro Romano (2014)
Zero Tolerance (2014)
Jeff Elrod: Nobody Sees Like Us (2013)
Cyprien Gaillard: The Crystal World (2013)
Kraftwerk – Retrospective 1 2 3 4 5 6 7 8 (2012)
Max Brand: no solid footing – (trained) duck fighting a crow (2012)
Ferhat Özgür: I Can Sing (2012)
Ryan Trecartin: Any Ever (2011)
Rania Stephan (2011)
Jeremy Shaw: Best Minds (2011)
Francis Alÿs (2011)
Laurel Nakadate (2011)
Feng Mengbo (2010)
On-Site 3: Mickalene Thomas (2010)
Greater New York, co-organized (2010)
Mickalene Thomas: Le Déjeuner Sur L'herbe: Les Trois Femmes Noires (2010)
100 Years (version #2, ps1, nov 2009) (2009)
Jonathan Horowitz: And/Or (2009)
Michael Joaquin Grey (2009)
Kenneth Anger (2009)
Fassbinder: Berlin Alexanderplatz (2007)
Mark Lewis: Northumberland (2007)
Abbas Kiarostami: Image Maker (2007)
Into Me/Out of Me (2006)
Johannes Van Der Beek, part of group show "Special Projects" (2005)
Greater New York, co-organized (2005)
Hard Light (2004)
Hedi Slimane: Berlin (2003)
Taryn Simon: The Innocents (2003)
First Steps, emerging artists from Japan (2003)
Chris Cunningham (2002)
Mexico City: An Exhibition About the Exchange Rate of Bodies and Values (2002)
Single Channel Works from the Collections of Pamela and Richard Kramlich and New Art Trust, organized with Christopher Eamon and Barbara London (2002)
Loop - Alles auf Anfang (2002-2001)
Henry Darger, selection of watercolors (2001)
Kimsooja, retrospective of her performance-based video work (2001)
Special Mission Project ko2: Takashi Murakami (2001)
Takashi Murakami: Transformer (2000)
Disasters of War (2000)
Greater New York, co-organized (2000)
Children of Berlin (2000-1999)
The Promise of Photography, a selection of the photographic collection of the DZ Bank (1999)
Generation Z, (1999)
MoMA PS1 opening exhibition co-curated with Alanna Heiss, Michael Tarantino and Kazue Kobata (1997)
Exhibitions organized and co-organized by Biesenbach at KW Institute for Contemporary Art
Ryan Trecartin, Site Visit, co-organized (2014)
Christoph Schlingensief (2013)
Political/Minimal (2008)
Fassbinder: Berlin Alexanderplatz (2007)
Taryn Simon: The Innocents (2004)
Hedi Slimane: Berlin (2003)
Mexico City: An Exhibition about the Exchange Rates of Bodies and Values (2002)
Francis Alÿs - Alejandro González Iñárritu (2002)
Jane & Louise Wilson, installation of the British artist duo, co-organized (2002)
Heike Baranowsky, first solo survey of media-based works (2001)
Henry Darger, selection of watercolors (2001)
Takashi Murakami: Special Mission Project ko2 (2001)
Christoph Keller: Encyclopaedia Cinematographica, co-organized (2001)
Doug Aitken: I am in you, solo exhibition in collaboration with Kunstmuseum Wolfsburg, co-organized (2001)
Abbas Kiarostami, selection of photographs of the Iranian filmmaker (2001)
Ulrike Ottinger, Abbas Kiarostami (2001)
Never Mind the Nineties, a lecture series including Rirkrit Tiravanija, Douglas Gordon, Gabriel Orozco, Christine Borland, Pipilotti Rist, Jake and Dinos Chapman, Angela Bulloch, and Tobias Rehberger; Artclub (2000)
Jonathan Meese, Performance and solo presentation (2000)
Ghada Amer, New Paintings (2000)
Santiago Sierra, first German solo exhibition (2000)
Nic Hess: Dolly II (2000)
Jordan Crandall: Drive, Track 1 (2000)
Sencer Vardarman: Corridors (2000)
John Isaacs: A Necessary Change of Heart (2000)
Erik Steinbrecher: Couch Park (2000)
Francisco de Goya: Desastres de la Guerra (2000)
Dinos and Jake Chapman: What the hell I-X (2000)
Paul Pfeiffer, first European solo exhibition (2000)
Mick O'Shea, site specific installation (2000)
Lara Schnitger, first German solo exhibition (2000)
Piotr Uklanski: Die Nazis (2000)
Matthew Barney: Cremaster 2 (2000)
Warten (1999)
Exhibitions for the Re-Opening of Kunst-Werke (1999)
Sommeraccrochage (1999)
Tony Oursler: Frozen (1999)
Joachim Koester: Untitled (La Nuit Americaine) (1999)
Eija Liisa Ahtila: ME/WE; OKAY; GRAY (1999)
Woodland: Susanne Gertud Kriemann, co-organized (1999)
Dan Graham: Pavilions (1999)
Construction Drawings (1999)
Elke Krystufek: I am your mirror (1999)
Café Bravo, a pavilion designed by Dan Graham for the courtyard of the KW (1998)
Gunda Förster, site-specific illumination of Kunst-Werke (1996)
Preparation of the 1. berlin biennial for contemporary art (1996)
Bodo Schlack, new paintings (1996)
Christine Borland: From life (1996)
Katrin Hoffert, first solo exhibition (1995)
Hannes Rickli: Kugel (1995)
Sonnenstunden – Das Bankprojekt, 3 Jahre Vera Bourgeois (1995)
Jürgen Albrecht, first solo exhibition, co-organized (1995)
Vito Acconci: The Red Tapes (1995)
Bruce Nauman: Changing Light Corridor with Rooms (1995)
Jutta Koether: DÉBORDEMENT (1995)
Ulrike Grossarth: Reste vom Mehrwert (1995)
Paul Armand Gette, site specific installation (1995)
Matthias Hoch, new photography (1995)
Christine Hill, first solo exhibition (1995)
Inez van Laamsweerde/Judy Fox, sculpture and photography curated with Katrin Becker (1995)
Spiral Jetty – Hotel Palenque, installations by Robert Smithson (1994)
Joseph Kosuth: Berlin Chronicle, a Temporary Media Monument for Walter Benjamin (1994)
Tony Oursler: Horror (1994)
Oniscus murarius: Constantino Ciervo, Ottmar Kiefer and Ampelio Zappalorto (1994)
Günter Unterburger, presentation of new sculptures (1994)
Reste vom Mehrwert, Ulrike Grossarth's open studio (1994)
Monica Bonvicini: Die Ecken des Lebens oder über eine perspektivische Architektur der Wahrheit (1994)
Kunst: Sprache, group exhibition, co-organized (1994)
Tony Oursler: White Trash (1993)
Douglas Gordon: 24-h-Psycho (1993)
Sabine Hornig: Ateliereinbau II, co-organized (1993)
Milovan Markovic: Privat (1993)
KW studios 92/93 with Fritz Balthaus, Alyssa de Lucia, Gero Gries, Ulrike Grossarth, Sabine Hornig, Günther Underburger (1993-1992)
Getrennte Welten – Separate Worlds including Nan Goldin and Gundula Schulze-Eldowy (1992)
37 Rooms (1992)
Sans Frontieres: an Art in Ruins installation by Glyn Banks and Hannah Vowles with support of DAAD (1992)
Ankunft: Valie Export, Leiko Ikemura, Christina Kubisch, Christiane Möbus, Maria Vedder, Joan Jonas and Aura Rosenberg (1992)
Peter Moors, Andreas Rost, new works (1991)
Biesenbach has organized and co-curated many solo and group exhibitions internationally, including
Regarding Terror: the Red Army Faction-Exhibition (Berlin and Graz, 2005)
Francis Alÿs (Martin-Gropius-Bau Berlin, 2004)
The Ten Commandments, a large-scale group show with 63 international artists (2004)
First Steps, emerging artists from Japan, co-organized (Tokyo Convention Center, 2001)
Shanghai Biennale (2002)
Loop - Alles auf Anfang (Kunsthalle of the Hypo-Kulturstiftung, Munich and Cincinnati, 2001–2002)
Henry Darger, selection of watercolors (Migros Museum, Zürich, Watari-um, The Watari Museum of Contemporary Art, Tokyo, Magazin 3, Stockholm Konsthall, 2001)
Site Construction with Monica Bonvicini, Thomas Demand, Manfred Pernice, Jonathan Meese (South London Gallery, 1998)
1. berlin biennale for contemporary art (1998)
Hybrid Workspace at Documenta X (Kassel, 1997)
Nach Weimar (Weimar, 1996)
Club Berlin: Venice Biennale (1995)
Ortsbesichtigung with Dr. Friedrich Meschede, Klara Wallner, Wolfgang Winkler and Dr. Job van Nell (Baugrube Friedrichstadtpassage, Berlin, 1993)
Aura Rosenberg: Berliner Kindheit (Likörfabrik Berlin, 1993)
Monica Bonvicini: Verdeckte Nostalgie, co-organized (Likörfabrik Berlin, 1993)
Deutschland Wird Deutscher, a project throughout Berlin organized in collaboration with Katharina Sieverding (1993)
Christo (Berlin, 1993)
Dialog im Bodemuseum with Isa Genzken, Klaus vom Bruch, Svetlana and Igor Kopystiansky, Strawalde (Staatliche Museen Preussischer Kulturbesitz, Bodemuseum Berlin, 1992)
Installation by Kumiko Shimizu (Elisabethkirche)
References
Klaus Biesenbach Wikipedia
(Text) CC BY-SA