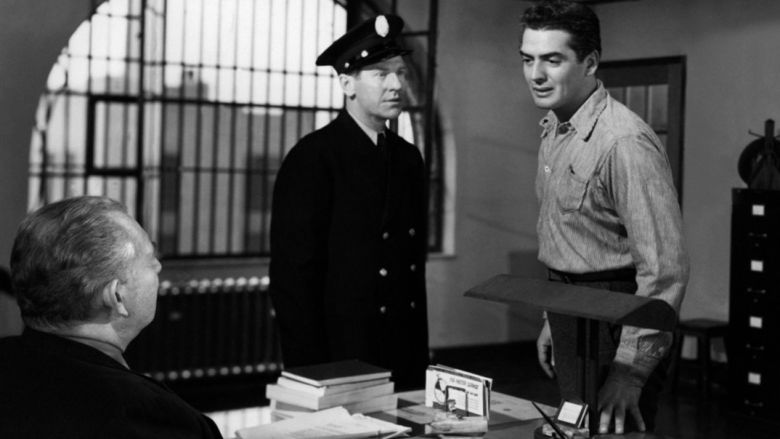 On Christmas Eve, down-on-his-luck ex-convict Nick Bianco (Mature) and his three cohorts rob a jewelry store located on an upper floor of a New York skyscraper. Before they can exit the building, however, the proprietor sets off his alarm. While attempting to escape, Nick assaults a policeman, but is wounded in the leg and arrested.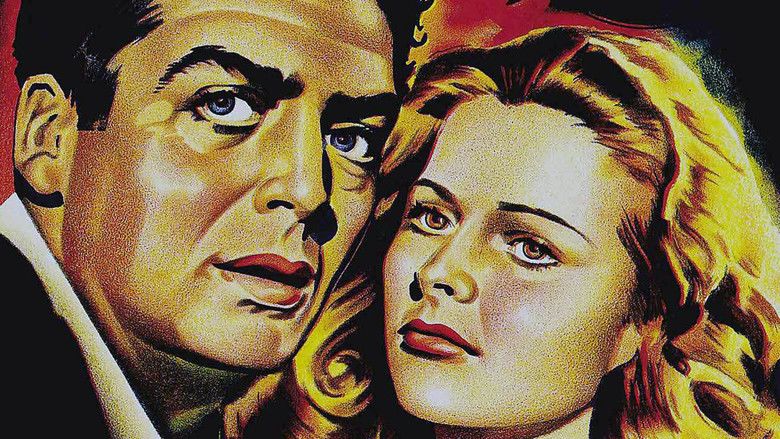 Assistant District Attorney Louis D'Angelo (Donlevy) tries to persuade Nick to name his accomplices in exchange for a light sentence. Confident that his lawyer, Earl Howser, and cohorts will look after his wife and two young daughters while he is incarcerated, Nick refuses and is given a 20-year sentence. Three years later, at Sing Sing Prison, Nick learns that his wife has committed suicide, and his daughters have been sent to an orphanage. He later finds her obituary in the newspaper and learns his wife had been worried over financial issues prior to her death.
Nick is visited in prison by Nettie Cavallo (Gray), a young woman who used to babysit his girls. Nettie reluctantly tells Nick that his wife was raped by Pete Rizzo, one of his accomplices. Nick decides to tell all to D'Angelo; but because so much time has elapsed, D'Angelo cannot use Nick's information to reduce his sentence, but makes a deal that if Nick helps the police on another case, he will be paroled. D'Angelo questions Nick about one of his previous, unsolved robberies, which he pulled off with Rizzo. Nick implies to Howser that Rizzo "squealed" on him.
Howser, who also acts as a go-between to a fence for his clients, tells Tommy Udo (Widmark), a psychopathic killer who did time with Bianco, that Rizzo "squealed". When Udo shows up at Rizzo's tenement, only Rizzo's mother (Mildred Dunnock) is present and tells him that her son is out but will return that evening. Udo examines the apartment and determines that Rizzo has probably left town. Udo binds Mrs. Rizzo to her wheelchair with an electrical cord and pushes her down a flight of stairs, killing her.
Soon after, Nick is freed on parole at D'Angelo's behest, and visits Nettie, pledging his love to her. But in order to remain out on parole, Nick must continue his work with D'Angelo, and arranges a "chance" meeting with Udo, with whom he served time at Sing Sing. The unsuspecting Udo takes Nick to various clubs, including one at which narcotics are being smoked, and Udo reveals enough information to Nick about a murder he committed to enable the police to arrest him. Nick reports back to D'Angelo, who is satisfied that he has enough to indict Udo for the past murder. D'Angelo then releases Nick.
When Udo later comes up for trial, Nick, who is now married to Nettie and living in Astoria, Queens, is reluctant to testify against him, but realizes he must in order to maintain his parole. Despite Nick's testimony and other evidence, however, Udo is acquitted.
Certain that Udo will seek revenge, and convinced the police will not be able to protect him and his family, Nick sends Nettie and the children to the country. While at home late one night, Nick is startled when D'Angelo shows up at the front door. He tries persuading Nick to submit to protective custody, but Nick punches D'Angelo in the jaw (rendering him unconscious) and goes off to deal with Udo on his own. Nick searches unsuccessfully for Udo at his favorite haunts, but finally finds him at Luigi's restaurant in East Harlem. The two men confront each other, but Udo tells him that as far as he's concerned they are still "pals". Nick is unconvinced, especially after Udo makes a thinly-veiled threat against Nettie and his children. Nick warns Udo to stay away from his family, telling him that this matter is strictly between the two of them. Udo orders the restaurant owner to prepare Nick the specialty of the house, and walks out.
Before long, Nick sees Udo's sedan parked out front, and knows that as soon as he steps out the front door, Udo will ambush him. Before confronting Udo, Nick had instructed D'Angelo by telephone to go to a police station near the restaurant and await his call; he now summons D'Angelo to come in exactly two minutes to the restaurant, where Nick will provide sufficient evidence to put Udo away. Nick leaves his gun with the cashier and walks outside. One of Udo's henchmen draws a pistol and prepares to shoot Nick at point-blank range, but Nick provokes Udo into shooting him, knowing that he will now be incarcerated for life as a "three time loser." Udo shoots Nick, but is quickly surrounded by police. Udo attempts an escape on foot, but is gunned down in the street. He survives, but is arrested. Though badly wounded, Nick survives, and he and Nettie look forward to a happy, peaceful life together.
Victor Mature as Nick Bianco
Brian Donlevy as Assistant District Attorney Louis D'Angelo
Coleen Gray as Nettie
Mildred Dunnock as Mrs. Rizzo
Richard Widmark as Tommy Udo
Taylor Holmes as Earl Howser, Attorney
Howard Smith as Warden
Karl Malden as Sergeant William Cullen
Anthony Ross as Big Eddie Williams
Millard Mitchell as Detective Shelby
J. Scott Smart as Skeets
The film was based on a story by former district attorney Lawrence Blaine. It was purchased by 20th Century Fox in November 1946 specifically as a vehicle for Victor Mature.
Victor Mature plays Nick Bianco, the lead role in the film. Coleen Gray plays Nettie, his second wife, who also narrates the beginning and ending of the film. Brian Donlevy plays Louis D'Angelo, assistant district attorney.
Kiss of Death is notable for being Richard Widmark's film debut as Tommy Udo (a role originally announced for Richard Conte). According to Widmark, Hathaway disliked his high hairline because he thought it made him look too intellectual, so he ordered Widmark fitted for a hairpiece. Hathaway didn't send the test ahead to Zanuck because he wanted a nightclub piano player called "Harry the Hipster" to play Udo. A Fox production manager named Charlie Hill liked the test and sent it to Zanuck, who immediately signed Widmark. During the film, Udo uses an inhaler, which was suggested by Zanuck himself. Critics and audiences have noted that Tommy Udo is similar to Batman's archenemy The Joker. Widmark himself was a big fan of Batman comics, and modeled Udo after The Joker. Frank Gorshin, who played The Riddler in the 60's television series Batman, modeled his deranged cackle after Udo.
Attorney Earl Howser was played by Taylor Holmes, while Howard Smith was cast as a prison warden. Character actor Karl Malden got the part of Sergeant William Cullen. After doing this film, Malden took a three-year break from film acting, returning in a small part as a bartender in The Gunfighter, starring Gregory Peck in the leading role.
Susan Cabot and Jesse White made their screen debuts in this film; they were both uncredited. Cabot plays a restaurant patron and White plays a taxi driver. Character actor Millard Mitchell also is uncredited as Detective Shelby. Mildred Dunnock played Mrs. Rizzo, a woman in a wheelchair pushed down a flight of stairs to her death by psychotic Udo.
Kiss of Death was shot between March and May 1947, with additional scenes being shot in June. Much of the filming was done in New York, using locations as practical sets, including the Chrysler Building, the Criminal Courts Building at 100 Centre Street, the old Hotel Marguery at 270 Park Avenue at 48th Street, the St. Nicholas Arena, and the now-demolished Bronx House of Detention for Men (later known as the Bronx County Jail) at 151st Street and River Avenue. Additional locations include Sing Sing Penitentiary in Ossining and the Academy of the Holy Angels in Fort Lee, New Jersey. The exterior scenes of the family home were shot in Astoria, Queens New York at 14th Place and Astoria Park, and the Triboro Bridge can seen in the background over Astoria Park.
A deleted scene involving Nick's wife Maria (who was played by Patricia Morison) was cut from the film. In this scene, a gangster (played by Henry Brandon) who is supposed to look out for her while Nick is in prison rapes her. Afterwards, Maria commits suicide by sticking her head in the kitchen oven and turning on the gas. Both scenes were cut from the original print at the insistence of the censors, who wanted no depiction of either a rape or a suicide, so although Morison's name appears in the credits, she does not appear in the film at all. Mention is made later in the film about Mature's wife's suicide and a now obscure reference is made by Nettie that the unseen gangster Rizzo contributed to the wife's downfall.
Widmark claimed that he only worked thirteen days during filming of the film, but had to go out to California for three or four days when a new ending was shot because Nick's wife suicide scene was cut out.
According to Widmark, there were pads on the bottom of the stairs during Mildred Dunnock's scene as well as men to catch her, but the cameraman forgot to rack the film and the scene had to be shot a second time.
Originally, Nick was supposed to die after he allowed Tommy Udo to shoot him repeatedly, so Udo could be prosecuted for his murder. However, it was decided that it was too depressing to have Nick die, so in the narration by Nick's wife, Nettie, she says that Nick survives.
The film was not a major success but managed to break even on the world market.
Writers Raymond Borde and Etienne Chaumeton wrote: "From Henry Hathaway's Kiss of Death (1947), one will remember that nasty little creep with the wild eyes and high-pitched laugh, neurotic to the core, which Richard Widmark has turned into one of his finest roles."
Critic Nick Schager wrote: "It would be no surprise to learn that Richard Widmark was a big 'Batman' fan, as his star-making screen debut in Kiss of Death as grinning, cackling psychopath Tommy Udo (for which he received an Academy Award nomination) seems heavily indebted to the Caped Crusader's arch-nemesis The Joker. Certainly, the live-wire actor's amoral lunatic, a fiend who delights in pushing crippled wheelchair using women down stairs, is the primary (and perhaps only) reason to sit through Henry Hathaway's over-praised 1947 noir, a jumbled piece of cinematic crime fiction that's visually elegant (having been neorealistically shot on-location throughout Manhattan) but regularly confused about its own point of view."
The impact of Widmark's performance as Tommy Udo found expression in a number of unusual ways. College fraternities formed Tommy Udo clubs "with the intent of putting women in their place." For years, people handed the actor blank phonograph disks on which they wanted him to record the maniacal laugh he used in the film. Film review aggregator Rotten Tomatoes reported an approval rating of 86%, based on 14 reviews, with a rating average of 7.3/10.
On January 12, 1948, Widmark, Victor Mature and Coleen Gray reprised their screen roles for a Lux Radio Theatre broadcast. Mature and Widmark also reprised their screen roles for three broadcasts on The Screen Guild Theater, the first of which aired on October 28, 1948.
A 1958 Western version of the film was made, this time entitled, The Fiend Who Walked the West, directed by Gordon Douglas and starring Hugh O'Brian and Robert Evans.
Another remake, also named Kiss of Death, was made in 1995, directed by Barbet Schroeder and starring David Caruso, Nicolas Cage, Samuel L. Jackson and Helen Hunt. The remake kept the crime plot in place, but omitted Tommy Udo.