Norway




Finnmark University College, Kirkenes


2.15 km2


Northern Norway




Ost-Finnmark



Kirkenes (Finnish: , Kven: , Northern Sami: , Russian: ) is a town in Sor-Varanger Municipality in Finnmark county, in the far northeastern part of Norway. The town lies on a peninsula along the Bokfjorden, an arm of the large Varangerfjorden. The main church for Kirkenes is Kirkenes Church, located in the Haganes area of the town.
The 2.15-square-kilometre (530-acre) town has a population (2013) of 3,498; which gives it a population density of 1,627 inhabitants per square kilometre (4,210/sq mi). When the neighbouring suburban villages of Hesseng, Sandnes, and Bjornevatn are all included with Kirkenes, the urban area reaches a total population of almost 8,000 people.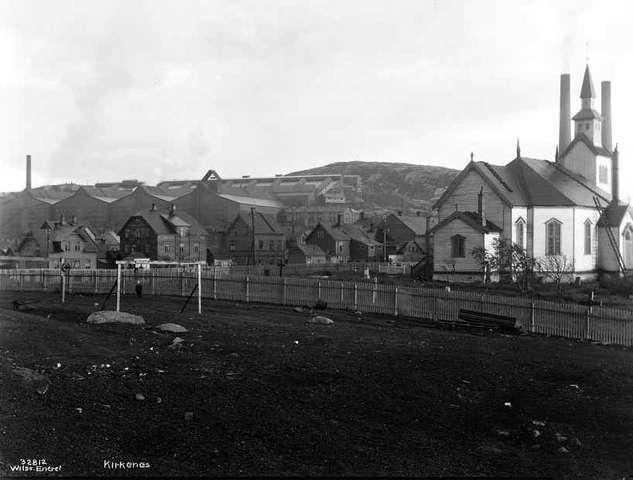 The area around Kirkenes was a common Norwegian–Russian district until 1826, when the present border was settled. The original name of the peninsula was Piselvnes ("Pis River headland"), but this was changed to Kirkenes (meaning "church headland") after the Kirkenes Church was built here in 1862.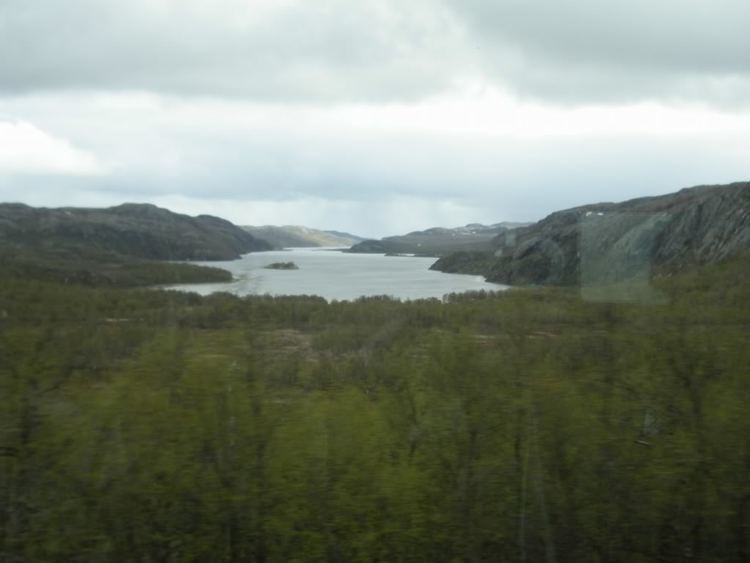 Kirkenes is located in the extreme northeastern part of Norway on the Bokfjorden, a branch of the Varangerfjorden, which is a vast bay connected to the Barents Sea near the Russian–Norwegian border. The town is situated about 400 kilometres (250 mi) north of the Arctic Circle.
Unlike the vast majority of Norway, Kirkenes is located east of the neighbouring country of Finland. Because of this, travelling directly west from Kirkenes actually changes the time zone forward instead of backward, as it usually does. Travelling directly east from Kirkenes (into Russia) changes the time zone forward by two hours (three in winter) instead of one. It also shares time zones with Galicia in Spain, in spite of a solar time difference of 2 ½ hours.
One can drive 100 kilometres (62 mi) south, and walk 10 kilometres (6.2 mi), into the Ovre Pasvik National Park, reaching the border point of the three countries (Muotkavaara), where the three time zones meet. There are only a few such places in the world. It is forbidden, according to both Norwegian and Russian law, to circumambulate the border marker, as the only lawful route across the Norwegian–Russian border is at the border control at Storskog.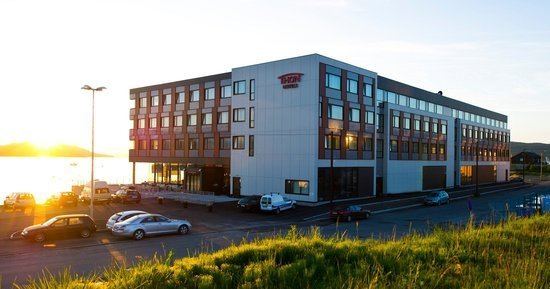 The secretariat of the Barents Region is located in Kirkenes. One of its tasks is to create cross-border cultural, educational and business relations in the Barents Region. There is now substantial optimism in the town as a consequence of the increased petroleum-drilling activity in the Barents Sea (including Russian activity). Bokfjorden, an excellent harbour, has attracted interest from several large companies. Norways and Russias Foreign Ministers signed an agreement on 2 November 2010 which will make it much easier for 9,000 Norwegians and 45,000 Russians to visit each other.
Kirkenes Wikipedia
(,)http://upload.wikimedia.org/wikipedia/commons/1/1f/Church,_houses_and_factory_Kirkenes_1928.jpg(,)http://www.travelin-tortuga.com/Travelin-Tortuga/_Media/dsc_2443_med_hr.jpeg(,)http://barentsobserver.com/sites/barentsobserver.com/files/styles/grid_8/public/main/articles/filinalexeiandfilinaanja.jpg%3Fitok%3Dg0-h-dfL(,)http://fjordtravel.no/wp-content/uploads/2013/11/Kirkenes-snow-hotel.jpg(,)http://barentsobserver.com/sites/barentsobserver.com/files/styles/grid_8/public/main/articles/trawlers.kirkenes228barobs29_600x399.jpg%3Fitok%3DPmi5Pri7(,)http://www.pasvikturist.no/wp-content/gallery/kirkenes-sightseeing-og-middag-gapahuken/kirkenesutsikt1.jpg(,)http://upload.wikimedia.org/wikipedia/commons/2/2a/Signpost_Kirkenes.JPG(,)http://www.militaryhistoryonline.com/wwii/images/arctic1.png
(,)http://i22.photobucket.com/albums/b305/FLIEGER67/N0902/N0902188.jpg(,)http://femalefundamentals.com/blog/wp-content/uploads/2011/03/6329100-610x340.jpg(,)http://holeinthedonut.smugmug.com/DailyPhotos/HITD-Daily-Photos/i-wMwnSB6/0/O/Norway-Hurtigruten-Kirkenes-Dog-Sledding.jpg(,)http://officerofthewatch.files.wordpress.com/2013/06/2013-06-27-russia_s-arctic-nato-and-norway-figure-1.jpg%3Fw%3D610%26h%3D406(,)http://cdn3.vtourist.com/19/4815446-The_landscape_around_Kirkenes_Kirkenes.jpg(,)http://cdn4.vtourist.com/19/4815447-The_landscape_around_Kirkenes_Kirkenes.jpg(,)http://cdn1.vtourist.com/19/4815448-The_landscape_around_Kirkenes_Kirkenes.jpg(,)http://images.china.cn/attachement/jpg/site1007/20110527/001ec94a1ee40f4955b613.jpg(,)http://cfs7.tistory.com/image/31/tistory/2008/09/02/17/48/48bcfdc58dcc3(,)http://media-cdn.tripadvisor.com/media/photo-s/03/8c/fa/0f/snowy-landscape-seen.jpg(,)http://24.media.tumblr.com/tumblr_lvy1tsfePv1qdfbhno1_500.gif(,)http://i2.wp.com/www.eurasiareview.com/wp-content/uploads/2013/04/Arctic-region-in-Norway.png%3Fresize%3D478%252C326
(,)http://media-cdn.tripadvisor.com/media/photo-s/02/3e/7e/5d/surf-turf.jpg(,)http://media-cdn.tripadvisor.com/media/photo-s/02/da/e3/62/rica-arctic-restaurant.jpg(,)http://media-cdn.tripadvisor.com/media/photo-s/06/6a/d6/bc/restaurant-by-day.jpg(,)http://www.thewhitecircle.com/media/trip/826.jpg(,)http://media-cdn.tripadvisor.com/media/photo-s/07/89/88/a9/thon-hotel-kirkenes-restaurant.jpg(,)https://d19lgisewk9l6l.cloudfront.net/wexas/www/images/largeimages/articles/top_five_ice_hotels/Kirkenes.jpg(,)http://www.magneticnorthtravel.com/uploads/tours/9421a446f05bb2e2d4864dca6e2baf0f.jpg(,)http://i0.bookcdn.com/data/Photos/Big/759/75957/75957830/Thon-Hotel-Kirkenes-photos-Restaurant-Hotel-information.JPEG(,)http://1.bp.blogspot.com/_HQl0lVGBdZw/TEm_rZ_8LAI/AAAAAAAAB7c/ot_J2HiJM30/s640/600-food-01.jpg(,)http://www.thewhitecircle.com/media/trip/825.jpg(,)http://www.cruiseandcoachworld.com.au/sites/default/files/styles/cbox_open/public/Enjoy%2520local%2520cuisine%2520in%2520Regensberg,%2520famous%2520for%2520its%2520sausages.%2520Cruise%2520and%2520Coach%2520World%2520%2520highly%2520recommended%2520destination._0.jpg%3Fitok%3DJCNJPkd0(,)http://www.scandichotels.com/ImageVault/Images/id_39257/width_472/conversionFormatType_WebSafe/scope_0/filename_OFoTr3oHvVcb3fRVtN5S.jpg/storage_Edited/ImageVaultHandler.aspx
(,)http://media-cdn.tripadvisor.com/media/photo-s/06/5b/df/7c/thon-hotel-kirkenes-midnight.jpg(,)http://nordnorge.com/sites/n/nordnorge.com/files/866749910.jpg(,)http://www.pasvikturist.no/wp-content/gallery/ks6-grense-og-gruve-sightseeing/kirkenesutsikt1.jpg(,)http://cdn1.vtourist.com/19/3542876-Tourist_info_Kirkenes.jpg(,)http://www.archdaily.com/wp-content/uploads/2008/05/112.jpg(,)http://media-cdn.tripadvisor.com/media/photo-s/01/c2/c0/53/thon-hotel-mit-bucht.jpg(,)http://cdn4.vtourist.com/19/2960297-The_sign_says_it_all_Kirkenes.jpg(,)https://fbexternal-a.akamaihd.net/safe_image.php%3Fd%3DAQBY57Hrso2njMj5%26w%3D720%26h%3D540%26url%3Dhttp%253A%252F%252Fupload.wikimedia.org%252Fwikipedia%252Fcommons%252Fthumb%252Fa%252Fa8%252FKirkenes%25252C_with_a_foggy_Varangerfjord.jpg%252F720px-Kirkenes%25252C_with_a_foggy_Varangerfjord.jpg(,)http://i2.wp.com/travelsquire.com/wp-content/uploads/2013/09/Kirkenes.png%3Fresize%3D600%252C399(,)http://f.tqn.com/y/cruises/1/S/_/o/6/Kirkenes-0113.JPG(,)http://media-cdn.tripadvisor.com/media/photo-s/00/17/1d/4e/from-the-entrance-side.jpg(,)http://i2.cdn.turner.com/cnnnext/dam/assets/140315173640-europe-border-city-kirkenes2-horizontal-large-gallery.jpg(,)http://ad009cdnb.archdaily.net/wp-content/uploads/2008/05/0110-528x362.jpg