Bengali, Kokborok, English




Tripura




Khowai district



Khowai is a town located in the Indian state of Tripura and a recent nagar panchayat forming into a Khowai Municipal Council in newly formed Khowai district in the Indian state of Tripura. The city lies on the banks of Khowai river and hence from the river the city gets its name. Located near the bangladesh border it has boundaries with it on its entire Southern part.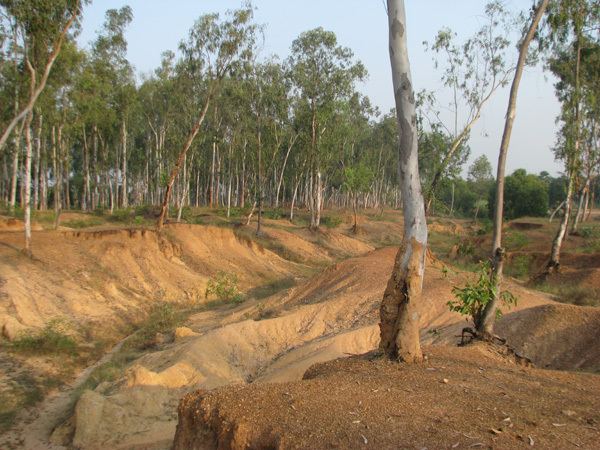 Khowai is situated in a plain along the Khowai River and has a monsoon influenced humid subtropical climate with large amounts of rain almost all year. The city experiences long, hot and wet summers, lasting from April to October. Average temperatures are around 28 °C (82 °F), fluctuating with rainfall. There is a short, mild winter from mid-November to early March, with mostly dry conditions and average temperatures around 18 °C (64 °F).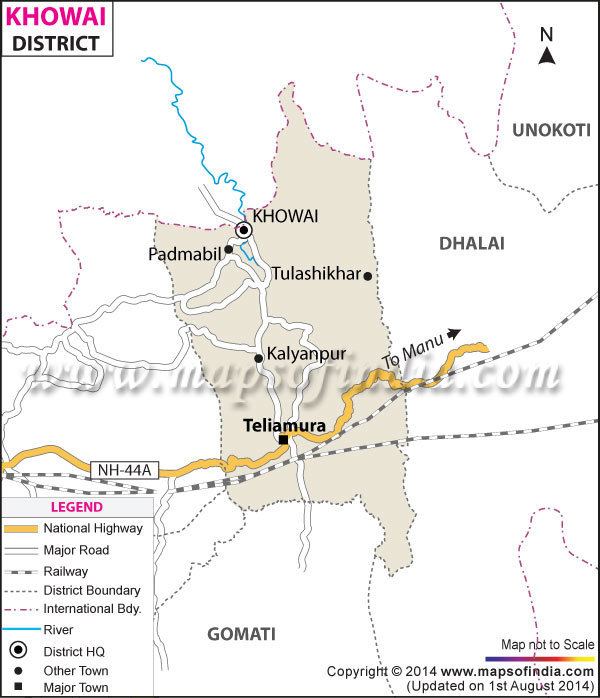 The town mainly consists of Bengalis and tripuris, predominance of both Bengali and Kokborok language is there. The main festivals of the town such as Durga Puja and Saraswati puja reflect the influence of the culture of the Bengalis. There is a very good relationship between the different communities and tribes in Tripura. So more or less every festival is enjoyed by every community of people.
Khowai Wikipedia
(,)http://weekenddestinations.info/wp-content/uploads/2011/11/khowai.jpg(,)https://c4.staticflickr.com/4/3584/3326631289_740dda01c8_b.jpg(,)https://c2.staticflickr.com/4/3509/3294562449_67e994bd0d_b.jpg(,)https://c2.staticflickr.com/4/3316/3329078381_3475256f9e_b.jpg(,)https://c2.staticflickr.com/4/3364/3332210912_464a9e9347_b.jpg(,)http://maps.maphill.com/atlas/23n50-91e50/panoramic-maps/physical-map/physical-panoramic-map-of-23n50-91e50.jpg
(,)http://media-cdn.tripadvisor.com/media/photo-s/03/bb/73/21/santiniketan.jpg(,)http://www.tripurainfoway.com/viewimage.php%3Fsrc%3Dhttp://www.tripurainfoway.com/news_pic/2013/Manchak-Ipar-SP-Khowai-r-1380745495.jpg%26w%3D567(,)http://www.tripurainfoway.com/viewimage.php%3Fsrc%3Dhttp://www.tripurainfoway.com/news_pic/2015/EVM%2520paharay%2520Khowai%2520ea%2520CRPF%2520Jawan%2520ra-r-1429614576.jpg%26w%3D567(,)http://www.tripurainfoway.com/tempimg/Governor%2520at%2520Khowai_lbl.jpg(,)http://www.tripurainfoway.com/tempimg/Khowai-Court-r1.jpg(,)http://www.tripurainfoway.com/viewimage.php%3Fsrc%3Dhttp://www.tripurainfoway.com/news_pic/2015/water-problem-khowai-r-1428110743.jpg%26w%3D567(,)http://weekenddestinations.info/wp-content/uploads/2011/06/khowai.jpg(,)http://www.tripurainfoway.com/tempimg/elephant%2520bdnews24%25202.jpg(,)http://i.ytimg.com/vi/BlP8lQMr6G8/hqdefault.jpg
(,)http://www.mapsofindia.com/maps/tripura/districts/khowai-district-map.jpg(,)http://www.frontline.in/multimedia/dynamic/01385/FL22tripura_electi_1385656g.jpg(,)http://www.mapsofindia.com/maps/tripura/railways/khowai-railway-map.jpg(,)http://www.mapsofindia.com/maps/tripura/roads/khowai-road-map.jpg(,)http://www.mapsofindia.com/maps/tripura/rivers/khowai-river-map.jpg(,)http://upload.wikimedia.org/wikipedia/en/7/74/Khowai_government_high_secondary_school.jpg(,)http://upload.wikimedia.org/wikipedia/en/1/1d/KGHSS_New_building.jpg(,)http://media2.intoday.in/indiatoday/images/stories//2015January/sk-cover-story-2_010215013016.jpg(,)http://www.tripura.org.in/photos/general/welcom.jpg