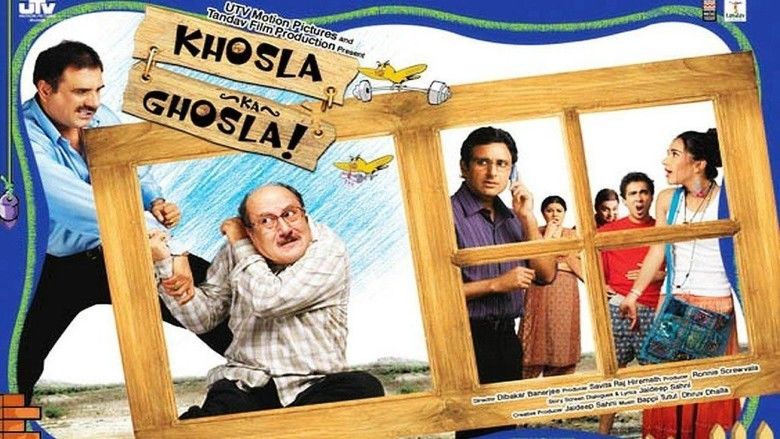 Kamal Kishore Khosla (Anupam Kher) is a middle-class man living in New Delhi. He is a simple man with simple tastes. The film begins with a dream sequence where Khosla sees his death, the irony being that nobody really cares about his demise; instead his children and neighbours are more occupied with banal small talk. Waking up from this nightmare, Khosla goes to visit a site where he has purchased a plot of land to build a house. He is accompanied by his family — wife, younger son Chirauonji Lal a.k.a. Cherry (Parvin Dabas) (who does not like his name and wishes to change it), elder son Balwant a.k.a. Bunty (Ranvir Shorey), and his daughter. Kamal Kishore has invested all of his savings (Rs.3 million) into buying the plot; Cherry is not too interested in his father's future plans of settling together in the new house. He is a software engineer and, although a source of pride for his father, he finds his current lifestyle too drab and has planned to shift to the US by taking up a job there. However, he has not let his family in on his plans. The only person Cherry discusses his plan with are Asif Iqbal (Vinay Pathak), the agent helping him with his passport and visa paperwork. Much later, he shares this with his close friend Meghna (Tara Sharma) — who has a very visible romantic interest in him (one which he does not seem to fully realise) — she, however, feels hurt and angered by his choice to desert her and his family.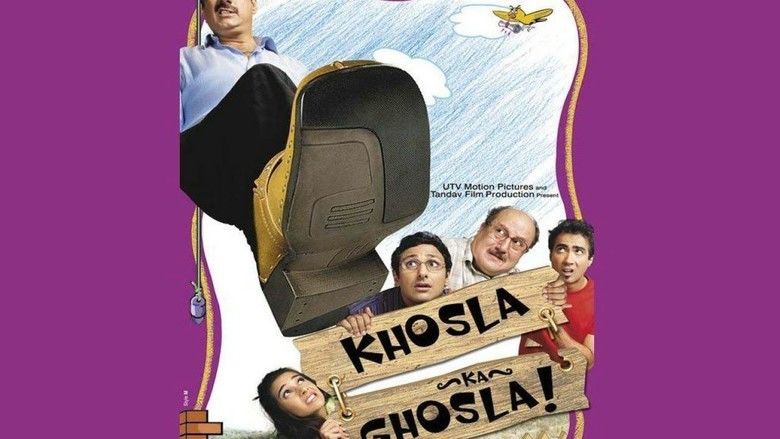 Just when Cherry reveals his migration plans to his family, who are all disturbed by it, during a routine family visit to their land, they find the plot encroached upon by someone. Probing further reveals that the squatters are part of a property usurping nexus headed by the corrupt and powerful Kishan Khurana (Boman Irani). Upon being urged so by the property dealer who had facilitated the purchase of the plot, Kamal Kishore and Bunty visit Khurana. Khurana places before them, a demand for Rs.1.5 million to vacate the plot, an amount which Khosla neither has nor agrees to pay. Kamal Kishore appeals to authorities and agencies, including the police, lawyers, political parties, NGOs and social activists for help. None of them offers more than to get the amount demanded by Khurana reduced by a few lacs, in exchange for a hefty commission for mediating, of course.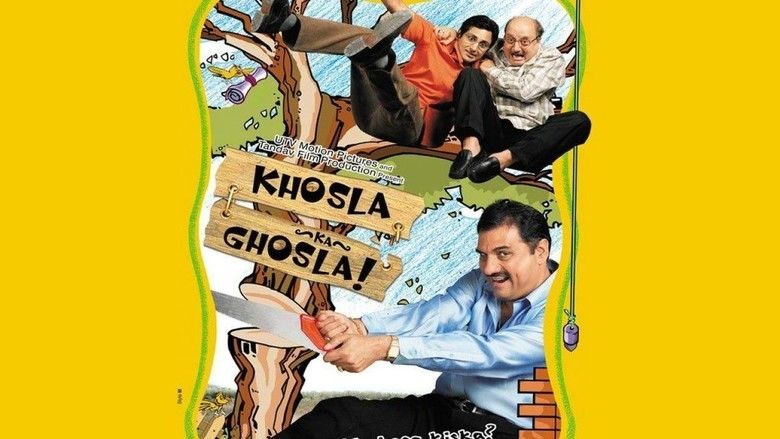 Spurred by his father's helplessness, Bunty gets help from a gang of local strongmen (pahalwans) who demolish the boundary walls built by Khurana's men and take possession of the plot back by force. This success is short-lived as the corrupt Khurana has the police in his pocket and Kamal Kishore is arrested on trumped up charges of trespass. Released at Khurana's guileful behest after spending a day in the jail, Khosla's will is broken and pride battered. After the catastrophic event Khosla tells his family (especially Cherry) to avoid taking any further action as he is not capable of fighting back and wants Cherry to concentrate on the job that he's arranging abroad. Cherry discusses the grim situation with Asif Iqbal who is revealed to have been an old partner of Khurana's and who has been cheated by him, usurping Asif's own ancestral land. Asif offers to help the Khoslas with a group of Meghna's friends, and they set up a plan to deceive Khurana. They portray a land (owned by the fisheries department, but which has been vacant since decades) as their own, and seek help of Meghna's mentor, Bapu (Navin Nischol) to portray himself as the owner of the land, who is looking for a buyer. The deal is almost finalised, and Khurana requests to visit the land. With the help of the rest of the theatre group, they manage to create a situation which makes Khurana believe of the authenticity of the land and its owner. They successfully turn the tables on Khurana, and dupe him of Rs 3.5 million in cash. From that money, Kamal Kishore pays the ransom 1.2 million to Khurana and gets possession of his plot back, and the remaining cash is divided equally between Asif and the theatre group.
The turmoil suffered throughout by the family and the victory of their efforts stirs emotions that bring Cherry close to Meghna and his family. Cherry scraps his plans of migrating to the US, marries Meghna and settles with his family in their new abode built on their plot. As an additional favour, his father allows him to change his name from Chironji Lal to Chirag. As for Khurana, he is left looking bitter, having finally tasted his own medicine.
Anupam Kher as Kamal Kishore Khosla
Boman Irani as Kishen Khurana
Kiran Juneja as Sudha Khosla
Rajendra Sethi as Vijendar (Property Dealer)
Parvin Dabas as Chiraunji Lal Khosla (Cherry)
Tara Sharma as Meghna
Ranvir Shorey as Balwant Khosla (Bunty)
Rupam Bajwa as Nikki Khosla
Vinod Nagpal as Mr Sawhney
Vinay Pathak as Asif Iqbal
Navin Nischol as Bapu / Mr. Sethi
Nitesh Pandey as Mani / Secretary to Sethi
Anusha Lall as Katori
Rajesh Sharma as Munjal
V.K. Sharma as Insaan Singh (Shaitaan Singh)
The film was released to mixed to positive reviews. Rajeev Masand of CNN-IBN, in his review, gave the film a rating of 4/5 and lauded the film for its "refreshingly original plot, bang-on casting, killer soundtrack and such crisp editing that there is never a dull moment". Raja Sen of Rediff.com described film as the "best comedy Bollywood has seen in the last two decades. The everyday detailing is exquisite, as is the ensemble cast dealing with a frighteningly realistic first half escaping into a breezily unreal second half. It's sheer magic." Mayank Shekhar wrote: "Golmaal, Jaane Bhi Do Yaaron, these are gigantic reference points for any film. This one lives up to them in substantial measure; I can't think of a better compliment to pay." Kaveree Bamzai of India Today declared that the film was "a class apart. It brings back an innocence to movies missing in the sturm und drang of big budgets and bigger stars."
In another review, Rediff.com gave a rating of 3 out of 5 and felt the film was charming for its "striking believability and everyday simplicity." However, it noted that the film felt longer than it was. Taran Adarsh of Bollywood Hungama gave a rating of 2 out of 5 and felt that the film "loses sparkle in the second hour". He also felt that, on the whole "Khosla Ka Ghosla is a well scripted and executed film that is sure to stand out in the crowd." Rotten Tomatoes currently has a 90% rating on the film based on 2776 user ratings giving an average score of 4 out of 5. Sudhish Kamath of The Hindu listed the film at no.6 in the list of top 10 movies of the decade 2000-2009 saying "Dibakar Banerjee and Sahni on a shoestring budget chose to bat for the common man's struggle against the powerful and reunited the individual self back with the family".
National Film Award
2007: Best Feature Film in Hindi: Savita Raj Hiremath
Zee Cine Award
2007: Most Promising Director: Dibakar Banerjee
In order to protest against alleged "growing intolerance in the country", director Dibakar Banerjee decided to return the National Award to the government on 29 October 2015. But the film's producer, Savita Raj Hiremath, claimed that Dibakar had no right to give back the award was not given to him but was given to the film, and thus to the producer. The National Award was not conferred on director Dibakar Banerjee for his sole contribution in the 2006.
Poi Solla Porom (Tamil)