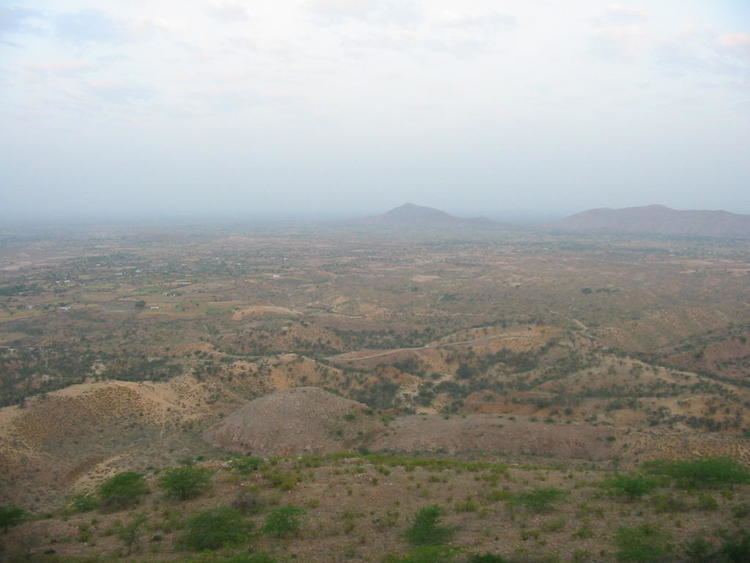 Khetri is situated at the foothills of the Aravalli Range, which hosts copper mineralization, giving rise to an 80 km long metallogenetic province from Singhana in the north to Raghunathgarh in the south, popularly known as Khetri Copper Belt. The belt comprises tightly folded Proterozoic metasediments that rest over basement gneisses and is a part of the North Delhi fold belt. Prominent deposits of the belt are: Khetri, Kolihan, Banwas, Chandmari, Dhani Basri, Baniwali Ki Dhani (Neem Ka Thana, Rajasthan). Other deposits are: Dholamala, Akwali, Muradpura - Pacheri (Jhunjhunu, Rajasthan), and Devtalai (Bhilwara, Rajasthan).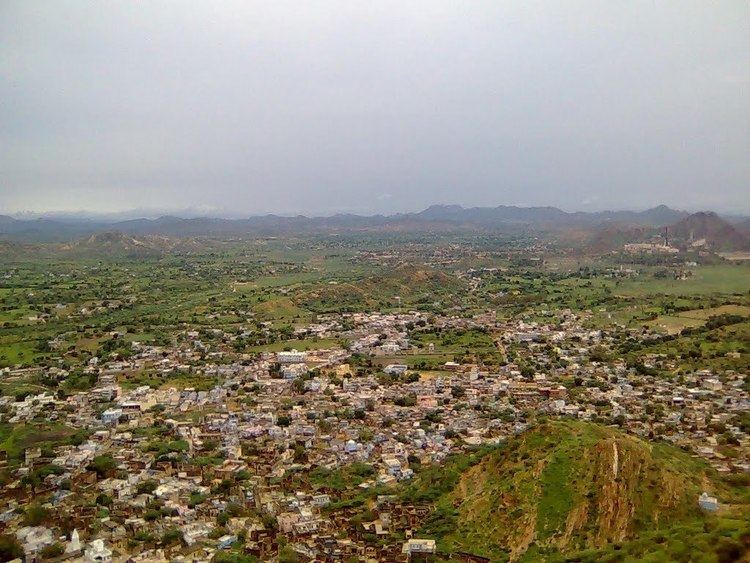 Hindustan Copper Limited The Khetri Copper Complex of Hindustan Copper Limited is situated at 10 km from Khetri town. It is one of the largest Copper mines in India with concentrator & refinery and produces copper. It also has by-products i.e. Sulphuric acid, fertilizer raw materials, etc.
Origin
Regular mining ceased in this area by 1872. With the advent of 20th century, the geologists of Geological Survey of India. Indian Bureau of Mines undertook explorations. Development of Khetri Mine was started by National Mineral Development Corporation (NMDC) and the project was handed over to HCL in 1967 when HCL was formed. Subsequently, smelting and refining facilities were added. Khetri Copper Complex (KCC) at Khetrinagar, Rajasthan
Khetri was the independent state of Shekhawat's. The rulers of Khetri belonged to Shekhawat sub-clan (Bhojraj Ji Ka subsub-clan) of Kachawa dynasty of Jaipur. The king of Khetri Raja Ajit Singh of Khetri gave name of Swami Vivekananda, to Narendra. The saffron turban and clothes were given to Swami Vivekananda by Raja Ajit Singh. King Ajit SIngh also financed Swami Viveknanda's visit to Chicago to attend the World Religions' Parliament, held in 1893.
Raja Khet Singh Nirban of Nirban-Chauhan Rajput clan founded the town, later this town was conquered by Shekhawat Rajputs and awarded to Thakur Kishan Singh Ji by his father Maharao Shardul Singh Ji of Jhunjhunu. Khetri is also a part of Panchpana.
Raja Ajit Singh Shekhawat of Khetri was a far sighted and wise ruler, he built many forts, palaces and temples. Swami Vivekanand was also a close friend of Raja Ajit Singh. A statue of Swami Vivekanand is installed on a street roundabout of Khetri as memorial. Raja Sardar Singh was the last titular Raja of Khetri.
A long time ago, the King (Raja) of Khetri was the boss(employer) of Pandit Jawahar Lal Nehru's family unit. An interesting fact is that Nandlal Nehru, the uncle of Pandit Jawahar Lal Nehru was once the Diwan (chief minister) in the Khetri stately court. Moreover, Motilal Nehru (father of Pandit Jawahar Lal Nehru) lived in Khetri during the early stages of his life.
== Life In Nanu wali bawari Khetri == Khetri Nagar, a residential township of the employees of Hindustan Copper Limited. Khetri nagar has a multicultural ambience due to people from all states coming in and working in the copper project and has got one of the most intellectual crowds in the country. The beauty of growing up in such PSU townships is their Pan-Indian culture. People of all states and religion live together like a family.
Khetri nagar has all the necessary facilities. Good hospital, schools, playground, community clubs etc.
There are 3 English medium schools and 1 state school, one of which is Sophia Secondary School which is under the organization of Mission Sisters of Ajmer. There is a large playground, which is the largest playground of the Jhunjhunu District. There were various community clubs, separate for ladies and gents and also for families, which helped the people to interact together. All the social gatherings (Diwali parties, New Year etc.) were held here.
There is a temple, church, gurudwara and a mosque for the people. All the people came together and celebrated each festival with joy and love. People of khetri nagar were like a close-knit family, irrespective of any racial and religious boundaries.
There are total four marketplaces, all of them can be reached easily, they are within the town. Double-storey market, Subhash market and New market and some of them.
Khetri also has a center of Ramakrishna Mission, and this center is active in philanthropic activities in this town and nearby villages for long time.
The Khetri town was granted by Maharaja Bhiwani Singh to his brother, Kunwar Somraj Singh in year 1616 AD.
1. Kunwar Somraj Singh (1616-1646)
2. Kunwar Ganga Singh (1646-1678)
3. Kunwar Asthal Singh (1678-1708)
4. Kunwar Jero Singh (1708-1728)
5. Kunwar Rash Singh (1728-1756)
6. Kunwar Gyan Singh (1756-1788)
This second time, the Khetri was granted to his third son, Raja Birjaldeo Singh by his father Maharaja Sambhat Singh of Shekhawati in year 1788 AD.
1. Raja Birjaldeo Singh (1788-1809)
2.Thakur Raja Baghwan Das Singh (1809-1842)
3. Thakur Raja Banda Singh Bahadur (1842-1857)
4. Thakur Raja Durga Das Singh (1857-1877)
5. HH Thakur Raja Digvijay Singh (1877-1905)
6. HH Thakur Raja Himmat Singh (1905-1921)
7. HH Thakur Raja Ishwarpratap Singh (1921-1948)
8. Thakur Raja Ranapratap Singh (1948-1968)
9. Thakur Raja Raipratap Singh (1968-1989)
10. Thakur Raja Kirtipratap Singh (1989–Present) above facts are doubtful because it is not cover name of ajit singh ji
AJIT SAGAR DAM
Ajit sagar dam(Bandh)Is the Famous Dam Of the Jhunjhunu Distt.
This Dam Located In Bansiyal Villege(Dada Fatehpura)
This Dam 11 KM Far From Khetri And 30 KM From Narnaul(Haryana)
The Dam Made By King Ajit Singh In 1869 In Association With Queen Victoria
This Dam is Highest Deep Dam In Jhunjhunu
This Dam Is Also Swimimng Spot And Family Tour Area
The fort at Khetri was built in 1754 by the then Shekhawat Rajput raja, Bhopal Singh (Raja Shri Bhopal Singh Shekhawat Ji Saheb Bahadur). It was named "Bhopalgarh" in his honour. It is an easy trek of 4 km from the base of the hill. The splendid view from the fort is a breathtaking experience and also includes a marvellous but small marble temple. The spiral shaped open-cast copper mine called Chandmari is a treat to eyes, when viewed from the hilltop along the boundaries of the fort. This mine has been shut down and is abandoned. There is a temple on the top which is locked for visitors. The fort is in need of maintenance.
In 1958, Ramakrishna Mission was started at the Palace of Khetri, which was donated by Raja Ajit Singh's grandson, Raja Bahadur Sardar Singh. The palatial building has been named as "Vivekananda Smriti Mandir", which houses marble statues of Raja Ajit Singh and Swami Vivekananda. The room at the topmost storey where Swamiji used to stay and had spiritual discourses with Raja Ajit Singhji, has been converted into a prayer room. Raja Ajit Singh of Khetri, was a great friend & disciple of Swami Vivekananda.It is said that the name Vivekananda was requested by the Maharaja to be accepted by Narendra, the initial name of Swamiji. Swami Vivekananda had stayed there three times (1891, 1893 and 1897) during his visits to Khetri. In his first visit to Khetri, Swami Vivekanada initially stayed elsewhere, which is unknown, and later on he moved to the Fateh Vilas( The palace, presently Vivekananda Smriti Mandir, Ramakrishna Mission, Khetri). During his second visit to Khetri he did stay here, in the above-mentioned room, but in his third visit to Khetri, he stayed in Sukh Mahal, near Fateh Vilas. He delivered his last discourse on Vedanta, in Khetri, was delivered in the space in front of Sukh Mahal. Swami Vivekananda started his journey to The Parliament of World's Religions, Chicago, United States of America from Fateh Vilas, Khetri on 10 May 1893. The centenary celebration of this particular day was performed by the local people of Khetri, with the help of Ramakrishna Mission, with emphatic fervor, on 10 May 1993. Rest of India celebrated this day on 31 May 1993, because Swamiji departed from Bombay(Mumbai) on 31 May 1893.
There is story of a cortesan having sung a Bhajan in honor of Swamiji which he being a celeb did not attend. He heard the song which went as" I am impure oh Lord but you are not, so how come you differentiate between your own offspring" and he realized the truth that escaping female in name of celebecy is not divine.
To make the people in general aware of the decade-long association of Swami Vivekananda with Khetri, to further spread the cultural and social messages of the Swami, to portray his life and time with realistic presentation through life-size and miniature Diorama, and to give a tribute to Swamiji on his 150th Birthday in January 2013, the Ramakrishna Mission, proposes to open a majestic Museum to be housed in 'Fateh Vilas' Palace building, Khetri. Work is under progress. It is being developed with the generous support from Govt. of India, State Govt. of Rajasthan & general public. Dainik Bhaskar Newspaper - Vivekananda Museum in Khetri
The temple of Gopinathji is a unique example of shekhawati paintings. A person who wants to see the painting art of shekhawati should visit Gopinathji temple also.Which is situated at Khetri Fort.
Pannasar Talab is an artificial lake in Khetri to catch water flowing down from the hills. There are three storage tank also in case of overflow in rainy season. Sthapatya kala is also there in the form of small statues made on the boundaries. In the North -West Corner of the Talab ashram of Baba Makkhan das ji is also situated.
1.KhakhiDham Mandir(Bansiyal)
KhaKhi Dham Mandir in situated in Bansiyal village in Near Khetri....
There are many temples which are very beautifully made, which can be visited1. Varahi Devi, 2.Hanuman Ghadi, 3.Siddhivinayak 4.ganga mata ka Mandir, 5.Bihari ji ka mandir, 6.Temple of Rani Sati (On Fort) 7.Jhojhu Ashram 8.Bhatiyani Ji ka mandir 9.bada mandir 10. Gopi Nath ji ka Mandir 11. Shyam mandir 12. Shani mandir 13. Shivji ka mandir 13.Sundrdas ji temple. Most important and majestic is the fort of Khetri with many temples in its campus.
Khetri is well connected by Road. Travel is possible to the city by either public or private bus and private vehicles. The nearest railway station is Chirawa, Neem Ka Thana, Narnaul and Nizampur at a distance of 30 km. Best way to reach is from New Delhi Sarai Kale Khan ISBT having direct buses. Also it can be reached with very frequent and direct buses from Jaipur.
Nearest international airport is Indira Gandhi International Airport, Delhi and Jaipur International Airport, jaipur.
Nearest railway station is Chirawa, Neem Ka Thana, Narnaul and Nizampur at a distance of 30 km. There is no railway station in this place which enhances the number of visitors.
Khetri is at a distance of 190 km from Delhi and 165 km from Jaipur. Frequent RSRTC buses are available from Sindhi Camp, Jaipur to reach Khetri. Khetri is served by two bus stand in Delhi, Harayana Roadways serve the city from Sarai Kale Khan Inter State Bus Terminal, Hazrat Nizamuddin Railway Station, Delhi and many private buses from Dhaula Kuan, New Delhi.
The civic administration of the city is under multiple hands. They are :
* Khetri Municipality which manages the residential regions of Khetri Town. * Khetri Nagar(HCL Town)is managed by HCL itself. HCL has constituted an exclusive department
(City Office)
to sort out the public issues regarding electricity and water supply etc. * While the rest is managed by
Gothra Panchayat
.
There are many colleges. Some are: Government Vivekananda Mahavidhalya, Vinodni PG College, Sanjivani Pharmacy college. Khetri also having Govt. ITI.
Khetri is located at 27.98°N 75.8°E / 27.98; 75.8. It has an average elevation of 484 metres (1587 feet). The name of the mountain in khetri is Bhopalgarh.
As of 2001 India census, Khetri had a population of 17,377. Males constitute 52% of the population and females 48%. Khetri has an average literacy rate of 67%, higher than the national average of 59.5%: male literacy is 77%, and female literacy is 56%. In Khetri, 15% of the population is under 6 years of age.