Covid-19
India




Punjabi




Punjab




Tarn Taran



Khem Karan (Punjabi: ) is a town and a nagar panchayat in Tarn Taran district in the Indian state of Punjab. It was the site of a major tank battle in 1965 resulting it also being known as the graveyard of tanks.
The 1965 Indo-Pakistani War was witness to the largest tank battle in military history between World War II and 1965. The battle led to the creation of Patton Nagar (or Patton City) at the site of the battle viz., Khemkaran.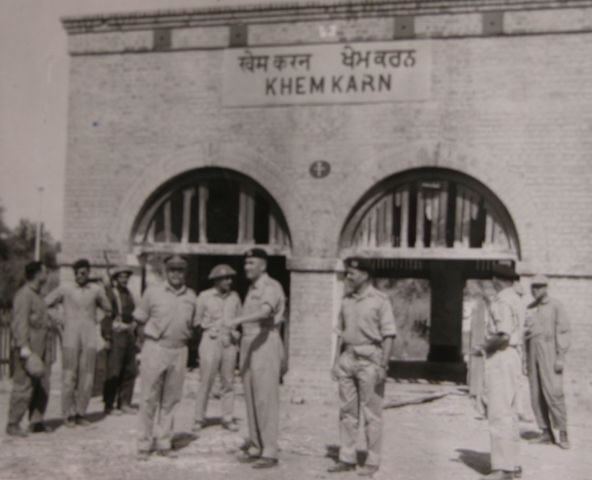 Khem Karan is an old city. Guru Tegh Bahadur (1621–1675) visited it. It used to be in Lahore district before partition of India. It became a part of Amritsar district after the partition. Now it is in Tarn Taran district. Many of the towns residents migrated from nearby villages in modern Pakistan between 1947 and 1965, such as Nathuwala, Qadiwind, Rohiwal, and Sehjra. The towns Muslim residents migrated primarily to the city of Kasur, 8km away in Pakistan.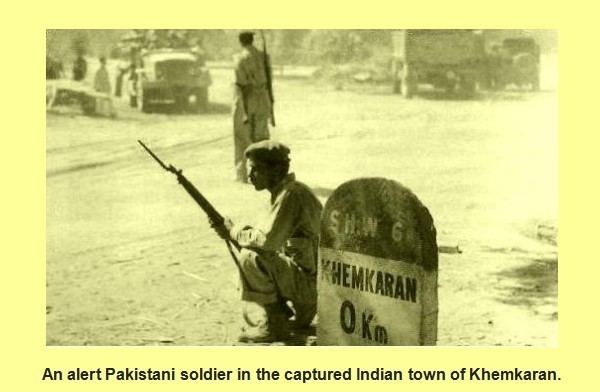 The town used to be easily accessible to the city of Kasur, Pakistan only 8 km away, and to Ferozepur 35 km away, but since India and Pakistan enacted border controls in 1953, the residents of the Khem Karan have been essentially cut off from both towns - Kasur lies in Pakistan, while the road to Ferozepur cuts through Pakistan, resulting in a detour of an extra 70 kilometres drive. The townpeople, and those from surrounding villages, must now travel a long distance to Amritsar or Tarn Taran to procure any major goods, causing great inconvenience, and economic stagnation.
In this village is the mausoleum (mazaar) of a Sufi saint known as Pir Baba Sheikh Brahm. Twice in a year a mela is held here.
Khemkaran Wikipedia
(,)http://upload.wikimedia.org/wikipedia/commons/b/b1/Pakistani_troops_Kemkaran_1.jpg(,)http://nativepakistan.com/wp-content/uploads/1965-Indo-Pak-War-Memorabilia-An-alert-Pakistani-soldier-at-guard-in-the-captured-Indian-town-of-Khemkaran-Photos-and-Mementos-of-1965-War.jpg(,)http://www.bharat-rakshak.com/MONITOR/ISSUE5-1/rajrif5.JPG(,)http://upload.wikimedia.org/wikipedia/commons/d/d7/3rd_Sikhs_(5_FF),_Kabul_1879.jpg(,)http://www.frontline.in/multimedia/dynamic/01676/FL27TANKS_1676575g.jpg(,)https://d9hblenkye35w.cloudfront.net/media/thumbnail/ext/xl/https%25253A%25252F%25252Ffbcdn-sphotos-c-a.akamaihd.net%25252Fhphotos-ak-xaf1%25252Ft31.0-8%25252F10630651_10152486067928071_8376727673941072437_o.jpg(,)http://4.bp.blogspot.com/-G73kr1a66cE/Te8baoBdRDI/AAAAAAAADU8/DV6GL711io8/s1600/Pak-Army-1965-1.jpg(,)http://static.panoramio.com/photos/original/30988034.jpg(,)http://media.vam.ac.uk/media/thira/collection_images/2009BX/2009BX3655.jpg
(,)http://allthecities.com/system/panoramas/pictures/000/906/267/original/original.%3F1380287231(,)http://allthecities.com/system/panoramas/pictures/000/906/266/original/original.%3F1380287230(,)http://www.thehindu.com/multimedia/dynamic/00032/IN16_WATER_32256f.jpg(,)https://i0.wp.com/i43.tinypic.com/a0us6q.jpg(,)http://mw2.google.com/mw-panoramio/photos/medium/57551168.jpg(,)https://c1.staticflickr.com/5/4005/4522907274_cf614b623b.jpg(,)http://mw2.google.com/mw-panoramio/photos/medium/107003101.jpg(,)http://im1.indiarailinfo.com/NEXT/812046/0/1334.jpg(,)http://i.ytimg.com/vi/iYaGUpEQ4jw/0.jpg(,)http://mw2.google.com/mw-panoramio/photos/medium/108888171.jpg