Khaman is a food common in the Gujarat state of India made from soaked and freshly ground channa dal or channa flour (also called gram flour or besan). Generally eaten as a snack, it is mostly served with sev, fried chillies and chutney. In some shops it is also served traditionally in a large green leaf. Sometimes it is also garnished with scraped coconut. Khaman, often part of the Gujarati Thali (traditional dish containing various components of a full meal) is very similar to dhokla, in which the batter is made with a mixture of rice and lentil flour, resulting in a distinct texture and taste. Nonetheless, Khaman, Khaman-Dhokla and Dhokla are often used interchangeably and are synonymous with a steamed snack made with a batter composed of lentil flour or a mixture of lentil and rice flours. Although a Gujarati snack, it has become increasingly popular across India, as well as in other regions with a sizable Gujarati community.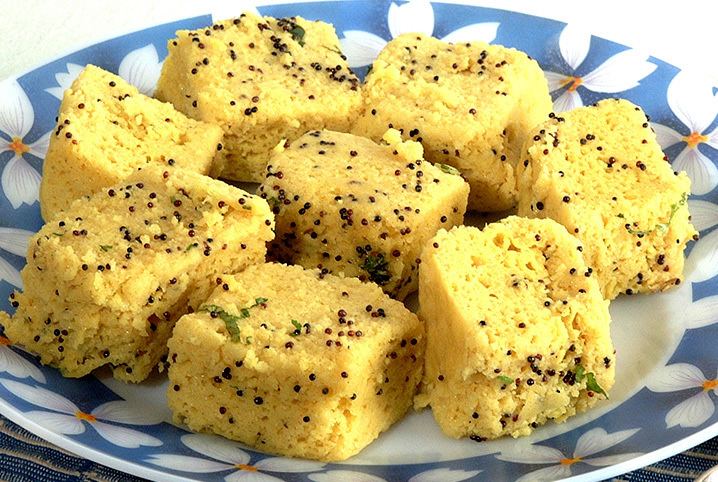 The batter is prepared from chana dal (split desi chickpeas). These are roughly ground and mixed into gram flour which is then soaked overnight. The flour should be smooth to touch. The batter is then steamed for 20–25 minutes, and turmeric is added for color and taste. Four–five table spoons of besan is added. Salt, chopped ginger, chillies and baking soda are also added. At the time of preparation of the batter, sugar can also be added if one needs sweet Khaman. Roughly crushed pepper may be added.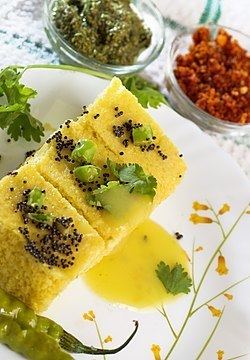 Dhokla Khaman is often confused with dhokla, which resembles khaman in size and shape up to a great extent. However, Khaman are softer and light yellow in color while dhokla are generally harder and white or very pale yellow in colour.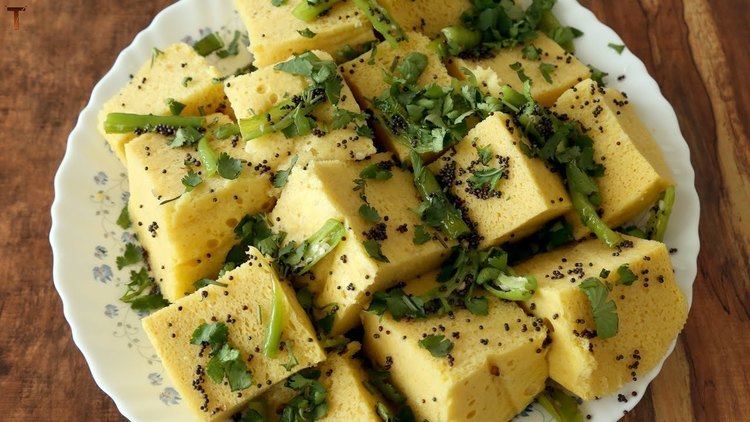 Dal Vadas Sometimes it is also confused with Dal Vadas because both have same batters but Khaman is steamed and Dal Vadas are fried. Khaman are cubical. But, Dal Vadas are in a circular - cum - irregular shape. They will be also confused with Dahi Bhallas (or Vadas) which have the same taste as Dal Vadas but are served with thick curd garnished with spices and coriander.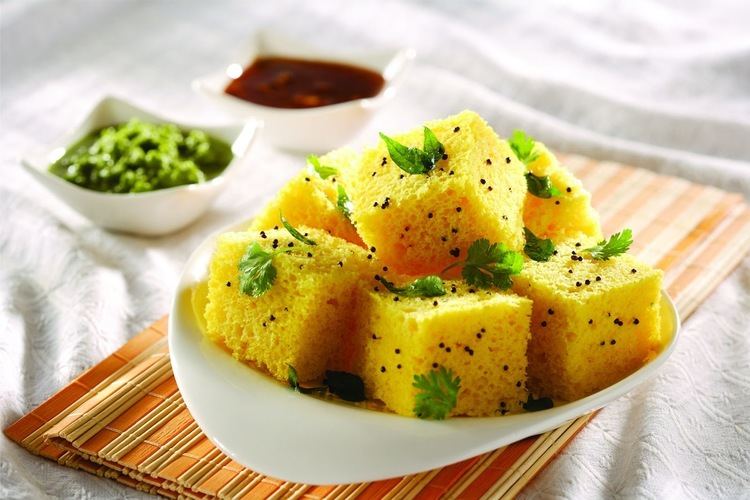 Khandvi Khandvi has the same colour as Khaman, but has a different form. While Khaman is shaped as a cube, Khandvi is shaped into a roll. It is made with besan and yogurt. They are mixed together, put on the stove and filled in a pot and stirred continuously till the mixture gets thick. The mixture is placed in some cold place like refrigerator and is kept inside till all the mixture gets solid. At last, they are made into rolls.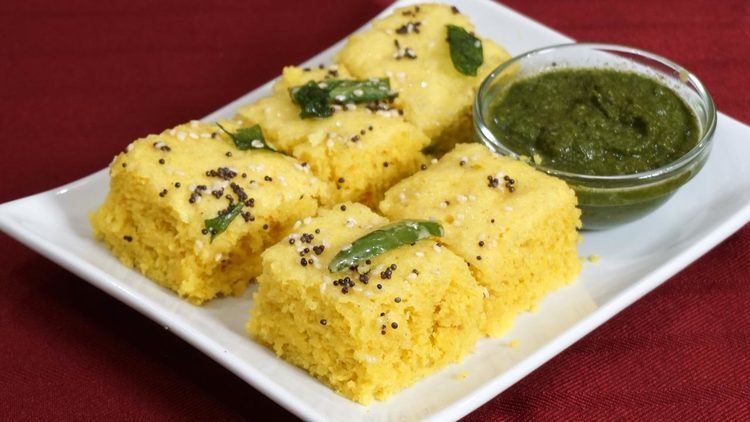 Traditionally in small-town-farshan(snack) shops it is also served in the leaf of Kesuda(a reddish flowering plant)which is a big green leaf. But, nowadays it is mostly served by farshan shops in a paper which is wrapped by a newspaper and then tied by a white thread. It can served with pudina(mint leaves), chilli, garlic, taramind, coriander etc. chutneys( a condiment).
Nylon Khaman Nylon Khaman (nylon meaning soft) are much softer than normal Khaman. Although the recipe is similar, the difference is that this type of Khaman cooks instantly. Nylon Khaman are more famous in Northern Gujarat.
Masala Khaman Masala (spicy) Khaman are a bit reddish in look because they include chilli powder. In Gujarat people mostly like to eat this type of Khaman.
Vati Dal Khaman These khaman take more time to cook. Mostly the Vati Dal Khaman are preferred in Southern Gujarat.
Sev Khamani
In this recipe the Khaman is a mashed-up version. This is made in the same way as Khaman by steaming chana dal. Paste with a mixture of chilli, ginger and garlic is added to it. Later fried cumin seeds and some other spices are sprinkled on it. Garnish is coriander leaves and sev (fried gram vermicelli). Sometimes pomegranates are also used for garnishing.
Low steamed Khaman
This recipe is almost same as Khaman, with a slight difference. It remains a bit uncooked and is only served hot. The dish is served with onions, chillies and chutney. The serving of this recipe is low, spread and irregular instead of the high, cubical structure of Khaman.