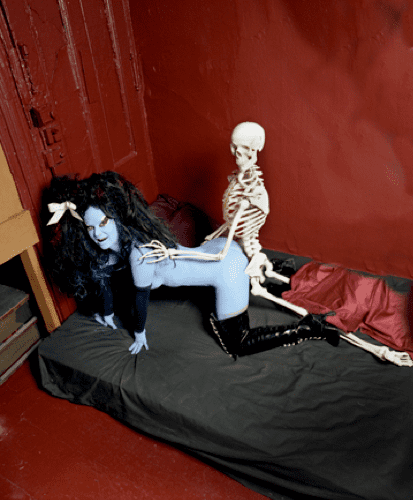 Kembra, daughter of surf pioneer Freddy Pfahler, was a child actress who appeared in several TV commercials for Kodak film. She became a major figure of the 1980s East Village scene associated with ABC No Rio, and has acted in low-budget horror and softcore porn films. As a teenager she developed an interest in punk through first wave Los Angeles punk artists. Pfahler moved to New York City in 1979 to start her creative career, attracted and inspired by extreme alternative artists The Cramps, Diamanda Galas, Lydia Lunch and Ethyl Eichelberger, but also by Butoh dance. She follows the artistic philosophy of Availablism, using what is closest at hand as both the inspiration for her work and the medium. Pfahler has appeared as a Calvin Klein model.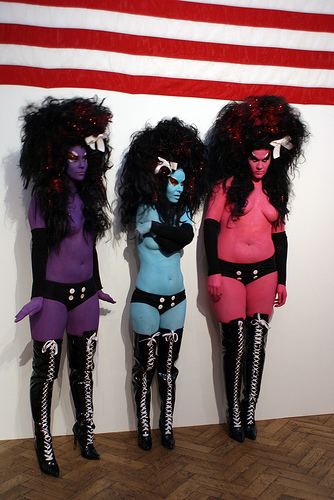 In 1990, Kembra and Samoa Moriki (her husband at the time) founded their band, The Voluptuous Horror of Karen Black on the Lower East Side. The Voluptuous Horror of Karen Black (named in homage to actress Karen Black) mixed their punk rock roots with elements of performance art, vaudeville, psychotronic films, and burlesque shows to arrive at their signature shock rock identity. They have released three albums: "Anti-Naturalists" (1995), "A National Healthcare" (1996) and "Black Date" (1998).
Pfahler and Samoa formed The Voluptuous Horror after ten years of making Super 8 horror films and visual and performance art that they felt would benefit from a musical soundtrack. To do so they looked to Viennese Actionists Hermann Nitsch, Otto Mühl, and Rudolf Schwarzkogler as original influences. Rebelling against a degraded, polluted world, Pfahler developed an "anti-naturalism" platform on which to promote VHOKB, reflecting her desire to reveal the attraction of repulsion.
The Voluptuous Horror of Karen Black performs heavy punk-metal songs amid elaborate hand-constructed sets where Kembra engages an animalistic, fetishistic practice of acting out transgressive physical feats. Pfahler's stage persona has been described as a "lady devil" dominatrix who relishes destroying notions of female beauty rooted in purity and innocence. Wearing a teased black bouffant wig with blacked-out teeth, black stiletto heel boots, and black underwear, her nude body painted blue, pink, or yellow, Pfahler heads a team of dominatrix ladies in similar campy glamour while male band members, including her now ex-husband Samoa, maintain masculine rockabilly stylings.
The Voluptuous Horror of Karen Black fashion their props and sets from low-tech, readily accessible materials under the rubric of Pfahler's theory of Availablism, creating structural items and costumes such as ladybug and flower head uniforms as visual accompaniments to their songs. For the song "Chopsley" (1996), an oversize animal trap controlled by a female band member snaps open and shut on Pfahler as she sings about a "rabid bikini model." In a 2006 performance at New York's Deitch Projects "The Sound of Magic", band members danced with Mylar-covered boards shaped like giant razor blades and shark heads before a backdrop of starkly striped minimal art paintings. VHOKB's live performance of The Wall of Vagina appears on Disinformation DVD - The Complete Series. VHOKB appears on the "Virgin Voices: A Tribute to Madonna" Pop Album.
Kembra also sang backup on the song "Shoot, Knife, Strangle, Beat and Crucify" on the album Brutality And Bloodshed For All by GG Allin And The Murder Junkies.
In 2013, Kembra covered the traditional "Barnacle Bill the Sailor" for the Sea shanty-compilation Son of Rogues Gallery: Pirate Ballads, Sea Songs & Chanteys.
As a young woman, Pfahler traveled to Europe and discovered and took inspiration from the Viennese Actionism movement, specifically Rudolf Schwarzkogler. Kembra's on-stage performances have included cracking paint filled eggs on her vulva. In 1984 she performed in XS: The Opera Opus when it was presented at the Pyramid Club. She created solo performances in the 80s at ABC No Rio.
In January 2007, Kembra, along with Julie Atlas Muz curated a mixed-media art exhibition titled Womanizer at Deitch Projects. The show included works by E. V. Day, Breyer P-Orridge, Vaginal Davis and burlesque performer Bambi the Mermaid. Kembra's contribution was an installation with a bed set that contains a skeleton and several plush dolls in multiple colors surrounded by walls plastered and colored with a thick red paste, as well as a video that shows her ripping the dolls out of a birthing canal with blood spurting to a soundtrack.
As part of the 2008 Whitney Biennial and with support from the Art Production Fund, Pfahler and The Voluptuous Horror of Karen Black gave a performance in the Park Avenue Armory's Drill Hall on March 14, 2008.
Kembra was at one time married to her Voluptuous Horror of Karen Black co-founder Samoa Moriki. Her brother is Adam Pfahler, the drummer of the band Jawbreaker.