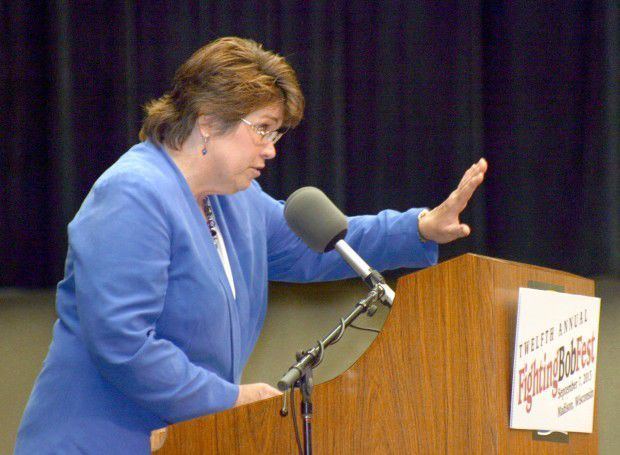 Vinehout was born on June 16, 1958 in Albany, New York and grew up in Aurora, Illinois. Her father was a laborer and her mother a registered nurse, and both served in the United States Air Force. She graduated from Aurora Central Catholic High School in 1976. She earned a Bachelor of Science degree in education from Southern Illinois University in 1980, a Master of Public Health from St. Louis University in 1982, and a PhD in Health Services Research from St. Louis University in 1987. She also received an associate degree in agriculture from the Lincoln Land Community College in 1992.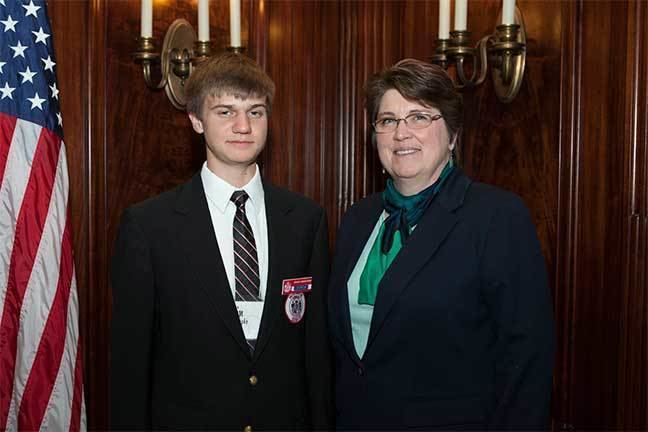 Vinehout directed both the graduate and undergraduate programs in health administration at the University of Illinois at Springfield, serving for ten years. She was a member of the faculty and teaching in the Health Services Administration and Women's Studies Programs. Her academic work focused on state health policy, the history of health care reform and health problems facing rural communities.
After working in academia, Vinehout worked as the primary operator of the family's fifty-cow dairy farm. The farm had a rolling herd average of 21,000 pounds of milk and received many quality milk awards. Vinehout was president of the Dairy Herd Improvement Association in Buffalo County, Wisconsin for several years and represented the district at statewide meetings. She also assisted the Wisconsin Farmers Union in agriculture and dairy policy and worked part-time in 2005 as an advocate at the state capitol for the Farmers Union. She served on the Buffalo County Agricultural Fair Association Board and the Buffalo County Farm Bureau Board. Vinehout was formerly a member of the Wisconsin Holstein Association and she and her family have shown cattle at district shows.
Vinehout was elected to the Wisconsin Senate in 2006, defeating Republican Incumbent Ron Brown.
In her first term, Vinehout chaired the Senate Committee on Agriculture and Higher Education and served as Co-Chair of the Joint Committee on Audit. She also served in a leadership position as Vice-chair of the Senate Democratic Caucus and as a member of the Economic Development; Children, Families and Work Force Development; Public Health, Senior Issues, Long Term Care and Job Creation Senate Committees.
Vinehout was the chair of the Democratic Party of Buffalo County and served on the Mississippi River Regional Planning Commission and the Alma Chamber of Commerce. In 2005, the Democratic Party of Wisconsin awarded her with the Eleanor Roosevelt Award for her work in grassroots organizing. On November 2, 2010, Vinehout was reelected to the Wisconsin Senate beating Ed Thompson. On November 9, 2010, with only 352 votes separating the two candidates, Thompson asked for a recount. On November 19, 2010, Thompson conceded the election to Vinehout.
During the protests in Wisconsin, Vinehout, along with the 13 other Democratic State Senators, left the state to deny the State Senate a quorum on Governor Scott Walker's controversial "Budget Repair" legislation. She returned to the State of Wisconsin on March 12, 2011.
Vinehout was a candidate in the Democratic Primary during the 2012 Wisconsin Gubernatorial Recall Election. She garnered four percent of the vote, coming in third.
In January 2014, Senator Vinehout announced she would not run for Governor of Wisconsin because of injuries she received in a car accident in Racine County, Wisconsin in December 2013.
In June 2017 Vinehout officially registered a committee for the 2018 Wisconsin governor election.
In addition to her political career, Vinehout owns a farm with her husband, Doug, a former member of the Illinois House of Representatives and current member of the Board of Education in Alma. Her family operates a 223-acre (0.90 km2) organic farm near Alma, Wisconsin. Vinehout is an active member of Saint Lawrence Catholic Church. Doug and Kathleen have one son, Nathan.