Years active

1985–present




Name

Kat Bjelland




Role

Singer








Birth name

Katherine Lynne Bjelland




Born

December 9, 1963 (age 52)Salem, Oregon, U.S. (

1963-12-09

)


Genres

Punk rock, alternative rock


Occupation(s)

Musician, singer-songwriter




Instruments

Vocals, guitar, bass, piano




Labels

Doomedelic, Treehouse, Twin Tone, Southern, Reprise, Sympathy for the Record Industry, Integrity, Rish


Music groups

Babes in Toyland (1987 – 2001), Katastrophy Wife, Pagan Babies (1985), Crunt (1993 – 1995)


Parents

Lyle Bjelland, Lynne Irene Higginbotham




Similar People

Lori Barbero, Maureen Herman, Courtney Love, Jennifer Finch, Michelle Leon
Kat bjelland hope nicholls chris vrenna lori barbero saraphrenia
Katherine Lynne Bjelland (born December 9, 1963) is an American singer, songwriter, musician and guitarist. Bjelland rose to prominence as the lead singer, guitarist, and songwriter of the grunge band Babes in Toyland, which formed in Minneapolis, Minnesota in 1987. Bjelland had also been involved in musical projects prior, including a band called The Venarays, as well as the Pagan Babies, which she formed with Courtney Love in 1985.
Contents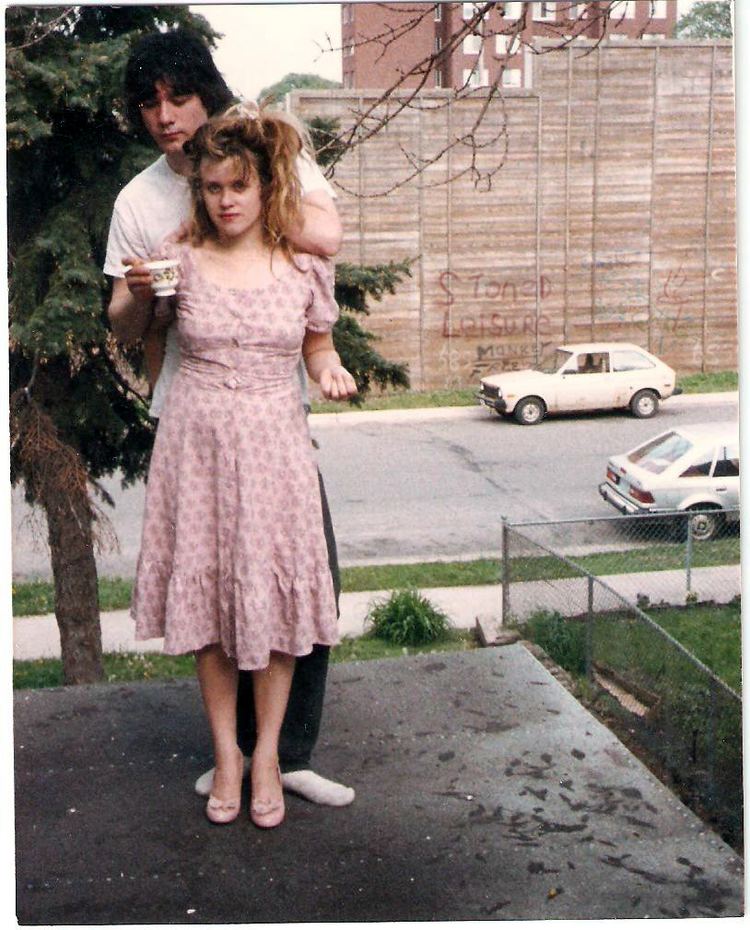 Babes in Toyland officially disbanded in 2001 after releasing three studio albums, and Bjelland worked on several projects before forming Katastrophy Wife, releasing two studio albums. In 2015, Bjelland reunited with Babes in Toyland and began performing live shows.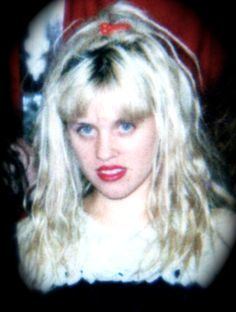 KAT BJELLAND - BABES IN TOYLAND - PUNK'S NOT DEAD
Early life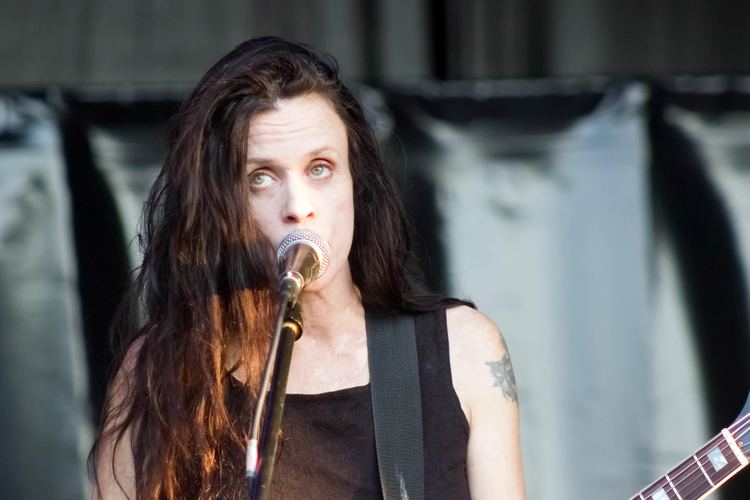 Bjelland was born in Salem, Oregon and grew up in nearby Woodburn. Her mother was Lynne Irene Higginbotham; her father was Lyle Bjelland. Bjelland's parents divorced when she was young, and she referred to her stepmother in later years as "abusive" and having a great effect on her life. In the documentary, Not Bad for a Girl (1995), Bjelland revealed this: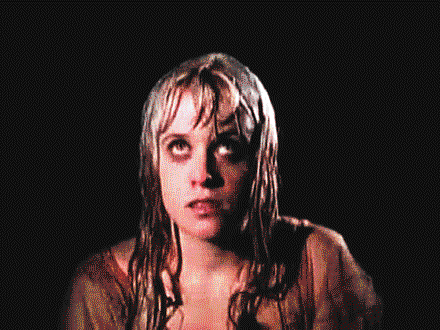 You know, I really hate to talk about it because she's great now, but in my childhood she was very abusive... like I said, though, it probably did help my creativity a lot. I was always grounded. I hate to talk about it because I feel like she doesn't think that she did it, but she was [abusive] and it influenced my life quite a great deal.
Bjelland also claimed to have been beaten by her step-mother, and said she was told to "shut up" a lot and wasn't allowed to speak, which resulted in her outspoken nature as she grew into adulthood.
She attended Woodburn High School, where she was a popular student and cheerleader. As a teenager, Bjelland became interested in music. Her uncle, David Higginbotham, taught her to play guitar. Her first performance was at a small bar in Woodburn called Flight 99 (now defunct), with the band called The Neurotics.
1982–86: Early projects
Shortly after graduating from high school in 1982, Bjelland moved to Portland, and at age 19, bought her first guitar, a Rickenbacker 425, from a local pawn shop for $200, which she played throughout the 1990s and into the 2000s.
In Portland, she formed a series of bands, first The Neurotics and then an all-female band called The Venarays, which Bjelland has described as "rock with a '60s edge." The Neurotics were composed of Bjelland (rhythm guitar); her uncle David Higginbotham (lead guitar); Marty Wyman (vocals); Brian McMillan (drums); and Laura Robertson (bass).
After The Neurotics I got this band together with my best friends, so it was an all-girl band. We were called The Venarays. The name came from the word venary which means actively hunting out sex! We began as a way of having fun with each other.
In reality, the Venarays was not an all-girl band as drummer Dave Hummel, and later, Jack Rhodes, were men. The name 'Venarays' was taken from a television character called Vena Ray in an early 1950s program called Rocky Jones Space Ranger. After the band was named, some members of the band discovered the word 'venary' in the dictionary and became confused regarding the origin. After quitting The Venarays, Bjelland met Courtney Love in Portland, and the two started a band with bassist Jennifer Finch, called Sugar Babydoll. Love went on to form the band Hole, while Finch would be part of L7. Around 1985, in San Francisco, Bjelland and Love formed a new band called Pagan Babies with Deidre Schletter on drums and Janis Tanaka (later in Stone Fox and L7). When Love left, this lineup played under the name Italian Whore Nuns.
1987–2001: Babes in Toyland
In the mid-1980s, Bjelland moved from Portland to Minneapolis, where she formed Babes in Toyland. Kat met Lori Barbero at a barbecue not long after moving to Minneapolis in the mid-1980s, and convinced her to become a drummer – something that Lori became talented at. The pair joined with bassist Michelle Leon, and Babes in Toyland was formed.
Babes in Toyland's debut single, "Dust Cake Boy" b/w "Spit to See the Shine" was well- received. After touring Europe with Sonic Youth, the band recorded their debut album Spanking Machine, which also was well- received, and was compared to the music of The Birthday Party and New York Dolls.
Babes in Toyland were commercially successful in the early 1990s. Bands such as Bikini Kill, Bratmobile, and Sleater-Kinney have credited the group as a main influence, while less political bands like Jack Off Jill, 7 Year Bitch, and Fluffy also have credited Bjelland and Babes in Toyland as an inspiration. The band has been misidentified as part of the riot grrrl movement, even though Bjelland has denied having anything to do with the movement, which emphasized female domination. As she said in a 1992 interview:
I don't feel helpless or anything. I don't feel like I have to be like, "I'm a female and I can do this if I want to", cause, of course I can. I already know that, and I never felt being female hurt anything. If anything, it helped.
The band garnered more commercial success in alternative rock after touring Europe with Sonic Youth in 1991, a tour which was documented in the film 1991: The Year Punk Broke. Following this, Babes in Toyland peaked in commercial success when they performed on a portion of the Lollapalooza tour in 1993, and released their second album, Fontanelle. Babes in Toyland were featured on the covers of Entertainment Weekly and USA Today.
In 1993, Bjelland moved to Seattle and began a side project called Crunt with new husband Stuart Gray (aka Stu Spasm), formerly of Lubricated Goat. Bjelland played bass and Gray guitar, while Russell Simins of Jon Spencer Blues Explosion was the drummer. In February 1994, the band released a self-titled debut, along with its first single, "Swine". During this time, Bjelland also co-wrote the track "I Think That I Would Die" on Hole's breakthrough album Live Through This (1994) with Courtney Love and guitarist Eric Erlandson.
In January 1995, Bjelland and Gray divorced and Crunt disbanded; Bjelland turned her focus back to Babes in Toyland, and the group released their third and final full-length album, Nemesisters in 1995. After this, she moved to Brooklyn, New York. and contributed to the 1997 album Songs of the Witchblade: A Soundtrack to the Comic Book, for the Top Cow's comics of the same name. She composed, played and produced most of songs, with many rock and metal artists like Megadeth or Peter Steele (Type O Negative). Babes in Toyland maintained a loyal following throughout the rest of the decade, and in November 2001, played their last live show in their hometown of Minneapolis. Their music includes three studio albums, two EPs, nine compilation albums, and seven singles.
2002–2014: Katastrophy Wife
With Babes in Toyland playing only sporadically in the late 1990s, Bjelland started the band Katastrophy Wife in 2000. The band toured at venues, such as Ladyfest, worldwide. Katastrophy Wife have released two albums, Amusia and All Kneel, as well as a single Heart On on the Australian record label Rish in April 2007. The single was intended as a trailer for a forthcoming album, Pregnant. Katstrophy Wife's vinyl debut was on an Independent label compilation called "The Tundra Sessions." Her song on the album was "Sweetheart" and is the first version of this song and not the same as the album version. There was an outtake entitled "No Thing" and both songs were recorded by Tim Mac. although as of 2011 the album has not been released. Bjelland also has co- created on soundtracks. On the Katastrophy Wife website, Bjelland stated that "Katastrophy Wife have had a few incarnations but from here on I will only re-incarnate my self." She produced the album The Seven Year Itch for the band Angelica, released in 2002.
2015–present: Babes in Toyland reunion
In 2014, Bjelland reunited with former bandmates Maureen Herman and Lori Barbero and began rehearsing material. In February 2015, the band played their first live show together in fourteen years in Joshua Tree, California, and performed more shows on an international tour in 2015.
Influences
Bjelland has credited Cocteau Twins, The Miracle Workers, and The Wipers as early influences on her. She also has credited Leonard Cohen and Frightwig as important to her.
She also has credited Girlschool and Motörhead as influential, and also stated she listens to Rush and 70s metal band.
Personal life
Bjelland was married and divorced twice and had a son, Henry (born 1999), with her second husband. In 2007 Bjelland had a schizophrenic episode and had received treatment. Bjelland commented on the event, saying: "I don't know how I've progressed musically as such but a major influence in my writing was dealing with my whole schizophrenia episode. I actually haven't spoken to anyone much about this. Dealing with multiple personalities was extremely difficult because some days I didn't know who I was or where I was at. I was very lucky that Adrian stuck by and helped me through it all. So obviously that was going to affect some of what I wrote about." She was later told she has a schizoaffective disorder.
In her 2010 episode of Behind the Music, Courtney Love reflected on her formative years in rock music in Portland, Oregon, and said, "The best thing that ever happened to me, in a way, was Kat", noting their friendship and musical collaboration. Because of Kat's closeness with Kurt Cobain, Bjelland went to Seattle immediately after Kurt Cobain's death in 1994. Bjelland also participated in the Behind the Music segment on Love in 2010.
Albums
Babes in Toyland
Spanking Machine (1990)
To Mother (1991)
The Peel Sessions (1992)
Fontanelle (1992)
Painkillers (1993)
Dystopia (1994)
Nemesisters (1995)
Lived (2000)
Devil (2000)
Viled (2000)
Natural Babe Killers (2000)
Minneapolism (2001)
The Best of Babes in Toyland and Kat Bjelland (2004/2005)
Crunt
Crunt (1994)
Katastrophy Wife
Amusia (2001)
All Kneel (2004)
References
Kat Bjelland Wikipedia
(Text) CC BY-SA