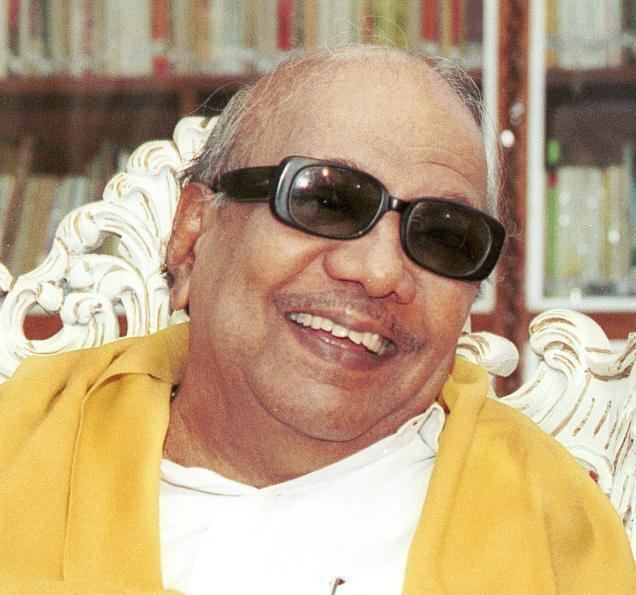 Born in Thirukkuvalai village in Nagapattinam district, he was born as a son of Muthuvelavar and a father of poor musicians. His original name is Dakshinamurthy. Karunanidhi was more interested in drama, poetry, and literature during his school season. Karunanidhi, who was inspired by the speaker Azhagirisamy, considered the pillar of the Justice Party, completely engaged in social movements at his 14th age. With the help of some of his students in the field of youth, the "youth revitalized the organization". The organization helped young people develop their inspiration and writing. After some time, the state was formed as a state-level "All Students Club." This was the first student division of the Dravidian movement. Karunanidhi also engaged the student community in social work with other members. DMK The party's official newspaper, Murasoli, started developing a newspaper for its members. The first major opposition to Karunanidhi's support for Tamil politics involved in the Kallukudi demonstration (1953). The original name of this industrial city is Kallagudi. Dalmiya, which set up a cement plant is from North India and changed the original name Kallakkudi to Dalmiyapuram. DMK opposed the name change as it was seen as North Indian oppression of Tamil Nadu. Karunanidhi and his comrades posted papers on the name "Dalmiyaapuram" in the railway station name board and block the passage of the trains. Two people died in the demonstration by the police action and Karunanidhi was arrested.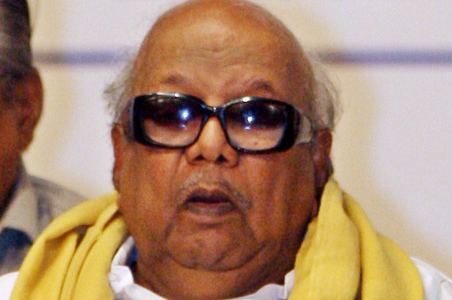 Karunanidhi began his career as a screenwriter in the Tamil film industry. Through his wit and oratorical skills he rapidly rose as a popular politician. He was famous for writing historical and social (reformist) stories which propagated the socialist and rationalist ideals of the Dravidian movement to which he belonged. He first began using Tamil cinema to propagate his political ideas through the movie Parasakthi. Parasakthi was a turning point in Tamil cinema, as it espoused the ideologies of the Dravidian movement and also introduced two prominent actors of Tamil filmdom, Sivaji Ganesan and S. S. Rajendran. The movie was initially banned but was eventually released in 1952. It was a huge box office hit, but its release was marred with controversies. The movie was opposed by orthodox Hindus since it contained elements that criticized Brahmanism. Two other movies written by Karunanidhi that contained such messages were Panam and Thangarathnam. These movies contained themes such as widow remarriage, abolition of untouchability, self-respect marriages, abolition of zamindari and abolition of religious hypocrisy. As his movies and plays with strong social messages became popular, they suffered from increased censorship; two of his plays in the 1950s were banned.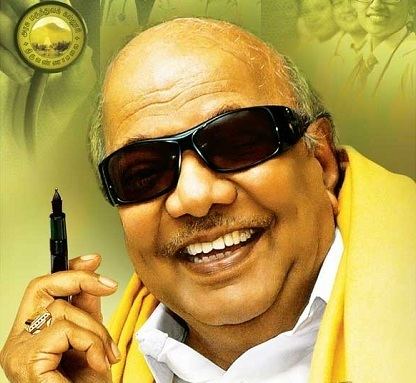 Karunanidhi rose to fame as a scriptwriter for the Modern Theatres Studio in Salem about 350 kilometers from Madras or present day Chennai. T R Sundaram, the owner of Modern Theatres Studio at Yercaud foot hills, was instrumental in honouring the talents of Karunanidhi, Jayalalithaa and M G Ramachandran. Even today, whenever Karunanidhi visits Salem, he takes a ride through Modern Theatres ( now a gated community of exclusive bungalows)and goes up to the first hair pin bend on the Yercaud hill road to relive nostalgia.
Karunanidhi is known for his contributions to Tamil literature. His contributions cover a wide range: poems, letters, screenplays, novels, biographies, historical novels, stage-plays, dialogues and movie songs. He has written Kuraloviam for Thirukural, Tholkaappiya Poonga, Poombukar, as well as many poems, essays and books. Apart from literature, Karunanidhi has also contributed to the Tamil language through art and architecture. Like the Kuraloviyam, in which Kalaignar wrote about Thirukkural, through the construction of Valluvar Kottam he gave an architectural presence to Thiruvalluvar, in Chennai. At Kanyakumari, Karunanidhi constructed a 133-foot-high statue of Thiruvalluvar in honour of the scholar.
The books written by Karunanidhi's include Sanga Thamizh, Thirukkural Urai, Ponnar Sankar, Romapuri Pandian, Thenpandi Singam, Vellikizhamai, Nenjukku Needhi, Iniyavai Irubathu and Kuraloviam. His books of prose and poetry number more than 100.
Karunanidhi's stage plays include: Manimagudam, Ore Ratham, Palaniappan, Thooku Medai, Kagithapoo, Naane Arivali, Vellikizhamai, Udhayasooriyan and Silappathikaram.
At the age of 20, Karunanidhi went to work for Jupiter Pictures as a scriptwriter. His first film, Rajakumaari, gained him much popularity. It was here that his skills as a scriptwriter were honed, which extended to several films.
Karunanidhi entered politics at the age of 14, inspired by a speech by Alagiriswamii of the Justice Party, and participated in Anti-Hindi agitations. He founded an organisation for the local youth of his locality. He circulated a handwritten newspaper called Manavar Nesan to its members. Later he founded a student organisation called Tamil Nadu Tamil Manavar Mandram, which was the first student wing of the Dravidan Movement. Karunanidhi involved himself and the student community in social work with other members. Here he started a newspaper for its members, which grew into Murasoli, the DMK party's official newspaper.
The first major protest that aided Karunanidhi in gaining ground in Tamil politics was his involvement in the Kallakudi agitation in Kallakudi. Original name of this industrial town was Kallakudi and it was changed to Dalmiapuram after a cement mogul who built a cement plant there. DMK wanted to change the name back to Kallakudi. In the protest Karunanidhi and his companions erased the name Dalmiapuram from the railway station and lay down on the tracks blocking the course of trains. Two people died in the protest and Karunanidhi was arrested.
At the age of 33, Karunanidhi entered the Tamil Nadu assembly winning the Kulithalai seat in the 1957 election. He became the DMK treasurer in 1961 and deputy leader of opposition in the state assembly in the year 1962 and when the DMK came to power in 1967, he became the minister for public works. When Annadurai expired in 1969, Karunanidhi became the Chief Minister of Tamil Nadu and the first leader of DMK, since the leader post was left vacant for Periyar when Annadurai was alive (Annadurai was the general secretary only). He has held various positions in the party and government during his long career in Tamil Nadu political arena. However, he suffered multiple electoral defeats against his primary opponent M.G.Ramachandran's ADMK until the latter's death in 1987.
After a brief stint as Chief Minister during the late 1980s (his government was dismissed by the Central government on accusations of degrading Law and Order situation in the state), Karunanidhi became the CM of Tamil Nadu in 1996 following a sweeping electoral win in the preceding elections. Following a 5-year rule, his party again lost at the elections to J. Jayalalithaa's AIADMK in 2001. He was however back in power when he took over as chief Minister of Tamil Nadu on 13 May 2006 after his coalition defeated his main opponent J. Jayalalithaa in the May 2006 elections. He currently represents the constituency of Tiruvarur in the Tamil Nadu state Legislative Assembly. He has been elected to the Tamil Nadu Legislative Assembly 12 times and once to the now abolished Tamil Nadu Legislative Council. At the end of the 5-year administration, the DMK lost the majority of seats in the legislative assembly of Tamil Nadu when elections were held in 2011, thereby ceding power again to the AIADMK under J. Jayalalithaa.
He started Murasoli on 10 August 1942. He was the founding editor and publisher of Murasoli during his boyhood as a monthly, then a weekly, and now a daily. He used his talents as a journalist and cartoonist to bring issues relevant to his political ideology before the public. He writes daily letters addressed to his party workers by name; he has been writing these for over 50 years. In addition he has served as editor for Kudiyarasu and gave life to the journal Mutharam. He is the founder of State Governments News Reel, Arasu Studio and also the Government Journal Tamil Arasu, published in Tamil and English.
He delivered the special address on the inaugural day of 3rd World Tamil Conference held in Paris in 1970, and also on the inaugural day of 6th World Tamil Conference held in Kuala Lumpur (Malaysia) in 1987. He penned the song "Semmozhiyaana Tamizh Mozhiyaam", the official theme song for the World Classical Tamil Conference 2010, that was set to tune by A. R. Rahman.
He has been indicted by the Sarkaria commission for corruption in allotting tenders for the Veeranam project. Indira Gandhi dismissed the Karunanidhi government based on charges of possible secession and corruption. In 2001, He was arrested on the charges of corruption in the construction of flyovers in Chennai. He and his party members were also charged under four Sections like IPC 120(b), IPC 167, IPC 420 and IPC 409.
In response to the Sethusamudram controversy, Karunanidhi questioned the existence of the Hindu God Rama. He said 'It is said that there was a God thousands of years ago called Ram.Do not touch the bridge built by him. I ask who is this Ram? Which engineering college did he graduate from?" His remarks caused a firestorm of controversy. BJP leader Ravi Shankar Prasad accused Karunanidhi of religious discrimination when noting "We would like to know from Karunanidhi if he would make a similar statement against religious head of any other religion; chance are he may not."
The interim report of Justice Jain Commission, which oversaw the investigation into Rajiv Gandhi's assassination, indicted Karunanidhi for abetting the Liberation Tigers of Tamil Eelam (LTTE). The interim report recommended that Tamil Nadu Chief Minister M. Karunanidhi and the DMK party be held responsible for abetting Rajiv Gandhi's murderers. The final report contained no such allegations. In April 2009, in an interview to NDTV, Karunanidhi made a controversial remark stating that "Prabhakaran is my good friend" and also said, "India could not forgive the LTTE for assassinating Rajiv Gandhi".
Karunanidhi has been accused by opponents, by some members of his party, and by other political observers of trying to promote nepotism. Many political opponents and DMK party senior leaders have been critical of the rise of M. K. Stalin in the party. But some of the party men have pointed out that Stalin has come up on his own. He has faced a lot of hardship since 1975, when he was jailed under the Maintenance of Internal Security Act (MISA) and was beaten up in jail so brutally during the Emergency that a fellow DMK party prisoner died trying to save him. Stalin was an MLA in 1989 and 1996 when his father Karunanidhi was the Chief Minister, but he was not inducted into the Cabinet. He became Chennai's 44th mayor and its first directly elected mayor in 1996. It was only in his fourth term as MLA that he was made a Minister in the Karunanidhi cabinet and then in 2009 was made the Deputy Chief Minister. His daughter Kanimozhi is a Rajya Sabha MP now.
As per the chargesheet filed by CBI, Kanimozhi has 100% stake in her family owned Kalaignar TV, her step-mother Dayalu owns 60% stake in the same channel. CBI alleges that Kanimozhi was an "active brain" behind the channel's operations and she worked along with former telecom minister A. Raja to get DB Realty promoter Shahid Balwa to circuitously route 2 billion (US$36.2 million) to Kalaignar TV. According to CBI, Kanimozhi was in regular touch with A Raja regarding launching of Kalaignar TV channel and its other pending works. CBI alleges that A Raja was further pursuing the cause of Kalaignar TV not only for getting registration of the company from Ministry of Information and Broadcasting but also for getting it in the DTH operator TATA Sky's bouquet. She was also summoned by the Income Tax Department, Chennai for alleged tax evasion charges.
On 3 July 2012, briefing the Joint parliamentary committee probing the scam, ED claimed that it has enough evidence to convict DMK chief Karunanidhi's wife and daughter Kanimozhi.