Residence

Paris, France




Name

Karl Lagerfeld




Occupation

Fashion designer





Education

St. Annes School




Nationality

German


Height

1.78 m









Full Name

Karl Otto Lagerfeld




Born

10 September 1933 (age 90) (

1933-09-10

) Hamburg, Germany


Labels

Karl Lagerfeld (since 1974, various brands)Chanel (since 1983)Fendi (since 1965), Chloe (1963–1978, 1992–1997), Jean Patou (1958–1963), H&M (2004), Hogan (2011), Macy's (2011)


Role

Fashion designer · karl.com




Movies

Totally Spies! The Movie, L'Amour




Parents

Elisabeth Bahlmann, Otto Lagerfeldt




Siblings

Martha Christiana Lagerfeldt, Thea Lagerfeldt




Books

Choupette, A Portrait of Dorian Gray, Aktstrakt, Konkret abstrakt gesehen, Madonna Superstar




Similar People

Coco Chanel, Yves Saint Laurent, Baptiste Giabiconi, Anna Wintour, Jean Paul Gaultier


Profiles




Instagram

Twitter
The life of a star the world of karl lagerfeld part 1
Karl Otto Lagerfeld (born 10 September 1933) is a German fashion designer, creative director, artist, and photographer based in Paris. He is the head creative director of the fashion house Chanel as well as the Italian house Fendi and his own eponymous fashion label. Over the decades, he has collaborated on a variety of fashion and art-related projects. He is well recognized around the world for his white hair, black sunglasses, and high starched collars.
Contents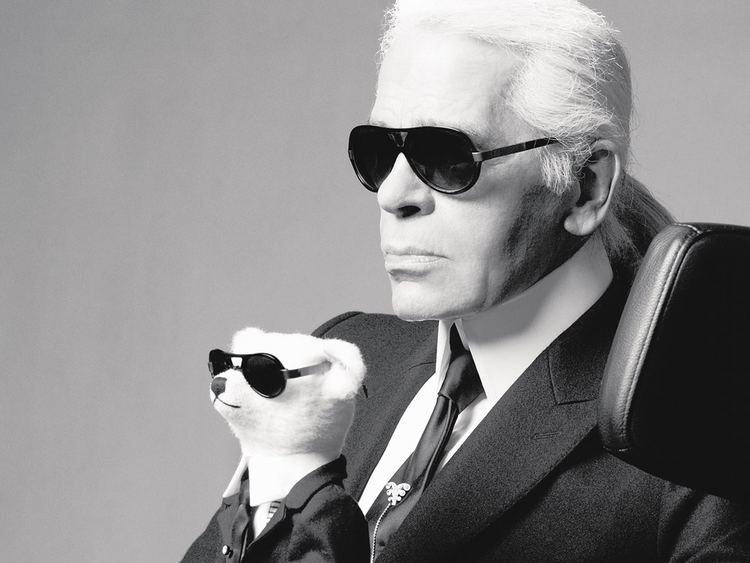 Karl lagerfeld sketches his life
Early life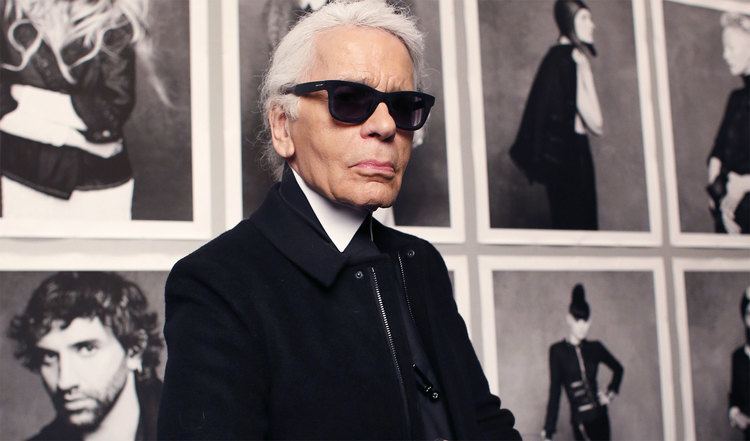 Lagerfeld was born on 10 September 1933 in Hamburg, Germany and is the son of businessman Otto Lagerfeld (1881–1967), and his wife Elisabeth Bahlmann (1897–1978). His father owned a company that produced and imported evaporated milk, while his maternal grandfather Karl Bahlmann was a local politician for the Catholic Centre Party. His family belonged to the Old Catholic Church. When she met his father, Lagerfeld's mother was a lingerie saleswoman from Berlin. His parents were married in 1930.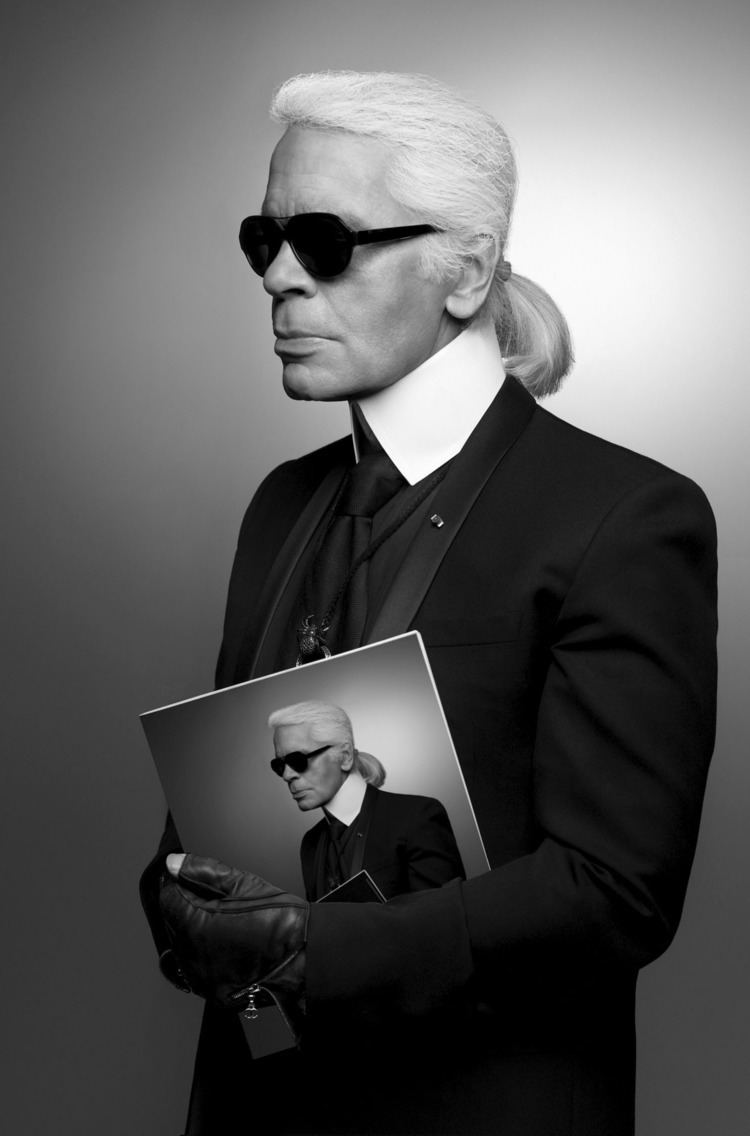 Lagerfeld is known to misrepresent his birth year, claiming to be younger than his actual age, and to misrepresent his parents' background. For example, he has claimed that he was born in 1938 to "Elisabeth of Germany" and Otto Ludwig Lagerfeldt from Sweden, although these claims have been conclusively proven to be entirely wrong, as his father was from Hamburg and spent his entire life in Germany, with no Swedish connection whatsoever. There is also no evidence that his mother Elisabeth Bahlmann, the daughter of a middle class local politician, called herself "Elisabeth of Germany." He is known to insist that no one knows his real birth date. In an interview on French television in February 2009, Lagerfeld said that he was "born neither in 1933 nor 1938."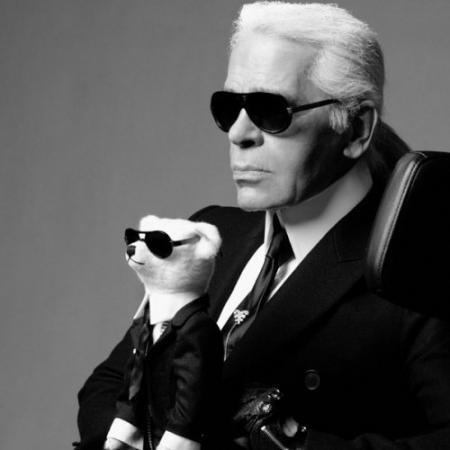 In April 2013 he finally declared that he was born in 1935. A birth announcement was, however, published by his parents in 1933, and the baptismal register in Hamburg also lists him as born in that year, conclusively proving that he was born on 10 September 1933. Bild am Sonntag published his baptismal records in 2008 and interviewed his teacher and a classmate, who both confirmed that he was born in 1933. Despite that, Karl Lagerfeld announced publicly that he was celebrating his "70th birthday" on 10 September 2008, despite actually turning 75.
His older sister, Martha Christiane "Christel", was born in 1931. Lagerfeld has an older half-sister, Thea, from his father's first marriage. His family name has been spelled both Lagerfeldt (with a "t") and Lagerfeld. Like his father, he uses the spelling Lagerfeld, considering it to "sound more commercial."
His family was mainly shielded from the deprivations of World War II due to his father's business interests in Germany through the firm Glücksklee-Milch GmbH. His father was in San Francisco during the 1906 earthquake.
After attending a private school, Lagerfeld finished his secondary school at the Lycée Montaigne in Paris, where he majored in drawing and history.
Early career
Karl Lagerfeld was hired as Pierre Balmain's assistant after winning the coats category in a design competition sponsored by the International Wool Secretariat in 1955. In 1958, after three years at Balmain, he moved to Jean Patou where he designed two haute couture collections per year for five years. His first collection was shown in a two-hour presentation in July 1958, but he used the name Roland Karl, rather than Karl Lagerfeld. Although, in 1962, reporters began referring to him as Karl Lagerfelt or Karl Logerfeld. The first collection was poorly received. Carrie Donovan, an American fashion journalist, wrote that "the press booed the collection". The UPI noted: "The firm's brand new designer, 25-year-old Roland Karl, showed a collection which stressed shape and had no trace of last year's sack." The reporter went on to say: "A couple of short black cocktail dresses were cut so wide open at the front that even some of the women reporters gasped. Other cocktail and evening dresses feature low, low-cut backs." Most interestingly, Karl said that his design silhouette for the season was called by the letter "K" for Karl, which was translated into a straight line in front, curved in at the waist in the back, with a low fullness to the skirt.
His skirts for the spring 1960 season were the shortest in Paris, and the collection was not well received. Carrie Donovan wrote that it "looked like clever and immensely salable ready-to-wear, not couture." For his late 1960 collection, he designed special little hats, pancake shaped circles of satin, which hung on the cheek. He called them "slaps in the face." Karl's collection was said to be well received but not groundbreaking. "I became bored there, too, and I quit and tried to go back to school, but that didn't work, so I spent two years mostly on beaches—I guess I studied life."' In 1963, he began designing for Tiziani, a Roman couture house founded that year by Evan Richards (b. 1924) of Jacksboro, Texas. It began as couture and then branched out into ready-to-wear, bearing the label "Tiziani-Roma—Made in England." Lagerfeld and Richards sketched the first collection in 1963 together. "When they wound up with 90 outfits, Tiziani threw caution and invitations to the winds, borrowed Catherine the Great's jewels from Harry Winston, and opened his salon with a three-night wingding," according to one report in 1969. Lagerfeld designed for the company until 1969. Elizabeth Taylor was a fan of the label; she referred to Evan as Evan Tiziani, which was, of course, not his family name, and began wearing the outfits in August 1966. Gina Lollobrigida, Doris Duke, and Princess Marcella Borghese were also customers while Lagerfeld was designing the line. He was replaced in 1969 with Guy Douvier (1928–1993).
Lagerfeld began to freelance for French fashion house Chloé in 1964, at first designing a few pieces each season. As more and more pieces were incorporated, he soon designed the entire collection. In 1970, he also began a brief design collaboration with Roman haute-couture house Curiel; its head was Gigliola Curiel, who died in November 1969. Lagerfeld's first collection there was described as having a "drippy drapey elegance" designed for a "1930s cinema queen." The Curiel mannequins all wore identical short-cropped blonde wigs. He also showed black velvet shorts, worn under a black velvet ankle-length cape.
His Chloé collection for spring 1973 (shown in October 1972) garnered headlines for offering something both "high fashion and high camp." He showed loose Spencer jackets and printed silk shirt-jackets. He designed something he called a "surprise" skirt, which was in an ankle-length, pleated silk, so loose that it hid the fact it was actually pants. "It seems that wearing these skirts is an extraordinary sensation," he told a reporter at the time. He also designed a look inspired by Carmen Miranda, which consisted of mini-bra dresses with very short skirts, and long dresses with bra tops and scarf shawls.
From 1965, he collaborated with Italian fashion house Fendi, designing furs, clothing, and accessories.
Since the 1970s, Lagerfeld has occasionally worked as a costume designer for theatrical productions. He collaborated with stage directors such as Luca Ronconi and Jürgen Flimm, and designed for theaters such as La Scala in Milan (Les Troyens by Hector Berlioz, 1980; directed by Ronconi), the Burgtheater in Vienna (Komödie der Verführung by Arthur Schnitzler, 1980; directed by Horst Zankl), and the Salzburg Festival
International fame (1982–present)
At the time, he was maintaining a design contract with Japanese firm Isetan to create collections for both men and women through 30 licenses, had a lingerie line in the U.S. produced by Eve Stillmann, was designing shoes for Charles Jourdan and sweaters for Ballantyne, and worked with Trevira as a fashion adviser.
In the 1980s Lagerfeld integrated the interlocked "CC" monograph of Coco Chanel into a style pattern for the House of Chanel.
21st century
In 2002, Karl Lagerfeld asked Renzo Rosso, the founder of Diesel, to collaborate with him on a special denim collection for the Lagerfeld Gallery. The collection, Lagerfeld Gallery by Diesel, was co-designed by Lagerfeld and then developed by Diesel's creative team, under the supervision of Rosso. It consisted of five pieces that were presented during the designer's catwalk shows during Paris Fashion Week and then sold in highly limited editions at the Lagerfeld Galleries in Paris and Monaco and at the Diesel Denim Galleries in New York and Tokyo. During the first week of sales in New York, more than 90% of the trousers were sold out, even though prices ranged from $240 to $1,840. In a statement after the show in Paris, Rosso said: "I am honored to have met this fashion icon of our time. Karl represents creativity, tradition and challenge, and the fact that he thought of Diesel for this collaboration is a great gift and acknowledgement of our reputation as the prêt-à-porter of casual wear."
Lagerfeld designed the costumes for the Carmen sequences in the 2002 film Callas Forever; in 2004, some outfits for singer Madonna for her Re-Invention tour, and recently outfits for Kylie Minogue's Showgirl tour.
Lagerfeld collaborated with H&M, which, on 12 November 2004, offered a limited range of Lagerfeld clothes for men and women, in certain outlets. Only two days after having supplied its outlets, H&M announced that almost all the clothes were sold out. However, Lagerfeld has expressed some fear that working with lower-end brands will taint his image; although, in the past he has worked closely with the hosiery designer Wolford.
Lagerfeld is also a photographer. He produced Visionaire 23: The Emperor's New Clothes, a series of nude pictures of models and celebrities. He also personally photographed Mariah Carey for the cover of V magazine in 2005. In addition to his editorial work for Harper's Bazaar, Numéro, and Russian and German editions of Vogue, Lagerfeld photographs advertising campaigns for the houses under his direction—Chanel, Fendi, and his eponymous line.
In the 1980s, Hans Christian Andersen tale "The Emperor's New Clothes" was published with drawings by Lagerfeld.
The designer was also the subject of French reality-TV series "Signé Chanel" in 2005. It covered the creation of his fall/winter 2004–2005 Chanel couture collection and aired on Sundance Channel in the United States during the fall of 2006.
On 18 December 2006, Lagerfeld announced the launch of a new collection for men and women dubbed K Karl Lagerfeld, which included fitted T-shirts and a wide range of jeans.
Lagerfeld and investments enterprise Dubai Infinity Holdings (DIH) signed a deal to design limited edition homes on the island of Isla Moda.
A feature-length documentary film on the designer, Lagerfeld Confidential, was made by Vogue in 2007.
Lagerfeld is the host of fictional radio station K109—the studio in videogame Grand Theft Auto IV.
In 2008, he created a teddy bear in his likeness produced by Steiff in an edition of 2,500 that sold for $1,500. and has been immortalized in many forms, which include pins, shirts, dolls, and more. In 2009, Tra Tutti began selling Karl Lagermouse and Karl Lagerfelt, which are mini-Lagerfelds in the forms of mice and finger puppets, respectively.
On 10 September 2010, the Couture Council of The Museum at the Fashion Institute of Technology presented Lagerfeld with an award created for him, The Couture Council Fashion Visionary Award, at a benefit luncheon at Avery Fisher Hall, New York.
On 10 November 2010, Lagerfeld and Swedish crystal manufacturer Orrefors announced a collaboration to design a crystal art collection. The first collection was launched in spring 2011, called Orrefors by Karl Lagerfeld.
Lagerfeld's apartment in Paris was published in the French issue of Architectural Digest in May 2012. He also revealed his vast collection of Suzanne Belperron's pins and brooches and used the color of one of her blue chalcedony rings as the starting point for the Chanel spring/summer 2012 collection.
In 2013, he directed the short film Once Upon a Time... in the Cité du Cinéma, Saint-Denis, by Luc Besson, featuring Keira Knightley in the role of Coco Chanel and Clotilde Hesme as her aunt Adrienne Chanel.
In 2014, an auction house in Florida announced that many of Lagerfeld's early sketches for the House of Tiziani in Rome would be sold.
In 2015, the first Karl Lagerfeld store opened at Lagoona Mall in Doha, Qatar.
In June 2016, it was announced that Karl Lagerfeld would design the two residential lobbies of the Estates at Acqualina, a luxury residential development in Miami's Sunny Isles Beach.
Controversies
In 1993, he caused U.S. Vogue editor-in-chief Anna Wintour to walk out of his Milan Fashion Week runway show, when he employed strippers and adult-film star Moana Pozzi to model his black-and-white collection for Fendi.
There was much controversy from Lagerfeld's use of a verse from the Qur'an in his spring 1994 couture collection for Chanel, despite apologies from the designer and the fashion house. The controversy erupted after the 1994 couture show in Paris, when the Indonesian Muslim Scholars Council in Jakarta called for a boycott of Chanel and threatened to file formal protests with the government of Mr. Lagerfeld's homeland, Germany. The designer apologized, explaining that he had taken the design from a book about the Taj Mahal, thinking the words came from a love poem.
Lagerfeld was the target of a pieing by People for the Ethical Treatment of Animals (PETA) in 2001 at a fashion premiere at Lincoln Center in New York City. However, the tofu pies hurled by animal rights activists in protest of his use of fur within his collections went astray, instead hitting Calvin Klein. A PETA spokesperson described the hit on Klein as "friendly fire," calling Klein, who doesn't use fur, "a great friend to the animals" and Lagerfeld a "designer dinosaur," who continues to use fur in his collections.
Lagerfeld is a supporter of the use of fur in fashion. He himself doesn't wear fur and hardly eats meat. In a BBC interview in 2009, he claimed that hunters "make a living having learnt nothing else than hunting, killing those beasts who would kill us if they could" and maintained: "In a meat-eating world, wearing leather for shoes and clothes and even handbags, the discussion of fur is childish." Spokespersons for PETA called Lagerfeld "a fashion dinosaur who is as out of step as his furs are out of style." and "particularly delusional with his kill-or-be-killed mentality. When was the last time a person's life was threatened by a mink or rabbit?"
In 2010, PETA cites Lagerfeld, who used fake fur in his 2010 Chanel collection, on its website as saying: "It's the triumph of fake fur… because fake fur changed so much and became so great now that you can hardly see a difference."
Lagerfeld in 2009 joined critics of supermodel Heidi Klum. After German designer Wolfgang Joop called Klum, who had posed naked on the cover of the German edition of GQ magazine, as being "no runway model. She is simply too heavy and has too big a bust." Lagerfeld retorted that neither he nor Claudia Schiffer knew Klum as she has never worked in Paris and is insignificant in the world of high fashion, being "more bling bling and glamorous than current fashion."
Lagerfeld created an international furore on 9 February 2012, when he called the singer Adele "a little too fat." This caused instant fury throughout the United Kingdom, and Lagerfeld responded with a statement of apology. Adele hit back by saying she is like the majority of women, and she is very proud of that fact. Lagerfeld later caused another controversy, on 31 July 2012, when he criticized Pippa Middleton, sister of Kate Middleton, for her looks. The comment was made when Lagerfeld was praising Kate Middleton, for her "romantic beauty" before adding: "I don't like the sister's face. She should only show her back."
Personal life
Lagerfeld had a long-term relationship from the early 1970s with socialite Jacques de Bascher (1951–1989) until his death in 1989.
Lagerfeld has lived in numerous homes over the years: an apartment in the Rue de l'Université in Paris, decorated in the Art Deco style (1970s); the 18th-century Chateau de Penhoët in Brittany, decorated in the Rococo style (1970s to 2000); an apartment in Monte Carlo decorated until 2000 in 1980s Memphis style (since the early 1980s); the Villa Jako in Blankenese in Hamburg, decorated in the Art Deco style (mid-1990s to 2000); the Villa La Vigie in Monaco (the 1990s to 2000), a 17th-century mansion (hôtel particulier) in the Rue de l'Université in Paris, decorated in the Rococo and other styles (1980s to the 2000s); an apartment in Manhattan, although he never moved into or decorated it (2006 to 2012); the summer villa El Horria in Biarritz, decorated in the modern style (1990s–2006); and a house dating from the 1840s in Vermont (from the 2000s). Since 2007, Lagerfeld has owned an 1820s house in Paris in Quai Voltaire decorated in modern and Art Deco style.
Lagerfeld owns a red point Birman cat named Choupette, which, on 1 June 2013, he indicated he would marry, if it were legal.
Weight loss
When Lagerfeld lost 42 kg (about 92.6 lbs.) in 13 months in 2001, he explained: "I suddenly wanted to dress differently, to wear clothes designed by Hedi Slimane.... But these fashions, modeled by very, very slim boys—and not men my age—required me to lose at least 40 kg. It took me exactly 13 months." The diet was created specially for him by Dr. Jean-Claude Houdret, which led to a book called The Karl Lagerfeld Diet. He promoted it on Larry King Live and other TV shows.
References
Karl Lagerfeld Wikipedia
(Text) CC BY-SA