India




Bengali, Kokborok, Bishnupriya Manipuri, English




Tripura




Unakoti



Kailashahar is an nagar panchayat town, the headquarters of the Unakoti district in the Indian state of Tripura located along the Bangladesh border.
The history of old Kailashahar is associated with Unakoti, a tourist place reputed for its 7th - 9th century AD stone and rock cut images. A 15th generation descendant of King Jujhar Fa, a Shiva disciple who started the Tripurabda (Tripuri Calendar), prayed for Lord Shiva in a village called Chhambulnagar on the banks of the river Mau. It is speculated that Chhambulnagar, which is mentioned in Rajmala, was situated near Unakoti Hill. The Prince prayed for Mahadeva in Unakoti. For this some people believe that the previous name of Kailashahar was Chhambulnagar. Some believers thought that Har (Shiva) resides in Kailash. Therefore the place was known as Kailash Har which was later on transformed to Kailashahar. A Tripura king named Adi-Dharmapha ruled here in 7th century. He performed a great yagna with much pomp and gaiety. The name Kailashahar found currency since that time.
Kailashahar was the ancient capital of the Tripuri kingdom.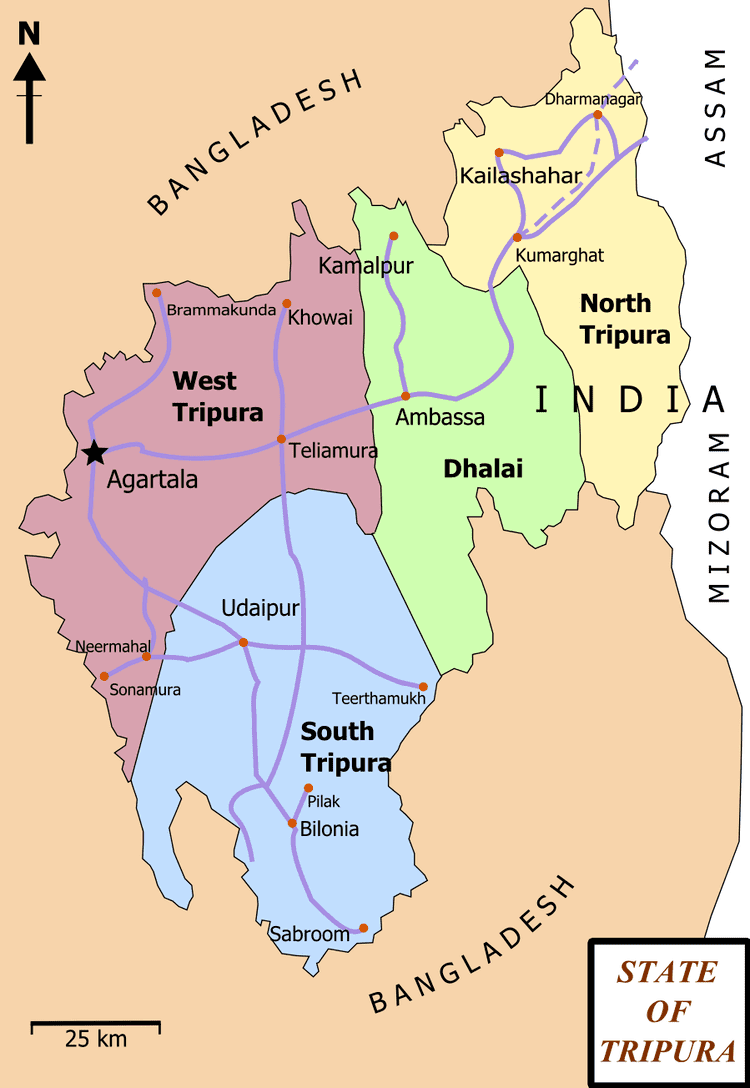 There is not much population in kailashahar and many people are living in poverty but there also some that are very rich and some that live in foreign countries.It is mainly populated by Bishnupriya Manipuris.This tinsel town is the cultural pillar of Tripura from time immemorial.
Unakoti
Lakhi Narayan Bari
14 Deities Temple or Choudoo Devotar Mandir, Rangauti
More than 16 Tea Estates
The main festival in Kailashahar is the durga puja festival that carries between September - October and is where all the kids, elderly and adults enjoy. The city of Kailashahar is also known for its bright festival of lights "Kali Puja". One of the biggest Kali Puja Pandals are hosted in this small city.
Kailashahar Wikipedia
(,)https://fbexternal-a.akamaihd.net/safe_image.php%3Fd%3DAQCG47QdDf9kRvjG%26w%3D720%26h%3D1044%26url%3Dhttp%253A%252F%252Fupload.wikimedia.org%252Fwikipedia%252Fcommons%252Fthumb%252F5%252F57%252FTripura_map.png%252F720px-Tripura_map.png(,)http://upload.wikimedia.org/wikipedia/commons/2/22/Haljesta.jpg(,)http://upload.wikimedia.org/wikipedia/commons/d/dc/Agartala_Palace,_Tripura.jpg(,)http://image.slidesharecdn.com/zohistory-141219234611-conversion-gate01/95/zo-history-84-638.jpg%3Fcb%3D1419054432(,)http://img2.holidayiq.com/photos/ka/Kailashahar-Photos-Kailashahar-shareiq-1152-1380905277-004457-jpg-destreviewimages-510x340-1380905277.jpg(,)http://img2.holidayiq.com/photos/ka/Kailashahar-Photos-Kailashahar-UNAKOTI-shareiq-1372928535-536715-jpg-destreviewimages-507x375-1372928535.jpg(,)http://i.ytimg.com/vi/kcRg3PTett8/0.jpg
(,)http://www.holidify.com/images/foodImages/166.jpg(,)http://upload.wikimedia.org/wikipedia/commons/thumb/7/7f/Ilishi_maachha.jpg/800px-Ilishi_maachha.jpg(,)http://www.holidify.com/images/foodImages/28.jpg(,)http://www.allrestaurants.eu/img/af/21058/13405649289145.jpg(,)http://www.journeymart.com/de/StateImages/bihar-cuisine1.jpg(,)http://www.journeymart.com/de/StateImages/saag-roti-punjab-food.jpg(,)http://www.journeymart.com/de/StateImages/food-in-bengal.jpg(,)http://www.journeymart.com/de/StateImages/gujarati-thali.jpg(,)http://static.manoramaonline.com/ranked/online/MM/English/Cuisine/Recipe/Recipe_Specials/3543140637_Mango_Mulakushyam_11042013.jpg(,)http://static.manoramaonline.com/ranked/online/MM/English/Cuisine/Recipe/Recipe_Specials/3533671723_Pot_Roast_Beef.jpg
(,)http://northtripura.gov.in/unakuti.jpg(,)http://agartalareliancepestcontrol.com/images/u.jpg(,)http://www.holidify.com/images/places/lakhinarayanbari3.jpg(,)http://i.ytimg.com/vi/GzJ2gFJD6bM/0.jpg(,)http://i.ytimg.com/vi/djHys_NZDDY/0.jpg
(,)http://upload.wikimedia.org/wikipedia/commons/5/57/Tripura_map.png(,)http://upload.wikimedia.org/wikipedia/en/d/dc/Rksp.jpg(,)http://i.ytimg.com/vi/P2HIcIGwDZc/0.jpg(,)http://i.ytimg.com/vi/tZRJi7ewpKE/maxresdefault.jpg(,)http://i.ytimg.com/vi/_NYaxzW1tic/0.jpg(,)http://i.ytimg.com/vi/dgfEkrRLLm0/hqdefault.jpg(,)http://i.ytimg.com/vi/Ag49n9IhvCA/hqdefault.jpg(,)http://i.ytimg.com/vi/BNi3vfT4iqE/0.jpg(,)http://i.ytimg.com/vi/4z8ShzeK1M8/hqdefault.jpg(,)http://www.tripurainfoway.com/viewimage.php%3Fsrc%3Dhttp://www.tripurainfoway.com/postcard_pic/2013/Ranibari%2520tea%2520estate%2520-%2520North%2520Tripuar%2520-1378382963.jpg%26w%3D650%26h%3D380