Nationality

American




Awards

MacArthur Fellowship




Role

Artist




Name

Julie Mehretu




Occupation

painter







Born

1970

Addis Ababa, Ethiopia




Alma mater

Kalamazoo College, Rhode Island School of Design




Artwork

Stadia I, Empirical Construction, Istanbul




Education

Cheikh Anta Diop University, Rhode Island School of Design, Kalamazoo College




Similar People

Jessica Rankin, Mark Bradford, Marian Goodman, Kara Walker, Mark Grotjahn
Julie mehretu mural art21 exclusive
Julie Mehretu (born 1970 in Addis Ababa, Ethiopia) is an artist, best known for her densely layered abstract paintings and prints. She is best known for her large-scale paintings that take the abstract energy, topography, and sensibility of global urban landscapes as a source of inspiration.
Contents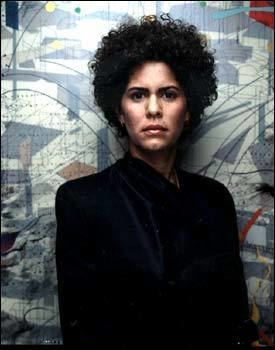 Julie mehretu politicized landscapes art21 extended play
Life and work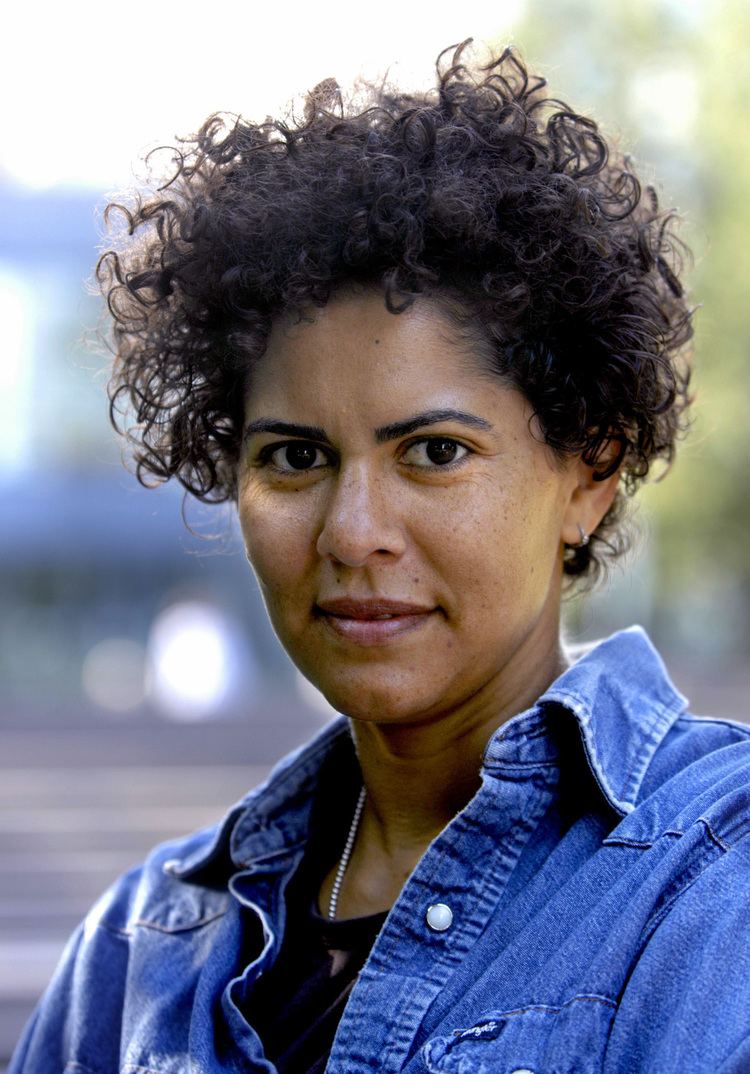 Mehretu was born in Ethiopia, in 1970, the first child of an Ethiopian college professor and an American teacher. They fled the country in 1977 and moved to East Lansing, Michigan, for her father's teaching position at Michigan State University. A graduate of East Lansing High School, Mehretu received a Bachelor of Arts degree from Kalamazoo College in Kalamazoo, Michigan, and did a junior year abroad at Cheikh Anta Diop University (UCAD) in Dakar, Senegal, then attended the Rhode Island School of Design in Providence, Rhode Island, where she earned a Master of Fine Arts degree in 1997. She moved to New York in 1999. Mehretu lives and works in New York City. She shares her New York studio with her partner, the artist Jessica Rankin. Mehretu's mother-in-law is Australian author and poet Lily Brett and her father-in-law is celebrated Australian artist David Rankin.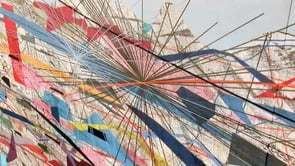 Mehretu is known for her large-scale paintings and drawings and her technique of layering different elements and media. Her paintings are built up through layers of acrylic paint on canvas overlaid with mark-making using pencil, pen, ink and thick streams of paint. Her canvases overlay different architectural features such as columns, façades and porticoes with different geographical schema such as charts, building plans and city maps and architectural renderings for stadiums, international airports, and other public gathering hubs, seen from different perspectives, at once aerial, cross-section and isometric. Her drawings are preparatory to her large paintings, and sometimes interim between paintings.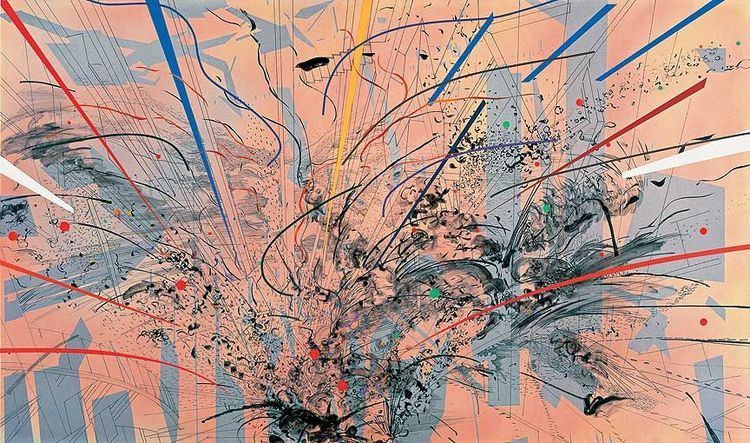 Mogamma: A Painting in Four Parts (2012), the collective name for four monumental canvases that were included in documenta 13, relates to 'Al-Mogamma', the name of the all purpose government building in Tahrir Square, Cairo which was both instrumental in the 2011 revolution and architecturally symptomatic of Egypt's post-colonial past. The word 'Mogamma', however, means 'collective' in Arabic and historically, has been used to refer to a place that shares a mosque, a synagogue and a church and is a place of multi faith. A later work, The Round City, Hatshepsut (2013) contains architectural traces of Baghdad, Afghanistan itself – its title referring to the historical name given to the city in ancient maps. Another painting, Insile (2013) built up from a photo image of Believers' Palace amid civilian buildings, activates its surface with painterly ink gestures, blurring and effacing the ruins beneath.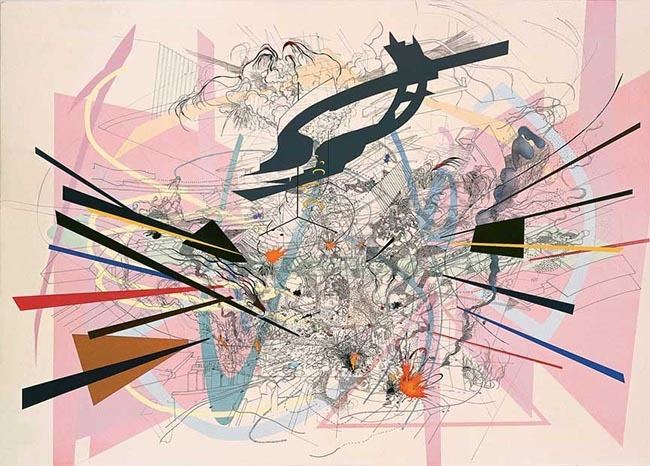 While best known for large-scale abstract paintings, Mehretu has experimented with prints since graduate school at the Rhode Island School of Design, where she was enrolled in the painting and printmaking program in the mid-1990s. Her exploration of printmaking began with etching. She has completed collaborative projects at professional printmaking studios across America, among them Highpoint Editions in Minneapolis, Crown Point Press in San Francisco, Gemini G.E.L. in Los Angeles, and Derrière L'Etoile Studios and Burnet Editions in New York City.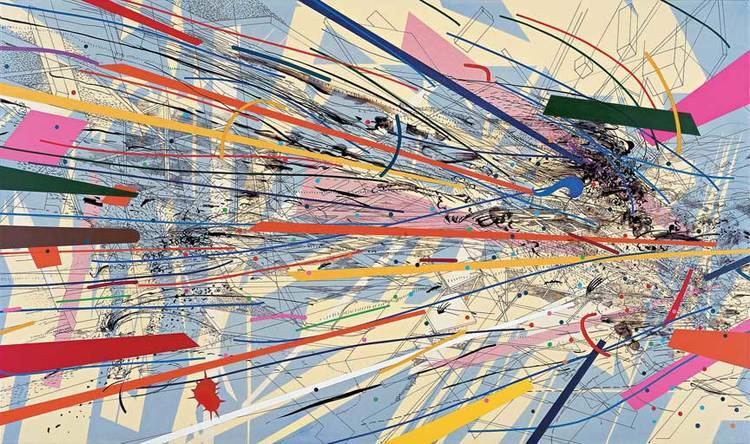 Mehretu was a resident of the CORE Program, Glassell School of Art, Museum of Fine Arts, Houston (1997–98) and the Artist-in-Residence Program at the Studio Museum in Harlem (2001). During a residency at the Walker Art Center, Minneapolis, in 2003, she worked with thirty high school girls from East Africa. In 2007, she led a monthlong residency program with 40 art students from Detroit public high schools. In the spring of 2007 she was the Guna S. Mundheim Visual Arts Fellow at the American Academy in Berlin.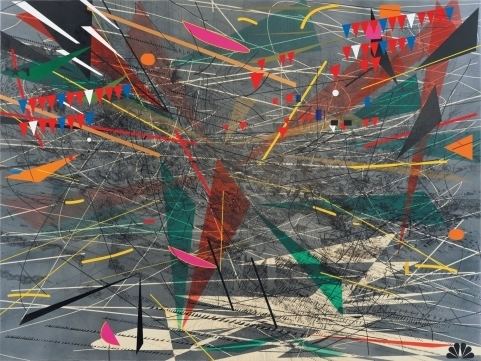 During her residency in Berlin, Mehretu was commissioned to create seven paintings by the Deutsche Guggenheim; titled Grey Area (2008-2009), the series explores the urban landscape of Berlin as a historical site of generation and destruction. The painting Vanescere (2007), a black-and-white composition that depicts what appears to be a maelstrom of ink and acrylic marks, some of which are sanded away on the surface of the linen support, was a catalyst picture for this series. The art historian Sue Scott has this to say of the Grey Area series: "In these somber, simplified tonal paintings, many of which were based on the facades of beautiful nineteenth-century buildings destroyed in World War II, one gets the sense of buildings in the process of disappearing, much like the history of the city she was depicting."
Recognition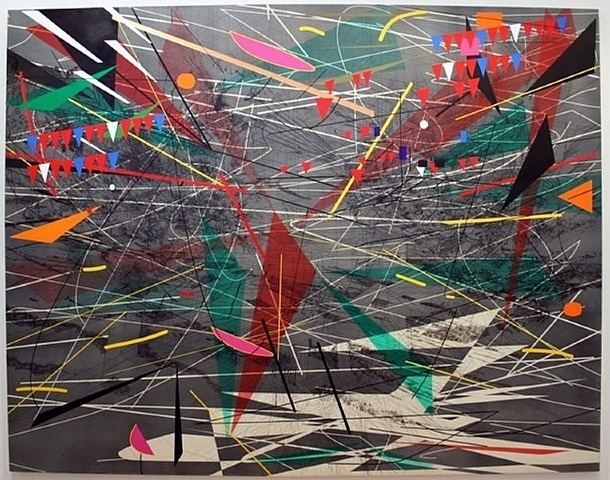 In 2000, Mehretu was awarded a grant from the Foundation for Contemporary Arts Grants to Artists Award. She was the recipient of the 2001 Penny McCall Award. On September 20, 2005, she was named as one of the 2005 recipients of the MacArthur Fellowship, often referred to as the "genius grant."
In 2007, while completing a residency at the American Academy in Berlin, Julie Mehretu received the 15th commission of the Deutsche Bank and Solomon R. Guggenheim Foundation. The body of work she created, Grey Area, was composed of six large-scale paintings, completed between 2007 and 2009 in a studio in Berlin.
In 2013, Mehretu was awarded the Barnett and Annalee Newman Award and in 2015 Mehretu received the US Department of State Medal of Arts from Secretary of State John Kerry.
Collections
Mehretu's works are held in the collections of the Minneapolis Institute of Art, Museum of Modern Art, Brooklyn Museum, Carnegie Museum of Art, Walker Art Center, Studio Museum in Harlem, and the San Diego Museum of Art.
Although located in a private office building lobby, her 23' x 80' mural commissioned for the new Goldman Sachs tower in New York City (2010) is viewable from the sidewalk windows.
Art market
Mehretu is represented by Marian Goodman Gallery in New York and by White Cube in London as well as by carlier | gebauer in Berlin.
Mehretu's painting Untitled 1 sold for $1.02 million at Sotheby's in September 2010. Its estimated value had been $600–$800,000. At Art Basel in 2014, White Cube sold Mehretu's Mumbo Jumbo (2008) for $5 million.
In 2010, Mehretu's work was the object of the Lehmann v. The Project Worldwide case before the New York Supreme Court. The case involved legal issues over her work and the right of first refusal contracts between her then-gallery and a collector. In return for a $75,000 loan by the collector Jean-Pierre Lehmann to the Project Gallery, made in February 2001, the gallery was to give Lehmann a right of first refusal on any work by any artist the gallery represented, and at a 30 per cent discount until the loan was repaid. According to Lehmann, the loan was primarily designed to buy access to works by Mehretu. However, the agreement between Lehmann and The Project expressly provided that four other individuals also have the right of first choice to any work by any artist represented by the gallery. The gallery sold 40 works by Mehretu during the period of the contract, and only one was offered first to Lehmann. Lehmann suspected that his agreement was not being honoured after seeing several large paintings by Mehretu belonging to other collectors in an exhibition at the Walker Art Center and sued for breach of contract. The case, eventually won by the collector, revealed to a wider public precisely what prices and discounts galleries offer various collectors and galleries on paintings by Mehretu - information normally concealed by the art world. It also was the first case to try to enforce the right to buy contemporary art.
Exhibitions
In 2001, Mehretu participated in the exhibition Painting at the Edge of the World at the Walker Art Center. She later was one of 38 artists whose work was exhibited in the 2004-5 Carnegie International: A Final Look. She has participated in numerous group exhibitions, including one at the Center for Curatorial Studies, Bard College, Annandale-on-Hudson (2000). Her work has appeared in Free Style at the Studio Museum in Harlem (2001); The Americans at the Barbican Gallery in London (2001); White Cube gallery in London (2002), the Busan Biennale in Korea (2002); the 8th Baltic Triennial in Vilnius, Lithuania (2002); and Drawing Now: Eight Propositions (2002) at the Museum of Modern Art in New York. Mehretu's work was also included in the "In Praise of Doubt" exhibition at the Palazzo Grassi in Venice in the summer of 2011 as well as dOCUMENTA (13) in Kassel in 2012. In 2014, she participated in 'The Divine Comedy. Heaven, Purgatory and Hell Revisited by Contemporary African Artists' curated by Simon Njami.
Selected solo exhibitions
2016
Julie Mehretu : Hoodnyx, Voodoo and Stelae, Marian Goodman Gallery, New York, USA
Julie Mehretu: The Addis Show, Gebre Kristos Desta Center Modern Art Museum, Addis Ababa, Ethiopia.
Julie Mehretu | Epigraph, Damascus, Niels Borch Jensen Gallery & Editions, Berlin, Germany
2014
Julie Mehretu: Half A Shadow, carlier | gebauer, Berlin, Germany
Julie Mehretu, Myriads Only By Dark, Gemini G.E.L, at Joni Moisant Weyl, New York
2013
Excavations: The Prints of Julie Mehretu, Ohio University Art Gallery, Athens OH, USA
Julie Mehretu: Liminal Squared, Marian Goodman Gallery, New York, USA
Julie Mehretu: Liminal Squared, White Cube, London, UK
Julie Mehretu: Mind Breath and Beat Drawings, Marian Goodman Gallery, Paris, France
2012
Excavations: The Prints of Julie Mehretu, The Frances Lehman Loeb Art Center, Vassar College, New York, USA
2011
Excavations: The Prints of Julie Mehretu, Davison Art Center, Middletown, USA
2010
Julie Mehretu: Notations After the Ring, Metropolitan Opera House, NY, USA
Julie Mehretu: Grey Area, Solomon R. Guggenheim Museum, New York, NY
2009
Julie Mehretu: Grey Area, Deutsche Guggenheim, Berlin, DE
2008
Julie Mehretu: City Sitings, North Carolina Museum of Art, Raleigh, NC
Julie Mehretu: City Sitings, Williams College Museum of Art, Williamstown, MA
2007
Julie Mehretu: Black City, Kunstverein Hannover, Hanover
Julie Mehretu: Black City, Louisiana Museum, Humlebaek
Julie Mehretu: City Sitings (traveling through 2008), The Detroit Institute of Arts, Detroit
2006
Black City, MUSAC - Museo de Arte Contemporáneo de Castilla y Léon, Léon
Julie Mehretu – Heavy Weather, Crown Point Press, San Francisco, CA
The Unhomely: Phantom Scenes in Global Society, 2nd International Biennial of Contemporary Art in Seville, Spain
2005
Drawings, The Project, New York, NY
Currents, St Louis Art Museum, St Louis, estono vale naada no me ayuda con mis deberes
ing into Painting, REDCAT, Los Angeles, CA
Julie Mehretu: Drawing into Painting, Albright-Knox Art Gallery, Buffalo, NY
Déjà-vu, carlier │gebauer, Berlin, Germany
Landscape Allegories, Thomas Dane, London, UK
2003
Julie Mehretu: Drawing into Painting, Palm Beach Institute of Contemporary Art
Julie Mehretu: Drawing into Painting, Walker Art Center, Minneapolis (travelling)
2002
Julie Mehretu: Renegade Delirium, White Cube, London, UK
2001
The Project, New York, NY
Art Pace, San Antonio, TX
1999
Module, Project Row Houses, Houston, TX
1998
Barbara Davis Gallery, Houston, TX
1996
Paintings, Sol Kofler Gallery, Providence, RI
1995
Ancestral Reflections, Archive Gallery. New York, NY
Ancestral Reflections, Hampshire College Gallery, Amherst, MA
References
Julie Mehretu Wikipedia
(Text) CC BY-SA