Determined to give all people a voice in public art and urban culture, Baca organized over 1,000 young people in Los Angeles to create more than 250 murals citywide. Starting in 1974, her massive works have brought together young people from different ethnic neighborhoods to explore their cultural histories and make connections to their lives today. Since 1987, Baca has been creating an enormous portable mural called the "World Wall" to promote global peace.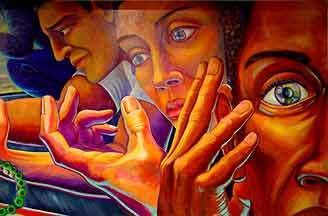 Baca was born in Los Angeles on September 20, 1946 to Mexican American parents. Her mother, Ortencia, worked in a tire factory. She was raised in Watts, Los Angeles (a predominately African-American and Mexican-American neighborhood), in an all-female household composed of her mother, her aunts Riba and Delia, and her grandmother Francisca. Her grandmother was an herbal healer and practiced curanderismo, which profoundly influenced her sense of indigenous Chicano culture.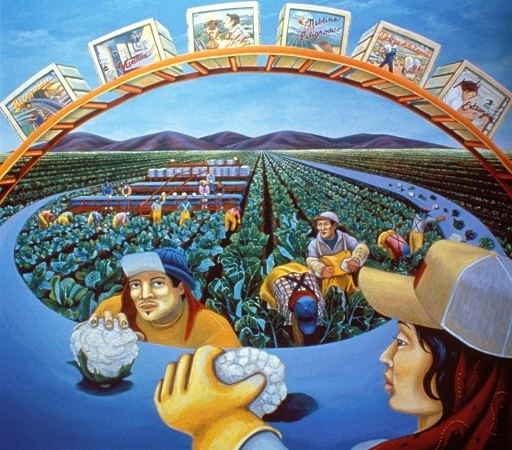 Baca's mother later married Clarence Ferrari in 1952, and Baca has a half-brother Gary and half-sister Diane. Afterward the three of them moved to Pacoima, Los Angeles. This neighborhood was drastically different from Watts – Mexican-Americans were minorities in Pacoima.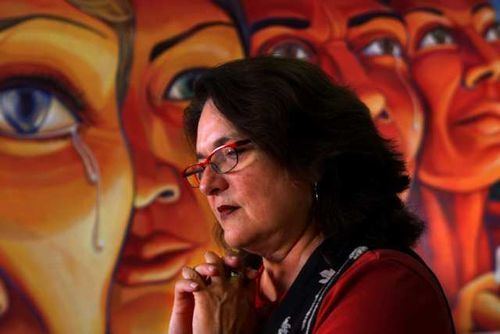 Baca was not allowed to speak Spanish in elementary school, as it was prohibited, and did not know English very well. Her teacher would tell her to go paint in the corner while the others studied. It took some time, but Baca started getting better in classes once she was able to understand the textbooks. With the encouragement of her art teacher, she began drawing and painting. She later graduated from Bishop Alemany High School in 1964.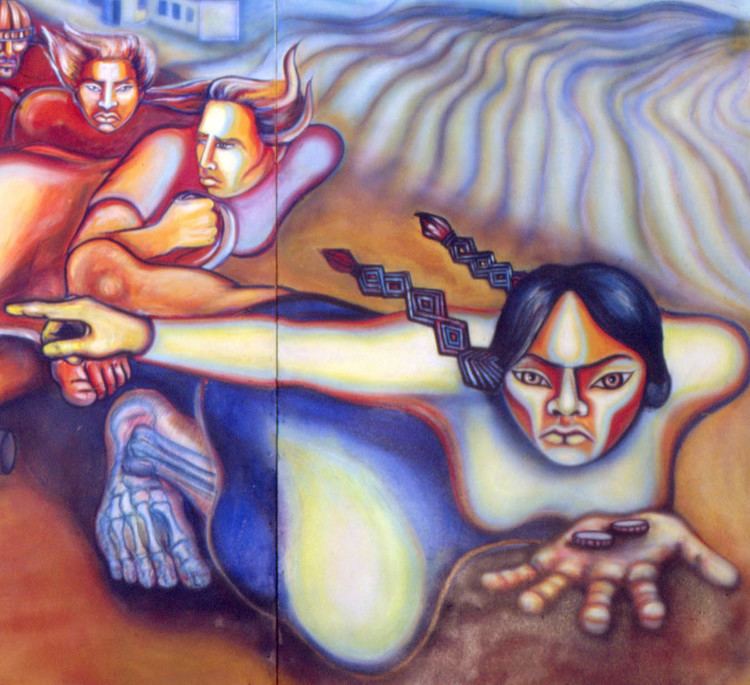 She then attended California State University, Northridge (CSUN) and earned her bachelor's degree in 1969 and master's degree in art in 1979. While there, she learned and studied modern abstract art. She wanted to make art that was accessible beyond the constraints of the gallery and the museum. She wanted to make art for the people she loved, but she knew that they didn't go to galleries. "I thought to myself, if I get my work into galleries, who will go there? People in my family hadn't ever been in a gallery in their entire lives. My neighbors never went to galleries...And it didn't make sense to me at the time to put art behind some guarded wall." After completing graduate school, Baca continued her education, studying muralism at Taller Siqueiros in Cuernavaca, Mexico.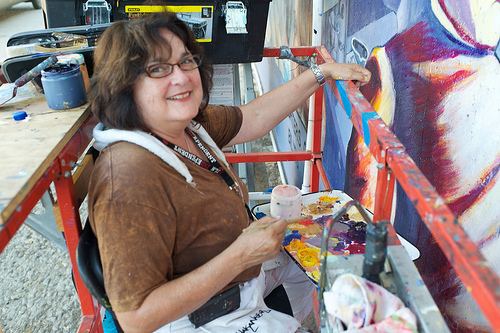 When she graduated from CSUN she got a job teaching at her former high school. Her students were not very friendly with each other, and she thought she had an idea about how to teach them to cooperate with each other. She had a group of her students make a mural on one side of the school's wall. Everybody wanted to work on it, and it encouraged them to work things out without fighting. Baca was present at the 1970 Chicano Moratorium, an anti-war action of the Chicano Movement. The principal of the school believed teachers should not take part in the protest marches, and she was fired with several other teachers.
After being fired, she thought she could never get another job because of her involvement in the protests. She would find her next job at the Los Angeles Parks and Recreation Department. Her new job was teaching art for a summer program in the city's public parks. At that time Boyle Heights, Los Angeles had the most Mexican-Americans and the highest number of gangs in the country. Members of different gangs loitered in the parks she worked at, and she noticed the graffiti and knew they were territorial markings. "You could read a wall and learn everything you needed to know about that community." One of her favorites was, "I'd rather spend one day as a lion than a hundred as a lamb."
In the summer of 1970, Baca decided to create a mural in Boyle Heights in order to bring community together. In the first team she had twenty members from four different gangs, and the group decided on the name Las Vistas Nuevas ("New Views"). The mural they would create would show images that would be familiar to the Mexican-Americans who were living in the neighborhood. "I want to use public space to create a public voice for, and a public consciousness about people who are, in fact, the majority of the population but who are not represented in any visual way.
Their first project was on three walls of an outdoor stage in Hollenbeck Park. Mi Abuelita ("My Grandmother") was a mural that depicted a Mexican-American grandmother with her arms outstretched as if to give a hug. "This work recognized the primary position of the matriarch in Mexican families. It also marked the first step in the development of a unique collective process that employs art to mediate between rival gang members competing for public space and public identity."
Local police did not like the idea of rival gang members working together, fearing it would spark gang violence. Baca also began to work on the mural without permission from the city or the manager of Hollenbeck Park, which engendered questions from her supervisor and other city officials.
Despite all these troubles, Baca wanted to finish the project. She had lookouts who would signal the mural team if rival gang members were headed toward the work site, or if the police were coming. One day a city official came to the park because he had been getting complaints about the project. After seeing the progress done and team members working so well with each other, he gave Baca permission from the city to complete the mural. "The city was amazed at the work I was doing, making murals with kids who scared directors out of neighborhood centers."
After its completion, the community loved Mi Abuelita. Baca said, "Everybody related to it. People brought candles to that site. For 12 years people put flowers at the base of the grandmother image." Las Vistas Nuevas would complete a total of three murals that summer.
After the murals she was offered a job in 1970 as the director of a new citywide mural program. She was in charge of creating this program from the ground up, which included choosing where murals would go, designing the murals, and supervising the mural painting teams, which would consist of teenagers who were in trouble with the police. Members of the original Las Vistas Nuevas group were hired to help run Baca's multi-site program. This group would go on to paint more than 500 murals.
In this new job she encountered her first problems with censorship. People in neighborhoods where murals were being created wanted to show all parts of life in their neighborhood, both the good and bad. The city, however, did not want any controversial subjects depicted in these murals. In one case, when the city objected to a mural that showed people struggling with police, they threatened to stop funding the program if Baca did not remove it. Baca said, "I really liked the idea that the work could not be owned by anyone. So, therefore it wasn't going to be interesting to the rich or to the wealthy, and it didn't have to meet the caveats of art that museums would be interested in. Rather than give in, she formed the Social and Public Art Resource Center (SPARC) in 1976 to continue funding the creation of murals in public.
Baca's efforts to include community in her artistic processes make her unique to her time. Bringing youth together to create art left a lasting impression in Los Angeles, shifting Chicano/a culture. The involvement of poor youth of color in Baca's artistic processes changed the way white supremacist, capitalist, patriarchal culture perceived their place in society. Perhaps even more importantly, Baca's Citywide Mural Program strengthened community and gave people a sense of purpose.
Feminism and Art
On many levels, Judy Baca's art is feminist. Baca moved community in a way that is feminist and intersectional. As a Chicana woman, she wanted to empower women of color and bring community together in Los Angeles. Baca did so by illuminating the beauty and power enriched in Chicana culture through public art. The processes behind the images that Baca created are equally powerful—Baca's premise in her artistic process was to involve disempowered youth in order to evoke a sense of community and enable growth. In some ways, these acts cause Baca's art to be feminist. On the other hand, identity is personal, and only Baca has the agency to identify herself and her art as feminist.
Their first project was on three walls of an outdoor stage in Hollenbeck Parkss.
Their first project was the Great Wall of Los Angeles. She was hired by the United States Army Corps of Engineers to help improve the area around a San Fernando Valley flood control channel called the Tujunga Wash. It's essentially a ditch that contained a large concrete retaining wall. Her idea for a mural was to paint a history of the city of Los Angeles, but not the version found in history books. The events that were overlooked were the ones that interested her. "It was an excellent place to bring youth of varied ethnic backgrounds from all over the city to work on an alternate view of the history of the U.S. which included people of color who had been left out of American history books." Baca also said the defining metaphor of the mural would be that "It is a tattoo on the scar where the river once ran."
Baca was inspired by Los tres Grandes ("The Three Greats"), a novel about three of the most influential Mexican muralists: Diego Rivera, David Alfaro Siqueiros, and José Clemente Orozco. In 1977 she attended a workshop at the Taller Siqueiros in Cuernavaca, Mexico, to learn muralism techniques and see their murals in person. Even though all three were deceased by that time, she was able to work with some of Siqueiros' former students.
When she returned and began this project, Baca made the explicit decision to involve people from the community that represented voices that have been historically marginalized. At the beginning of the muraling project in 1976, Baca began work alongside 80 young people who had been referred to the program by the criminal justice department. For Baca, this marling project was about more than just painting a mural, but rather about investing in the community in ways that had not been done before. Baca took the lead on the project by interviewing people about their lives, family histories, ancestry, and stories they remembered hearing from their older relatives, as well as consulting history experts. From this, she was able to create the design for the mural. Some of the events portrayed in the mural constituted the first time they had ever been displayed in public, including but not limited to the Dust Bowl Journey, Japanese American internment during World War II, Zoot Suit Riots, and the Freedom Bus Rides.
Baca wanted the project to be done by people who were as diverse as those to be painted. Baca states that "I draw on skills not normally used by artists. I've learned as much as I've taught from the youth I've had the good fortune to know by working alongside of them". In this way, although the term artivism had not yet been coined at the time of this project, by focusing on the process and involving the community in creating public art work that shared the histories of marginalized people; Judy Baca was engaging in an artivist project. Working with young people was important for Baca because she noticed that many of them who were involved in gangs were also using graffiti to express themselves and claim territory. Baca felt that muralism was one way to redirect these young people's energy and build community through positive experiences.
Even though Baca made a lot of progress in building community with gang involved young people, she struggled with how gendered muraling projects and spaces were. Most of the young people she worked with were young men because as Baca stated "at that time, boys were the only ones parents would allow". But Baca also found that there was hostility towards the idea of women in these public spaces and to feminist ideals in general. Because of this, when it came to the Great Wall of LA project, Baca began to actively work to connect to other feminist artists and to actively recruit young women to participate in her muraling projects.
She had people from all different ages and backgrounds participate. Some were scholars and artists, but the majority were just community members. "Making a mural is like a big movie production, it can involve 20 sets of scaffolding, four trucks, and food for 50 people." 400 people came out to help paint the mural, which took seven summers to complete, and was finished in 1984. By the end of the project, the mural measured half a mile in length (2,754 feet), and had provided over 400 people with employment and leadership development opportunities. It's interesting to note that although the original project called for a mural that represented a history of California from the days of the dinosaurs to the year 1910, Baca instead kept the project going, adding about 350 feet to the mural each year. Although the mural now measures 2,754 feet in length, the mural is not yet complete. The project is proposed to continue until the mural reaches about a mile in length so that it may portray not only contemporary times, but also a vision of the future.
Her first teaching job at her former high school, Alemany high school, was short lived as she was let go, due to being involved in public protests against the Vietnam war. Baca began a professorship at University of California, Irvine in 1980, and left in 1994. The next year, she implemented the Muralist Training Workshop to teach people the techniques she had picked up. She also served as a professor at California State University, Monterey Bay from 1994 to 1996, where she co-founded the Visual & Public Arts Institute Department. Judy Baca has been teaching art in the UC system for just over 28 years, 15 of those years have been at the UCLA Caesar E. Chavez department of chicana/o studies. In 2002 she was joint appointed to the World's arts and culture department, and in 2014 she was appointed a full professor of the department.
In 1996 she moved to University of California, Los Angeles (UCLA) and took on multiple roles. In 1993, she co-founded UCLA's Cesar Chavez Center for Interdisciplinary Studies, an institution for which she serves as vice chair.
In 1998, she served as a master artist in residence with the Role of the Arts in Civic Dialogue at Harvard University
Stockholm Conference: Community Mural Art and Social Change An international exploration of collective Mural Art as a tool to raise unheard voices."
April 11, 2015
Judy Baca Leads Toronto Mural Workshop
April 10, 2015
Emancipation Workshop: April 10, 2015
http://www.judybaca.com/artist/workshops/judy-baca-leads-toronto-mural-workshop-2/
In 1987 she began painting The World Wall: A Vision of the Future Without Fear, a painting that showed the world with no-violence. She believed the first step to world peace was imagining it, and she wanted artists from all over the world to help her paint it. She wanted it to be painted in panels so it could moved around to different places. After years of planning and contributions made by artists from other countries, the painting had its debut in Finland in 1990. The idea was that when the panels traveled around the world each host country would add their own panel to the collection. Some of the countries included Russia, Israel/Palestine, Mexico, and Canada.
In 1988 Mayor of Los Angeles Tom Bradley commissioned her to create the Neighborhood Pride Program, a citywide project to paint murals. The project employed over 1,800 at-risk youth and has been responsible for the creation of over 105 murals throughout the city.
In 1996 she created La Memoria de Nuestra Tierra ("Our Land Has Memory") for the Denver International Airport. This one was personal for Baca, as her grandparents fled Mexico during the Mexican Revolution and came to La Junta, Colorado, Colorado. The mural's intent was "not only to tell the forgotten stories of people who, like birds or water, traveled back and forth across the land freely, before there was a line that distinguished which side you were from, but to speak to our shared human condition as temporary residents of the earth...The making of this work was an excavation of a remembering of their histories." It was completed in 2000.
She conducted research by interviewing residents and lead a workshop with University of Southern Colorado students. She found a picture in a garage in Pueblo by Juan Espinosa, photographer and founder El Diario de la Gente, Boulder, Colorado, of an important meeting between Corky Gonzales of the Colorado Crusade for Justice and Cesar Chavez of the United Farm Workers, and their agreement to bring the Delano grape strike to Colorado.
Baca spoke at the "Against the Wall: The ruin and renewal of LA's murals" panel held at Morono Kiang Gallery, across the street from the famous "Pope of Broadway" mural. In that same year, she made the Cesar Chavez Monument Arch of Dignity, Equality, and Justice. It is located at San Jose State University. It has a portrait of Cesar Chavez, Mahatma Gandhi, and Dolores Huerta.
Judy Baca has not slowed down in recent years, she continues to be actively involved in her community, whether that be through her artwork, teaching, community projects, or holding workshops. In March 2010, Baca was part of a mural project in the East Bay, Northern California, the Richmond Mural Project. It is a five panel mural that featured different themes in each panel. The goal of the project was to connect the citizens, and share their wildly diverse backgrounds. She was also part of a group that successfully preserved her mural, Danza Indigenas, in Baldwin Park, after there were violent protests and vandalism towards the artwork. Baca has also had a huge part in the group Mural Rescue Program, which is a program that works to restore, preserve/stabilize, and conserve murals (both painted and digital) that have been painted or printed on substrates and walls built in public environments. One of Baca's most recent and ongoing projects is "new codex-Oaxaca- immigration and cultural memory" this project is about sharing artwork and stories of those who are immigrating from Mexico (namely Oaxaca) to the US; why they are immigrating, what they are leaving behind, what's happening to make them leave, etc. Baca is involved in choosing the art pieces that are being displayed, community outreach to help come up with ways for these immigrants to have a stable outcome, and just getting a conversation started in the community, using these immigrants' artwork.
Mi Abuelita, 1970, Hollenbeck Park, Los Angeles, California
Great Wall of Los Angeles, 1976–present, Van Nuys, California
History of Unitarianism, 1981, First Unitarian Church of Los Angeles, Los Angeles, California
Danza Indigenas, 1994, Metrolink, maintained by Amtrak, Baldwin Park, California
La Memoria de Nuestra Tierra: Colorado, 2000, Denver International Airport, Denver, Colorado
Digital tile murals, 2000, City of Los Angeles, Venice Beach, California
Migration of the Golden People, 2002, Central American Research and Education Center of Los Angeles
Cesar Chavez Monument Plaza, 2008, San Jose State University, San Jose, California
Danza de la Tierra, 2009, Dallas Latino Cultural Center, Dallas, Texas
Ataco, El Salvador Murals, 2009 Invited by the US embassy, Ataco, El Salvador
Tiny Ripples of Hope'' and ''Seeing Through Others Eyes, 2010, Robert F. Kennedy Memorial Ambassador Hotel, Los Angeles, California
La Gente del Maiz, 2011, Miguel Contreras Learning Complex, Los Angeles, CA
The Extroardinary Ordinary People, 2013, Richmond Civic Center, Richmond, CA
Find Your True Voice, 2013 Sandra Cisneros Learning Academy, Los Angeles, CA
1988 - National Association of Art Educator's award for Educator of the Year
1991 - UCLA Chicano Studies Research Center award for Rockefeller Fellowship
1997 - National Hispanic Magazine's Lifetime Achievement Award
1998 - Women's Caucus for Art's Influential Woman Artist Award
1998 - Harvard University's Master Artist and Senior Scholar
2001 - Liberty Hill Foundation's Creative Vision Award
2001 - National Hispanic Heritage Foundation's Hispanic Heritage Award for Educator of the Year
2002 - Dartmouth College's Montgomery Fellowship
2003 - Guggenheim Fellowship
2005 - Hispanic Business Magazine's 100 Most Influential People
2006 - KCET Local Hero of the Year Award: Women's History Month, KCET
2007 - Madrina Award, UCLA Latino Alumni Association, Los Angeles, CA
2007 -The Brian P. Copenhaver Award: Innovation in Teaching with Technology, UCLA
2009 - Escuela Tlatelolco Cenro des Estudios's Champion of Change Award
2009 - InnerCity Struggle's Elizabeth "Betita" Martínez Activist Scholar Award
2009 - California Senator Jenny Oropeza Selection for Artist of Distinction Award
2009 - Judy Chicago's "Through the Flower" Feminist Pioneer Award
2010 - National Award in Public Art presented by Americans for the Arts and the Public Art Network
2011 - Outstanding Latino/a in the Fine and Performing Arts Award, American Association of Hispanics in Higher Education
2011 - Judith F. Baca Arts Academy in South Central Los Angeles named by LAUSD
2011 - Art Tables 30th Anniversary Artist Honors
2012 - University of California Studies Consortium Award
2012 - Mario F. Vasquez, Cinco de Mayo Leadership Award, Los Angeles County Federation of Labor
2012 - Latino/a Spirit Award for Achievements in the Arts, The California Latino Legislative Caucus
2012 - Urban Legend Award, for Lifetime Achievement
2014 - Smithsonian National Museum of American History, Judy Baca artifacts acquired for permanent collection. 2013