Juan Francisco Ordóñez (born 4 October 1961) is a guitarist from Santo Domingo, Dominican Republic. He is considered an innovator of Dominican guitar language, through a fusion of blues, rock and jazz with his particular style.
Ordóñez graduated high school from Colegio Dominicano De la Salle and later earned a degree in Economics from the Universidad Autónoma de Santo Domingo.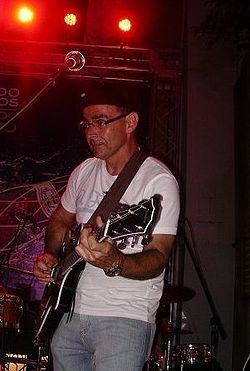 He began his guitar studies with teacher Blas Carrasco and later continued on his own. He learned formal music composition from Sonia de Piña, at the Dominican National Conservatory.
From 1976–1977, he took part in the folk group Convite, a very important force in the rescue and transformation of Dominican folklore in the seventies.
In the early eighties, he and Luis Días formed the rock group Transporte Urbano. Ordóñez was Transporte Urbano's lead guitarist for almost 25 years. In 1985, Ordóñez traveled to Moscow, in the old U.S.S.R., performing several concerts with Patricia Pereira and Luís Días.
By this time, Ordóñez began some fusion projects such as the influential guitar/bass/drums trio OFS, alongside Transporte Urbano drummer Guy Frómeta and former Transporte Urbano bassist Héctor Santana. This lineup went to Peru, in 1986, with Dominican singer Sonia Silvestre to perform at the Festival de la Nueva Canción Latinoamericana.
In the nineties, he started a Caribbean fusion trio (Trilogia) with Héctor Santana, and percussionist Chichí Peralta
He is currently musical director for La Vellonera, a live outfit which accompanies Dominican singer/songwriter Víctor Víctor live.
Ordóñez has also led a solo career and has worked as an arranger and director of commercial jingles, music for films (as in the short Frente al Mar about a story of the Dominican writer Hilma Contreras, and Leon Ichaso's Bitter Sugar.)
Ordoñez has long been a much sought after studio and live guitarist for artists and groups of the Dominican Republic, Latin America and Spain. He also has participated in jam sessions with such renowned jazz musicians as Paquito de Rivera, Don Cherry and Charlie Haden. He also has been guitar teacher to several generations of Dominican guitarists.
Trilogía released in 1988 by Tercer Mundo Tapes and reissued on CD by Patín Bigote Music in 2004.
Cabaret Azul co-produced with Dominican blues singer Patricia Pereyra; released in 1989 and reissued by TEREKE Productions.
Radio Recuerdo released in 2001 by the Madora Foundation.
In 2005 Ordóñez was co-producer, arranger and guitarist on Bachata Entre Amigos, a Víctor Víctor album that also featured songwriters Joaquín Sabina, Joan Manuel Serrat, Pedro Guerra, Silvio Rodríguez, Pablo Milanés, Fito Páez and Víctor Manuel, among others.