Type

Scotch Whisky




Country of origin

Scotland




Manufacturer

Diageo




Discontinued

White Label






Introduced

1820: Grocery store 1865: Scotch blending




Variants

Red Label, Black Label, Double Black Label, Swing, Swing Superior Label, Pure Malt Label, Green Label, Island Green Label, Gold Label, Gold Label Reserve, Platinum Label, XR 21 Years Label, Blue Label, Blue Label King George V, The John Walker
Johnnie Walker is a brand of Scotch whisky owned by Diageo that originated in Kilmarnock, Ayrshire, Scotland. It is the most widely distributed brand of blended Scotch whisky in the world, sold in almost every country, with annual sales of the equivalent of over 226.2 million 750 ml bottles in 2015 (169.2 million litres).
Contents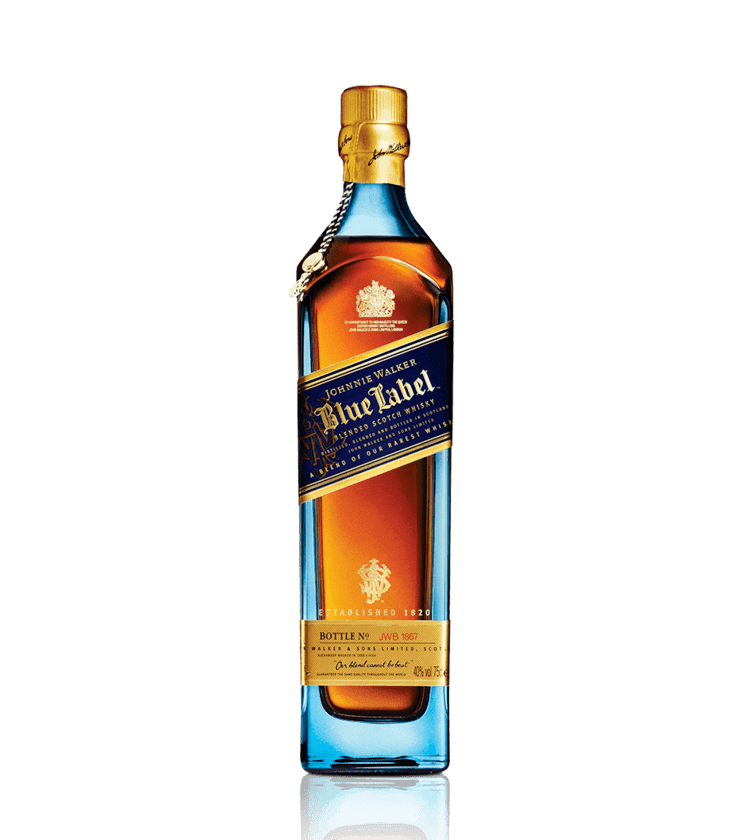 History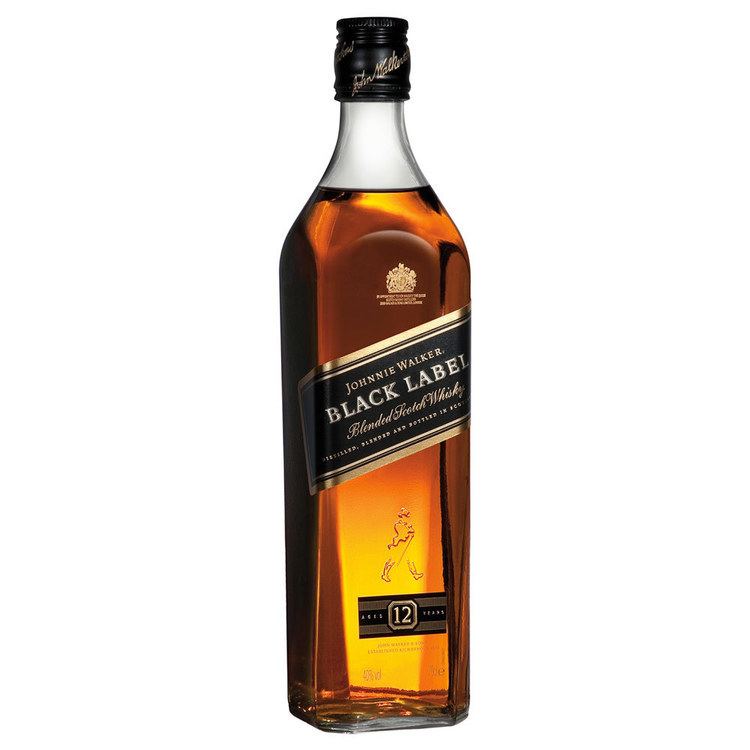 Originally known as Walker's Kilmarnock Whisky, the Johnnie Walker brand is a legacy left by John "Johnnie" Walker after he started to sell whisky in his grocer's shop in Ayrshire, Scotland. The brand became popular, but after Walker's death in 1857 it was his son Alexander Walker and grandson Alexander Walker II who were largely responsible for establishing the whisky as a popular brand. Under John Walker, whisky sales represented eight percent of the firm's income; by the time Alexander was ready to pass on the company to his own sons, that figure had increased to between 90 and 95 percent.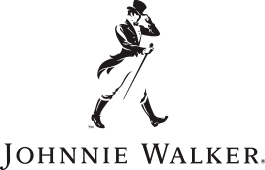 In Britain prior to 1860, it was illegal to sell blended whisky. During that time John Walker sold a number of single malt whiskies—notably his own Walker's Kilmarnock. In 1867, he launched Johnnie Walker's first commercial blend and called it Old Highland Whisky. He then made the astute move of engaging ships' captains as his agents to carry his whisky wherever ships could sail. Before long, his unique blend was available around the globe.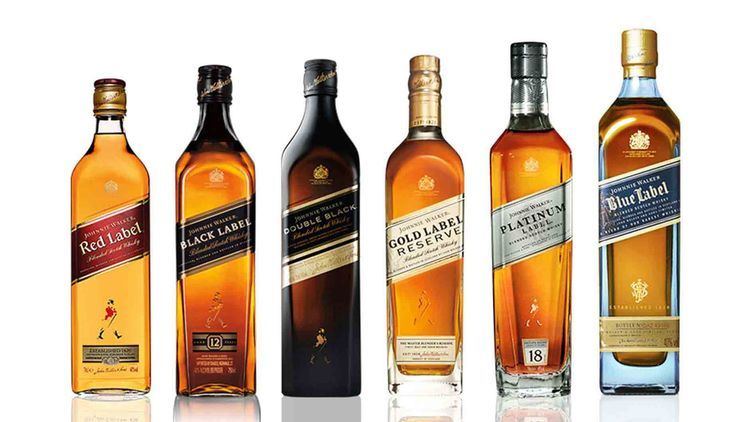 Alexander Walker introduced the iconic square bottle in 1860. This meant more bottles fitting the same space and resulted in fewer broken bottles. The other identifying characteristic of the Johnnie Walker bottle is the label, which is applied at an angle of 24 degrees and allows text to be made larger and more visible.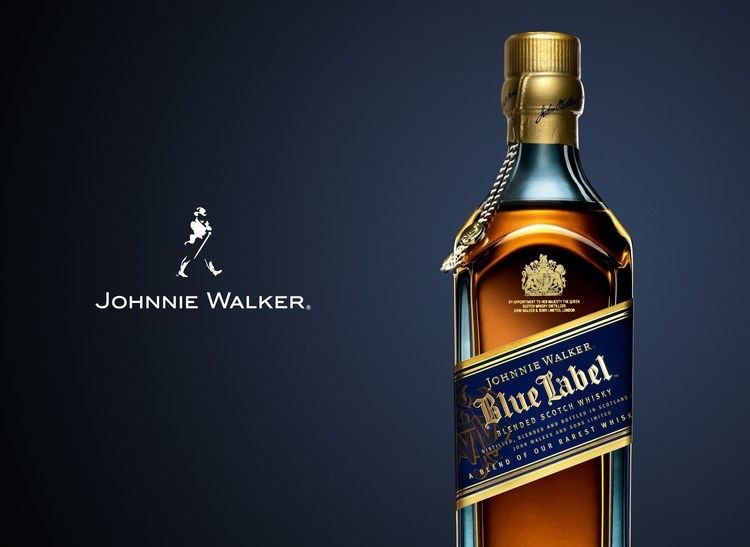 From 1906 to 1909, John's grandsons George and Alexander II expanded the line and introduced the colour names. In 1908, when James Stevenson was the Managing Director, the re-branding was finalised and in 1909, Special Old Highland Whisky was renamed Johnnie Walker Red Label while the Extra Special Old Highland Whisky was renamed Johnnie Walker Black Label. In addition, the slogan "Born 1820—Still going Strong!" was created, along with the Striding Man logo, a figure used in their advertisements to this day, created by illustrator Tom Browne, in honour of the founder, and given the same name.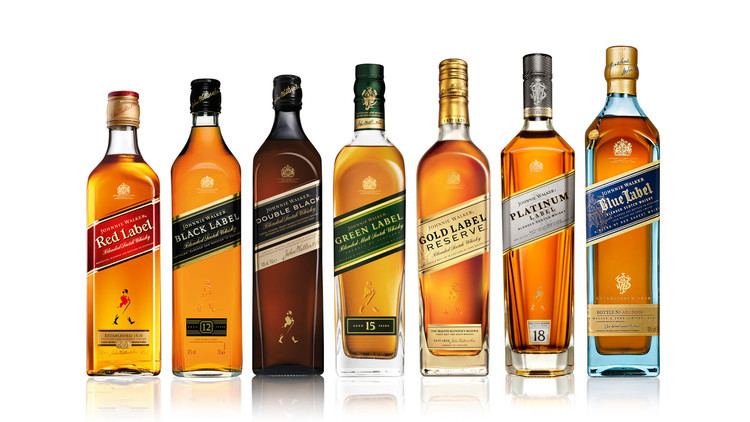 Johnnie Walker White was dropped during World War I. In 1932, Alexander II added Johnnie Walker Swing to the line, the name originating from the unusual shape of the bottle, which allowed it to rock back and forth.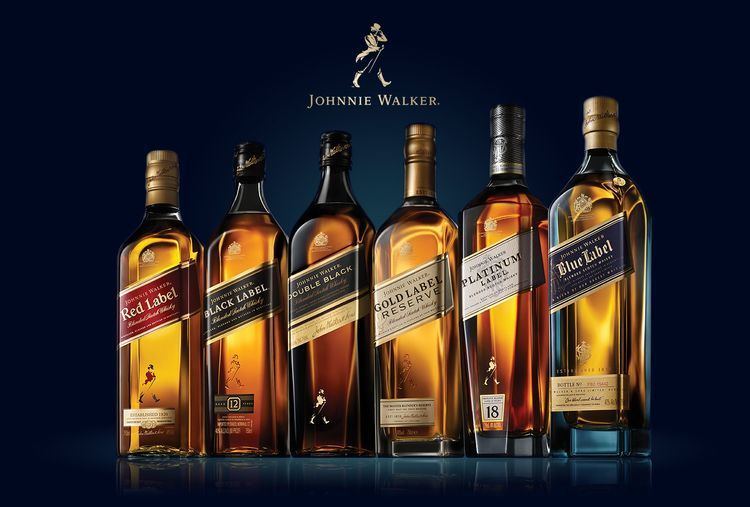 The company joined Distillers Company in 1925. Distillers was acquired by Guinness in 1986, and Guinness merged with Grand Metropolitan to form Diageo in 1997.
Closure in Kilmarnock, Scotland
On 1 July 2009, Bryan Donaghey, Diageo Managing Director for Global Supply Scotland, announced that Diageo intended to cease production at the plant in Kilmarnock. Under a restructuring programme across Scotland, production would be moved from the brand's original home to Diageo plants in Leven, Fife, and Shieldhall, Glasgow.
News of the planned closure had widespread media attention and condemnation. Following the decision, a public campaign was waged to try to persuade Diageo to reverse this decision. However, on 9 September 2009 Diageo stated that they intended to press ahead with the move away from Kilmarnock and that the matter was "closed".
The Johnnie Walker plant, the largest employer in the town of Kilmarnock, closed its doors in March 2012.
Blends
For most of its history Johnnie Walker only offered a few blends. In recent years there have been several special and limited bottlings.
Standard blends
Red Label: an 80 proof (40% ABV) blend of 35 grain and malt whiskies. It is intended for making mixed drinks. According to William Manchester this was the favorite Scotch of Winston Churchill, who mixed it with soda. Red Label has been reported to be former U.S. Vice President Dick Cheney's drink of choice.
Black Label: an 80 proof (40% ABV) blend of about 40 whiskies, each aged at least 12 years. Caol Ila and Talisker are the dominating single malts in this blend.
Double Black Label: a new addition, the whisky was created taking Black Label as a blueprint and influenced by peaty West Coast and Islay malts and matured in heavily charred old oak casks.
Green Label: an 86 proof (43% ABV) whisky, this variety is a blended malt, meaning it is made just from single-malts with no grain whisky added. Green Label uses predominantly four malts "drawn from the four corners of Scotland." Each of the malts (Talisker, Linkwood, Cragganmore, and Caol Ila) was selected by the blender for balance, with each malt whisky matured for a minimum of 15 years.
Gold Label: an 80 proof (40% ABV) blend of over 15 single malts, particularly Clynelish. It was derived from Alexander Walker II's blending notes for a whisky to commemorate Johnnie Walker's centenary. His original efforts were thwarted by a shortage of these malts following World War I. Gold Label is commonly bottled at 15 or 18 years and usually labelled "The Centenary blend". In 2013, Gold Label was replaced, with a No Age Statement (NAS) blend, labelled "Gold Label Reserve". The bottle and labeling of these two Gold Label offerings is very similar, while some will argue the whiskys inside are not.
Platinum Label: an 80 proof (40% ABV) private blend—aged 18 years to replace the original Gold Label in the Asian market, and sold alongside Gold Label Reserve. It is also available in Australia, Brazil, Canada, Poland, South Africa and Israel.
Blue Label: Johnnie Walker's premium 80–86 proof (40–43% ABV) blend with no age statement. Johnnie Walker Blue Label, also known as Max Walker, is blended to recreate the character and taste of some of the earliest whisky blends created in the 19th century. Bottles are numbered serially and sold in a silk-lined box accompanied by a certificate of authenticity. It is one of the most expensive blended Scotches on the market, with prices in the range of US $174–$450.
Johnnie Walker Swing: supplied in a distinctive bottle whose irregular bottom allows it to rock back and forth. This type of bottle design was originally used aboard sailing ships. It was Alexander II's last blend: it features a high proportion of Speyside malts, complemented by malts from the northern Highlands and Islay, and is "almost as sweet as a bourbon".
Red & Cola: a premix of Red Label and cola, sold in cans and bottles similar to beer.
Note: Proof values in the US differ from global values vis-a-vis presence of alcohol by volume(%ABV). In the US, proof value is twice the %ABV. Outside the US, proof value is %ABV x 7/4(1.75). Thus a 40% ABV whisky will be 80 proof in the US and 75 proof elsewhere.
Special/limited bottlings
Johnnie Walker New Explorers' Club Collection: a collection which contains a number of 'series', the first of which is the 'Trade Routes' series, which contains "The Adventurer" (≈US$30) released May 2014; "The Spice Road" (≈US$43) released Dec 2012; "The Gold Route" (≈US$95) released in Mar/Apr 2013; "The Royal Route" (≈US$159) released May/Jun 2013. The Trade Routes series is available exclusively in Duty Free. The Explorer's Club of New York took umbrage at this titling and filed suit against Diageo for misuse of its trademark. After a New York judge ruled in favour of the club, a settlement was reached in November 2014 with Diageo entering into a licensing agreement with the club (without disclosing the financial terms of the settlement).
Johnnie Walker XR 21: an 80 proof (40% ABV) blend aged 21 years.
Johnnie Walker Black Label: Keep Walking New Zealand: a special limited-edition pack to support fundraising efforts following the Christchurch earthquake in February 2011
Johnnie Walker Black Label: Project Black Inspiration: Facebook fans across Malaysia and Singapore had the chance to provide creative input to help shape the new bottle design. Only 200 bottles available worldwide, and only available in Malaysia and Singapore. (2011/2012)
Johnnie Walker Black Label: Anniversary Edition (1908–2008): in two different editions (≈US$34).
Double Black: a blend that uses peaty west coast whiskies to create a flavour that is more smoky than Johnnie Walker Black Label.
Collectors Edition: a collectors' edition of 12-year-old Black Label was released in limited amounts (≈US$43).
Millennium Edition: a collectors' edition of 12-year-old Black Label was released in limited amounts in the year 2000 (≈US$130).
Odyssey – First bottling: an expensive blend with the first bottling of the barrel only 250 bottles (≈US$3,000).
Odyssey: an expensive general release (≈US$1,000).
Deco: a limited number of 350 ml bottles were produced in Art Deco–designed bottles, hence the name of this blend.
Premier: a blend aimed specifically at the Japanese market.
Green Label 180 Cask: a limited edition of the Green Label released in 2009 for the Taiwanese market.
Green Label 48%: a 2015 limited edition of the Green Label released at a higher strength for the Taiwanese market.
Island Green Label : a 1L 86 proof (43% ABV) 2016 travel edition Blended Malt released for the Southeast Asia market.The NAS maritime blended malt includes whisky from Clynelish, Glenkinchie and Cardhu and a greater proportion of malt from Caol Ila distillery on Islay.
Swing Superior: a limited edition variety based on the Swing blend, marked by its distinctive golden label. 86.8 proof.
Original Swing: bottle has a cork top (US$1,500)
Celebrity: limited edition of 1462 bottles, bottled in 1972.
Johnnie Walker 1820 Decanter: a gift to employees to mark the 50 years of operation at the Kilmarnock distillery.
Liqueur Whisky (US$1,200)
21 year old: a rare aged variation of Gold Label (US$1,200).
Quest: a special blend, rarer than Blue Label (≈$500).
Honour: one of the most rare and most expensive blends of Johnnie Walker Scotch whisky.
Excelsior: a rare double matured Scotch whisky, distilled in 1947, bottled in 1997 (≈US$1,700).
Old Harmony: a rare blend marketed at the Japanese market (≈US$850).
15 year old Kilmarnock 400 Whisky: an extremely rare Gold Label blend bottled to mark the 400th anniversary of the granting of burgh status to Kilmarnock. Released in 1992 in limited amounts (≈US$850).
150 years Anniversary 1820–1970: a 150th anniversary commemorative blend. (≈US$2,000).
Blue Label 200th Anniversary: 2005 saw Johnnie Walker's extremely limited bottling of its ultimate blend. A special release of cask strength Blue Label, in a special square Baccarat crystal decanter. It is the most expensive Johnnie Walker product, selling recently for over US$3,600 a bottle.
Blue Label 1805: On 25 July 2005, the makers of Johnnie Walker Blue Label celebrated the birth (200th anniversary) of its founder with the release of just 200 bottles of a special edition blend, specially created by the Johnnie Walker Master Blender, Jim Beveridge. None of the 200 bottles were made available for retail sale. In recognition of John Walker's entrepreneurial success in bringing whisky of the highest quality to the world, the bottles were presented to individuals deemed to have made the most significant contribution to modern life. It is estimated that each bottle is valued at US$30,000.
Blue Label King George V Edition (2007): To recreate the Johnnie Walker blending style from King George V era. King George V was the British monarch that first granted Johnnie Walker its Royal Warrant in 1934. Oak casks dating back to the last century were used to age the whisky, sourced from distilleries operating during the reign of King George V. Special packaging in crystal decanter accompanied by an individually numbered certificate of authenticity. (US$600)
Johnnie Walker Blue Label Mini Blended Scotch Whisky: a rare item that includes a hand-blown nosing glass and sealed tasting notes and booklet on blue label whisky, costing around US$250.
The John Walker: This blend includes old whiskies from distilleries long since closed. Only 330 bottles were made. (>US$3,500)
Johnnie Walker Diamond Jubilee (2012): In honour of Queen Elizabeth II 60 bottles of whisky distilled in 1952. Only sixty bottles are being sold in Singapore at S$250,000.
Johnnie Walker Blue Label Guam Special Edition (2015): initial limited run of only 600 bottles released on 28 July 2015. $247.99/bottle. Features original Blue label bottle with special island gold design on the front. Sold only in Guam, an unincorporated Territory of the United States. The middle of the label features the official Guam Seal which is a sling stone representing the indigenous Chamorro culture with a coconut tree and a flying Proa outrigger canoe inside the design. Possible plans for future release of other editions Christmas 2015 depending on success of this run.
Johnnie Walker Select Casks – Rye Cask Finish (2015): a first in a series of limited edition wood-finished blends that will be released over the coming years. It is aged 10 years and is priced at US$45 for a 750 ml bottle.
John Walker and Sons Private Collection Whisky: a set of annual, limited release whiskies which showcase the craftsmanship and innovation of John Walker & Sons blended Scotch Whisky. It consists of Private Collection 2014 Edition, Private Collection 2015 Edition and Private Collection 2016 Edition
Marketing
Every type of Johnnie Walker scotch has a label colour as previously noted, except for the aforementioned Swing label. The purpose is to denote the different types of scotch and to position them to be used for different occasions. For example, Johnnie Walker Blue Label is rare and expensive, and so it is intended to be used for special occasions.
A key feature of every bottle of Johnnie Walker scotch is the Striding Man logo. It was created in 1908 by illustrator Tom Browne to be a likeness of John Walker in traditional, upscale attire. In the logo, the man is walking forward, which Diageo says symbolises forward thinking and the pursuit of excellence. Diageo has created a members club for Johnnie Walker drinkers, called "The Striding Man Society".
Another key aspect of its marketing is the slanted label, which is angled at exactly 24 degrees. This was an advertising tool developed by Alexander Walker, who thought it would help his bottles stand out on the shelf. The slanted label also accommodates more text than would a traditionally oriented label.
In 2009, the advertising agency Bartle Bogle Hegarty (BBH) created a new short film, starring Robert Carlyle and directed by Jamie Rafn, titled The Man Who Walked Around the World, which outlined the history of the Johnnie Walker brand.
In 2013, ahead of the sixth season of Mad Men, the firm launched an ad campaign featuring Christina Hendricks.
Johnnie Walker also launched the international John Walker & Sons Voyager tour in order to market its higher variants in the Asia-Pacific, Europe and Caribbean markets. The Voyager tour was developed in order to promote the special edition Odyssey blend and pay tribute to the original trade routes and sea voyages by which Johnnie Walker was distributed throughout the world. The final leg of the tour was completed in 2014 visiting six Caribbean countries on board the Regina Yacht (featured in the major motion picture Skyfall).
2015 forged kosher certification allegations
Up until 2015 Johnnie Walker Black Label bottles had a Kosher sign, naming the OK Kosher organization as one that provide Kosher tests for the product. IBBL and Paneco groups export Johnny Walker to Israel.
Following an inquiry by the Israeli Rabbinical authority, Rabbi Aharon Hesskel from the OK organization conducted an investigation and published that only IBBLS marks are genuine while the Paneco group did not get their certification. The Israeli Rabbinical authority released a statement that urged customers to verify the producer and stated that the Paneco group is suspected of certificate forgery. Paneco representatives stated that they do have a Kosher certificate (from the Israeli rabbinical authority) and asked the Israeli police to perform an investigation. A representative told the International Business Times, "All products sold on Paneco.com are completely and solely original. The Johnnie Walker whisky products sold on the site are created by the primary manufacturer at the Diageo distillery in Scotland and is exactly the same product marketed by a competing company in Israel, which holds the kosher certification for the product."
Accolades
Johnnie Walker spirits have received strong scores at international spirit ratings competitions and from liquor review bodies. The Green Label received a string of three double gold medals from the San Francisco World Spirits Competition between 2005 and 2007. The Gold Label received double gold medals from the San Francisco competition in 2008 and 2009 and won a gold in 2010. Spirits ratings aggregator proof66.com, which averages scores from the San Francisco Spirits Competition, Wine Enthusiast, and others, puts the Black, Blue, Gold and Green Labels in its highest performance category ("Tier 1" Spirits). Johnnie Walker spirits have several times taken part in the Monde Selection's World Quality Selections and have received a Gold and Grand Gold Quality Award. Johnnie Walker was voted India's Most Trusted Premium Whisky Brand according to the Brand Trust Report 2014, a study conducted by Trust Research Advisory.
Sponsorships
As well being the official whisky of Formula One, Johnnie Walker also sponsors the Johnnie Walker Classic, an Asia-Pacific golf tournament, and the Johnnie Walker Championship at Gleneagles, a golf tournament in Scotland.
Music
In the Jimmy Buffet song He Went to Paris, there is a reference to "Drinks his green label each day"
In Elliott Smith's song Miss Misery, the protagonist states they'll "fake it through the day with some help from Johnie Walker Red"
The Leonard Cohen song "Closing time" includes the line " and the Johnny Walker wisdom running high"
Literature
Walter Lord, in his history of the battle of Midway, Incredible Victory (1967), tells of the Imperial Japanese Naval staff of Admiral Yamamoto planning the invasion of Midway while imbibing from a bottle of Johnny Walker Red "liberated" from Singapore.
In Haruki Murakami's novel Kafka on the Shore, a character models his identity after the figure on the Johnnie Walker label.
Television
In The West Wing episode, "Barlet for America," character Leo McGarry references Johnny Walker Blue while meeting with some potential political donors. Leo (apparently) erroneously states that Johnny Walker Blue is aged for a minimum of 60 years.
In Supernatural, hunter Rufus Turner states that he only drinks Blue Label and can be seen in multiple episodes either talking about it or receiving it/handing it as a favor
Cultural figures
Vanity Fair writer Christopher Hitchens was partial to Johnnie Walker Black Label, and referred to it as "Mr Walker's Amber Restorative". He preferred to take it mixed with Perrier water and no ice.
Johnnie Walker Blue Label was a favorite of the late US president Richard Nixon's, who used to enjoy it with ginger ale and a wedge of lime.
References
Johnnie Walker Wikipedia
(Text) CC BY-SA