Other names

The Gunslinger, JWP




Team

Boonchu Gym




Weight

72 kg




Nationality

Australian




Name

John Parr




Spouse

Angela Rivera-Parr





Reach

71.0 in (180 cm)




Role

Boxer




Martial art

Muay Thai




Style

Muay Thai




Height

1.77 m




Division

Middleweight







Born

Wayne Gregory Parr 25 May 1976 (age 39) (

1976-05-25

)


Fighting out of

Gold Coast, Queensland, Australia




Similar People

Cosmo Alexandre, Joe Rogan, Dave Rubin
THAI BOXING - John Wayne Parr on London Real
John Wayne "The Gunslinger" Parr (born 25 May 1976), also known as JWP, is an Australian kickboxer and boxer, fighting out of Boonchu Gym in Gold Coast, Queensland. He is a former 10-time World Champion and was the runner up on The Contender Asia.
Contents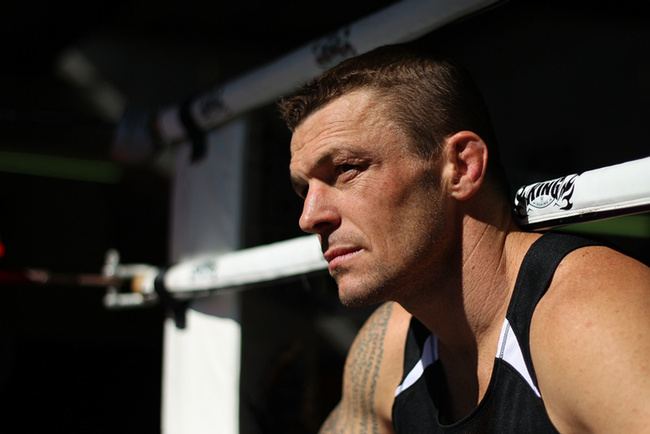 Early life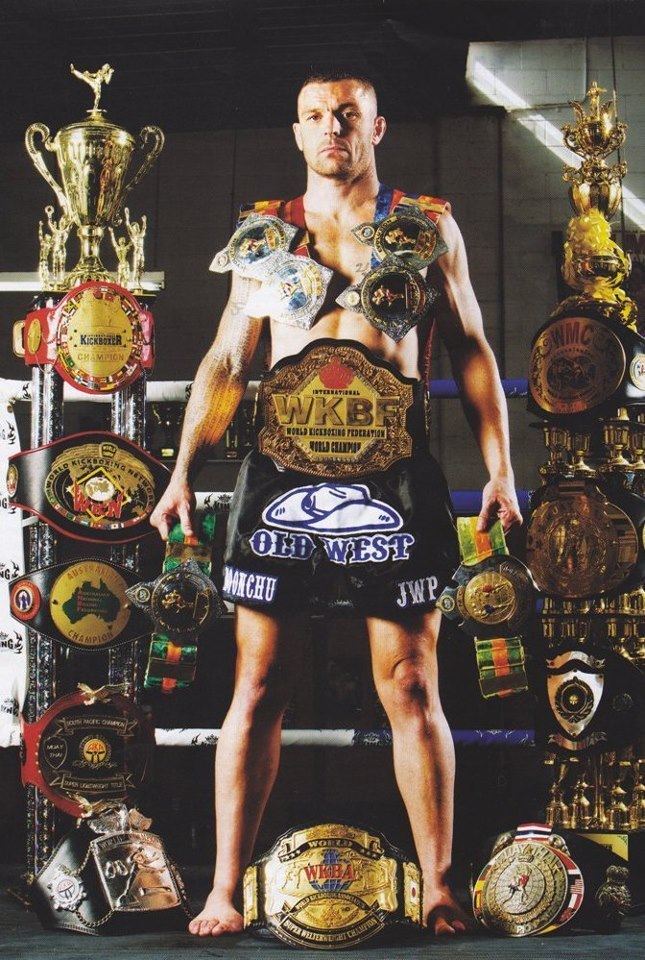 Wayne Parr began training in taekwondo at the age of 11. Wayne competed in the Queensland titles at QE2 Stadium, where he won a silver medal after winning 2 fights and losing the final in 1988. In 1990 Parr started kickboxing, training for a few months before having to move to Sydney. In 1991 Parr moved to Richmond, New South Wales. Wayne found a new kickboxing gym and had his first fight aged 14, losing on a split decision. In 1992 the Parr family moved again to Mornington in Victoria. In 1993 at the age of sixteen, his family moved back to Queensland, and Parr began training with Blair Moore. Moore was one of Queenslands premier promoters of Muay Thai at the time.
Early career in Australia
Parr started participating in professional bouts at the age of 16. Moore trained Parr for 13 fights, with Parr winning an Australian title (63 kg) at the age of 17. Blair helped promote Wayne at Jupiters Casino for 3 fights before he fought for the South Pacific title against Scott Lovelock, winning by 5th-round KO when Parr was 19. During his first career in Australia, he won some regional titles including one from the WKA. At the age of 19, Parr met Richard Vell who was owner of one of an esteemed Muay Thai restaurant in Australia - Boonchu Thai food. Richard and Wayne developed a father and son relationship, and after a few years together Richard sponsored Wayne to train in Thailand. In 1996 Parr moved to Thailand, living in Pattaya and training for 3 months out of Sidyodtong gym, eventually moving to Nonthaburi, Bangkok to train with legendary Thai fighter Sangtien Noi (Deadly Kisser). It was at camp Loomingkwan that Wayne was named "John Wayne Parr" after John Wayne of Western Show Por Monoch Borbud.
Career in Thailand
In 1996 Parr moved to Thailand and lived in a Muay Thai camp for four years, training in Pattaya and Bangkok, competing in 30 fights and winning two world titles. During his career in Thailand, he imitated a gunfighter by drawing a gun from his holster at the end of Wai khru before the bout, and this action had caught the Thai public's fancy. Because of this and his fighting heart, he gained popularity in Thailand, was voted Best Farang Fighter of the year in 1997, fought at Lumpinee Stadium three times, and at his first Thai King's birthday. In 1999 Parr moved back to Australia to open his own training facility "Boonchu Gym" and he also started participating in traditional boxing bouts.
2nd career in Australia
Parr debuted in boxing on 29 January 1998 against Tim Shannon in a 4-round bout, winning by TKO in the second round. On 25 April 1998, he fought against Takayuki Kohiruimaki who would eventually win the K-1 tournament, and won by the unanimous decision. On 19 September, Parr fought Takashi Ito, another Japanese veteran kickboxer, in the joint event of AJKF & MAJKF, and lost by TKO in round 2 due to doctor's stoppage as Parr's head was sliced open via a left elbow strike.
On 24 April 1999, he fought against Kenichi Ogata, the Japanese national shoot boxing champion, winning by KO with left hook in the second round. On 23 May 1999, he participated in the first "X-plosion series" event, which was a famous Australian kickboxing promotion, fighting against Daniel Dawson. Parr won by unanimous decision after 5 rounds.
On 13 October 2000, he participated in K-1 Queensland 2000, the first K-1 event for him, and fought against Scott Bannan for his ISKA Muay Thai world championship at middleweight. The fight was unusual in that their rivalry had developed on an Australian kickboxing bulletin board. On 5 December, he fought against Orono Por.Muang Ubon for the vacant title of International Muay Thai Federation (IMF) middleweight title in the Thai King's Birthday event. He won by unanimous decision after 5 rounds, winning another world title in Muay Thai.
Boxing career
In 2001, Parr shifted his focus to boxing again. After 7 consecutive boxing victories since 1998, he fought against Andriy Khamula for the vacant Australian boxing title at Middleweight on 8 July 2001. He won the championship by TKO in round 10 and got his first boxing title. Next month, on 17 August, he challenged Nader Hamdan for his IBF Pan Pacific Junior middleweight title, but lost by unanimous decision after 12 rounds. On 21 September, he challenged for the vacant Oceanic Boxing Association (OBA) title at Super welterweight against Rasheed Baloch, and won the title by TKO in round 5. On 24 October, he fought against Ian McLeod to defend his Australian national title, but lost by unanimous decision. On 5 December, he participated in the King's Cup tournament in Thailand, and won the tournament.
K-1
On 26 November 2002, Parr participated K-1 Oceania MAX 2002 tournament. He knocked out Shane Chapman with right cross in the semifinal, but was beaten by Mike Zambidis by Majority decision at the tournament final. In 2004 John Wayne had his first fight for the K-1 organisation in Japan against Duane Ludwig, winning on points. John Wayne made the final 8 with his first fight against Buakaw - after 3 close rounds the judges scored it a draw, forcing an extension round. After the extension round John Wayne lost via split points decision.
In 2005 JWP was invited back for K1 eliminations, beating Shane Chopper Chapman by KO. Making the final 8, JWP then fought Albert Kraus, losing on points. JWP also had super fights in the K-1 against Arslan Magomedov, losing after extension and against Kinami, winning on points.
S-1
In 2004 JWP won the S1 Tournament World Champion Title with 3 wins in one night. Together with this title, he won one million baht (equivalent to around US$33,300), and a trophy from Thaksin Shinawatra.
WMC
JWP won the prestigious vacant title of WMC World Muay Thai Champion with a unanimous victory over Alexandre Cosmo.
The Contender Asia Finals
Much of Parr's fame rose from the Contender Asia reality show and on 12 April 2008 Parr fought Yodsaenklai in Singapore for The Contender Asia title and US$150,000. The fight was an emotional battle for Parr; just weeks before the contest, his father had been diagnosed with terminal cancer. His wife was also pregnant. Parr recovered from two knockdowns during the fight, but lost by unanimous decision. He eventually fought Yodsaenklai once more, winning the final bout of their trilogy with a hard fought, but highly controversial decision.
Retirement fight
On 24 June 2012 John Wayne Parr fought his retirement fight against K-1 veteran Jordan Tai, fighting full Thai rules in an MMA-style cage with fingerless gloves. At 2:11 of the 4th round he knocked out Jordan Tai with a vicious uppercut. He retired on a 4 fight winning streak (3 of which were by KO) and he retired as the WKBF K-1 World Middleweight Champion. It was Parr's first time fighting inside a cage using 5oz MMA gloves and he has said he enjoyed it more than traditional Muay Thai and would come out of retirement if Buakaw Por. Pramuk agreed to face him in a caged Muay Thai fight.
Comeback
On 18 January 2013 Parr came out of retirement to sign a three-fight deal with Powerplay Promotions. The first fight was to be against WKA World Middleweight (-72.5 kg/159.8 lb) Oriental title holder Fadi Merza, but Merza pulled out at the last minute and was replaced on the card with Mostafa Abdollahi. Parr defeated Abdollahi by knock out at 1:30 in the 2nd round with a right hook to win Merza's newly vacated belt.
On 6 July 2013, Parr forced two eight counts on Marco Piqué en route to a decision win at Boonchu Cup: Caged Muay Thai 3 on the Gold Coast, Australia.
Parr intended to tryout for the Australia vs. Canada season of The Ultimate Fighter mixed martial arts reality TV show in September 2013 but a minimum of five professional MMA fights was required for candidates and so he was rejected in spite of his kickboxing and Muay Thai credentials.
He was scheduled have his rubber match with Cosmo Alexandre at Powerplay Promotions 22 in Melbourne, Australia on 8 November 2013. However, Alexandre did not apply for his visa in time and was unable to enter the country and so he was replaced by New Zealand's Bradley Riddell who Parr defeated by unanimous decision.
He defeated Yohan Lidon by decision at Boonchu Cup: Caged Muay Thai 4 in Gold Coast, Australia on 1 March 2014.
Parr lost the WKA World Middleweight (-72.5 kg/159.8 lb) Oriental Championship when he was knocked out by Toby Smith in the third round at Powerplay Promotions 24 in Melbourne on 21 June 2014. On Saturday 11 June 2016 Parr is fighting Greek Pavlos Kaponis at MTGP5 event in London, UK. John Wayne Parr defeated Pavlos Kaponis at Muay Thai Grand Prix 5 on Saturday, 11 June 2016 in London, England. On Friday 14 October 2016 in Perth, Western Australia, Parr is fighting Daniel Dawson in their third bout. John Wayne Parr defeats Daniel Dawson via unanimous judges decision at Origins 8 promotion on Friday, 14 October 2016 at Herb Graham Rec Centre, Mirrabooka, WA.
Parr was expected to fight Jake Purdy of England in the main event of Caged Muay Thai 10 on August 4, 2017 in Brisbane, Australia, however Purdy pulled out of the fight on two days' notice with a broken toe. Purdy was replaced by Irish kickboxer James Heelan. Parr went on to win this fight by unanimous decision.
Bellator Kickboxing
In October 2016 John Wayne Parr signed with Bellator Kickboxing. His first fight took place on April 8, 2017 in Italy at Bellator Kickboxing 5 against Nando Calzetta. Parr won the fight via knockout in the second round.
Titles
2013 WKA World Middleweight (-72.5 kg/159.8 lb) Oriental Championship
2011 WKBF K-1 Middleweight World Champion
2010 WKA Thai boxing World Middleweight Championship 72.5 kg
2010 WKN Thai boxing World Super welterweight(72.6 kg) Champion
2009 Lion Fight Super Welterweight Title Contender
2008 International Kickboxer Magazine Champion
2008 WMC Contender Asia Runner up
2007 WMC Thai boxing Middleweight World Champion
2005 K-1 World Max world final 8
2005 WKBA K-1 World Welterweight Champion (Defense: 1)
2004 K-1 World Max world final 8
2004 S-1 Thai boxing World Middleweight Tournament Champion
2002 K-1 Oceania MAX finalist
2001 Australian Boxing Middleweight Champion
2001 Kings Cup Tournament Champion
2000 IMF Kings Cup Thai boxing World Middleweight Champion
2000 ISKA Thai boxing World Middleweight Champion
1999 Winner Kings Cup
1999 WMTC (Now WMC) Australian Jr. Middleweight Champion
1997 Winner Kings Cup
1994 WKA South Pacific Super Lightweight Champion
1992 WKA Australian Super Lightweight Champion
Awards
2004 Fighter of the Year by IronLife Magazine
2004 Fighter of the year by International Kickboxer Magazine
1997 Best Farang Fighter in Thailand.
Acting
John Wayne Parr has also acted in short movies such as "The Violent", written by James Richards and Keith Macdonald. It was filmed in Australia and won Best Fight Choreography Short award at an international film festival.
Documentary
John Wayne Parr: Blessed With Venom is a feature-length documentary chronicling the life and career of Australian Muay Thai superstar and 10 time World Champion, John Wayne Parr. The film provides an intimate insight into Parrs early years in Thailand where he endured rigorous training in primitive conditions, to the heights of awe-inspiring accomplishments all over the planet. We also get to see a very personal side to the Gunslinger as a husband and father of two. The true John Wayne Parr is revealed, a world champion, devoted family man and all round nice guy. A genuine hero with infinite courage to his legion of fans, respected and admired by his opponents and dearly loved by his family and friends.
The documentary also examines seminal fights in Parr's career. From his bloody contests with Thai marvel Orono, which is considered the making of the Gunslingers legend, to his contemporary battles with Mike Zambidis, Lamsongkram, and the three all out wars with superstar Yodsanklai Fairtex. We bear witness as Parr comes back from 2 losses to ultimately defeating Yodsanklai in Melbourne. A blockbuster encounter between two true giants of the sport doing what they do best, trading bone crunching blows in the brutal world of Muay Thai.
References
John Wayne Parr Wikipedia
(Text) CC BY-SA