Full Name

John Fekner




Periods

Graffiti, Street art




Role

Artist




Name

John Fekner




Education

NYIT Lehman College







Known for

Art, Multimedia, Poetry, Music, Video




Books

Cassette Gazette, Queensites
John fekner city squad concrete people 1986 street art graffiti nyc
John Fekner (born 1950 in New York City) is an American innovative multidisciplinary artist who created hundreds of environmental and conceptual outdoor works consisting of stenciled words, symbols, dates and icons spray painted in New York, Sweden, Canada, England and Germany in the 1970s and 1980s. Art writer Lucy R. Lippard writes, "Fekner does in public what a lot of art world artists don't even do in galleries: he dispels ambiguity by naming his visions, his viewpoint."
Contents
In 1968, Fekner painted the words Itchycoo Park in large white letters on an empty building in Gorman Park, New York. In 1978 he curated the Detective Show at the same outdoor location in Queens which included the words street museum on the invitational card. Fekner developed a philosophy of 'reducing the value of an art object to that of a shared visual experience for the public' through stencil graffiti that interacted, involved and connected with the urban populace across the five boroughs of New York.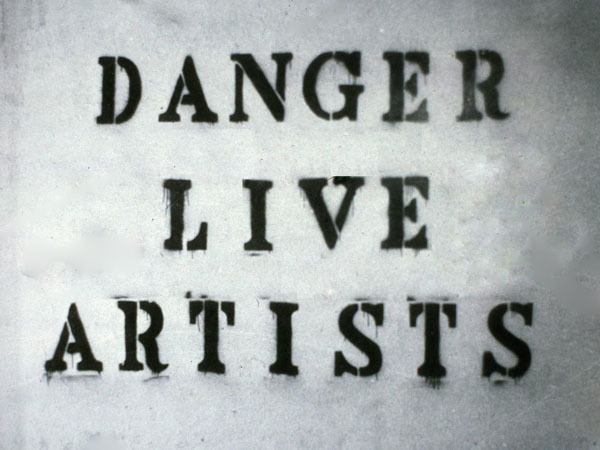 In reaction to the desolation of the abandoned burnt-out buildings of the South Bronx, Fekner stenciled Last Hope in large letters above one crumbling structure so that every time you passed it you couldn't block it out of your vision. Now you know you can't change the world, but you can't sit back and watch it implode either, so you'll do your part, have your own little victory, and so will the next guy and the next, and maybe things will start to change. Fekner's output includes paintings, cast paper reliefs, video, music recordings and performance works, sculpture, photography and computer-generated work. Fekner creates multiple versions of work in entirely different media and will use whatever means are necessary to communicate a vision or message, and whose work changes as that vision expands. Throughout his entire career in the arts, Fekner has made a commitment within his work by consistently addressing issues that demonstrate an interest involving concepts of perception and transformation, as well as specific environmental and sociological concerns such as urban decay, greed, chemical pollutants, mass media and Native American Indians. Fekner's stencil Wheels Over Indian Trails greeted motorists and international travelers arriving in New York City at the Pulaski Bridge Queens Midtown Tunnel from 1979 to 1990. The message remained untouched for eleven years, until Earth Day 1990, when Mr. Fekner, feeling the piece had run its course, painted over it.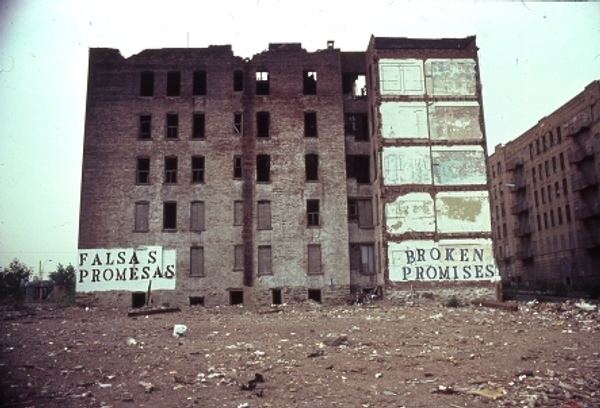 Art project on john fekner
Early years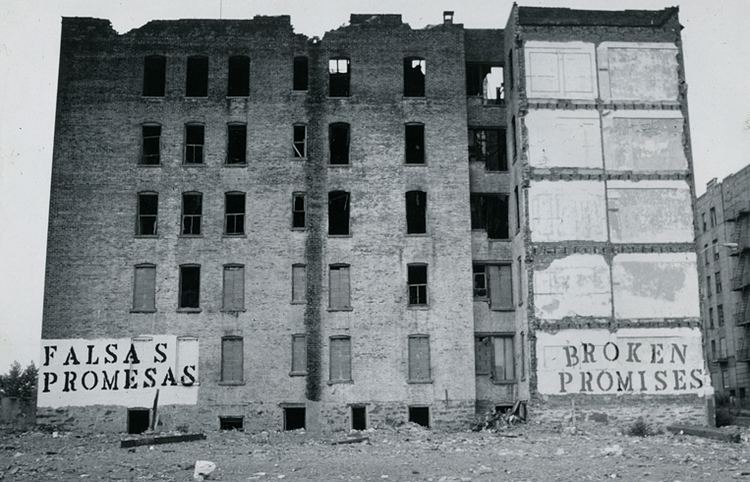 Fekner began writing poetry as a young teenager, and his first outdoor graffiti in 1968 were the words Itchycoo Park painted at Gorman Park 85th Street Park in Jackson Heights, Queens. Along with a few buddies on the park house roof, he painted the phrase in large white letters across the front of the building. Fekner appropriated the name of the popular hit written and recorded by the Small Faces about a park in Newham, England. Subsequently, the Jackson Heights local football team took the name, Itchycoo Chiefs in the 1970s. Ten years later, Fekner used the park as a base for his stencils projects. In May 1978, he curated the Detective Show with help from the Institute for Art and Urban Resources (P.S. 1). A group of thirty artists including Gordon Matta-Clark, Don Leicht, Lucio Pozzi, Lou Forgione, Richard Artschwager and Claudia De Monte hid art and created subtle art work in situ throughout the park.
Warning Signs
Fekner's Warning Signs project focused on accentuating deteriorating conditions that dominated New York City and its environs in the 1970s. In 1976, Fekner began to create site-specific temporary 'word-signs' using hand-cut cardboard stencils and spray paint on a relentless crusade concerned with social and environmental issues. First seen on the industrial streets and highways of Queens, the East River bridges, and later in the South Bronx, his 'messages' were spray painted in areas that were in need of construction, demolition or reconstruction. By labeling the structures, Fekner's objective was to draw attention to the accumulated squalor by urging city officials, agencies and local communities to be more responsible and take action. His first stencil projects, Industrial Fossil, Urban Decay, Decay/Abandoned, Instant This Instant That, and The Remains of Industry were not intended to remain for long periods of time. The projects succeeded when the existing condition was removed or remedied. In 1979, Fekner began experimenting with video and audio, working with Fred Baca on Environmental Stencils 77–79, a grainy, grim black & white 8mm film/video that not only documents Fekner's stencil projects, but is also a bleak portrait of New York City in ruins.
Fashion Moda
Fashion Moda is most often associated with graffiti art and its acceptance into the art world through such figures as Fekner, Jean-Michel Basquiat, Jenny Holzer, and Keith Haring. In February 1980, Fekner began working in, around, and out of Fashion Moda, a storefront for experimental art and cultural exchange, and an outpost for showcasing graffiti, breakdancing and rapping. In 1982, Fekner curates From The Monkey To The Monitor which features his NOTV4U2C wall mural and audio loop installation, Don Leicht's metal Space Invaders, Fred Baca's drawings and a live performance by Phoebe Legere.
Charlotte Street Stencils
Through his association with Don Leicht and Fashion Moda, Fekner stenciled six spray painted messages at Charlotte Street including Decay, Broken Promises, Falsas Promesas, Last Hope, Broken Treaties and Save Our School. The message of Fekner's stencils focused on pointing out the deteriorating conditions and issues of inadequate housing, poor services and deplorable social problems afflicting the neighborhood residents for over two decades. Fekner's messages were succinct and dramatic in size while the Birdfeeders of collaborator Don Leicht were intimate, small-scaled painted sculptures for the children of the neighborhood. Their work transversely complemented each other with two different and distinct approaches that identified and drew attention to the existing conditions of the immediate Black and Latino communities, as well the concerns of Native American Indians. The stencils were visible at the People's Convention on August 8–10, an alternative and direct response to the National Convention of the Democratic Party being held at Madison Square Garden from August 11 -14th in New York City. After Presidential Candidate Ronald Reagan stood in front of Fekner's stencils, Decay and Broken Promises on Charlotte Street on August 5, 1980, Fekner detoured away from the notoriety to explore a new found interest in multimedia art.
Multimedia
In 1981, Martin Nisenholtz invited Fekner, Andy Warhol, Keith Haring and John Matos/Crash to experiment on the early interactive teletext system Telidon at NYU's Alternate Media Center, the predecessor of its Interactive Telecommunications Program. Fekner received his first international award at Toronto's Video Culture Festival in the Videotex category for Toxic Wastes From A to Z, an 8-bit computer graphics animation created at AMC which featured a rap by k-8 students from a South Bronx school. In the New York Times, Matthew Mirapaul said, "Fekner's work incorporates jagged, pixilated computer-generated imagery because 'its characteristic of the medium....it's almost like the drip in a Jackson Pollock,' Mr. Fekner stated."
Awards
1987 New York Foundation for the Arts
1984 New York State Council on the Arts
1981 CAPS (Creative Artist Program Service)
1978 National Endowment for the Arts
Collaborations
Fekner began collaborating with Bronx artist Don Leicht at PS1 now called MoMA PS1 where they shared a studio in 1976. In 1982, they began a series of work and installations using steel, cut metal, aluminum and automotive paints based on Nishikado's Space Invaders arcade game with the statement: "Your Space Has Been Invaded-Our Children are Fighting a Terrible War. Whole families are being sent to Battlescreen." Their "Beauty's Only Street Deep" was installed at the Wooster Collective's 11 Spring Street street art 2006 exhibition in NYC. Since the 1970s, Fekner has collaborated with John Matos/Crash, David Wojnarowicz, Sandra Seymour, Lady Pink, Peter Mönnig, A-One, Toxic, Andrew Castrucci, Sasha Sumner, Chris Stain, Josh MacPhee, Billy Mode and other musicians, writers and new media artists. Fekner was included in Documenta 7 as part of Jenny Holzer's and Stefan Eins' Fashion Moda Store, and the Committed To Print exhibition at the Museum of Modern Art.
Music projects / Idioblast
In 1983, Fekner formed his own band City Squad composed of musicians and non-musicians as an extension of Queensites, a group of teenagers from Jackson Heights who assisted with the outdoor stencil work. In September, Fekner released his first rap/rock 12" EP on his own Vinyl Gridlock record label. The A-side, "2 4 5 7 9 11" had Kwame Monroe, aka Bear 167, a South Bronx graffiti artist as the guest rapper; and the B-side featured Dave Santaniello on rock vocals on "Rock Steady". On the Apple II, Fekner experimented with early speech synthesis programs, Votrax and SAM-Software Automatic Mouth as vocal tracks on "2 4 5 7 9 11" and on his Idioblast (album) in 1984. In addition to playing keyboards, electronic drums and vocals, he wrote the music and lyrics for the eight songs on the album which featured extensive sampling and tape loops of TV, radio, Native American voices, phone and airport transmissions over rock/rap/hip hop beats. Tracks on the album included Travelogue The 80s, I Get Paid To Clap, The Beat, The Sight Of The Child, Wheels Over Indian Trails and Rapicasso, which Fekner also created as a 6' × 12' six-panel painting. Both the painting and song pay homage to Picasso's The Three Dancers. Fekner spray painted LCD-style letters on industrial silkscreens to portray three breakdancers, the song's lyrics acknowledging the work, energy and spirit in breakdancing, rapping and graffiti: "Watch the street, see the modern art, it's the present and future tied to his heart."
Concrete People music and video
The 12" EP single, "Concrete People/Concrete Concerto", was a music collaboration with Dennis Mann (1950–2008) and Al Belfiore who programmed the Linn LM-1 Drum Computer. Fekner recorded at Mann's Monkey Hill Studios from 1983 to 1989 where the Fatback Band, whose "King Tim III (Personality Jock)", considered to be the first commercially released rap single in 1979, were also recording. On both "Concrete People/Concrete Concerto", Fekner worked with musicians Sasha Sumner (sax), Jim Recchione (harmonica), Sandra Seymour (vocals), Sandy Mann (vocals) and Andrew Ruhren (animator and EP cover illustration). Concrete People was a popular dance club video, shown on USA Network Night Flight (TV series)'s Salute to Animation with Peter Gabriel's "Sledgehammer", Talking Heads "And She Was" and Timbuk 3's "The Future's So Bright I Gotta Wear Shades". "Concrete People" and "The Last Days of Good and Evil"("Concrete Concerto" soundtrack) both won honorary awards in the Prix Ars Electronica's Computer Animation category, together with award winner John Lasseter for his Luxo Jr. and Red's Dream in 1987 and 1988 respectively. In October 2008, Fekner released a remixed version of his 1984 "Another 4 Years" as "Another 4 Years (Edit/Elect08)" mp3 download and video that includes footage of former President Ronald Reagan campaign visit on Charlotte Street in the South Bronx on August 5, 1980.
Reviews
New York Times art critic John Russell wrote…Fekner is an artist who works not only in New York but with New York. The city in its more disinherited aspects is the raw material with which he has been working ever since he got a studio space in P.S. 1 in Long Island City in 1976 and learned to regard the huge dilapidated building as "an elderly person who has acutely perceived his experience of life." He went on to work outdoors in Queens and in the Bronx in ways that gave point and urgency to places long sunk in despair. With a word or two (Decay, for instance, or Broken Promises), he brought an element of street theater into disaster areas. With a single stenciled phrase (Wheels Over Indian Trails, for instance) he mingled present with past on the side of the Pulaski Bridge near the Queens-Midtown Tunnel. What in other hands might have been vandalism had a salutary effect. People in desolate parts of the city saw more, felt more, thought more and came out of their apathy.
Lucy Lippard in the Village Voice called him "caption writer to the urban environment, ad-man for the opposition."
The Wooster Collective said, "For us, John Fekner's pioneering stencil work is as important to the history of the urban art movement as the work of artists like Haring, Basquiat. It was artists like Fekner, Leicht, Hambleton and others who truly held down the scene back in the early 1980s."
References
John Fekner Wikipedia
(Text) CC BY-SA