Nationality

American




Name

John Bogle




Role

Investor




Spouse(s)

Eve




Children

6








Full Name

John Clifton Bogle




Born

May 8, 1929 (age 86) (

1929-05-08

) Montclair, New Jersey


Alma mater

Princeton University (B.A., 1951)


Known for

founder of The Vanguard Group


Education

University of Pennsylvania, Princeton University


Books

Little Book of Common Sense Inv, Common Sense on Mutual Fu, Bogle on mutual funds, John Bogle on Investing, The Battle for the Soul of Capital




Similar People

Burton Malkiel, Peter Lynch, William J Bernstein, Benjamin Graham, Frederick William McNabb III




Organizations founded

The Vanguard Group


Occupation

Businessman, executive



Investment Legend, John Bogle Shares the Investment Lessons of a Lifetime
John Clifton "Jack" Bogle (born May 8, 1929) is an American investor, business magnate, and philanthropist. He is the founder and retired chief executive of The Vanguard Group.
Contents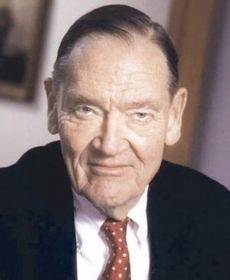 His 1999 book Common Sense on Mutual Funds: New Imperatives for the Intelligent Investor became a bestseller and is considered a classic within the investment community.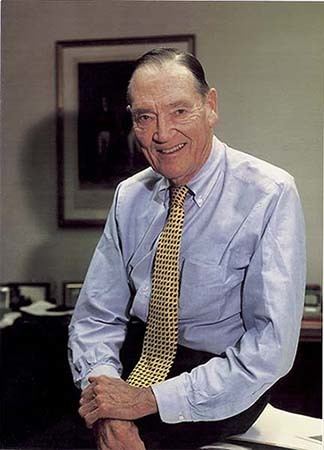 Vanguard s john c bogle with duke university and durham nc bogleheads on jan 16 2015
Early life and education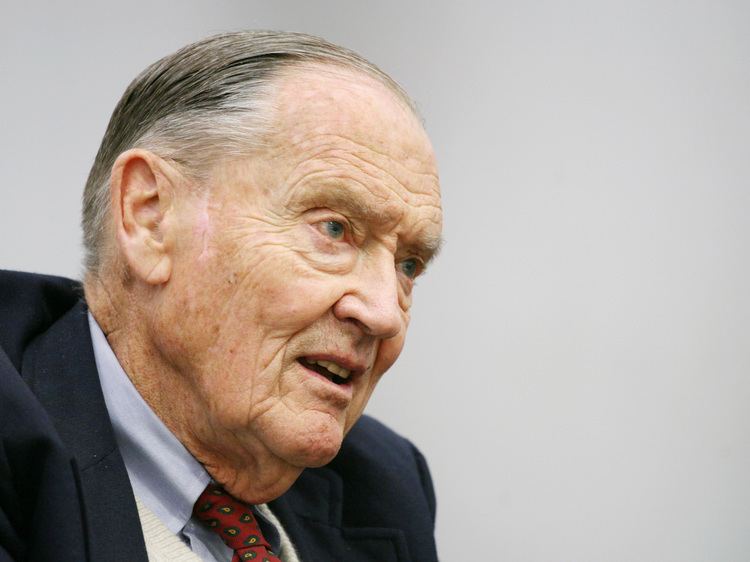 John (Jack) Bogle was born on May 8, 1929 in Verona, New Jersey to William Yates Bogle, Jr., and Josephine Lorraine Hipkins.
His family was affected by the Great Depression. They lost their inheritance and had to sell their home, with his father falling into alcoholism which resulted in his parents' divorce.
Bogle and his twin David attended Manasquan High school on the New Jersey shore for a time. Their academic record there enabled them to transfer to the prestigious Blair Academy on work scholarships. At Blair, John showed a particular aptitude for math, with numbers and computations fascinating him. In 1947, John graduated from Blair Academy cum laude and was accepted at Princeton University, where he studied economics and investment. During his university years, John was determined to examine the mutual fund industry that had not been analyzed before. Bogle spent his junior and senior year working on his thesis "The Economic Role of the Investment Company".
He earned his undergraduate degree in 1951, and attended evening and weekend classes at the University of Pennsylvania.
Investment career
After graduating from Princeton in 1951, Jack Bogle narrowed his career options to banking and investments. He managed to land a position at Wellington Fund where he showed great talent that made the manager of the fund, Walter L. Morgan to say that "Bogle knows more about the fund business than we do". Bogle was promoted to an assistant manager position in 1955 where he obtained a broader access to analyze the company and the investment department. Bogle demonstrated initiative and creativity by challenging the Wellington management to change its strategy of concentration on a single fund, and did his best to make his point in creating a new fund. Eventually he succeeded, and the new fund became a turning point in his career. After successfully climbing through the ranks, he was named chairman of Wellington, but was later fired for an "extremely unwise" merger that he approved. It was a poor decision that he considers his biggest mistake, stating, "The great thing about that mistake, which was shameful and inexcusable and a reflection of immaturity and confidence beyond what the facts justified, was that I learned a lot."
In 1974, Bogle founded the Vanguard Company which is now one of the most respected and successful companies in the investment world. In 1999, Fortune magazine named Bogle as "one of the four investment giants of the twentieth century".
In 1976, influenced by the works of Paul Samuelson, Bogle founded First Index Investment Trust (a precursor to the Vanguard 500 Index Fund) as the first index mutual fund available to the general public. In a 2005 speech, Samuelson ranked "this Bogle invention along with the invention of the wheel, the alphabet, Gutenberg printing".
Bogle had heart problems in the 1990s and, in 1996, he relinquished his role as Vanguard CEO to John J. Brennan, his handpicked successor and second-in-command whom he had hired in 1982. Bogle had a successful heart transplant in 1996. His subsequent return to Vanguard with the title of senior chairman led to conflict between Bogle and Brennan. Bogle left the company in 1999 and moved to Bogle Financial Markets Research Center, a small research institute not directly connected to Vanguard but on the Vanguard campus.
Investment philosophy
Bogle's innovative idea was creating the world's first index mutual fund in 1975. Bogle's idea was that instead of beating the index and charging high costs, the index fund would mimic the index performance over the long run -- thus achieving higher returns with lower costs than the costs associated with actively managed funds.
Bogle's idea of index investing offers a clear yet prominent distinction between investment and speculations. The main difference between investment and speculation lies in the time horizon. Investment is concerned with capturing returns on the long-run with lower risk, while speculation is concerned with achieving returns over a short period of time. Bogle believes this is an important analysis to be taken into account as short-term, risky investments have been flooding the financial markets.
Bogle is known for his insistence, in numerous media appearances and in writing, on the superiority of index funds over traditional actively managed mutual funds. He contends that it is folly to attempt to pick actively managed mutual funds and expect their performance to beat a low-cost index fund over a long period of time, after accounting for the fees that actively managed funds charge.
Bogle argues for an approach to investing defined by simplicity and common sense. Below are his eight basic rules for investors:
Select low-cost funds
Consider carefully the added costs of advice
Do not overrate past fund performance
Use past performance to determine consistency and risk
Beware of stars (as in, star mutual fund managers)
Beware of asset size
Don't own too many funds
Buy your fund portfolio - and hold it
Personal life
Bogle and his wife Eve have six children and are grandparents. They reside in Bryn Mawr, Pennsylvania.
Bogle is a member of the board of trustees at Blair Academy. He is also an advisory board member of the Millstein Center for Corporate Governance and Performance at the Yale School of Management. Bogle received an honorary doctorate from Princeton University in 2005.
Bogle also serves on the board of trustees of the National Constitution Center in Philadelphia, a museum dedicated to the U.S. Constitution. He had previously served as chairman of the board from 1999 through 2007. He was named chairman emeritus in January 2007, when former president George H. W. Bush was named chairman. Bogle had a heart attack at age 31, and at least five more, had a pacemaker implanted and a heart transplant at age 65.
Wealth and philanthropy
As of February 2017, Bogle has a net worth of $80 million USD according to Business Insider. During his high-earning years at Vanguard he regularly gave half his salary to charity, including Blair Academy and Princeton.(NYT)
Awards and honors
Named one of the investment industry's four "Giants of the 20th Century" by Fortune magazine in 1999.
Awarded the Woodrow Wilson Award from Princeton University for "distinguished achievement in the Nation's service" (1999).
Named one of the "world's 100 most powerful and influential people" by Time magazine in 2004.
Institutional Investor's Lifetime Achievement Award (2004).
References
John C. Bogle Wikipedia
(Text) CC BY-SA