Jogeshwari is a western suburb of Mumbai, situated immediately to the north of Andheri in Maharashtra, India. It is notable for its caves, particularly one containing a shrine of the Hindu god Shiva.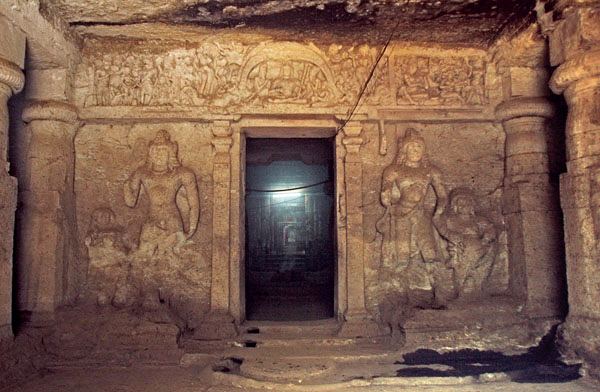 In 1915, the Western Trunk Route of Bombay was extended from Bandra to Jogeshwari. Up until 1945, Jogeshwari was administered by a collector in charge of the Bombay Suburban District. With the creation of Greater Bombay in 1945, the administration of Jogeshwari was merged with Bombay city.
Saraswati Baug and Malcolm Baug are two old colonies situated in Jogeshwari. Malcolm Baug, located in west Jogeshwari is a predominantly Parsi community. Saraswati Baug is a colony of Gaud Saraswat Brahmins and was formed in early 1920s. It is located in East Jogeshwari, opposite of Natwar Nagar. It contains 19 traditional buildings in addition to private residences.
Bandrekarwadi is another of the old colonies in Jogeshwari. The population is primarily Malvani, Konkni & Catholic stays. Bandrekarwadi Mitra Mandal is oldest local social group. It was founded by Sarvajanik Ganeshotsav in 1961. Bandrekarwadi also has its own logo and title song, called "Amhi Bandrekarwadi".
The Nilesh Sawant Memorial is located in Bandrekarwadi. It was constructed in June 2000 in memory of Nilesh Sawant, who was killed fighting for his country. Nilesh was a resident of Bandrekarwadi. He was a recognized National Level Boxer. Nilesh went to school at Arvind Gandbhir Highschool & Higher Secondary from Chikitsak Samuhas S. S. & L. S. Patkar College of Arts & Science, Goregaon. Nilesh joined the army and was selected for an anti-terrorist operation in Poonch Sector. On 3 June 2000, at Pir Panjal, Nilesh Sawant was killed. Since the army was unable to bring his body down to the base camp, he was cremated at Poonch. Later, his ashes were handed over to his family at Bandrekarwadi, Jogeshwari.
Jogeshwari Wikipedia
(,)http://www.harekrsna.com/sun/editorials/07-13/caves80.jpg(,)https://returnoftheprodigal.files.wordpress.com/2015/04/mumbaicaves_jogeshwari3.jpg(,)http://upload.wikimedia.org/wikipedia/commons/9/94/Churchgate_station.jpg(,)http://upload.wikimedia.org/wikipedia/commons/d/dd/Victoria_station_Mumbai.jpg(,)http://upload.wikimedia.org/wikipedia/commons/c/c3/19_century_dwelling_in_Mazagaon,_Bombay.jpg(,)http://www.shree-jogeshwari.com/images/05.jpg(,)http://1.bp.blogspot.com/-lHVv5LUbC0U/U_Rdz21VUiI/AAAAAAAAMdo/C_BrtxIf1Zg/s1600/Age%252Bold%252Bcarvings%252Bat%252Bthe%252BJogeshwari%252Bcaves%252Bduring%252BShivratri,%252BMumbai-001.jpg(,)http://i.ytimg.com/vi/eciPWDkj1-M/maxresdefault.jpg(,)http://i.ytimg.com/vi/XQg6EHdc9gQ/hqdefault.jpg(,)http://i.ytimg.com/vi/1veVhUNQ2Ng/hqdefault.jpg
(,)http://sim.burrp.net/9ee6aabb77b598e8e26887eebf8863bf.jpg(,)http://www.indiamarks.com/wp-content/uploads/restaurant_global-fusion_in_andheri-east-mumbai.jpg(,)http://www.hotelmina.com/images/8.jpg(,)http://mehtakyakehta.files.wordpress.com/2011/08/nh1-nh-1-restaurant_food-2.jpg(,)http://mehtakyakehta.files.wordpress.com/2010/08/bostan-restaurant-jogeshwari-mumbai-india.jpg(,)https://yell0wblog.files.wordpress.com/2012/08/38138_132991750070033_582931_n.jpg(,)http://www.hotelmina.com/images/7.jpg(,)http://eveningflavors.com/DynamicImages.war/Restaurant/Mumbai/10118/base.JPG(,)http://eveningflavors.com/DynamicImages.war/Restaurant/Mumbai/20066/base.jpg(,)http://eveningflavors.com/DynamicImages.war/Restaurant/Mumbai/8528/base.JPG(,)http://eveningflavors.com/DynamicImages.war/Restaurant/Mumbai/9226/base.jpg(,)http://eveningflavors.com/DynamicImages.war/Restaurant/Mumbai/6386/base.jpg