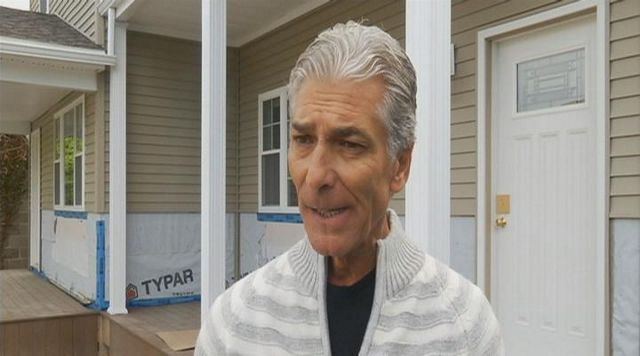 Giambra was born and raised in Buffalo, in 1951, to a single mother, Shirley, and also raised by his grandmother. He lived in the Lakeview Housing Project, near the east bank of the Niagara River. He later said, "It was an environment where everybody was poor but we didn't know it."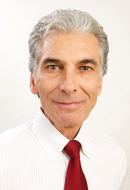 His mother eventually remarried to Salvatore "Babe" Panaro, and Giambra considers Panaro to be his father. His mother and stepfather had a daughter, Angela. The family were Roman Catholic.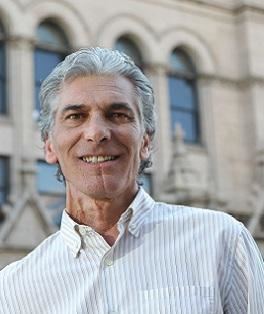 Giambra attended Grover Cleveland High School and Erie Community College.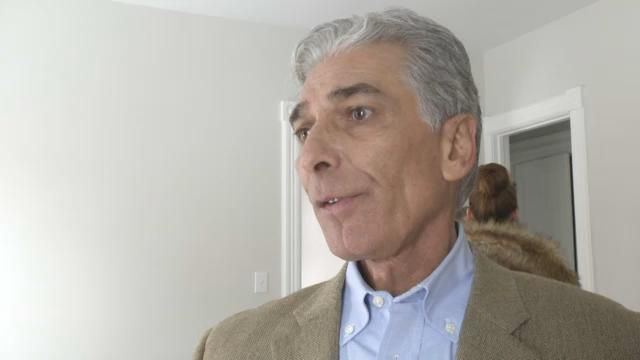 Giambra married Michelle Lettieri in 1982, and they have four children, Gabriella, Nicholas, Dominic, and Joel.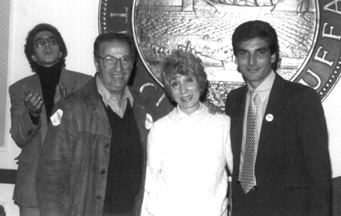 Giambra experienced throat cancer, but later recovered. His treatment choice caused a political firestorm as he was treated at Memorial Sloan-Kettering Cancer Center in New York City instead of the Roswell Park Cancer Institute in Buffalo leading to the belief that he was deliberately insulting his constituency by seeking treatment outside Erie County at a time when Roswell Park was a highly rated cancer facility. Supporters claim that he wished to avoid media scrutiny during his treatment and recovery, something he could not do while being treated at Roswell, and that Sloan-Kettering was superior in treating his specific form of cancer.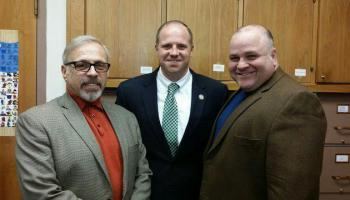 Giambra was one of the youngest Buffalo Common Council members ever, and also served as Buffalo City Comptroller early in his career. He was a Democrat who changed his political affiliation to Republican in 1999 to better position himself to run for County Executive. He was seen as a future statewide candidate and in 2002 was considered by Governor George Pataki as a running mate for lieutenant governor, before Lt. Gov. Mary Donohue was nominated for reelection. He won a closer than expected re-election in 2003 against a weak Democratic rival, and his administration started to experience problems.
Investigations into the mismanagement of a highway garage and exorbitant prices paid for county office furniture to a Giambra campaign contributor preceded the 2005 budget problems. Then-New York Attorney General Eliot Spitzer initiated a lawsuit against the furniture company for the overcharges. Some have accused Giambra of providing lucrative jobs to associates. His county staff measured 18, while Monroe County's executive had only four staffers and then downsized to three. Giambra's boyhood friend Victor Getz was particularly singled out for notice, for his salary as an executive assistant and driver to Giambra. A panel appointed by Giambra found that Giambra's and other county employees' salaries should be raised by 40%.
Giambra lowered or declined to raise county taxes for years for a total of 31% lower taxes, financing his budget partly through the use of surpluses from the previous county administration and monies from the tobacco settlement. The county then had to accept either massive reductions of services or increases in taxation. Giambra said that "an end to county government as we know it" would occur without a sales tax hike, ending county libraries, snowplows and road patrols.
Giambra proposed this "red budget" of $940 million which eliminated services, and after failed negotiations to raise the sales tax in a "green budget" of $1 billion, a modified plan was adopted which laid off 2,000 county employees and closed many county services, including the Parks Department. In 2005, a Control Board was implemented by the state to monitor county finances. This, coupled with an investigation into patronage positions, led to Giambra's announcement that he would not seek reelection in 2007.
Following the adoption of his red budget, Giambra's popularity dropped, and this led to the retirements of several local politicians who are tied to him. In the 2005 election, candidates vied to distance themselves from him. Many county legislators either chose not to run for re-election or were defeated by new candidates, radically changing the political make-up of the legislature.
In April 2006, Giambra said that the "War on Drugs" was being lost and models used successfully in other countries of decriminalizing certain drugs and thus reducing violence associated with the illegal drug trade needed to be examined. The Buffalo News published an Op-Ed agreeing with Giambra's statements that drug legalization should be studied further.
Since 2012, Giambra has been the co-host of the political debate program 2 Sides on WGRZ.