She was born in Hammonton, New Jersey, and grew up in Willow Grove, Pennsylvania. She married Joe Biden in 1977, and became stepmother to his two young sons from his first marriage, Beau and Hunter, whose mother and baby sister died in a car accident in 1972. Joe and Jill Biden have a daughter, Ashley, born in 1981.
Jill Biden has a bachelor's degree from the University of Delaware, master's degrees from West Chester University and Villanova University, and a doctoral degree from the University of Delaware. She taught English and reading in high schools for 13 years, and also taught adolescents with emotional disabilities at a psychiatric hospital. From 1993 to 2008, she was an English and writing instructor at Delaware Technical & Community College. Since 2009, she has been a professor of English at Northern Virginia Community College and is thought to be the first Second Lady to hold a paying job while her husband was Vice President. She is the founder of the Biden Breast Health Initiative non-profit organization, co-founder of the Book Buddies program, is active in Delaware Boots on the Ground, and is co-founder of Joining Forces with former First Lady Michelle Obama.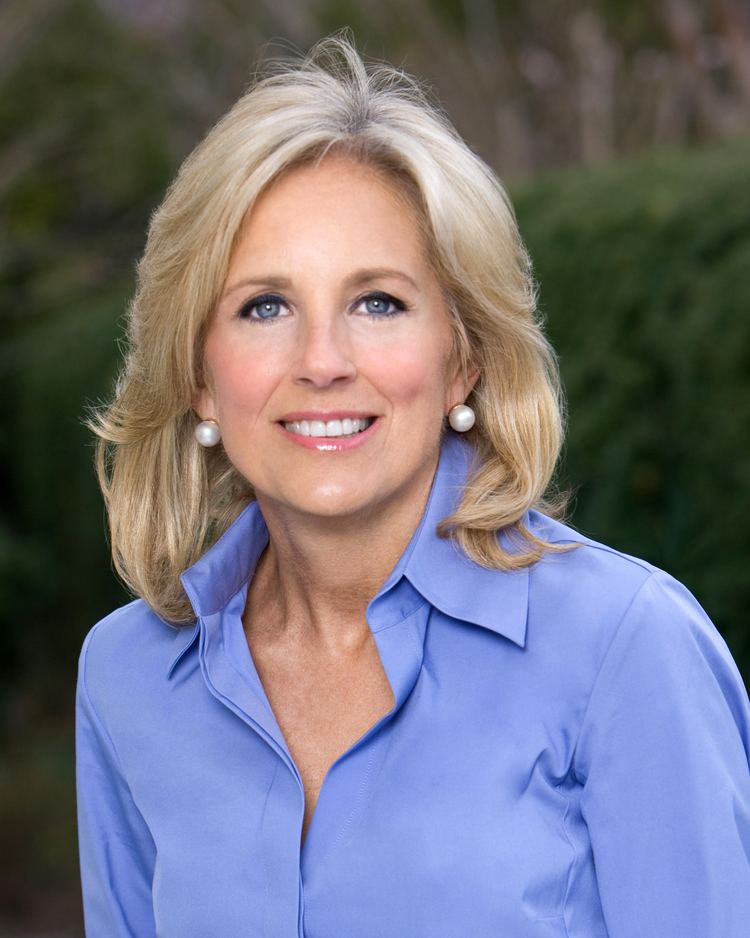 Jill Tracy Jacobs was born on June 3, 1951 in Hammonton, New Jersey. Moving several times while very young, she and her four younger sisters spent the majority of their childhood in Willow Grove, Pennsylvania. Her father, Donald C. Jacobs (1927–1999), was a bank teller who became head of a savings and loan in the Chestnut Hill neighborhood of Philadelphia. His family name had originally been Giacoppa before her Italian grandfather anglicized it. Her mother, Bonny Jean (Godfrey) Jacobs (1930–2008), was a homemaker. The family was not particularly religious, but in ninth grade, Jacobs independently took classes in order to join the Presbyterian church.
Jacobs always intended to have her own career. She began working at age 15, which included waitressing at the Jersey Shore. She attended Upper Moreland High School, where she was somewhat rebellious and enjoyed her social life, but always liked English class. She graduated in 1969.
Jacobs enrolled in a junior college in Pennsylvania to study fashion merchandising, but soon found it unsatisfying. She married Bill Stevenson, a former college football player, in February 1970. Within a couple of years he opened the Stone Balloon in Newark, Delaware, near the University of Delaware. It became one of the most successful college bars in the nation.
She enrolled at the University of Delaware, where she declared English as her major. She then took a year off from college and did some modelling work for a local agency in Wilmington. She and Stevenson drifted apart.
Subsequently, she returned to college and met Senator Joe Biden as a senior at Delaware in March 1975. They met on a blind date set up by Joe's brother, though Biden had seen her photograph in a local advertisement. Although he was nine years her senior, she was impressed by his more formal appearance and manners compared to the college men she had known, and after their first date she told her mother, "Mom, I finally met a gentleman."
Jacobs graduated with a Bachelor of Arts from the University of Delaware later in 1975. She began her career teaching high school English. Meanwhile, she was going through turbulent divorce proceedings with Stevenson; the court case ended in 1976, with her not getting the half-share in the Stone Balloon she had wanted. Around this time she spent five months working in Biden's Senate office.
She and Joe Biden were married by a Catholic priest on June 17, 1977, at the Chapel at the United Nations in New York City. This was four and a half years after his first wife and infant daughter died in a motor vehicle accident; Joe had proposed several times before she accepted, hesitant to take on the commitment of raising his two young sons who had survived the accident. She continued to teach and then, while pregnant, received a Master of Education with a specialty in Reading from West Chester University in 1981. The Bidens' daughter Ashley Blazer was born on June 8, 1981, and Jill stopped working for two years while raising the three children.
She then returned to work, teaching English, acting as a reading specialist, and teaching history to emotionally disturbed students. She taught in the adolescent program at the Rockford Center psychiatric hospital for five years in the 1980s. In 1987, Biden received a second Master of Arts degree, this one in English from Villanova University. During her husband's 1988 bid for the Presidency, she said she would continue her job of teaching emotionally disturbed children even if she became First Lady. In all, she spent 13 years teaching in public high school, including 3 years at Claymont High School.
From 1993 through 2008, Biden was an instructor at the Stanton/Wilmington campus of Delaware Technical & Community College, where she taught English composition and remedial writing, with an emphasis on instilling confidence in students. She has said of teaching at a community college, "I feel like I can make a greater difference in their lives. I just love that population. It just feels really comfortable to me. I love the women who are coming back to school and getting their degrees, because they're so focused."
Biden is president of the Biden Breast Health Initiative, a nonprofit organization begun in 1993 that provides educational breast health awareness programs free of charge to schools and other groups in the state of Delaware. In the following 15 years, the organization informed more than 7,000 high school girls about proper breast health. In 2007, Biden helped found Book Buddies, which provides books for low-income children, and has been very active in Delaware Boots on the Ground, an organization that supports military families. She runs five miles, five times a week, and she has run in the Marine Corps Marathon.
Biden later returned to school for her doctoral degree, studying under her birth name, Jill Jacobs. In January 2007, at age 55, she received a Doctor of Education in educational leadership from the University of Delaware. Her dissertation, Student Retention at the Community College: Meeting Students' Needs, was published under the name Jill Jacobs-Biden.
Following George W. Bush's reelection in 2004, she urged her husband to run again for President, later saying: "I literally wore black for a week. I just could not believe that he won, because I felt that things were already so bad. I was so against the [Iraq War]. And I said to Joe, 'You've got to change this, you have to change this.'" During Joe Biden's 2008 campaign to be the Democratic nominee, she continued to teach during the week and would join him for campaigning on weekends. She said that she would have taken an activist role in addressing education as her chief focus of concern as a potential First Lady. She also said that she was basically apolitical and would not seek inclusion in Cabinet meetings.
Once her husband was selected as the Democratic presidential nominee Barack Obama's running mate, she began campaigning again. She wore a Blue Star Mothers Club pin in recognition of Beau Biden's deployment to Iraq. She was not a polished political speaker, but was able to establish a connection with the audience. She also made some joint appearances with Michelle Obama. Throughout the time her husband was running for vice president, Jill Biden continued to teach four days a week at Delaware Technical & Community College during the fall 2008 semester, and then campaigned over the long weekend, while grading class papers on the campaign bus.
Despite moving to Number One Observatory Circle (the vice presidential residence in Washington) as Second Lady of the United States, Biden intended to keep teaching at a Washington-area community college, and several of them recruited her. In January 2009, she began teaching two English courses as an adjunct professor at the Alexandria campus of Northern Virginia Community College (NOVA), the second largest community college in the nation. It has been rare for Second Ladies to work while their spouses serve as Vice President, and Biden is thought to be the first Second Lady to hold a paying job while her husband was Vice President. Biden planned to be a public advocate for the importance of community colleges and to advise the Obama administration on issues related to them. In White House announcements and by her preference, she is referred to as "Dr. Jill Biden".
Catherine Russell, a former adviser to the Senate Foreign Relations Committee, was named Biden's chief of staff for her Second Lady role. Courtney O'Donnell, a former spokesperson for Howard Dean and Elizabeth Edwards, was named her communications director and Kirsten White, a lawyer at Morgan, Lewis & Bockius, her policy director. As Second Lady, Biden has a staff of eight overall and occupies a corner suite in the Eisenhower Executive Office Building.
On The Oprah Winfrey Show just before the inauguration, Jill Biden said that Barack Obama had offered her husband either the Vice-Presidency or the position of U.S. Secretary of State. However, Joe Biden's spokesperson stated that Biden had only been offered one job by Obama. In May 2009, Obama announced that Biden would be in charge of an initiative to raise awareness about the value of community colleges.
In June 2009, Biden gave the commencement address at Kingsborough Community College in Brooklyn, New York, and received an honorary Doctor of Humane Letters degree from the City University of New York. Biden continued teaching two English reading and writing classes at NOVA in fall 2009. In January 2010, she gave the commencement speech at the University of Delaware's winter commencement, the first such address by her at a major university. In August 2010, Biden appeared as herself in an episode of Lifetime's Army Wives, making it part of her campaign to raise awareness of military families.
In April 2011, she and Michelle Obama founded a national initiative, Joining Forces, to showcase the needs of U.S. military families. In September 2011, Biden lent her support to USAID's FWD campaign, a push for awareness surrounding the deadly famine, war, and drought affecting over 13 million people in the Horn of Africa. She continued to teach at NOVA, and by 2011 held a permanent position as an associate professor, teaching three English and writing composition courses two days per week. Her position there was as normal as she could make it, sharing a cubicle with another teacher, holding regular office hours for students, and trying to get her accompanying Secret Service agents to dress as unobtrusively as possible. Her life with her husband at Number One Observatory Circle tended towards the informal and was centered around family and their nearby grandchildren. In June 2012, she published a children's book, Don't Forget, God Bless Our Troops, based around her son Beau's deployment. The same month, the Bidens' daughter Ashley, a social worker and staffer at the Delaware Department of Services for Children, Youth, and Their Families, was married.
In the 2012 U.S. presidential election, in which her husband was running for re-election as vice president, Biden played a modest role. She did not cut back on her teaching schedule and made few solo campaign appearances. This reflected her continuing distaste for both politics and public speaking, even though the Obama campaign considered her valuable in connecting to military families, teachers, and women.
Following the re-election of Obama and her husband on November 6, 2012, Biden began a second term as second lady. She wore a silk blue gown by Vera Wang when she appeared at the inaugural balls in January 2013.
During her second term, Biden continued to be involved with supporting military personnel, including staging multiple visits to the Center for the Intrepid rehabilitation facility for amputees and attending the inaugural Invictus Games in London. During the 2014 U.S. midterm Congressional elections she campaigned for a number of Democrats, including some ones in high-profile contests such as Mark Udall in Colorado and Michelle Nunn in Georgia.
In May 2015 she suffered the death of her stepson Beau Biden from brain cancer. She was present at her husband's side in the Rose Garden on October 21, 2015, when he announced he would not run for the Democratic Party presidential nomination in the 2016 election. By her own account, Biden was disappointed by his decision, believing her husband was highly qualified for the position, and "would have been the best president."
Biden continued to teach at NOVA, handling a full load of five classes during the Fall 2015 semester. During 2016, she was present with her husband on a listening tour for Cancer Moonshot 2020, an effort he was leading. In March 2016 she headed the official party that welcomed American astronaut Scott Kelly back to Earth from his almost full year in space.
The former second couple launched the Biden Foundation in February 2017, with the purpose of allowing them to pursue the causes they cared most about, including focuses upon preventing violence against women, his moonshot initiative, and her interests in community colleges and military families. That same month she was named board chair of Save the Children; she said, "I think [their] emphasis on education fits with my life's work." He was a popular ex-vice president among like-minded citizens and she received a standing ovation when she was a presenter at the 61st Tony Awards. Regarding floated possibilities of her husband running in the United States presidential election, 2020, she has not commented directly.
In June 2017 the couple bought a multi-million-dollar vacation home in Rehoboth Beach, Delaware near Cape Henlopen State Park, where they planned to host members of their extended family. They were able to afford such a place for the first time in their lives due to book deals they signed upon leaving office, with him committed to publishing two books and her one.
Jill Biden continued to teach full-time at NOVA after her husband left office. She gave the keynote address at a California teachers summit in July 2017, emphasizing the importance of communities supporting their teachers given the emotional and circumstantial stresses they often have to function under.
In May 2014, she gave the commencement address, and was awarded an Honorary Doctorate from Villanova University, one of her alma maters.