Full Name

Jijabai Shahaji Bhosale




Spouse

Shahaji




Name

Jijabai Bhosale




Role

Shivaji's mother


Known for

Rashtramata








Born

12 January 1598 (

1598-01-12

) Jijau Mahal, Sindkhed Raja, Buldhana, Maharashtra, India


Other names

Jijamata, Rajmata, Jijabai




Children

Shivaji, Sambhaji Shahaji Bhosale




Parents

Lakhojirao Jadhav, Mahalasabai




Grandchildren

Sambhaji Bhosale, Rajaram Chhatrapati




Similar People

Shivaji, Sambhaji Bhosale, Afzal Khan, Rajaram Chhatrapati, Sai Bhosale




Died

17 June 1674 (aged 76)




Also known as

Rajmata Jijabai
Shivaji maharaj ani tyanche guru 05 jijabai
Jijabai Shahaji Bhosale (12 January 1598 – 17 June 1674), sometimes referred to as Rajmata Jijabai or even simply Jijai, was the mother of Shivaji, founder of Maratha Empire.
Contents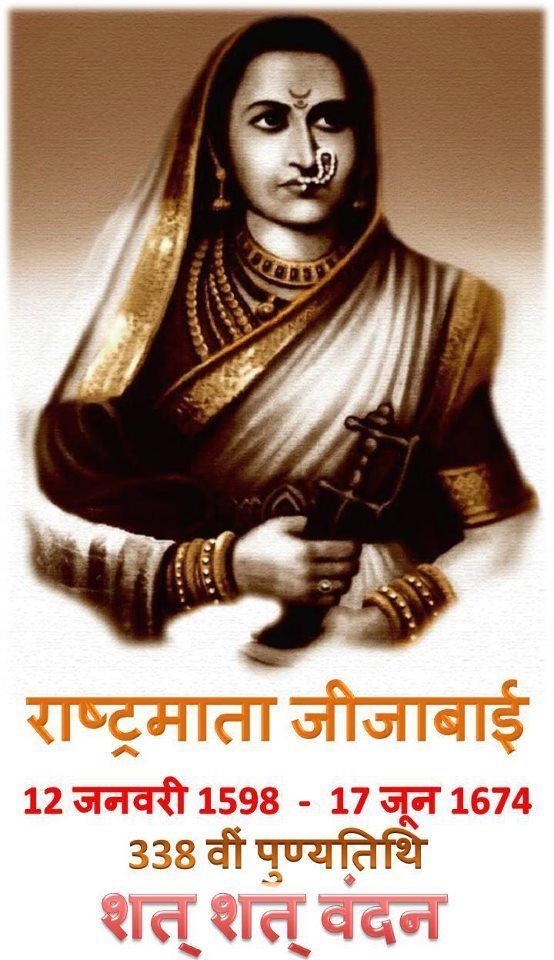 Facts
Although not credited, the character of Kashibai, played by Priyanka Chopra in Bajirao Mastani a 2015 film directed by Sanjay Leela Bhansali, was partly inspired by Jijabai.
Jijabai has been credited as a kingmaker throughout her life, but she was also a skilled horse rider and was very good at sword fighting, which would put any decent fighters to shame. She has displayed the warrior side of herself while governing Pune.
Jijabai was a very religious person. She had a strong belief that she was blessed by Goddess Bhavani and Mahadev when she was born. This is why she named her sons after Shiv/Shiva.
When Jijabai died 12 days after Shivaji's coronation, her samadhi was built at Pachad village near the Rajgad fort.
Jijabai can be credited as the mastermind behind the assassination of Afzal Khan. She not only inspired Shivaji to avenge his brother's death but also planned the attack.
When Jijabai got married to Shahajiraje Bhosale , who was the most gallant general of the Sultan's armed forces, all Maratha Sardars from his side had come together to celebrate the union. In the midst of the ceremony, the elephant that belonged to Khandagle, suddenly became aggressive and went berserk. The Sardars immediately took up their weapons against the animal, leaving it wounded and eventually killing it. This led to a misunderstanding between the two families – the Bhosales and the Jadhavs, eventually leading to a brutal fight between them. Jijabai and Shahaji eye witnessed their loved ones dying. This is when they realized that the war between the families is not worth human lives. They urged everyone to let bygones be bygones and start afresh to put an end to the enmity involving the two families and fight the foreign intruders.
When Jijabai was pregnant with their first child, the Nizam had sent Lakhojiraje along with his army to Junnar to capture her husband. Shahaji was planning his escape to Pune, but as Jijabai couldn't travel on horseback, she was placed under the care of Vishwasrao and Vaidhyaraj Nirgudkar (a doctor) in the Shivneri fort.
Jijabai, wielded a sword in a war when she was rescuing her son Shivaji, who was trapped and captured for four months at the Panhala fort by Siddi Jauhar. Jijabai led the Marathas to war under her commandership, to fight off Shaista Khan and protect the empire, until Shivaji escaped from the besieged fort.
When Shivaji went off the Agra, he entrusted his empire in the safe hands of his mother, Jijabai. She not only protected her people for more than 8 months, but she also accomplished the completion of the Sindudurg Fort, recaptured lost forts from the enemies and attended to every problem of her subjects, displaying her proficient style of governing.
Jijabai inspired her son Shivaji by telling stories from Ramayana, Mahabharata, the lives of Shriram, Maruti, Shrikrishna, right from his childhood.
As the queen regent, she managed her husband's jagir in Pune and saw to its growth and development. She erected the Kasbapeth Ganpati temple and renovated the Keverreshwar temple and Tambdi Jogeshwari temple during her reign.
The Lal Mahal or the Red Palace, built by Shahaji Bhosale for his wife Jijabai and his children, is one of the most well-known monuments in Pune. This site is also famous for a major historical moment. It is this place where Shivaji cut off the fingers of Shaista Khan when he was trying to escape from a window.
Jijabai once had a dream that she wanted to establish a separate empire of her own. The images of this dream were with her throughout her life. Years later, one of his two sons, Shivaji Maharaj, founded the Maratha Empire.
राजमाता जीजाबाई - आदर्श माता - RAJMATA JIJABAI - VOICE - KUMAR RAJESH
History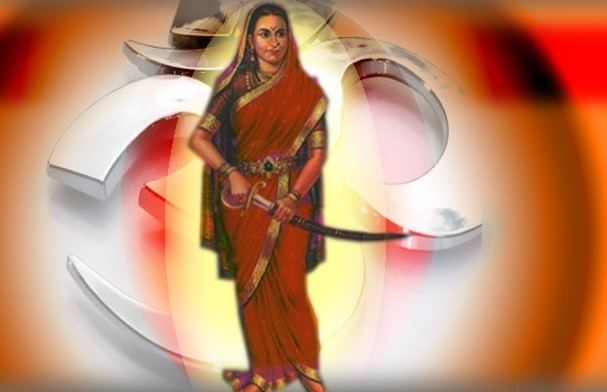 Jijabai was born on 12 January, 1598, as the daughter of Lakhojirao Jadhav of Deulgaon, near Sindkhed, in present-day Buldhana district of state (maharastra) Her mother's name was Mhalsabai. As per the customs of that age, Jijabai was married at an early age to Shahaji, son of Maloji Bhonsle of Verul village, a military commander serving under the Adil Shahi sultans of Bijapur Sultanate in present-day Karnataka. The wedding was held in Sindkhed on 5 Nov, 1605, when Jijabai was eight years old and her husband was twelve years old. She was his first wife. As per custom, Jijabai remained with her parents for several years before joining her husband.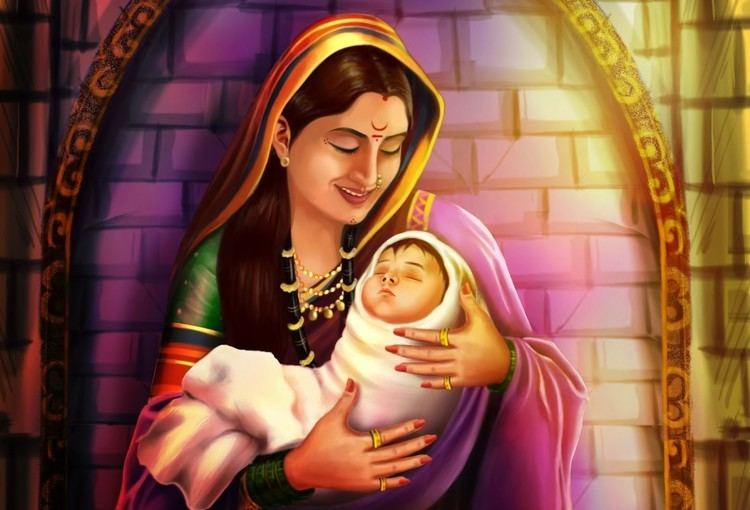 Jijabai's father-in-law, Maloji Bhonsle, had begun his career as a shilledar serving under the command of her father, Lakhojirao Jadhav. Her natal family (the Jadhav family) was of relatively high standing in the region, whereas her husband's family were just rising into importance newly and according to some accounts, they had risen from the ranks of the Kunbi caste of cultivators. This difference in background and status meant that Jijabai's father had not been very happy to give his daughter in marriage to Shahaji, son of Maloji Bhonsle. He had wanted that his daughter should be given in marriage to an even higher house and he had agreed to the proposal made by Maloji only after some pressure.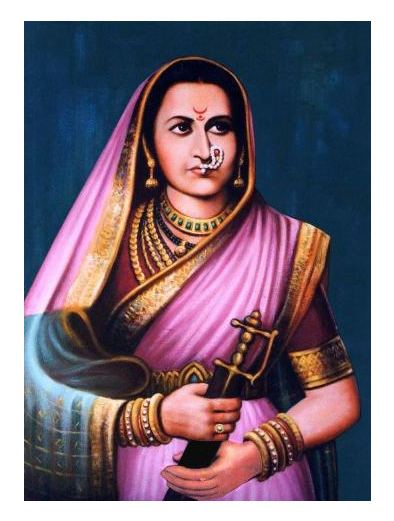 Jijabai bore Shahaji as many as eight children, six daughters and two sons. All the daughters died in infancy and only the two sons, Sambhaji and Shivaji, reached adulthood. In 1630, three years after Shivaji's birth, Jijabai received a co-wife into her household after Shahaji married Tukabai, daughter of Sardar Bajirao Mohite Pongwadikar of Bijapur, who was Shahaji's close friend and, like him, also a commander serving the sultan of Bijapur. By this time, Shahaji had achieved a certain status and importance as a commander and his new wife came from a friendly family with no hang-ups about status or background. She was also much younger than him, and Shahaji could patronize and indulge her without being made to feel inadequate. He found acceptance and comfort in his second wife and developed a close rapport with her. Within a few years, Shahaji separated his household, granting his estates located near Pune to Shivaji. Jijabai and her younger son Shivaji then moved to these estates near Pune, while her elder son Sambhaji remained with Shahaji because he was the elder son and heir to his father. Shahaji remained in Karnataka with his second wife Tukabai, her growing family and Sambhaji, his eldest son(born of Jijabai). Jijamata died on 17 June, 1676.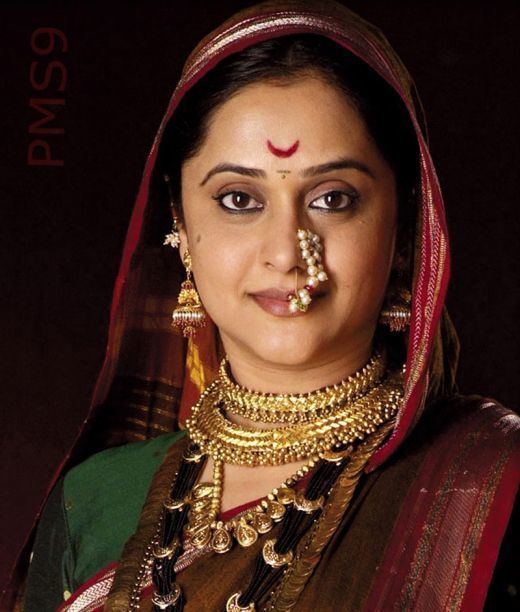 On Mission
She wholeheartedly supported her husband's cause. Shahaji had tried to establish a state on the ruins of the erstwhile Nizamshahi sultanate. However, he was defeated by the combined forces of Mughals and Adilshahi. Later, Shahaji became a sardar in Adilshah's army, although he did not really want to, looking forward to the day when he would be able to fight against the Mughal invaders. He settled in Karnataka and got married again. As per the treaty, he was forced to move south. In order to continue the struggle, he deputed her as queen regent.
The elder son Sambhaji remained with his father. Shivaji left Bangalore along with his mother, a council of ministers and chosen military commanders. When they arrived in Pune, it was full of jungles and wild beasts. She encouraged cultivators to settle. She renovated the Kasaba Ganapati temple. A red sandstone palace of moderate size known as Lal Mahal was also built. She gave a number of decisions in legal and administrative matter known as majhars.
Jijabai was a very pious and intelligent woman with great vision for independent kingdom. She inspired Shivaji by telling stories from Ramayana, Mahabharata and Balaraja. Inspired by her, Shivaji took the Oath of Independence(SWARAJYA) in the fort temple of Lord Raireshwar in 1645 when he was 17. In Shivaji's impeccable, spotless character and courage, Jijabai's contribution is enormous.
Jijabai's elder son Sambhaji was killed while on a military expedition in Karnataka by Afzal Khan. Shivaji Raje avenged Sambhaji Raje's death by killing Afzal Khan. When Shahaji Raje died, Jijabai wanted to commit sati - burning oneself in the husband's pyre, but Shivaji stopped her from doing so by his request. Jijabai is widely credited with raising Shivaji in a manner that led to his future greatness. She died soon after coronation of Shivaji on 17 June 1674. Shivaji was heartbroken by her death.
Cultural Legacy
Today especially in Maharashtra, she is regarded as an ideal mother. Her upbringing of Shivaji is a subject of folklore.
The 2011 film Rajmata Jijau is a biography of Jijabai.
In popular culture
Legendary actress, Sulochana Latkar portrayed Jijabai in the marathi film Maratha Tituka Melvava
Sumati Gupte played Jijabai in the 1974 film Raja Shiv Chhatrapati.
Jijabai was a portrayed by Mrinal Kulkarni in the popular TV series Raja Shivchatrapati which aired on Star Pravah in 2008.
Mrinal Kulkarni played Jijabai in Farzand, an Indian Marathi language epic, historical drama film.
Mrinal Kulkarni played Jijabai in the 2019 Marathi language historical drama film, Fatteshikast.
Shilpa Tulaskar portrayed Jijabai in the 2011 series Veer Shivaji
Smita Deshmukh starred as Jijabai in the 2011 Marathi language film Rajmata Jijau based on the life of Jijabai, based on Madan Patil's historical novel Jijausaheb
Prateeksha Lonkar played Jijabai in Swarajyarakshak Sambhaji, an Indian historical drama based on the life of Sambhaji.
Padmavati Rao plays Jijabai in the 2020 Indian Hindi-language biographical period action film, Tanhaji.
Nishtha Vaidya, Amruta Pawar, Bhargavi Chirmule, Neena Kulkarni portray Jijabai at different stages of her life in Swarajya Janani Jijamata, a show based on the life of Rajmata Jijabai.[citation needed]
In his book Medieval India, C.V.Vaidya states that Yadavas are "definitely pure Maratha Kshatriyas". ... [ Jijabai (the mother of Shivaji, who founded the Maratha Empire) belonged to the clan of jadhavas of Sindkhed Raja, who also claimed descent from the Yadavas.

References
Jijabai Wikipedia
(Text) CC BY-SA