Genres

R&B, pop, soul




Nationality

American




Name

Jessica Sanchez





Years active

2006–present




Instruments

Vocals




Education

Eastlake High School







Birth name

Jessica Elizabeth Sanchez




Born

August 4, 1995 (age 20) Chula Vista, California, U.S. (

1995-08-04

)


Origin

San Diego, California, U.S.




Occupation(s)

Singer, songwriter, actress, model




Role

Singer-songwriter · jessicasanchezofficial.com




Parents

Gilbert Sanchez, Editha Sanchez




Albums

Me, You & the Music, Jessica Sanchez: Journey to the Finale, American Idol Season 11 Highlights




Similar People

Phillip Phillips, Hollie Cavanagh, Colton Dixon, Ne‑Yo, Christian Bautista




Profiles




Twitter

Facebook

Myspace
Jessica sanchez this love official music video
Jessica Elizabeth Sanchez (born August 4, 1995) is an American singer and songwriter originally from Chula Vista, California. She was the runner-up on the eleventh season of the reality show American Idol. Prior to appearing on American Idol, Sanchez competed in the first season of America's Got Talent at the age of 11.
Contents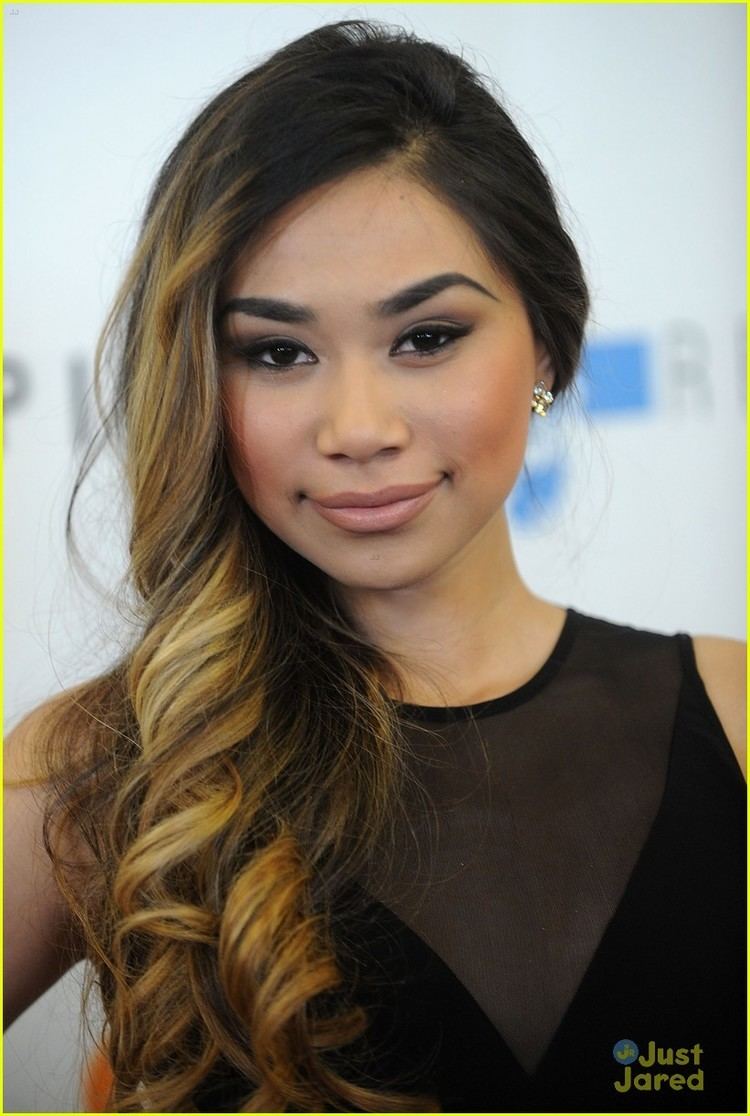 Jessica sanchez tonight ft ne yo
Early life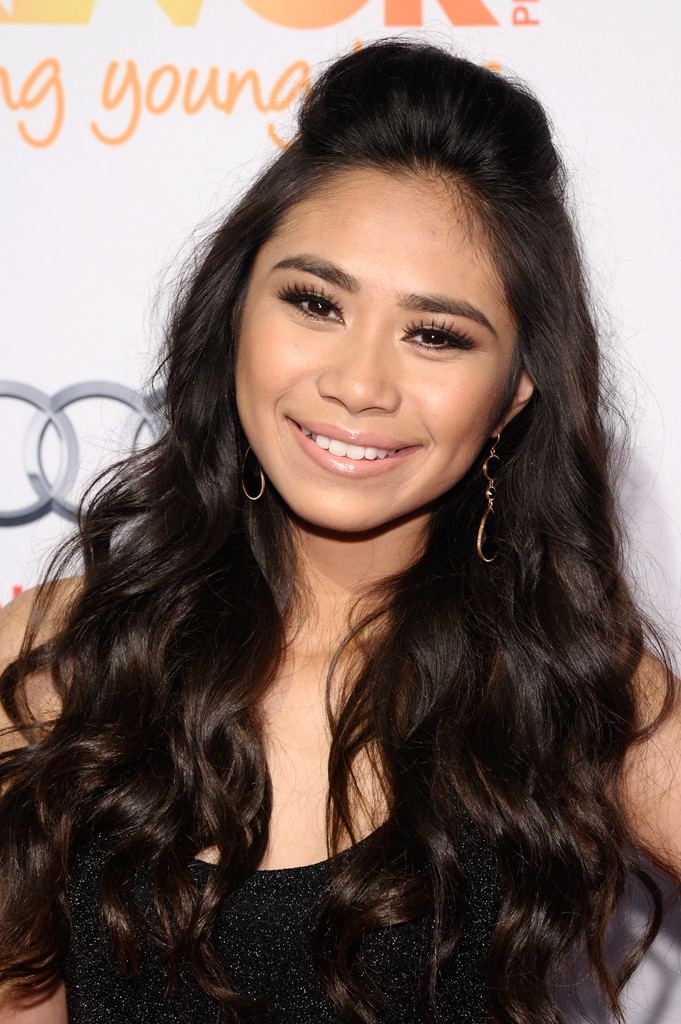 Jessica Elizabeth Sanchez was born in Chula Vista, California on August 4, 1995 to parents, Edita (nee Bugay) and Gilbert Sanchez. She was raised in Eastlake, Chula Vista along with two younger brothers. Her father is a Mexican-American originally from Texas, and is an aviation ordnanceman First Class Petty Officer in the United States Navy Reserves. Her mother is a Filipina whose family is from Samal, Bataan in the Philippines.
She attended Eastlake Middle School in Chula Vista and was homeschooled all four years of high school.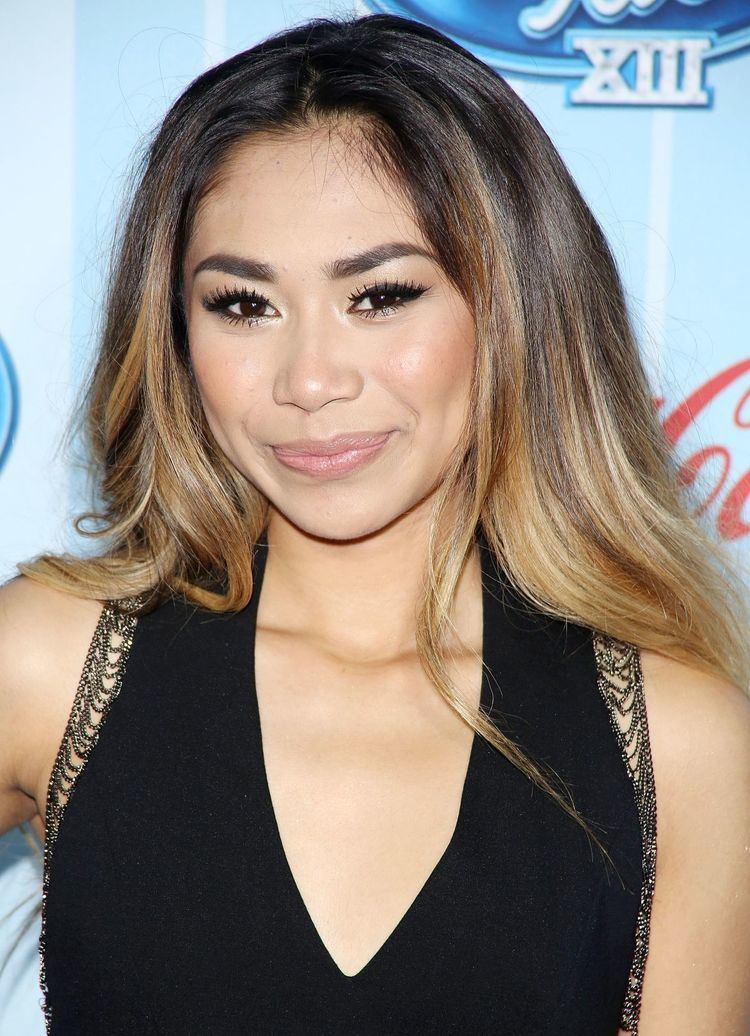 She started singing at the age of 2, and aspires to be a mainstream singer who can "belt but sing upbeat songs". Eminem and Beyoncé are her favorite male and female artists, while Jennifer Hudson is her favorite American Idol contestant. Other musical influences include Mariah Carey, Whitney Houston, Celine Dion, Etta James, Christina Aguilera, and Michael Jackson.
2006–2011: Beginnings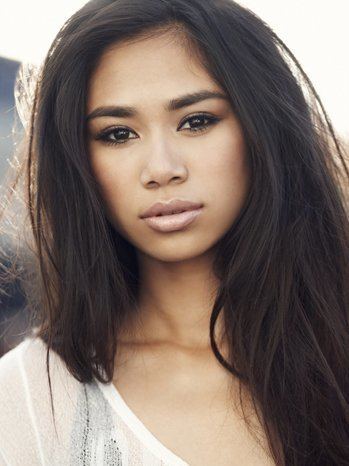 At the age of 10, Sanchez received a standing ovation for performing Aretha Franklin's "Respect" on Showtime at the Apollo. The hostess Whoopi Goldberg called her back on stage to accept a second round of applause. Sanchez competed on the first season of America's Got Talent at the age of 11. Despite a successful audition, she was not seen on the show until the wild card round of the semi-finals when judge Brandy Norwood selected her to return for a chance to compete for the finals. Norwood predicted, "You're gonna be huge, I promise," after seeing her perform "I Surrender" by Celine Dion. The show's executive producer and former American Idol judge Simon Cowell named her "one of the best I have ever heard." On September 22, 2008, Sanchez sang "The Star-Spangled Banner" before a San Diego Chargers versus New York Jets National Football League matchup. She was invited to sing the national anthem again on September 27, 2009 before a Chargers versus Miami Dolphins matchup.
In October 2009, Sanchez recorded a cover of "Don't Stop the Music" by Rihanna for iTunes with independent record label Spin Move Records. The following spring, Sanchez recorded another single with Spin Move Records, a cover of Etta James' "I'd Rather Go Blind" for YouTube and exclusive download on the label's website.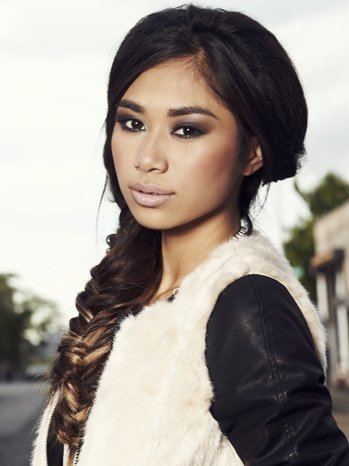 Sanchez was one of the singers in Lisa Lavie's collaboration video "We Are the World 25 for Haiti (YouTube Edition)" for charity relief for victims of the 2010 Haiti earthquake, along with American Idol season 10 finalist Thia Megia. The video's participants were collectively recognized as "Persons of the Week" on ABC World News with Diane Sawyer on March 19, 2010.
2012: American Idol
On July 8, 2011, Sanchez auditioned for the eleventh season of American Idol in her hometown of San Diego, California at the age of 15. She had never been seen on screen in the audition and Hollywood rounds; her first performance on screen was her group performance with Deandre Brackensick and Candice Glover, who would go on to win the 12th season of American Idol. with an updated version of Buddy Holly's "It Doesn't Matter Anymore", and her group advanced to the next round. Later, she advanced to the semi-finals.
In the semi-finals, Sanchez performed Jennifer Hudson's "Love You I Do" from the film Dreamgirls. She was one of the top five female vote‑getters who advanced to the top 13. Her rendition of "I Will Always Love You" sung on "Whitney Houston night" (March 7, 2012) . CNN's HLN News Now reported that she brought the judges to their feet. With the lone standing ovation of the night just as before, her name became a worldwide trend on Twitter, and the video of the performance was uploaded to YouTube, it received five million views in three days.
For her top 11 performance, Sanchez received constructive criticism from the judges for her rendition of Gloria Estefan's version of Vicki Sue Robinson's "Turn the Beat Around". Jackson said, "The problem for me was the song choice. You got the big old voice. The song does not allow you to show that". Lopez agreed, "your voice has such a strong vibrato, which is so beautiful on certain songs", while Tyler advised "you can't stray too far from what I think you sing the best which is ballads."
On "Billy Joel night", Sanchez sang "Everybody Has a Dream". which received a standing ovation from the judges
The following week, Sanchez acknowledged her personal idol by singing a slow tempo of Beyoncé's "Sweet Dreams".
In the top 8 round, she introduced her alter ego, "BeBe Chez", to cover an upbeat Whitney Houston song "How Will I Know". Lopez raved about her "powerhouse vocals" and her duet of George Michael and Aretha Franklin's "I Knew You Were Waiting (For Me)" with fellow contestant Joshua Ledet got a standing ovation from the judges.
For the top 7 Week on April 11, 2012, she sang Jazmine Sullivan's "Stuttering". The following night revealed that she received the lowest number of votes leaving the judges stunned. For her performance to be considered for the Judges' Save, she began to sing Deborah Cox's "Nobody's Supposed to Be Here", when Lopez ran on stage and cut her off mid-performance. The three judges declared on stage that they were unanimous in using their one-time "Judges' Save", a veto that was introduced beginning in the eighth season. This made her the first female and the fourth finalist in American Idol history spared from elimination.
For the second week of top 7, Sanchez pleased the judges with her take on Alicia Keys' "Fallin'" and her rendition of Otis Redding's "Try a Little Tenderness".
On "Queen night", Sanchez performed Bohemian Rhapsody. Tyler opined that rock music is not her forte. Lopez agreed that the vocal was beautiful but "needed a bit more of that rock performance". "You hit the high notes, you sounded beautiful," said Jackson but he wanted her to channel a little Tina Turner. Her rendition of Luther Vandross' Dance with My Father earned rave reviews.
After the conclusion of the top 4, Sanchez was the last remaining female contestant in the Idol competition. She had received six unanimous standing ovations for her competitive performances from the judges, four from solo performances, one for group performance, and one for a duet. This made her one of the front-runners in the competition.
On Top 3 Performance, Sanchez sang three songs, "My All" by Mariah Carey (Lopez's choice), "I'll Be There" by The Jackson 5, Iovine's choice, and "I Don't Want to Miss a Thing" by Aerosmith. For "My All", Tyler predicted she would win the competition, "When you sing, you make people hang on your every note. "I hope you get used to encores. And on another crazy note, I think you'll be the last person standing there." For "I'll Be There", Tyler said, "Perfect song, perfect voice, you nailed it, delicious" and Lopez stated "It was perfect for the tone in your voice. You almost sounded like Michael."
Sanchez became the series' first and only Judges' Save recipient to have qualified into the finale. In the Top 2 finale, Sanchez performed three songs including Whitney Houston's "I Have Nothing", which was chosen by Simon Fuller, the show's creator, her second rendition of the season of "The Prayer" and her single "Change Nothing". The judges commented that she won the night on her first song, but she received criticisms of her lacklustre rendition of her single. The following night in the results show, she and Jennifer Holliday sang "And I'm Telling You I'm Not Going" and received a standing ovation from the judges, but finished as runner-up behind season 11 winner Phillip Phillips with world-record 132 million votes cast by viewers.
Performances/results
After American Idol, Sanchez sang "The Star-Spangled Banner," "God Bless America" and "The Prayer" at the PBS' National Memorial Day Concert from the west lawn of the United States Capitol in Washington, D.C. on May 27, 2012. She performed "The Star-Spangled Banner" before the Manny Pacquiao and Timothy Bradley boxing match on June 9, 2012 at the MGM Grand in Las Vegas and also sang the anthem for Game 1 of the 2012 NBA Finals between the Miami Heat and Oklahoma City Thunder. Sanchez performed Marvin Gaye's "You're All I Need to Get By" with God's Appointed People Choir at the 2012 Democratic National Convention in Charlotte, North Carolina.
In 2012, it was announced that Sanchez had signed a record deal with Interscope Records. During the American Idols LIVE! Tour 2012 press junket, she confirmed to interviewers that she was in fact working on her debut album. On August 29 on a tour stop in New York City, Sanchez sang a new song, "Fairytale", from her upcoming album at iHeartRadio.
In October 2012, it was announced that Sanchez would have a recurring role in the fourth season of Glee.
Sanchez released a new music video for the song "Jump In" with The Black Eyed Peas member Apl.de.ap. The music video was shot in September 2012 in the Philippines when she visited Manila for the American Idol Live Tour. The song and video were released in the Philippines on October 20.
Sanchez performed at the 26th Annual Carousel Ball of Hope, City of Hope Spirit of Life Awards Gala, 2012 BAFTA Los Angeles Brittania Awards and the Trevor Live event by the Trevor Project in December.
2013: Me, You and the Music
Sanchez hosted her first solo concert at the Smart Araneta Coliseum in the Philippines on February 14, 2013, where she sang new songs from her album.
On March 22, Sanchez released the lead single from her debut album, "Tonight," featuring singer Ne-Yo which she had premiered the night before on American Idol. She described the single as a "fun, clubby dancy song."
On April 1, 2013, Sanchez sang "The Star-Spangled Banner" for U.S. President Barack Obama at the White House for an Easter egg hunt.
Sanchez released her debut album Me, You & the Music on April 30, 2013. The album debuted at number 26 on the Billboard 200 chart, selling 14,000 copies in the first week.
She appeared on the fourth season finale of Glee on May 9, 2013, playing the role of Frida Romero and performed Zedd's "Clarity" and Little Mix's "Wings" in the episode "All or Nothing."
On May 21, 2013 she performed "Feel This Moment" at the Dancing With the Stars Finale. She reprised "God Bless America" at the National Memorial Day Concert on May 26.
On November 19, 2013, Zedd released his iTunes session EP, and one track "Hourglass" originally featuring LIZ was rerecorded to feature Jessica Sanchez.
Sanchez sang both the American and Philippine national anthems for the Manny Pacquiao vs. Brandon Rios fight in Macau on November 23, 2013. She released the single "Lead Me Home" from "Heartbeat of Home" soundtrack by Riverdance productions also featuring a pan piped ballad "The Night I Danced with You" by her and Jencarlos Canela. She then had a concert at StageIt with the proceeds going to the Filipino citizens that has been affected by Typhoon Haiyan (Yolanda).
2014–2015: YouTube and "This Love"
On March 20, 2014, Sanchez along with Pia Toscano and Allison Iraheta, performed Jennifer Lopez's new single "I Luh Ya Papi" on American Idol. She confirmed that she is writing and recording new music for her sophomore album which she described as a more authentic album. She also said that the genre of tracks are more of "Gritty, RNB, Soul." During a recent interview, Sanchez stated that she is writing songs for other artists and she also recorded a song with apl.de.ap on his next album.
Sanchez also began posting more YouTube videos during this time, most of which are covers of popular songs. One is a mashup of Beyoncé's songs "Drunk in Love" and "Flawless." Sanchez received over five million views for the cover and got the "Best Drunk in Love cover" in a poll by Zimbio. She also covered "Tattooed Heart" and "Problem" both by Ariana Grande.
On November 15, 2014, Sanchez debuted her new single "This Love" on Z100 in Portland. The song was released digitally on November 20 and the music video was released on January 7, 2015.
In May 2015, Sanchez signed a deal with Endemol Beyond USA and will be featured in new original series on their digital networks.
2016–present
In early 2016 Sanchez began collaborating with Leroy Sanchez. They released covers of Beyoncé's "1+1" and Justin Bieber ft. Halsey's "The Feeling." The collaborations has received over one million respective views. On April 7, Sanchez performed Celine Dion and Andrea Bocelli's "The Prayer" on the finale episode of the fifteenth season of American Idol. Her performance was claimed as the "best performance" and "stand out" of the night.
Sanchez is in the process of recording her second studio album. She described her second album to be more "gritty" and "soulful" than her first album. On May 18 Sanchez released the first single "Call Me" from the album.
On July 28, 2016, Sanchez's song "Stronger Together" written by Carole Bayer Sager, Bruce Roberts, and Kenneth "Babyface" Edmonds was played after Hillary Clinton's acceptance speech at the 2016 Democratic National Convention. Sanchez said to Billboard, "With everything that is going on in the world right now, it's important for all of us to come together and stay strong.", in reference to unifying the Democratic Party behind Clinton.
Studio albums
2013: Me, You & the Music
EPs
2012: Jessica Sanchez: Journey to the Finale
2012: American Idol Season 11 Highlights (Jessica Sanchez EP)
2015: Christmas with Jessica
Tours
2012: American Idols LIVE! Tour 2012 (with American Idol season 11 finalists)
2013: Jessica Sanchez Live in Manila (held in Smart Araneta Coliseum)
References
Jessica Sanchez Wikipedia
(Text) CC BY-SA