Jan Dirk Breytenbach DVR SD SM MMM (born 4 July 1933) was appointed by General Fritz Loots, the founder of the South African Special Forces Brigade, as the first commander of 1 Reconnaissance Commando, the first unit founded within the South African Special Forces. He was also appointed as the first commander of the 32 Battalion, known colloquially as "Buffalo Battalion", as well as 44 Parachute Brigade.
Contents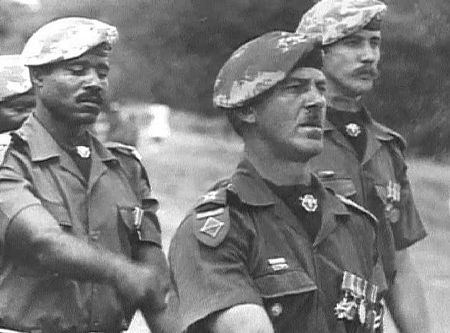 Military career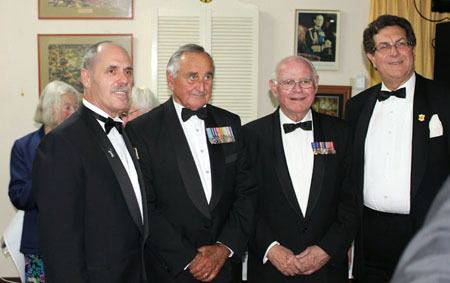 Breytenbach attended the Army Gymnasium in 1950, and was awarded the Sword of Peace in 1953 and joined the Royal Navy Fleet Air Arm after serving in the Armoured Corps and saw service in the Suez Crisis in 1956. He rejoined the South African Defence Force in 1961 and soon after completed one of 1 Parachute Battalion's courses. He founded 1 Reconnaissance Commando in 1971.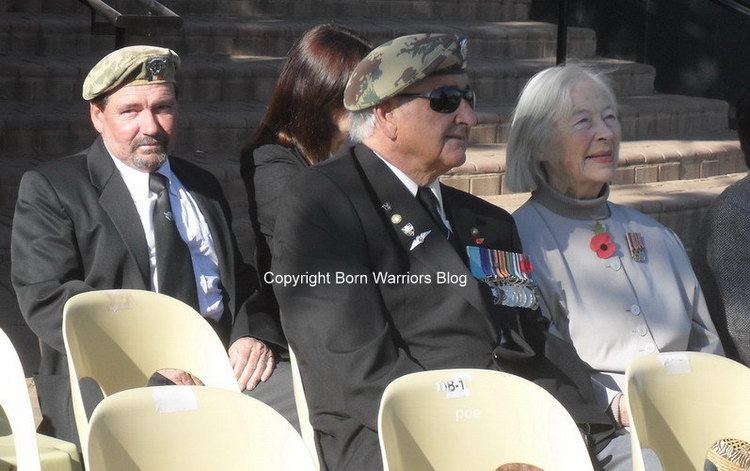 In 1975 Breytenbach lead Operation Savannah, the SADF's covert intervention in the Angolan Civil War. The remnants of this group became the infamous 32 Battalion.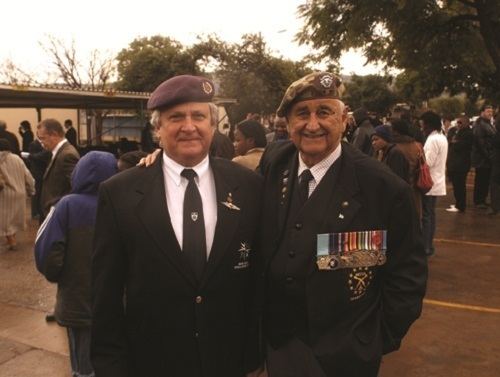 He attended Staff College in 1977 and was promoted to colonel. In 1978, lead the SADF air assault on Cassinga, and has continued to the present day to contest opposing versions of the event in the press.
He became senior staff officer for operations at Northern Transvaal Command and commanded 44 Parachute Brigade from 24 September 1980 to 31 December 1982. He founded the SADF Guerilla school, which he commanded until his retirement.
Breytenbach retired from the military in 1987, and has written a number of books since then. He is the brother of South African poet and writer Breyten Breytenbach and of war correspondent/photographer Cloete Breytenbach. During the 1980s, Breyten and Jan Breytenbach held strongly opposing political viewpoints, so with his brother opting for a more left-wing approach, this influential family effectively covered the political spectrum.
Awards and decorations
Van Riebeeck Decoration (DVR)
Southern Cross Decoration (SD)
Military Merit Medal (MMM)
Pro Patria Medal (with Cunene Clasp)
Good Service Medal, Gold (30 Years)
Good Service Medal, Silver (20 Years)
Good Service Medal, Bronze (10 Years)
Naval General Service Medal (United Kingdom)
Books by Jan Breytenbach
Breytenbach, Jan (1986). Forged in battle. Saayman & Weber. ISBN 0-7971-0025-3.
Breytenbach, Jan (1990). They live by the sword. Lemur. ISBN 0-620-14870-5.
Breytenbach, Jan (1997). Eden's exiles, one soldier's fight for paradise. Queillerie. ISBN 1-874901-24-4.
Breytenbach, Jan (2001). The plunderers. Covos Day. ISBN 1-919874-01-1.
Breytenbach, Jan (2002). The Buffalo Soldiers, the story of South Africa's 32-Battalion, 1975–1993. Galago. ISBN 1-919854-07-X.
Breytenbach, Jan (2008). Eagle Strike: The Story of the controversial airborne assault on Cassinga 1978. Manie Grove Publishing. ISBN 978-0-620-40614-7.
References
Jan Breytenbach Wikipedia
(Text) CC BY-SA