Name

Jamila Massey




Role

Actress





Spouse

Reginald Massey




Education

King's College London





Born

7 January 1934 (age 89) (

1934-01-07

) Simla, Himachal Pradesh, India


Movies and TV shows

Mind Your Language, EastEnders, Chicken Tikka Masala, Great Balls of Fire!, The Long Duel


Similar People

Ricardo Montez, Dino Shafeek, Albert Moses, Zara Nutley, Pik‑Sen Lim
Jamila massey from simla to wales part 1
Jamila Massey (born 7 January 1934) is a British actress and writer. Massey has had a long career on UK television and radio. She is known for playing Auntie Satya in the long-running radio soap The Archers, Jamila Ranjha in Mind Your Language, and Neelam Kapoor in EastEnders.
Contents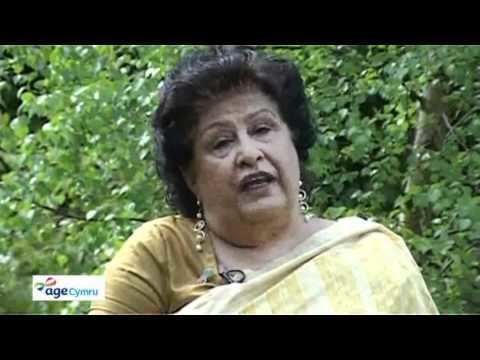 Jamila massey from simla to wales part 2
Early life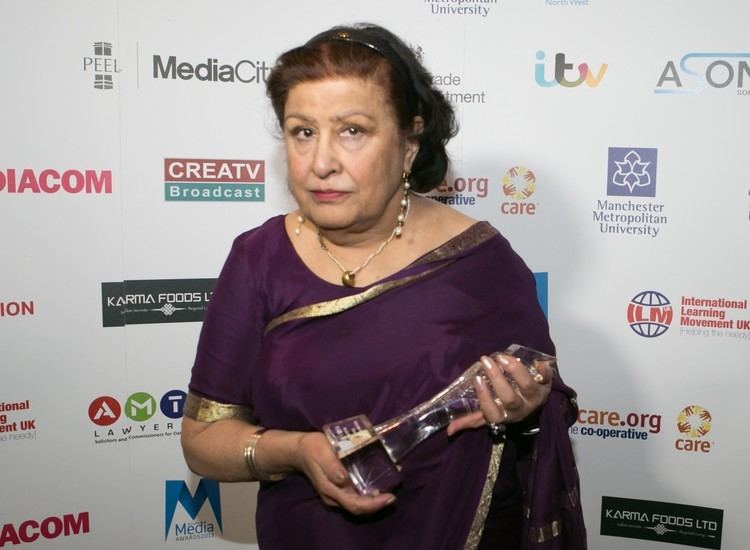 Massey came to Britain with her parents in 1946 at the age of 12. Her father fought in the Second World War, but remained in the UK and became a producer for the BBC.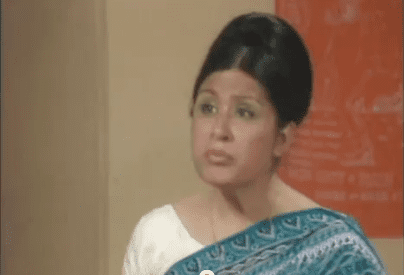 As a child, Massey acted for the BBC in radio children's programmes. She attended King's College London and graduated in Latin, Urdu and English. She had aspirations to train as an actress; however, her mother frowned upon such a career. Massey's mother refused to allow her to attend drama school after the death of her father, so she was forced to use subterfuge to fulfil her acting ambitions.
Career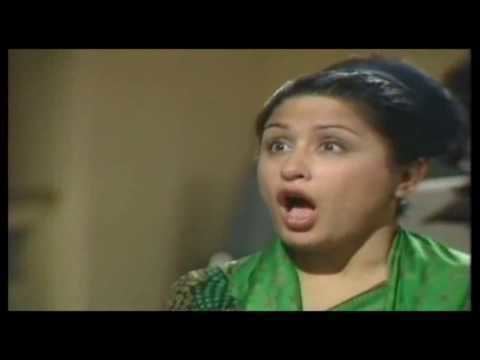 She began her career as an extra. Her first film role was in Sink the Bismarck! (1960), where she was used to translate and report a news section from the film into Urdu — announcing the sinking of the British battleship HMS Hood.
She continued to work extensively on radio in English, Urdu, Hindi and Punjabi as well as for the German service of the BBC. Years later she acted in Tribunal, a ZDF television serial in German, with leading European actors. She joined the Afro-Asian Committee of Equity and continued to work in film and television. Roles for Asian actors were scarce during her early career, but she was given parts in series such as Crossroads (1964); Within These Walls (1976); The Next Man (1976); Z-Cars (1976–1977); Target (1977); Mind Your Language (1977–79); Play for Today (1977, 1978); Empire Road (1979); Angels (1981); Minder (1982); The Jewel in the Crown (1984); The Bill (1984); Albion Market (1985); Chance in a Million (1986); Madame Sousatzka (1988); Great Balls of Fire! (1989); Brookside (1989) playing Manju Batra and Pie in the Sky (1994).
In the mid-1990s she was cast as the recurring character Auntie Satya in Radio 4's daily agricultural soap opera, The Archers, fulfilling one of her life's ambitions. Massey was the second actress to play the role. She had initially been asked to audition for the part, but was forced to turn it down due to work commitments. A year later she was offered the same part when the role was recast. Her character makes occasional appearances to visit her niece, Usha Gupta (Souad Faress).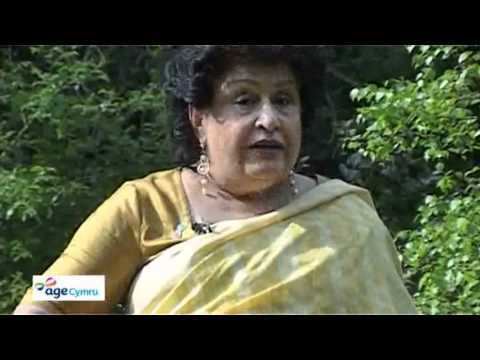 In 1997 she was cast in the popular BBC soap opera EastEnders. She played Neelam Kapoor, the domineering mother of market-trader Sanjay (Deepak Verma) until 1998.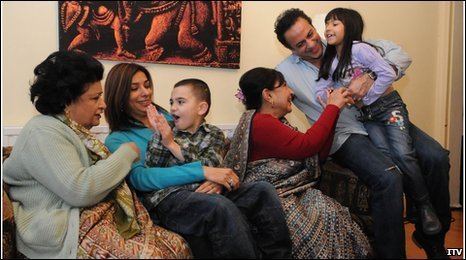 Other acting credits include Arabian Nights (2000); Adrian Mole: The Cappuccino Years (2001); Perfect World (2001); Doctors (2002); All About Me (2003); Chicken Tikka Masala (2005).
Massey's theatre work includes The Great Celestial Cow (Royal Court), Conduct Unbecoming which toured Canada as well as the UK, Song for a Sanctuary (Lyric Hammersmith) and Women of the Dust (Tamasha Theatre and Bristol Old Vic). She also played Kasturba in Mahatma versus Gandhi in the BBC Home and World Services and Harvey Virdi in Calcutta Kosher, a play on the Indian Jewish Community of Kolkata.
As well as acting, Massey has also co-authored several books with her husband, writer Reginald Massey. One was a novel, The Immigrants, based on field research among first-generation Asians in Britain. The other books were The Music of India, for which Ravi Shankar provided a foreword, and The Dances of India. Massey is deeply interested and involved in music; she has introduced several Indian musicians and dancers to audiences in the West.
Massey appeared in Coronation Street in February 2010 as one of Sunita's aunts.
Personal life
Massey and her husband, the author and poet Reginald Massey, live in Llanidloes, Wales.
Writings
The Music of India. London: Kahn & Averill. 1993. ISBN 1-871-08250-1.
Filmography
Actress
2013
Stella (TV Series)
as
Nina
- Episode #2.6 (2013) - Nina
2010
Coronation Street (TV Series)
as
Upma
2008
A Distant Mirage
as
Auntie
2006
ChuckleVision (TV Series)
as
Mrs Bradstock
- Caterpillar Crisis (2006) - Mrs Bradstock
2005
Chicken Tikka Masala
as
Asha Chopra
2004
King of Bollywood
as
Kokila
2003
All About Me (TV Series)
as
Aunty Jaspreet
- What's in a Name? (2003) - Aunty Jaspreet (as Jamilla Massey)
2002
Doctors (TV Series)
as
Razia Malik
- Cast the First Stone (2002) - Razia Malik
2001
Perfect World (TV Series)
as
Maggie's Mother
- Family Values (2001) - Maggie's Mother
2001
Adrian Mole: The Cappuccino Years (TV Mini Series)
as
Mrs. Parvez
- Episode #1.6 (2001) - Mrs. Parvez
- Episode #1.4 (2001) - Mrs. Parvez
- Episode #1.3 (2001) - Mrs. Parvez
2000
Arabian Nights (TV Mini Series)
as
Safil
- Episode #1.2 (2000) - Safil
- Episode #1.1 (2000) - Safil
1997
EastEnders (TV Series)
as
Neelam
1996
Casualty (TV Series)
as
Priya Kaash
- Vital Signs (1996) - Priya Kaash
1996
The Archers (Podcast Series)
as
Satya Khanna
- Episode #1.11855 (1996) - Satya Khanna
- Episode #1.11854 (1996) - Satya Khanna
1994
Pie in the Sky (TV Series)
as
Fazia Patel
- Undesirable Elements (1994) - Fazia Patel
1993
The Good Guys (TV Series)
as
Mrs. Bhullar
- All for Love (1993) - Mrs. Bhullar
1984
The Bill (TV Series)
as
Mrs. Patel / Mrs. Ghosh / Carrie
- Punching Judy (1992) - Mrs. Patel
- Skeletons (1991) - Mrs. Ghosh
- A Friend in Need (1984) - Carrie
1991
Family Pride (TV Series)
as
Mrs. BB
1991
A Nice Arrangement (Short)
1989
Great Balls of Fire!
as
Bystander
1988
Madame Sousatzka
as
Mrs. Ahuja
1986
Chance in a Million (TV Series)
as
Meera
- Good-bye Mr Henstridge (1986) - Meera
1986
Langley Bottom (TV Series)
as
Mrs. Patel
- Spiritually Speaking (1986) - Mrs. Patel
- Play for Today (1986) - Mrs. Patel
- Safari Supper (1986) - Mrs. Patel
- American as Apple Pie (1986) - Mrs. Patel
- Marriage Misguidance (1986) - Mrs. Patel
- We've Started So We'll Finish (1986) - Mrs. Patel
- PC Blues (1986) - Mrs. Patel
1985
Christmas Present
as
Mrs. Mehrban
1985
Albion Market (TV Series)
as
Susha Sharma
1984
The Jewel in the Crown (TV Mini Series)
as
Maharani
- An Evening at the Maharanee's (1984) - Maharani
1982
Father Charlie (TV Series)
as
Sister Lucy
- Better the Devil You Know (1982) - Sister Lucy
- For What We Are About to Receive (1982) - Sister Lucy
- Halfway to Heaven (1982) - Sister Lucy
- Miracles Take a Little Longer (1982) - Sister Lucy
- TV or Not TV (1982) - Sister Lucy
- The New Chaplain (1982) - Sister Lucy
1982
Minder (TV Series)
as
Juror
- Poetic Justice, Innit? (1982) - Juror
1981
Angels (TV Series)
as
Uma Sharma
- Episode #7.25 (1981) - Uma Sharma
- Episode #7.23 (1981) - Uma Sharma
1981
Sorry I'm a Stranger Here Myself (TV Series)
as
Tehmina
- Dress Optional (1981) - Tehmina
1981
Together (TV Series)
as
Dr. Prati Chaudhuri
- Episode #2.16 (1981) - Dr. Prati Chaudhuri
- Episode #2.12 (1981) - Dr. Prati Chaudhuri
1977
Mind Your Language (TV Series)
as
Jamila Ranjha
- What a Tangled Web (1979) - Jamila Ranjha
- The School Fete (1979) - Jamila Ranjha
- Repent at Leisure (1979) - Jamila Ranjha
- Guilty or Not Guilty (1979) - Jamila Ranjha
- Just the Job (1979) - Jamila Ranjha
- No Flowers by Request (1979) - Jamila Ranjha
- Who Loves Ya Baby? (1979) - Jamila Ranjha
- I Belong to Glasgow (1979) - Jamila Ranjha
- After Three (1978) - Jamila Ranjha
- Take Your Partners (1978) - Jamila Ranjha
- A Hard Day's Night (1978) - Jamila Ranjha
- Don't Forget the Driver (1978) - Jamila Ranjha
- Many Happy Returns (1978) - Jamila Ranjha
- Brief Re-Encounter (1978) - Jamila Ranjha
- Queen for a Day (1978) - Jamila Ranjha
- All Present If Not Correct (1978) - Jamila Ranjha
- The Examination (1978) - Jamila Ranjha
- How's Your Father (1978) - Jamila Ranjha
- A Point of Honour (1978) - Jamila Ranjha
- Hello Sailor (1978) - Jamila Ranjha
- Kill or Cure (1978) - Jamila Ranjha
- Better to Have Loved and Lost (1978) - Jamila Ranjha
- The Cheating Game (1978) - Jamila Ranjha
- Come Back All Is Forgiven (1978) - Jamila Ranjha
- The Best Things in Life (1978) - Jamila Ranjha
- All Through the Night (1978) - Jamila Ranjha
- A Fate Worse Than Death (1978) - Jamila Ranjha
- An Inspector Calls (1978) - Jamila Ranjha
- The First Lesson (1977) - Jamila Ranjha
1979
Empire Road (TV Series)
as
Geeta
- Wedding (1979) - Geeta
- Mongrels (1979) - Geeta
1977
Play for Today (TV Series)
as
Dr. Bannerjee / Sister Kapoor
- Victims of Apartheid (1978) - Dr. Bannerjee
- Our Flesh and Blood (1977) - Sister Kapoor
1978
Television Club (TV Series)
as
Farida Bashir
- A School in Time: What's in a Name? (1978) - Farida Bashir
1975
The Rag Trade (TV Series)
as
Shana
- The New Brother (1977) - Shana
- Unaired Pilot Episode (1975) - Shana
1977
Target (TV Series)
as
Mrs. Khan
- Set Up (1977) - Mrs. Khan
1977
Crossroads (TV Series)
as
Mrs. Chaudri
- Episode #1.2818 (1977) - Mrs. Chaudri
- Episode #1.2816 (1977) - Mrs. Chaudri
- Episode #1.2815 (1977) - Mrs. Chaudri
1976
Z Cars (TV Series)
as
Dr. Ranjit / Interpreter
- Rage (1977) - Dr. Ranjit
- Scot Free (1976) - Interpreter
1976
The Next Man
as
Wife of Ibn Sidki
1976
Within These Walls (TV Series)
as
Farida
- A Sentence of Death (1976) - Farida
1975
The Dick Emery Show (TV Series)
- Christmas Special (1975)
1975
Conduct Unbecoming
as
Servant
1975
That Lucky Touch
as
Ambassador's wife (uncredited)
1975
Churchill's People (TV Series)
as
Bahu Begum
- Mother India (1975) - Bahu Begum
1975
Six Days of Justice (TV Series)
as
Mrs. Beatty
- Belonging (1975) - Mrs. Beatty
1973
A Touch of Eastern Promise (TV Movie)
as
Shalini
1969
Strange Report (TV Series)
as
Nurse
- Report 3424: Epidemic - A Most Curious Crime (1969) - Nurse (uncredited)
1968
Frontier (TV Series)
as
Ayah
- Duel of Honour (1968) - Ayah
1967
Theatre 625 (TV Series)
as
Relative
- 55 Columns (1967) - Relative
1967
The Long Duel
as
Dancing Girl
Self
1988
The Media Show (TV Series documentary)
as
Self
- Episode #3.4 (1988) - Self
1978
The World About Us (TV Series documentary)
as
Self - Narrator
- The Magical Indian Roadshow (1978) - Self - Narrator (voice)
Archive Footage
1983
Minder (TV Series)
as
Appearance by
- Minder's Christmas Bonus (1983) - Appearance by
References
Jamila Massey Wikipedia
(Text) CC BY-SA