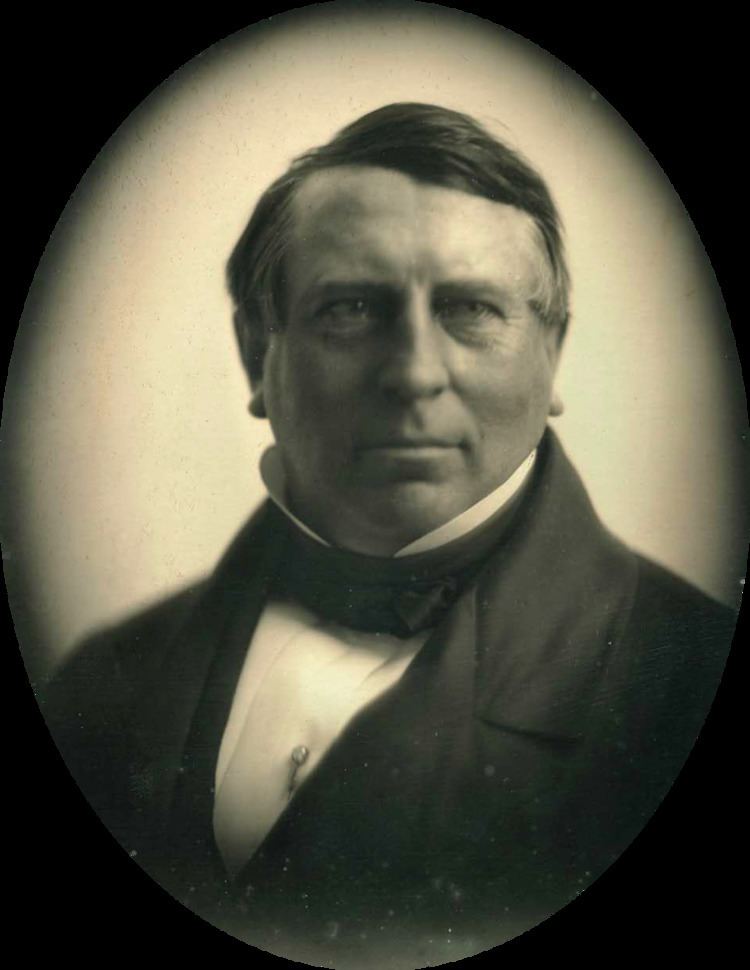 James de Rothschild was born in Frankfurt-am-Main, then part of the Holy Roman Empire. He was the fifth son and youngest child of Mayer Amschel Rothschild (1744–1812) and Guttle Schnapper (1753–1849). Mayer sent each of his five sons to a prominent European commercial centre in order to found branches of the family banking empire; de Rothschild therefore moved to Paris in 1811 and in 1817 expanded the family banking empire to the city, opening De Rothschild Frères.
An advisor to two kings of France, he became the most powerful banker in the country and following the Napoleonic Wars, played a major role in financing the construction of railroads and the mining business that helped make France an industrial power. Along the way, he added to his fortune with investments in such things as the importation of tea and the wine industry. A strong-willed and shrewd businessman, de Rothschild amassed a fortune that made him one of the richest men in the world. Although his papers have never been disclosed, evidence suggests that in today's money, de Rothschild's personal fortune (not including the wealth of his other family members) must have been at least five times the fortune accumulated by Bill Gates.
In 1822 de Rothschild, along with his four brothers, was bestowed the hereditary title of "Freiherr" (Baron) by Emperor Francis I of Austria. That same year he was appointed consul-general of the Austrian Empire and in 1823 was awarded the French Legion of Honour.
On 11 July 1824, in Frankfurt, Germany, de Rothschild married his niece Betty Salomon von Rothschild (1805–1886), the daughter of his brother, Salomon Mayer von Rothschild (1774–1855). They had the following children:
Charlotte (1825–99); married Nathaniel de Rothschild
Mayer Alphonse (1827–1905)
Gustave Samuel (1829–1911)
Salomon James (1835–64)
Edmond Benjamin (1845–1934)
King Louis XVIII refused to receive de Rothschild's Jewish wife at court because she was not Christian. Thereafter Rothschild refused to do business with the king.
Following the July 1830 Revolution that saw King Louis Philippe come to power, de Rothschild put together a loan package to stabilize the finances of the new government, and in 1834 a second loan. In gratitude for his services to the French nation, Louis Philippe elevated him to the dignity of Grand Officer of the Legion of Honour.
In 1817 de Rothschild purchased Château Rothschild in Boulogne-Billancourt, where his children were born and reared. In 1838 he purchased from Charles Maurice de Talleyrand a large residence in Paris, at 2 rue Saint-Florentin on the Place de la Concorde. It remained in the family until 1950, when it was sold to the United States government; today it serves as the consular section of the American Embassy.
De Rothschild and his sophisticated Viennese wife were at the center of Parisian culture. The chef for their lavish receptions was Antonin Carême. They patronized major personalities in the arts, including Gioacchino Rossini, Frédéric Chopin, Honoré de Balzac, Eugène Delacroix, and Heinrich Heine. As an acknowledgment of the many years of patronage extended by Baron James and his wife Betty, in 1847 Chopin dedicated his Valse Op. 64, N° 2 in C sharp minor to their daughter Charlotte. In 1848 Jean Auguste Dominique Ingres painted Betty de Rothschild's portrait.
In February 1848, King Louis Philippe was dethroned, to the temporary alarm of his friend de Rothschild. Banking competitor Achille Fould was a friend of the new President of the French Republic, Napoleon III, and for a time it appeared the Rothschilds might lose government patronage and influence. However, despite some difficulties, the family business survived and prospered under the new regime.
In 1854 de Rothschild commissioned the famous architect Joseph Paxton to build the Château de Ferrières in Ferrières-en-Brie, some 35 kilometres (22 mi) east of Paris. The property remained the home of his inheriting male descendants until 1975, when Guy de Rothschild gave it to the University of Paris.
In addition to his banking business, in 1868 de Rothschild purchased Château Lafite, one of France's most outstanding vineyards. Located in the Bordeaux region, it is a business that remains in the family to this day.
Beyond his business activities, de Rothschild made the first significant acquisitions for what became the French family's massive art collections. His art included Vermeer's 1668 work The Astronomer. According to the painting's provenance, it was seized by the Nazis in 1940 but after World War II the painting was returned to the family. In 1983, in lieu of payment of inheritance taxes, the painting was given to France and has been displayed by the Louvre since that time.
De Rothschild also used his enormous wealth for philanthropic works and became a leader of the French Jewish community. His contributions to France, along with those of his offspring, can be found in many fields, including medicine and the arts.
Baron James de Rothschild died in 1868, just three months after purchasing the Chateau Lafite vineyard. As Nathaniel de Rothschild reported, on his funeral, 4,000 guests, including Kings, waited in his drawing rooms, while another 6,000 guests waited in the courtyard. The streets of Paris, from the Rue Laffitte across to Père Lachaise Cemetery, were lined with unknown thousands of citizens, who paid tribute to the banker. De Rothschild had remained active in business throughout his life, expanding his railways, industries, factories, shipping, and mining interests so successfully that by the time of his death, the capital of the Paris house perhaps even exceeded some of his other prominent family members, such as the Naples branch.
Sons Alphonse and Gustave took the reins of a vast French business empire, whose industrial interests spread as far afield as Africa and the South Sea Islands.