Governor

Steve Beshear




Succeeded by

Bart Rowland




Party

Republican Party




Preceded by

Billy Polston




Role

Politician




Name

James Comer




Preceded by

Richie Farmer




Political party

Republican







Born

August 19, 1972 (age 43) Tompkinsville, Kentucky, United States (

1972-08-19

)


Education

Western Kentucky University




Succeeded by

Ryan Quarles (Elect)



Matt talks with congressman james comer about congress
James R. Comer Jr. (born August 19, 1972) is an American politician from the Commonwealth of Kentucky who currently represents the state's 1st congressional district in the United States House of Representatives. He previously served as the Agriculture Commissioner of Kentucky from 2012 to 2016 and in the Kentucky House of Representatives from 2000 to 2012.
Contents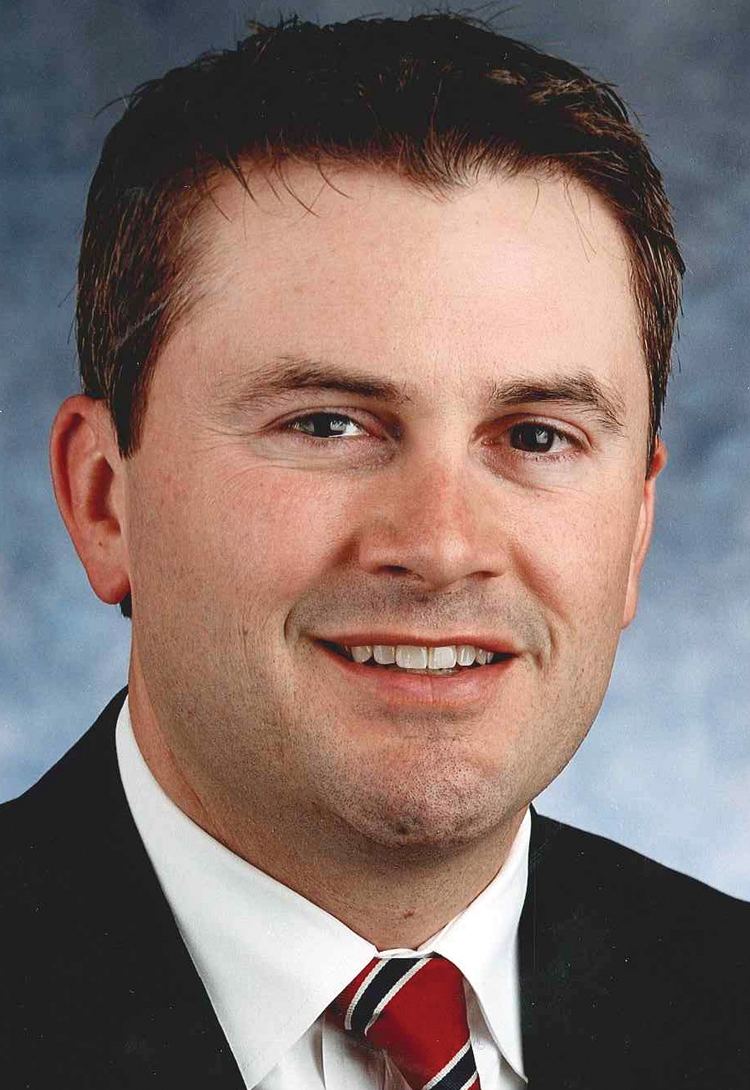 Comer sought the Republican nomination for Governor of Kentucky in the 2015 election. After losing, he successfully sought the Republican nomination for Kentucky's 1st congressional district to succeed fellow Republican Ed Whitfield. On November 8, 2016, Comer won both a full term to the seat for the next Congress and also a special election which allowed him to serve the remainder of Whitfield's term.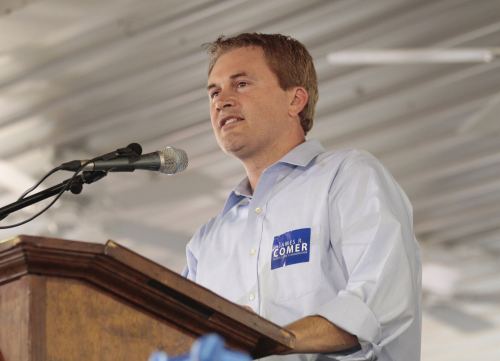 Early life and education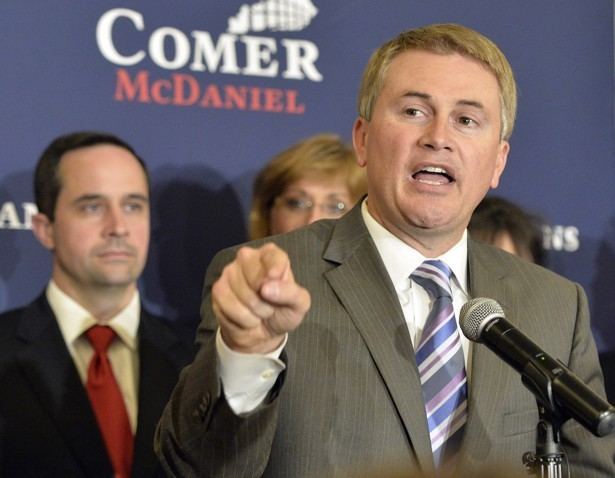 Comer is a native of Tompkinsville, Kentucky. He received a bachelor's degree in agriculture from Western Kentucky University in 1993. In college, he served as President of the Kentucky Future Farmers of America. After college, he started James Comer, Jr. Farms, a 2,300 acres (950 ha) farm with his family, and he is also co-owner of Comer Land & Cattle Co. He also served as a director of the South Central Bank for twelve years. He served as President of the Monroe County Chamber of Commerce from 1999 to 2000.
Kentucky House of Representatives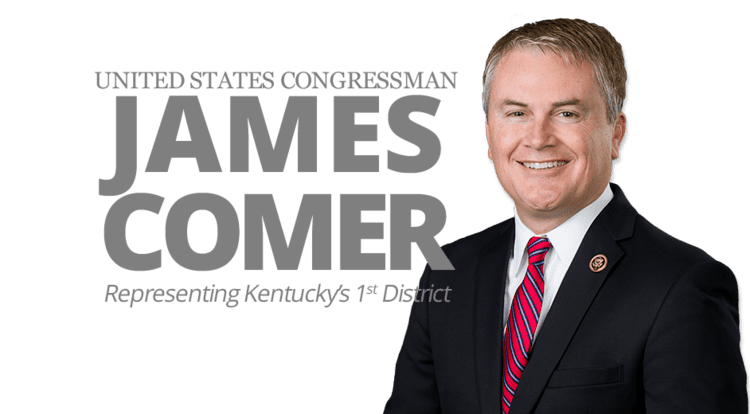 In 2000 Comer was elected to the Kentucky House of Representatives at the age of 27.
Kentucky Commissioner of Agriculture
In 2011, Comer ran for the position of Agriculture Commissioner; the incumbent, Richie Farmer, was term limited. In the election, Comer was the only Republican to win election to a statewide executive office, and worked with a team of Democratic officials and under a Democratic Governor. Comer had the highest percentage of the vote of any candidate on the ballot. He raised $606,766 while his opponent raised $204,287. He took office on January 2012 and one of his first actions in office was teaming up with Democratic Auditor Adam Edelen to investigate his Republican predecessor's ethical issues while in office.
That year Comer became the chairman of the Kentucky Industrial Hemp Commission, and shortly after taking office, Comer labeled the legalization of industrialized hemp as his top priority, and was "instrumental in getting the hemp industry up and running," including the founding of several pilot programs in an effort to restart the industrial hemp industry of Kentucky. His efforts also included filing suit against the DEA, which resulted in the DEA allowing hemp seeds to be delivered to farmers in Kentucky for the first new crops. Between 2014 and 2015 the hemp crops of Kentucky grew from 33 to 1700 acres. Comer also advocated for national hemp deregulation in Washington DC.
Comer also founded the Kentucky Proud Farm to Campus program, and created a mobile science centers program for primary and secondary school students to learn about agricultural sciences.
2015 gubernatorial election
On August 2, 2014, during the annual Fancy Farm picnic, Comer announced he would seek the Republican nomination for Governor of Kentucky in the 2015 election. His running mate is State Senator Christian McDaniel. Comer was 83 votes behind businessman Matt Bevin in the May 19, 2015 primary election. The Associated Press, referring to the race a "virtual tie", did not call the race in favor of either candidate. In addition, Comer had refused to concede and stated that he would ask for a recanvass. The request for recanvass was filed with the Kentucky Secretary of State's office on May 20, 2015 with Secretary of State Alison Lundergan Grimes ordering the recanvass to occur at 9:00 a.m. local time on Thursday, May 28, 2015. Upon completion of the recanvass, Grimes announced that Bevin remained 83 votes ahead of Comer. Grimes also stated that should Comer want a full recount, it would require a court order from the Franklin Circuit Court. On May 29, Comer announced he would not request a recount and conceded the nomination to Bevin.
United States House of Representatives
In 2016 Comer entered the Republican primary election for the first congressional district of Kentucky against two other competitors. Prior to the primary, he was endorsed by both the National Rifle Association and the US Chamber of Commerce. In the end he won the primary with 60.6% of the vote. Comer was elected to the United States House of Representatives in Kentucky's District 1 with 72.6% of the vote, defeating his Democratic opponent Samuel L. Gaskins. Voters voted separately both for who would fill the unexpired seat of predecessor Ed Whitfield from the date of the election forward, as well as who would fill the seat for the upcoming 2017-19 term, and Comer won both elections.
During the first few months of his tenure, Comer held several town hall meetings, where he discussed the Congress's early platform. He also partnered with Murray State University to form the Congressman James Comer Congressional Agriculture Fellowship program, and has advocated for the reform of agricultural legislation. He has also criticized the regulatory policies of Barack Obama, and supported the early domestic policies and actions of Donald Trump. Comer is a social conservative on "same-sex marriage and abortion". In terms of foreign policy, Comer believes that the trade embargo on Cuba should be lifted.
Personal life
Comer is married to Tamara Jo "TJ" Comer and has three children, one boy and two girls. He is a Member of First Baptist Church of Tompkinsville, but has attended Forks of the Elkhorn Baptist Church since his election to the office of Agriculture Commissioner. On May 5, 2015, he was accused of physical and mental abuse by Marilyn Thomas, a woman he dated while attending Western Kentucky University. According to Atlantic Magazine, Comer has stated that he believes the accusation was a political stunt in order to hinder his gubernatorial campaign. During the campaign, the eventual winner Matt Bevin stated he agreed with Comer's assessment.
References
James Comer (politician) Wikipedia
(Text) CC BY-SA