Covid-19
James Shyr







James C. Shyr (石志傑/杰) is an automotive designer/executive best known for his Buick design work with General Motors Corporation in China.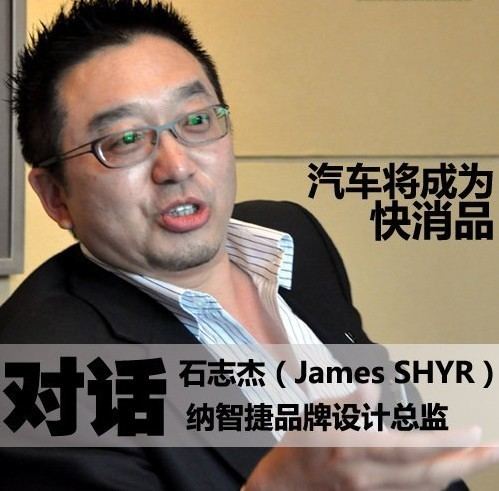 In 2008, he was appointed the first-ever Senior Vice President of HAITEC Design Center, a subsidiary of Taiwan's Yulon Group. At HAITEC ,he is responsible for the complete vehicles design and execution worldwide under the Luxgen brand, for Yulon Group.
Born in Tokyo, Japan, where his father Richard Jung Hsien Shyr was earning his doctoral degree at the University of Tokyo, the young Shyr developed an early interest in automobiles from being driven in family cars and the thriving Japanese automotive environment at the time. Shyr later moved to Taiwan with his family and attended elementary school and junior high school there.
The family moved to the United States in 1977, where Shyr attended San Gorgonio High School in San Bernardino, California. Upon graduation, he enrolled in several colleges in an attempt to get into the automotive industry. In 1987, at the advice of his high school drafting teacher, Mr. Uhl and his friend, Robert Gibson, Shyr enrolled at the Art Center College of Design in Pasadena, California, graduating in 1991 with a Bachelor of Science degree in Transportation Design.
Shyr began his career with an internship at Automobile Citroen in Velizy, France, where he was offered a designer position from Arthur Blakeslee of Centre de Style. Later, he moved back to the United States, for a stint with Toyota Industrial Design.
In 1993, he worked for Yulon-Nissan Motor in Taiwan and designed the ASEAN (Association of South-East Asia Nations) regional versions of various Nissan vehicles. In 1998, he became the Design Director of Yulon-Nissan's YATC Design Center. In 2000, he was elected into the Nissan Design Strategy Board, representing the ASEAN in Nissan Global Design In 2001 from Warren, Michigan, General Motors Corporation (GM) Global Design Center, Shyr was appointed and expatriated as the Director of Design at GM China-PATAC Design Center to Shanghai, China, under GM Asia Pacific Operations,. where he was solely and directly responsible for all designs of General Motors vehicles branded under Buick, Chevrolet, and Cadillac within the Greater China Region. Shyr's directorship influenced all GM vehicles from 2002 to 2011 model years mainly in China, although some were for North America, and other parts of the world, with a total of more than 5 million cars on the road today. During 2003 to 2007, Shyr was also one of the seven key members of GM's Global Design Leadership Team (GDLT), the highest design decision committee worldwide within General Motors Corporation. As the longest serving Director of Design in the history of GM China-PATAC Design Center to date (from 2001 to 2007, during the GM's up-starting years in China), Shyr played a key role in laying down the product and design capability foundations that GM is enjoying today in China, the world's largest automotive market and one of the most important overseas revenue sources for General Motors worldwide.
Luxgen U5, 2017 model year
Luxgen S3, 2016 model year
Luxgen V7, 2016 model year
Luxgen U6 Turbo, 2014 model year and subsequent refreshes
Luxgen U7 Turbo, 2013 model year and subsequent refreshes
Luxgen S5 Sedan, 2012 model year and subsequent refreshes
Luxgen M7/CEO Master, 2011 model year, and subsequent refreshes
Buick GL8, 2011 model year
Buick Excelle GT / Buick Verano (US), 2010, 2011 model year
Buick LaCrosse, 2010 model year
Buick Park Avenue, 2007 model year
Buick LaCrosse, 2007 model year
Buick GL-8 Firstland, 2005 model year
Cadillac SLS, 2007 model year
Chevrolet Sail, 2010 model year
Chevrolet/Wuling N200/Hongtu, 2006 model year
Chevrolet Sail, 2005 model year
Luxgen S3 EV+ (2016 Beijing Auto Show)
Luxgen Neora (2011 Shanghai Auto Show)
Buick Riviera (2007 Shanghai Auto Show, 2008 Detroit and Chicago Auto Show)
GM-PATAC ALA.s (2005 Shanghai Auto Show)
GM-PATAC Kun Peng (2003 Shanghai and Detroit Auto Show Michelin Challenge
Shyr is now married to Vicky Chuan-Chuan Wu. He has two sons, from his previous marriage, Michael Wong (born 1983) and Alexander Shyr (born 1988).
James C. Shyr Wikipedia