General James Blair VC CB (27 January 1828 – 18 January 1905) was a Scottish recipient of the Victoria Cross, the highest and most prestigious award for gallantry in the face of the enemy that can be awarded to British and Commonwealth forces.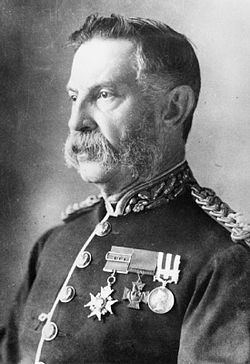 He was 29 years old, and a captain in the 2nd Bombay Light Cavalry, Bombay Army during the Indian Mutiny when the following deeds took place for which he was awarded the VC.
For having on two occasions distinguished himself by his gallant and daring conduct.
1. On the night of the 12th of August, 1857, at Neemuch, in volunteering to apprehend 7 or 8 armed mutineers who had shut themselves up for defence in a house, the door of which he burst open. He then rushed in among them and forced them to escape through the roof; in this encounter, he was severely wounded. In spite of his wounds he pursued the fugitives, but was unable to come up with them, in consequence of the darkness of the night.
2. On the 23rd of October, 1857, at Jeerum, in fighting his way most gallantly through a Body of rebels who had literally surrounded him. After breaking the end of his sword on one of their heads, and receiving a severe sword cut on his fight arm, he rejoined his troop. In this wounded condition, and with no other weapon than the hilt of his broken sword, he put himself at the head of his men, charged the rebels most effectually, and dispersed them.
He later achieved the rank of General and was Resident at Aden 1882-85. He was the cousin of Captain Robert Blair VC.