Allegiance

United Kingdom




Role

Military officer




Years of service

1896–1926





Rank

Brigadier General




Service/branch

British Army




Name

George Grogan




Awards

Victoria Cross






Commands held

23rd Brigade 238th Infantry Brigade 5th Brigade




Battles/wars

First World War Russian Civil War




Relations

Admiral Sir William King-Hall (grandfather)




Died

January 3, 1962, Sunningdale, United Kingdom




Battles and wars

World War I, Russian Civil War




Similar People

Robert Henry Cain, Raphael Zengel, Walter Norris Congreve, James Carne, Eugene Esmonde




Education

United Services College



Brigadier General George William St George Grogan VC, CB, CMG, DSO & Bar (1 September 1875 – 3 January 1962) was a career officer in the British Army and a recipient of the Victoria Cross, the highest award for gallantry in the face of the enemy that can be awarded to British and Commonwealth forces.
Contents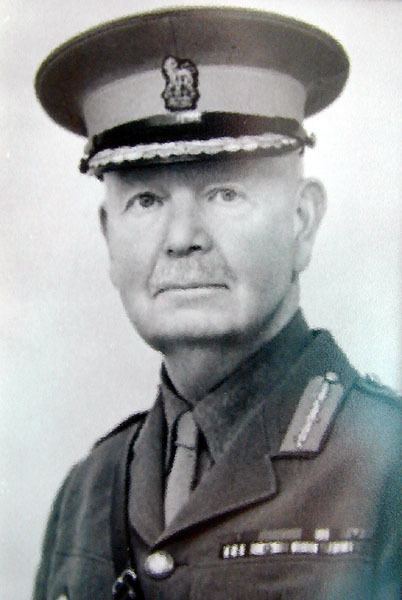 VC award
Grogan was 42 years old, and a temporary brigadier general in the Worcestershire Regiment commanding the 23rd Infantry Brigade, 8th Division during the First World War Third Battle of the Aisne, and was awarded the VC for the following events on 27–29 May 1918.
For most conspicuous bravery and leadership throughout three days of intense fighting. Brigadier-General Grogan was, except for a few hours, in command of the remnants of the Infantry of a Division and various attached troops. His action during the whole of the battle can only be described as magnificent. The utter disregard for his personal safety, combined with the sound practical ability which he displayed, materially helped to stay the onward thrust of the enemy masses. Throughout the third day of operations, a most critical day, he spent his time under artillery, trench mortar, rifle and machine-gun fire, riding up and down the front line encouraging his troops, reorganising those who had fallen into disorder, leading back into the line those who were beginning to retire, and setting such a wonderful example that he inspired with his enthusiasm not only his own men but also the Allied troops who were alongside. As a result the line held and repeated enemy attacks were repulsed. He had one horse shot under him, but nevertheless continued on foot to encourage his men until another horse was brought. He displayed throughout the highest valour, powers of command and leadership.
DSO citations
In 1917, during the Battle of Passchendaele:
For conspicuous gallantry and devotion to duty when in command of his battalion. He visited the captured trenches during the action and gave instructions regarding dispositions and consolidation. He kept the brigade informed of the situation and his reports were of great value. The spirit of his battalion owes much to his personal courage and cheerfulness.
On 27 March 1918, defending at Rosières during the Operation Michael German offensive:
For conspicuous gallantry and devotion during a long period of active operations. On one occasion, when in command of the left division, it was mainly due to his personal efforts that the line was maintained and extended when troops of the left were withdrawn. Whenever the position became critical he went forward himself to restore the situation, and his splendid example of courage and endurance greatly inspired all ranks.
Career
Educated at Haileybury and Imperial Service College and the Royal Military College, Sandhurst, Grogan was commissioned into the West India Regiment serving in Sierra Leone in the Hut Tax War of 1898. Promoted to captain on 5 November 1900, he was seconded for service with the Egyptian Army in May 1902, and stayed there for five years. In 1907 he joined the Yorkshire Light Infantry, moving to the Worcestershire Regiment in 1908.
Promoted to major on 28 September 1914, he joined the 2nd Battalion, 2nd Division, of the BEF. Wounded in January 1915, after the Battle of Neuve Chapelle he took command of the 1st Battalion as temporary lieutenant colonel. On 1 January 1916 he was created a Companion of the Order of St Michael and St George (CMG) and was mentioned in despatches. After fighting in the Battle of the Somme in 1916 he was awarded his first DSO in March 1917 and was appointed to command the 23rd Brigade, 8th division, from April 1917 as temporary brigadier-general. In the retreat during Operation Michael in March 1918 his efforts resulted in a bar to his DSO, and during the Third Battle of the Aisne he won his VC for inspiring the defence of a hill above the River Vesle at Jonchery during 27–29 May 1918.
In 1919 he was sent with 1st Brigade of the "Relief Force Russia" under Lord Rawlinson to evacuate the North Russia Intervention forces. On 3 June 1919 he was made a Companion of the Most Honourable Order of the Bath (CB). In October 1923 he reached the substantive rank of colonel, commanding the 5th Infantry Brigade in the 2nd Division.
He served as an A.D.C. (equerry) to King George V from 1920 to 1926, and retired as an honorary brigadier-general in 1926. In 1933–45 he was appointed one of His Majesty's Bodyguard of the Honourable Corps of Gentlemen at Arms. He was honorary colonel of the Worcestershire Regiment from 1938 to 1945.
Family
Grogan was the son of Colonel Edward George Grogan CB CBE, who commanded the 1st Battalion Black Watch in the Second Boer War, and his wife Meta, only daughter of Admiral Sir William King-Hall. His grandfather was Captain George Grogan of Sutton, County Dublin, a captain in the 6th Dragoon Guards.
On 22 January 1920 Grogan married Ethel G Elger, eldest daughter of John Elger the Younger, at Holy Trinity Church, Chelsea, London. They had two sons: Gwyn, born 7 August 1921, and Edward, born 27 June 1924.
References
George Grogan Wikipedia
(Text) CC BY-SA