Predecessor

Bahadur Shah I


Name

Jahandar Shah




Successor

Farrukhsiyar


Grandchildren

Shah Alam II


Burial

Humayun's Tomb


Role

Mughal Emperor


Parents

Nizam Bai, Bahadur Shah I






Reign

27 February 1712 – 11 February 1713




Coronation

29 March 1712 at Lahore


Born

9 May 1661Deccan, Mughal Empire (

1661-05-09

)


Spouse

Saidat-un-Nisa BegumImtiaz Mahal BegumAnup Bai




Issue

Muhammad Azhar-ud-Din BahadurA'az-ud-Din Wali Ahd BahadurMuhammad Aziz-ud-Din Bahadur Alamgir IIIzz-ud-Din BahadurSaid-un-Nisa BegumIffat Ara BegumRabi Begum




Died

February 12, 1713, Delhi, New Delhi


Children

Alamgir II, Said-un-Nisa Begum




Similar People

Bahadur Shah I, Farrukhsiyar, Alamgir II, Shah Alam II, Aurangzeb
Jahandar Shah the 8th Mughal emperor
History of Jahandar Shah Mughal Emperor Podcast
Jahandar Shah (10 May 1661 – 12 February 1713) was a Mughal Emperor who ruled for a brief period in 1712–1713, "a worthless debauch, became emperor after liquidating his three brothers." His title was Shahanshah-i-Ghazi Abu'l Fath Mu'izz-ud-Din Muhammad Jahandar Shah Sahib-i-Quran Padshah-i-Jahan (Khuld Aramgah).
Contents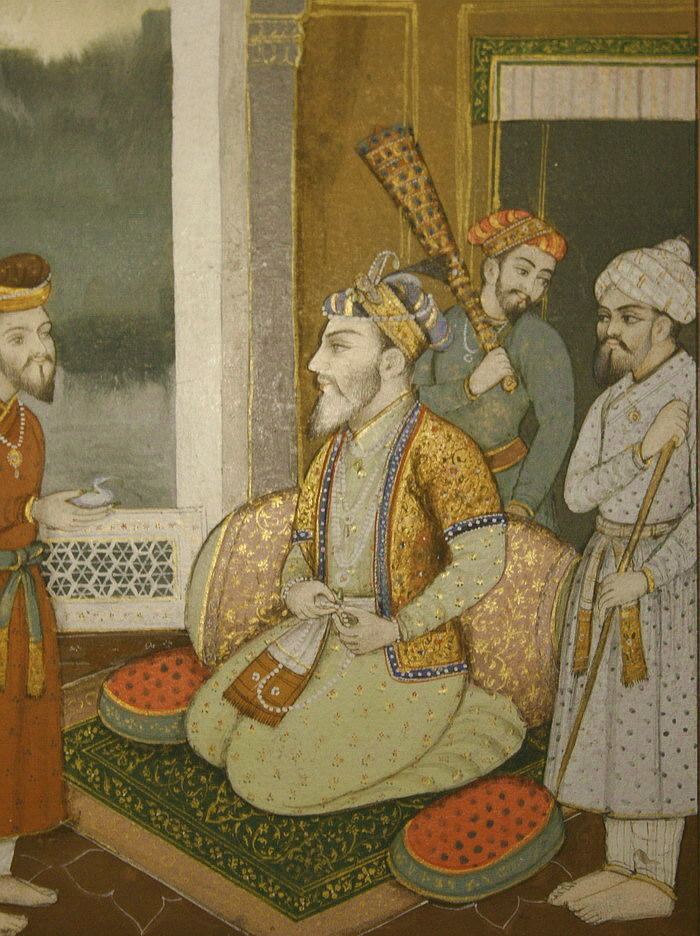 Early life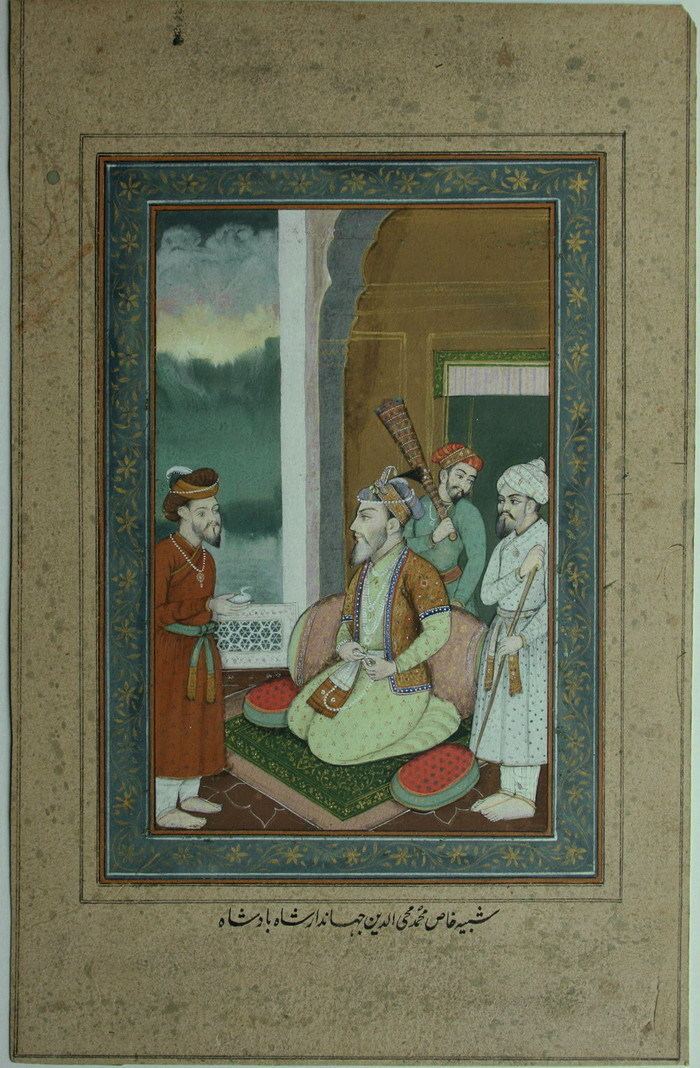 Jahandar Shah was born on 10 May 1664, a son of the emperor Bahadur Shah I. Upon the death of their father on 27 February 1712, he and his brother Azim-ush-Shan both declared themselves emperor and conducted a struggle for the succession. Azim-us-Shan was killed on 17 March 1712 and Jahandar Shah was able to rule for a further eleven months. Before coming to the throne, Jahandar Shah had sailed around the Indian ocean, and had been a very prosperous trader, and was later appointed Subedar of Sindh. He was the father of three sons, including Aziz-ud-Din who reigned as Mughal emperor between 1754 and 1759.
Reign
Jahandar Shah, was very frivolous in lifestyle, his court was enlivened by dancing and entertainment. He chose a favorite wife, Lal Kunwar who was a mere dancing girl before her elevation to the position of Queen Consort. Together they shocked the Mughal Empire and were even opposed by Aurangzeb's surviving daughter Zinat-un-Nissa.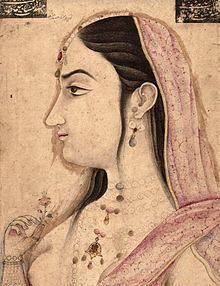 His authority was rejected by the third Nawab of the Carnatic Muhammed Saadatullah Khan I, who killed De Singh of Orchha, mainly because the Nawab believed that he was the righteous commander of the Gingee Fort, and began a smear campaign referring to Jahandar Shah as an usurper to the Mughal throne. To further strengthen his authority Jahandar Shah sent gifts to the Ottoman Sultan Ahmad III.
Rebellion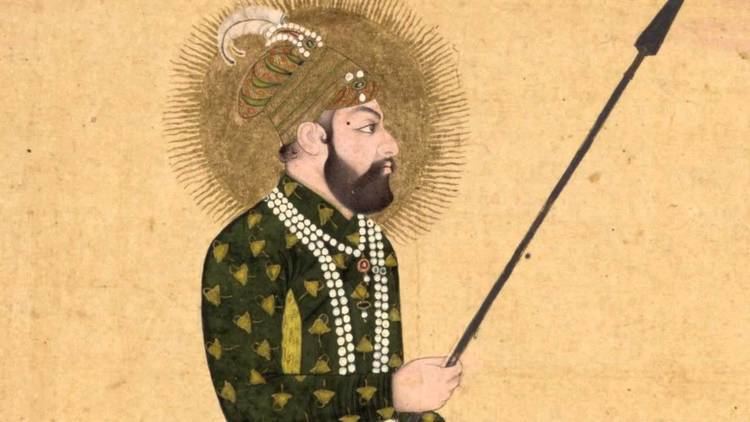 The Mughal Emperor Bahadur Shah died in 1712 and he was succeeded by Jahandar Shah, the puppet Mughal ruler.Banda Singh Bahadur knew his weaknesses and between his region he captured Punjab region,east of Lahore along with the Mughal territories near trans-Yamuna region.
Death
He was defeated in the battle at Agra on 10 January 1713 by Farrukhsiyar, his nephew and the second son of Azim-ush-Shan, with the support of the Syed Brothers. He fled to Delhi, from where he was captured and handed over to the new Emperor, who confined him along with Lal Kunwar. He lived in confinement for a month, until 11 February 1713, when professional stranglers were sent to murder him.
References
Jahandar Shah Wikipedia
(Text) CC BY-SA