Jacques Pépin ([ʒak pepɛ̃]; born December 18, 1935) is an internationally recognized French chef, television personality, and author working in the United States. Since the late 1980s, he has appeared on French and American television and written an array of cookbooks that have become best sellers.
Pépin, the second of three sons, was born in 1935 in Bourg-en-Bresse, near Lyon in France. After World War II, his parents, Jeannette and Jean-Victor Pépin, owned the restaurant, Le Pélican, where Pépin worked and later became known for his love for food. He went on to work in Paris, training under Lucien Diat at the Plaza Athénée. From 1956 to 1958, during his military service, Pépin was the personal chef to three French heads of state, including Charles de Gaulle. In 1959 Pépin came to the United States to work at the restaurant Le Pavillon. Soon after his arrival, Craig Claiborne, noted food editor at the New York Times, introduced Pépin to Helen McCully, who took him under her wing. McCully introduced him to Julia Child sparking their long friendship and collaboration. Eight months later, in 1961, Howard Johnson, a regular Le Pavillon customer, hired Pépin to work alongside fellow Frenchman Pierre Franey to develop food lines for his chain of Howard Johnson's restaurants, while Pépin was attending Columbia University.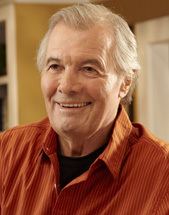 Pépin received his B.A. degree from Columbia University's School of General Studies in 1970 and his M.A. in French literature from the Columbia Graduate School of Arts and Sciences in 1972.
Pépin has starred in numerous television shows. The success of his book La Technique, used to this day as a textbook for teaching the fundamentals of French cuisine, prompted him to launch a televised version resulting in an acclaimed 1997 PBS series, The Complete Pépin. Relaunched on PBS ten years after its initial run, the series included a new introduction by Pépin where he stressed that now more than ever the secret to being a successful chef and not a mere line cook lies in knowing and using the proper technique.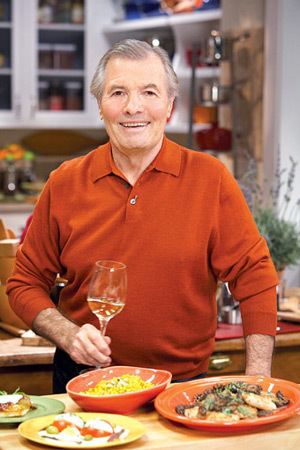 In 1999, Pépin co-starred in the PBS series Julia and Jacques Cooking at Home with Julia Child. The program was awarded a Daytime Emmy in 2001.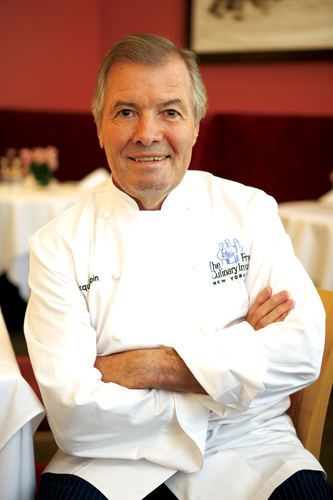 His show Jacques Pépin: Fast Food My Way (based on his 2004 book of the same name) ran on PBS, and Jacques Pépin: More Fast Food My Way is currently being broadcast on PBS' Create. In Essential Pepin (2011), Pépin brings modern touches to some of his favorite recipes from his career. In the 26-part public television series, Pépin demonstrates more than 125 dishes while the companion book, published by Houghton-Mifflin, contains more than 700 recipes. In this series, Pépin is shown cooking with his daughter, Claudine, wife of chef Rolland Wesen. All of his programs have been produced by KQED-TV in San Francisco.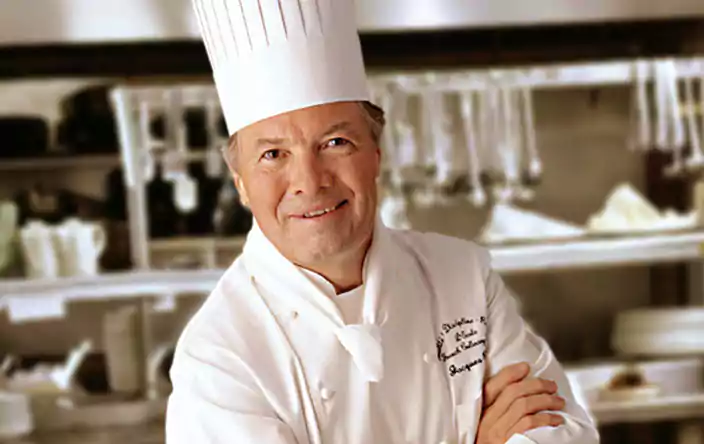 Pépin was a guest judge on season five of the Bravo television show Top Chef, which aired in 2008. He stated that his ideal "final meal" would be roast squab and fresh peas.
Pépin was a guest on the television show Wahlburgers episode called Pauli Day. Donnie Wahlberg arranged for Pépin to surprise his brother Paul Wahlberg for his birthday.
In 2015, his television series "Jacques Pépin Heart & Soul" began airing. According to its producer, KQED-TV, the series would be his "most personal and special, revealing a man – a legend – whose lust for life, love of food, family and friends continues". The series premiered on KQED on September 12, 2015, and nationally on September 19.
Pépin serves as dean of Special Programs at The International Culinary Center, founded as the French Culinary Institute, in New York City. He is an active contributor to the Gastronomy department at Boston University, where he teaches an online class on the cuisine and culture of France along with professor Kyri Claflin of Boston University's history department. Pépin also writes a quarterly column for Food & Wine and offers an amateur class each semester based on varied culinary topics.
Pépin currently resides with his wife, Gloria, in Madison, Connecticut.
Pépin experienced a minor stroke in March 2015 at his Connecticut home, but was promptly treated at an area hospital and was expected to eventually make a full recovery, according to a statement by his daughter Claudine Pépin to the Associated Press.
In addition to the Daytime Emmy Award won with Julia Child, Pépin has received two of the French government's highest honors: He is a Chevalier de L'Ordre des Arts et des Lettres (1997) and a Chevalier de L'Ordre du Mérite Agricole (1992). In October 2004, he received France's ultimate civilian recognition, the Légion d'honneur.
On May 13, 2010, Pépin, along with other chefs from The French Culinary Institute (known as The International Culinary Center), Alain Sailhac, Jacques Torres and André Soltner, prepared a $30,000-per-couple dinner for President Barack Obama's fund-raiser for the Democratic Congressional Campaign Committee at Manhattan's St. Regis Hotel.
On February 5, 2010, during the christening of MS Marina, Pépin was named an honorary commodore of the Oceania Cruises fleet, for which he serves as Executive Culinary Director.
He received an honorary Doctor of Humane Letters degree from Boston University on May 22, 2011. In October 2011, Pépin was the recipient of the first-ever tribute dinner at the New York Food and Wine Festival. Cooking for Pépin at the event, hosted by Martha Stewart, were some of America's best-known French chefs including Alain Ducasse, Daniel Boulud, and others.
James Beard Foundation Lifetime Achievement Award
James Beard Foundation, Who's Who of Food and Beverage in America
Chevalier de L'Ordre du Mérite Agricole
Chevalier de L'Ordre des Arts et des Lettres
Daytime Emmy, Julia and Jacques Cooking at Home
James Beard Foundation's Cookbook Hall of Fame, La Technique
James Beard Foundation's Cookbook Hall of Fame, La Méthode
James Beard Foundation Award for Best National TV Cooking Show, Jacques Pépin's Kitchen: Encore with Claudine
James Beard Foundation Award for Best National Cooking Segment, Jacques Pépin's Kitchen: Cooking with Claudine
James Beard Foundation Outstanding Culinary Video, Today's Gourmet
Co-founder of the American Institute of Wine and Food