All nicolas cage scenes in christmas carol the movie
Jacob Marley is a fictional character who appears in Charles Dickens' 1843 novella A Christmas Carol. He is Scrooge's deceased business partner, now a chained and tormented ghost, damned to wander the earth forevermore as punishment for his greedy, selfish and uncaring attitude towards mankind. Marley roams restlessly, witnessing the hardships others suffer and lamenting that he has lost his chance to help them forever. Through unknown means, it is Marley who arranges for the three spirits to visit Scrooge and gives him his opportunity for redemption, which Marley tells him was "...a chance and hope of my procuring."
Contents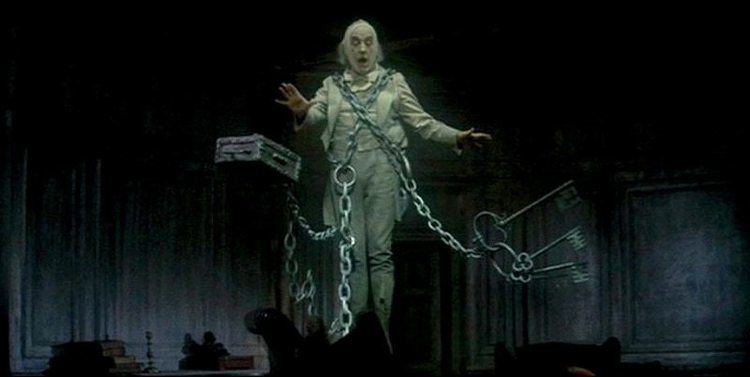 Jacob marley carol from the stingiest man in town
Relationship with Scrooge and Marley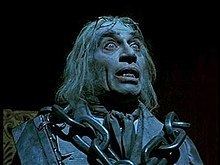 In A Christmas Carol, Marley is the first character mentioned in the first line of the story. Jacob Marley is said to have died seven years earlier on Christmas Eve (as the setting is Christmas Eve 1843, this would have made the date of his passing December 24, 1836).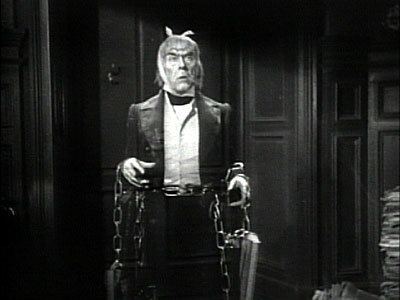 In life, Jacob Marley was the business partner of Ebenezer Scrooge. They co-owned the firm of Scrooge and Marley, and he refers to their offices as 'our money-changing hole'. They became successful yet hard-hearted bankers, with seats on the London Stock Exchange. Scrooge is described as Marley's "sole friend" and "sole mourner", and praises Marley as being a good friend to him.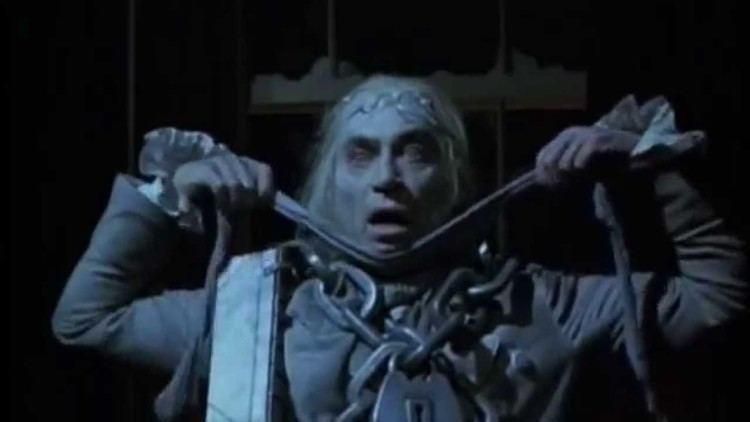 It would be Marley's ghost who would be Scrooge's first visitor (before the three other spirits to come); Marley preys upon Scrooge's mind in many different ways, notably his face manifesting on the knocker on Ebenezer Scrooge's front door and causing the bells in his house to ring. The ghost maintains the same voice, hairstyle and sense of dress that he had in life, but is translucent. He wears a handkerchief tied about his jaws, and "captive, bound and double-ironed" with chains which are described as "long, and wound about him like a tail; it was made... of cash-boxes, keys, padlocks, ledgers, deeds, and heavy purses wrought in steel." He often, in moments of great despair or impatience at Scrooge's scepticism, flings these upon the ground before him and almost induces his former partner "into a swoon". He explains that it is the chain he unknowingly forged himself in life, as a result of his greed and selfishness. As he spent his life on this earth obsessing over money and mistreating the poor and wretched to fill his pocket, Marley is condemned to walk the earth for eternity never to find rest or peace, experiencing an "incessant torture of remorse", lamenting that Christmas is the time he suffers most of all.
When the spectre asks, "Why do you doubt your senses?" Scrooge scoffs that "...a little thing affects them. A slight disorder of the stomach makes them cheat. You may be an undigested bit of beef, a blot of mustard, a crumb of cheese, a fragment of an underdone potato. There's more gravy than grave about you, Whatever you are!" Marley's only reply is a spine-chilling howl that brings Scrooge to his knees, begging for mercy.
Marley tells Scrooge that he will be visited by three spirits, and admonishes his former partner to listen to what they have to say, or Scrooge will suffer Marley's fate; he says that Scrooge's chain was as heavy as his seven years earlier, and remarks that "you have laboured on it since — it is a ponderous chain!". Even though it is unknown why it took seven years for Marley to haunt Scrooge, it could be implied that Scrooge could have died that very night if he was not haunted. This is evident in the fact that Marley seems to be aware that Scrooge was very close to suffering the same fate as him. Thus, Marley was given a chance to save his only friend's life before it was too late.
Marley then departs into the night sky, surrounded by a countless horde of other tormented spirits, some of whom were known to Scrooge when they were alive, all of them chained in a similar manner to Marley and suffering the same unbearable torment, as they struggle in vain to make up for their wasted lives by attempting to help a homeless mother and baby.
Appearances in various film adaptations
In the 1935 film Scrooge he is played by an uncredited Claude Rains. He is also invisible as the writers decided to let the audience decide what he looks like.
Leo G. Carroll performed this role in Metro-Goldwyn-Mayer's 1938 film adaptation.
Michael Hordern portrayed the role of Marley twice, once in the 1951 film Scrooge and then as the voice of Marley in Richard Williams' 1971 animated film. Hordern also played the role of Scrooge in a 1977 television adaptation for the BBC, with the role of Marley played by John Le Mesurier.
In the 1969 animated TV film by Famous Classic Tales, Marley is voiced by Bruce Montague. Unlike most versions, this incarnation of Marley has a skull-like head with hair dancing up like a flame, a floor-length nightgown, and chains wrapped around his waist.
In the 1970 film Scrooge, Marley is played by Alec Guinness.
In the 1983 special Mickey's Christmas Carol, the character is played by Goofy (Hal Smith). This version of the character was mentioned to be like a twisted version of Robin Hood, "robbing widows and swindling the poor," which ultimately led to his punishment of carrying his chains. He was also mentioned to have left very little in the way of a fortune, leaving only enough for Scrooge to pay for Marley's tombstone so the former had him buried at sea instead.
In the 1984 made-for-television film of A Christmas Carol, the film opens with Marley's funeral procession. While Scrooge walks home, he hears Marley's voice calling him from an apparitional hearse, and then again before Scrooge sees Marley's face on the door knocker. Frank Finlay's performance as Marley is considered one of the best portrayals of the character.
In the film Scrooged (1988), a modern interpretation of Dickens' novella, Lew Heyward, a version of Jacob Marley, is portrayed by John Forsythe. In a particularly memorable scene, he is depicted as a walking mummified corpse all covered in dust and cobwebs as he appears to Frank Cross, the film's Scrooge, played by Bill Murray.
In the 1991 Star Trek: The Next Generation episode "Devil's Due", Data reenacts Jacob Marley's scene, playing the role of Scrooge. A holodeck version of Marley is portrayed by William Glover.
In the 1992 movie The Muppet Christmas Carol, the character is bifurcated into two brothers named Jacob and Robert (a reference to Bob Marley) so that they can be played respectively by Statler and Waldorf (Jerry Nelson and Dave Goelz).
In the 1994 special A Flintstones Christmas Carol, the character is called 'Jacob Marbley' and is played by Mr. Slate (John Stephenson). A stone tablet portrait shows of Marbley cheating Scrooge by tipping his side of the scale with his finger.
In the 1995 made-for-TV film Ebbie, Jeffrey DeMunn plays Marley's modern version, Jake Marley, Elizabeth "Ebbie" Scrooge's mentor and later partner who dies of a heart attack right in front of her.
In the 1997 made-for-television film, Ms. Scrooge, Katherine Helmond portrays a female version of the character, Maude Marley. She explains that her only chance for salvation is for Ebenita to changer her ways, or else she'll join her in Hell.
In the 1998 Canadian made-for-television Western version, Ebenezer (portrayed by Jack Palance), the character's last name has been changed to "Marlowe" and is portrayed by Richard Halliday.
In the 1999 made-for-television film version, he is portrayed by Bernard Lloyd. This film version opens with his funeral in 1836, then jumps ahead to 1843.
In the 2001 film Christmas Carol: The Movie, Marley is voiced by Nicolas Cage.
In the 2004 film A Christmas Carol: The Musical, Marley is played by Jason Alexander.
Marley's Ghost is a 2003 play by Jeff Goode which is a prequel to A Christmas Carol.
In the 2006 movie A Christmas Carol, the character is portrayed as an anthropomorphic cricket (just like Jiminy Cricket, who played the Ghost of Christmas Past in Mickey's Christmas Carol). In this adaptation, he is given an extra scene where Scrooge's redemption frees him from his punishment.
In the 2008 comedy film An American Carol, the role of Marley is taken by the spirit of John F. Kennedy, portrayed by Chriss Anglin.
In the 2009 film adaptation, he is played by Gary Oldman. This version is shown to be in a state of decay, with his cheeks splitting at one point, rendering him unable to talk properly.
In the 2015 BBC television series Dickensian he is played by Peter Firth.
In the Thomas and Friends episode, Diesel's Ghostly Christmas, the role of Marley's Ghost is portrayed by Emily.
References
Jacob Marley Wikipedia
(Text) CC BY-SA