The Reverend Jacob Duché (1737–1798) was a Rector of Christ Church in Philadelphia, Pennsylvania, and the first chaplain to the Continental Congress.
Duché was born in Philadelphia in 1737, the son of Colonel Jacob Duché, Sr., later mayor of Philadelphia (1761–1762) and grandson of Anthony Duché, a French Huguenot. He was educated at the Philadelphia Academy and then in the first class of the College of Philadelphia (now the University of Pennsylvania), where he also worked as a tutor of Greek and Latin. After graduating as valedictorian in 1757, he studied briefly at Cambridge University before being ordained an Anglican clergyman by the Bishop of London and returning to the colonies.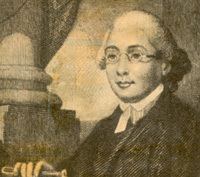 In 1759 he married Elizabeth Hopkinson, sister of Francis Hopkinson, a signer of the Declaration of Independence.
Duché first came to the attention of the First Continental Congress in September 1774, when he was summoned to Carpenters' Hall to lead the opening prayers. Opening the session on the 7th of that month, he read the 35th Psalm, and then broke into extemporaneous prayer.
"O Lord our Heavenly Father, high and mighty King of kings, and Lord of lords, who dost from thy throne behold all the dwellers on earth and reignest with power supreme and uncontrolled over all the Kingdoms, Empires and Governments; look down in mercy, we beseech thee, on these our American States, who have fled to thee from the rod of the oppressor and thrown themselves on Thy gracious protection, desiring to be henceforth dependent only on Thee, to Thee have they appealed for the righteousness of their cause; to Thee do they now look up for that countenance and support, which Thou alone canst give; take them, therefore, Heavenly Father, under Thy nurturing care; give them wisdom in Council and valor in the field; defeat the malicious designs of our cruel adversaries; convince them of the unrighteousness of their Cause and if they persist in their sanguinary purposes, of own unerring justice, sounding in their hearts, constrain them to drop the weapons of war from their unnerved bands in the day of battle!


"Be Thou present, O God of wisdom, and direct the councils of this honorable assembly; enable them to settle things on the best and surest foundation. That the scene of blood may be speedily closed; that order, harmony and peace may be effectually restored, and truth and justice, religion and piety, prevail and flourish amongst The people. Preserve the health of their bodies and vigor of their minds; shower down on them and the millions they here represent, such temporal blessings as Thou seest expedient for them in this world and crown them with everlasting glory in the world to come. All this we ask In the name and through the merits of Jesus Christ, Thy Son and our Savior.


The prayer had a profound effect on the delegates, as recounted by John Adams to his wife.
On July 4, 1776, when the United States Declaration of Independence was ratified, Duché, meeting with the church's vestry, passed a resolution stating that the name of King George III of Great Britain was no longer to be read in the prayers of the church. Duché complied, crossing out said prayers from his Book of Common Prayer, committing an act of treason against England, an extraordinary and dangerous act for a clergyman who had taken an oath of loyalty to the King. On July 9, Congress elected him its first official chaplain.
When the British occupied Philadelphia in September 1777, Duché was arrested and detained, underlining the seriousness of his actions. He was later released, at which time he wrote a famous letter to General George Washington, camped at Valley Forge, Pennsylvania, in which he begged him to lay down arms and negotiate for peace with the British. Suddenly, Duché went from hero of the Revolutionary cause to outcast in the new United States. He was convicted of high treason to the State of Pennsylvania, and his estate was confiscated. In consequence, Duché fled to England, where he was appointed chaplain to the Lambeth orphan asylum, and soon made a reputation as an eloquent preacher. He was not able to return to America until 1792, after he had suffered a stroke.
On October 1, 1777, Congress appointed joint chaplains, William White, Duché's successor at Christ Church, and George Duffield, pastor of the Third Presbyterian Church of Philadelphia.
Duché died in 1798 in Philadelphia, where he is buried in St. Peter's churchyard.
His daughter, Elizabeth Sophia Duché (born on September 18, 1774, Philadelphia; died on December 11, 1808, Montréal), married Captain John Henry in 1799. Henry was an Army officer and political adventurer who was indirectly instrumental in the declaration of war on Great Britain by the United States in 1812.